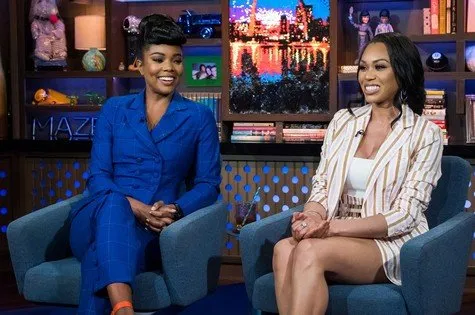 After some lunchtime cocktails, Monique Samuels dozed off behind the wheel and got into a car accident. As a result, the Housewives wondered if Monique has a drinking problem during the last episode of Real Housewives of Potomac.
So of course Andy Cohen asked Monique about those accusations when she appeared on Watch What Happens Live last night. It was actually his first question for her.
Andy told Monique, "The women are really on you about your drinking." Monique said, "They're really on me about anything that I do. They're obsessed. I guess I'm just giving them something to talk about. Lead them to water and they just still won't drink."
Then Andy got more direct and asked, "Do you have a drinking problem?" Monique insisted, "Of course not. No." She explained, "It was funny because in the episode when we went to Nemacolin, it was a girls trip. That's like girls protocol: you get drunk. I'm like away from my kids, my husband. I had such a hectic past month. My husband wasn't able to help me with the kids. I'm up until one in in the morning, not able to go to bed until five in the morning.I'm going off of four hours a week for two weeks straight. That was actually the last day of me having to do everything by myself." She added, "I just literally tanked. And literally crashed. Literally."
After discussing her own drama,
Monique
was asked about those rumors that
Karen Huger
was having an affair with "Blue Eyes." A viewer asked, "What do you think about Blue Eyes? Do you know if Karen ended up setting him up with
Charrisse [Jackson-Jordan]
?"
Monique shared, "So I've actually met Blue Eyes. He's married. It's funny. I was at a bar- the bar that they were always at. I asked the bartender  and I said 'What's up with the whole Blue Eyes thing?' She said honestly when she says Karen with this blue eyed gentleman, they seem more like sister and brother. I don't think that she was sleeping with him."
Andy 
asked, "Would
Chris [Samuels]
get upset if you told all the ladies about his privates like
Candiace [Dillard]
did [about her own man
Chris Bassett
]?" Monique admitted, "First of all, I would get upset." She continued, "Why would I do that? So they could try and sleep with him?"
During her first season,
Monique
clashed with
Gizelle Bryant
right from the jump and things are 
a little bit 
better this season, but they are far from being best friends. What is their status these days? Monique shared, "It's cordial. I'm mature enough where I can be cordial with someone, but she's just not my cup of tea. Sorry."
TELL US- DO YOU THINK THE LADIES WERE HARD ON MONIQUE ASKING IF SHE HAD A DRINKING PROBLEM? OR WERE THE QUESTIONS VALID AFTER HER CAR ACCIDENT? WILL MONIQUE AND GIZELLE EVER BE FRIENDS?