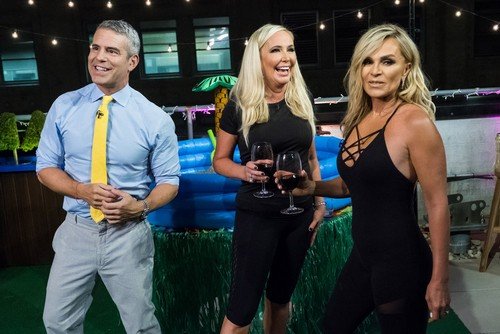 It would be nice to say that Season 13 of Real Housewives of Orange County started out with a bang, but that sadly is not what happened. At all. After a dismally boring Season 12, the Season 13 premiere was just OK. Pretty much nothing happened, but let's hope that the ladies are just warming up.
Tamra Judge and Shannon Beador were on their A-Game when they were Andy Cohen's guests on Watch What Happens Live last night. Again, let's just hope that's a good sign of what to expect this season.
Andy started out with an extremely shady "question." He remarked, "We have some new faces on the OC this season and I'm not just talking about Gina [Kirschenheiter] and Emily [Simpson]. Vicki [Gunvalson] got another new one to celebrate Season 13." Then he turned to Tamra and Shannon and said, "Ladies, what is your reaction to Vicki's latest face?"
Tamra admitted, "I think it looks great." Shannon concurred and said, "It does. It actually does." Tamra shared, "She just got rid of this" while she pointed to the area under her chin.
Andy wondered, "Did she have that?" Tamra told him, "She had a little bit." Shannon added, "She did and now I'm gonna be the only one left with it."
Then the conversation got serious when Andy asked, "When was the last time you and David [Beador] were in the same room?" At first Shannon just said, "In the court room."
Then she shared a funny anecdote: "I have to say, he came by the other day. He took [their dog] Archie. He came by and I was about to go on my walk and I lifted up my Cut Fitness shirt and go 'take a look at this.'" Now that would have been a great scene on the show. If only the cameras were rolling that day.
Andy wondered, "How did he react?" Shannon revealed,  "He just goes 'Oh, congratulations.'" She was also asked about David dating someone else. Shannon shared that her daughter "Sophie is meeting her tomorrow night for the first time."
Tamra and Shannon threw some amazing shade at one and done Housewife Peggy Sulahian. Tamra stated the obvious: "The hundredth Housewife was a fail." Shannon remarked, "She can put that on her tombstone. I think it will be there."
Andy asked Tamra about her husband Eddie's  [Judge] heart surgery. She confessed, "He's OK. He's not good, but he's OK. He had another procedure on his heart and he's healing, but it has set him into what is called a flutter. His heart rate is extremely high and he's on a lot of medication. It doesn't look like the procedure worked."
She continued, "He's a cyclist. We found out that this does happen to a lot of cyclists- professional cyclists. They pump a lot of blood through their heart and it just causes electrical problems."
A viewer asked Tamra to "address comments she made about Doug [McLaughlin] being in the closet since she was so upset about Vicki doing it to her." These comments made plenty of headlines. Tamra should have expected to be asked about it, but she didn't seem too prepared to address the situation.
Tamra said, "It was a totally different situation. It was a stupid thing for me to say. We were at the Improv. We were poking fun of people. They posted a picture of him coming out in these very short, short, shorts in this very compromising kind of pose and I just cracked a joke." Shannon quietly said, "We were just having fun." Tamra followed up with "It's the Improv. It's what you do. You poke fun of people." Not like that, Tamra. Not like that.
RELATED: Tamra Judge Is Cautious About Trusting Vicki Gunvalson
TELL US- WHAT DO YOU THINK ABOUT ANDY'S COMMENTS ABOUT VICKI'S FACE? DID YOU ENJOY THE SEASON 13 PREMIERE?