Tonight we welcome Real Housewives Of Orange County back into our collective consciousness. I may be the lone one, but I'm excited! Before moving into new dramas let's recap what happened last season!
Season 12 of Real Housewives Of Orange County certainly had its high points (Vicki Gunvalson's Blanket Jackson moment in Iceland) and low points (Peggy. Period.).
Lydia McLaughlin returned to use free advertising for the launch of her new magazine after a long hiatus to contemplating what Alexis Jesus would do as a Real Housewife, and Vicki remained – and remained on the outs with everyone. Heather Dubrow decided she didn't want to expose her marriage to anymore speculative gossip and quit, so instead enter: Peggy Sulahian. Someone in casting was on Vicki's Vodka that day!
It's as hard to believe as the idea that Tamra Judge has found Jesus, but she and Lydia started the season as friends – actually "sisters in Christ." Tamra attended a blinged-out Bible study at Lydia's to pray for her estranged daughter to love her again, but the real reason Tamra went was to preach about Vicki being Satan. From that moment forward Lydia decided it was her Christian duty to reunite Vicki with Tamra and Shannon Beador. Bravo's version of missionary work!
Meanwhile, Meghan King Edmonds finally got Jim's recalcitrant sperm to pay attention to her and they spawned the adorable baby Aspen. Unfortunately, Meghan took to motherhood the way I took to her – it was not a natural thing. Meghan struggled to find herself (and Jimmy) post-baby, all while relying on the services of a live-in nanny.
New Housewife Peggy was recovering from cancer and had a double-mastectomy weeks before filming started. Peggy was never a good fit. She didn't party, couldn't do things without her handbag of a husband Diko, and didn't understand that literally no one cares about Whoopie Pie Cars. Unless they're Willy Wonka. At least Peggy was rich, as she never failed to tell us. Also Armenian, which she also never failed to tell us!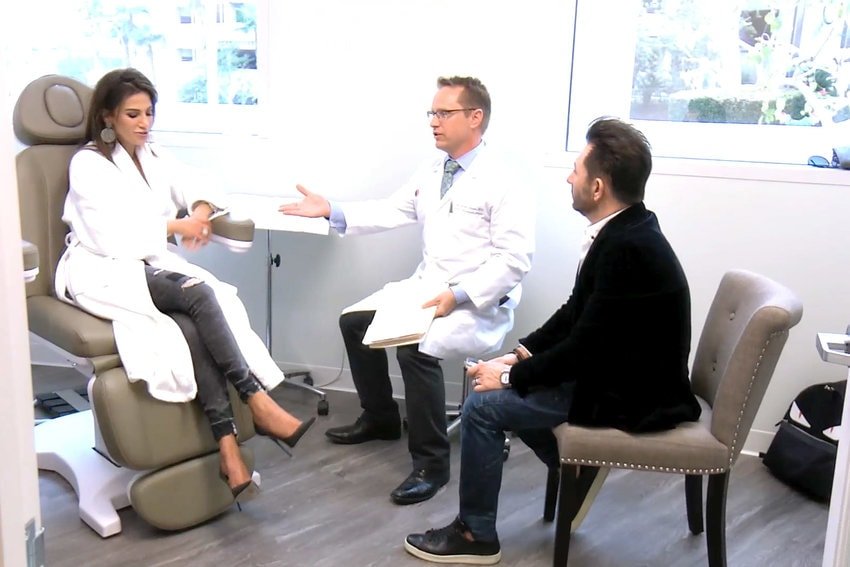 You'd think RHOC had dissected enough cancerous tumors, but these ladies are indefatigable in their wannabe oncology. Maybe Vicki refused to discuss Brooks they had to harass someone about their diagnoses. Shannon was confused about Peggy's treatment timeline, then voiced that concern to Meghanny Drew, cancer specialist, but it was David Beador who took the most heat for suspecting Peggy. Oops.
Peggy probably just couldn't communicate her cancer diagnosis. Despite being in this country for most of her life and holding a degree in English, she barely comprehends English and assumed her malapropisms are funny, Balki Bartokomous-style. They're not.
Kelly Dodd tried to take control of her life. Which meant rejuvenating her vagina and boobs, then sloughing off all the dead weight called Michael. Like Shannon, Kelly's marriage careened from turbulent with a side of sometimes OK, to a complete implosion with no airbags in sight!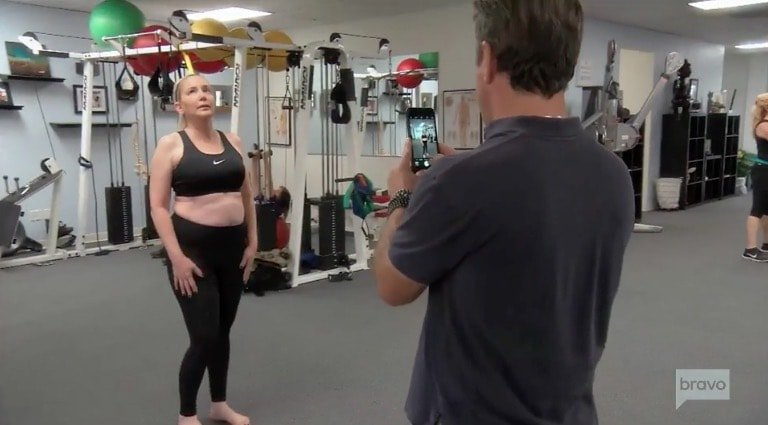 Poor Shannon though –  it was all Vicki's fault that David no longer wanted to honor their vow renewal! See, if Vicki wouldn't have made those allegations – all-leg-gat-tions! (said in a hysterical pitch) – that he abused her, Shannon never would've been forced to stress eat and gain all that weight. As we know emotional eating causes marriages to fail! At one point Shannon visited her trainer/nutritionist/snake oil salesman whose reaction to her standing on a scale on national TV was "Woooooowwwwwwww. Stop drinking vodka."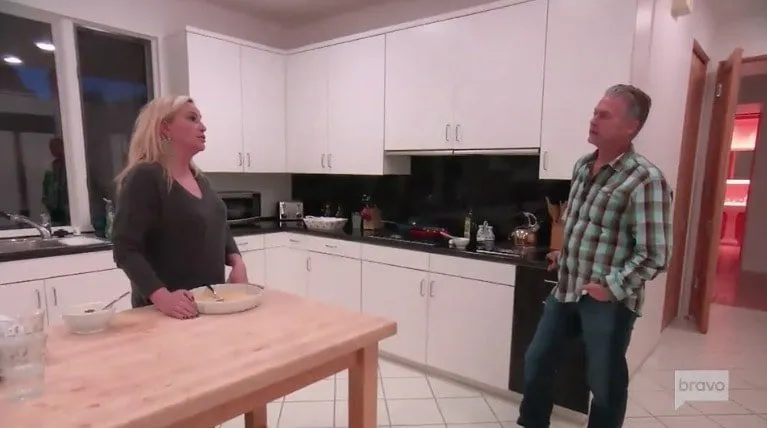 Trying to lose weight led Shannon to the amazing realization that she should open a restaurant with such amazing dishes as chicken soaked in buttermilk – without then being covered in breadcrumbs and fried. It's no surprise to anyone that this restaurant went the same direction as Shannon's marriage. Clearly, it was not the time for Lydia to approach Shannon making up with Vicki! How could Shannon be expected to forgive after Vicki force-fed her the French fries that caused David's alienation of affection? Maybe if Shannon had Feng shuied the plate they were on instead of throwing the plate across a restaurant things would've gone better?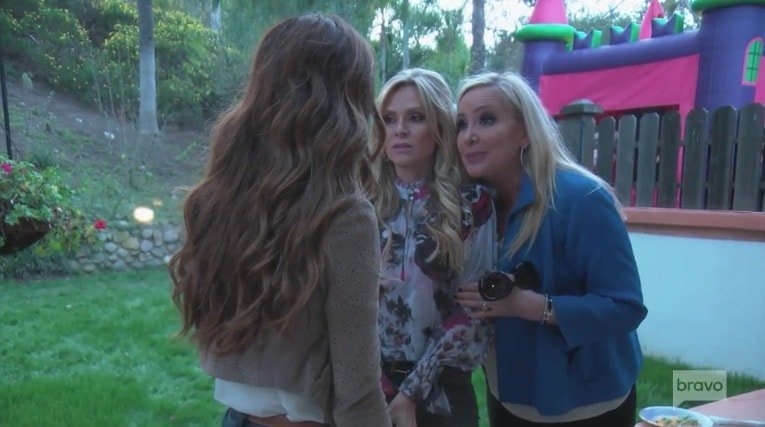 Instead of bringing the group closer together, Lydia suggested Shannon and Vicki were more similar than they think. Wrong suggestion! Shannon did the first of many storm outs, and Lydia, the self-declared "Friendship Whisperer," actually decided SHE didn't want to be too close to Shannon's shrieky hysterics and constant accusations.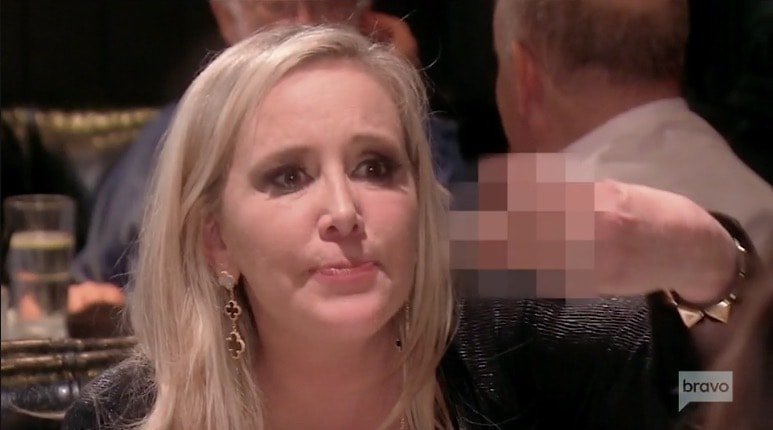 Tamra decided all Lydia and Shannon needed to understand each other was a nice quiet girl's night over dinner. Enter Kelly into The Quiet Woman. Someway, somehow Kelly and Shannon's interaction in the bathroom resulted in Shannon flinging a plate of steak across a table at Kelly. It was not her f–king plate, but it was her f–king discuss!
While Lydia was obsessing about Shannon, Vicki was obsessing about new boyfriend Steve Lodge. She never wanted to hear the dreaded B-word (Brooks) again. Too bad it's all anyone else wanted to focus on how! Holier than though Tamra just cannot forgive. But what's worse than a cancer scam is how Vicki spread rumors to Kelly that Eddie is gay to ruin her family. That Vicki just can't stop ruining families can she?! Isn't Coto Insurance supposed to protect and help people?!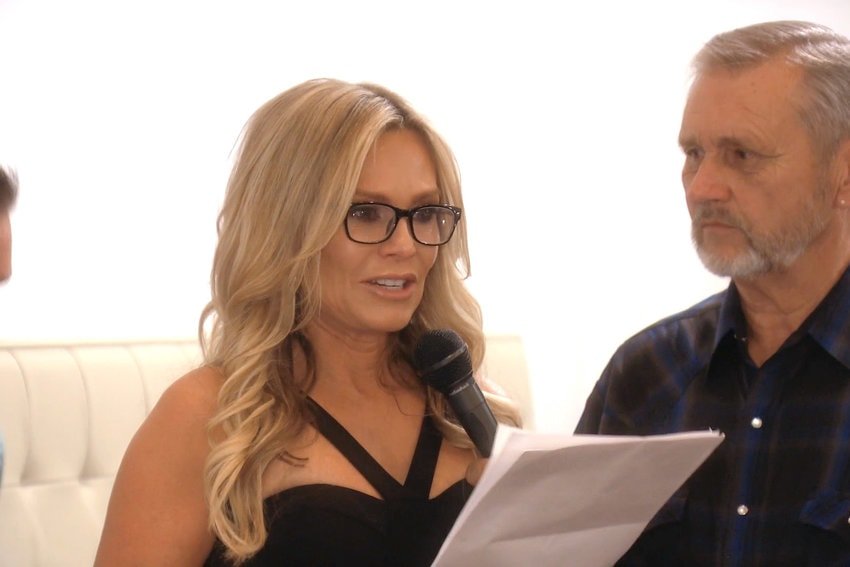 Tamra also joined a cause to advocate for Erased Families like herself. Being part of that documentary is the closest to intellectual Tamra's ever gonna get. Despite her daughter Sidney requesting that Tamra please stop discussing her on RHOC, Tamra just couldn't control her tears as she speechified about how unfair it is to be ignored.
Why is no one erasing Tamra from RHOC? Instead, after The Quiet Woman, Shannon erased herself from social events featuring Kelly and Vicki, and Lydia wants to erase Doug's sperm from his body by demanding he get his balls chopped off. In medical terms, this procedure is called a vasectomy, but there's no verse in the Bible about this … Psalms Problems!
Unfortunately for Shannon, behind her back there for the grace of God goes Tamra to meet Kelly for a reconciliation coffee. And guess what – they decided to be friends! If Tamra can do it, anyone can, so she encourages Shannon to soften her stance on Kelly — if only to pry her away from Vicki out of spite.
Despite hating everyone but Vicki, Peggy had a luxury car business to promote! So she threw a party in honor of receiving a new special edition Lamborghini. It was like My Super Sweet 16 only… not. Right away Meghan decides she doesn't approve of Peggy flaunting her wealth this way. WWM[eghan]D: do as I say, not as I do, of course!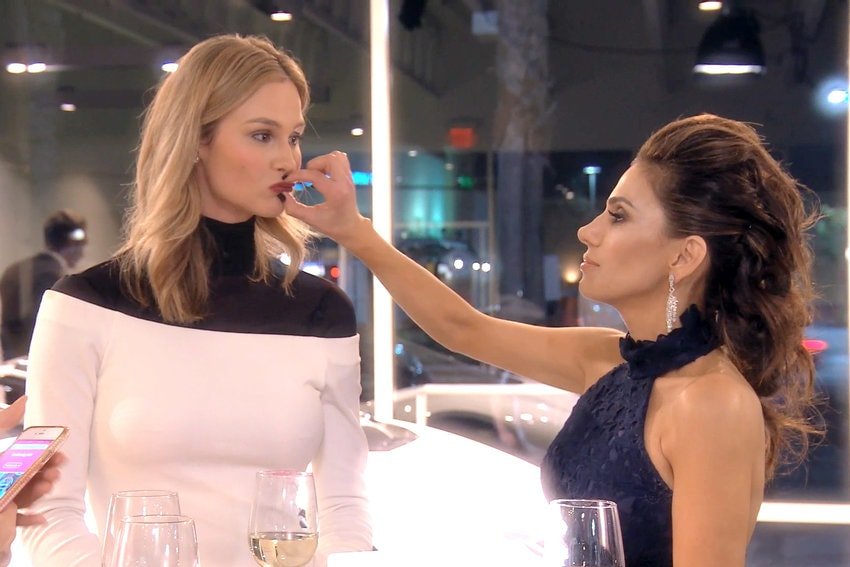 Since looking at Peggy and Diko luxury cars is boring and Meghan had been drowning in breast milk and Jimmy Dad Jeans' poopy attitude, she decided to vent her postpartum stress on lecturing Vicki about real apologies. If Vicki could just sincerely say she's sorry with no conditions or buts or justifications, she might have a chance earning Shannon's forgiveness. Except Vicki doesn't feel she did anything wrong – she was trying to protect Shannon. Peggy decides Meghan is meddling so she CLIPS Meghan's mouth shut. Literally. It was a boss move, but Meghan is a mommy now and doesn't need to be parented by anyone but Jim!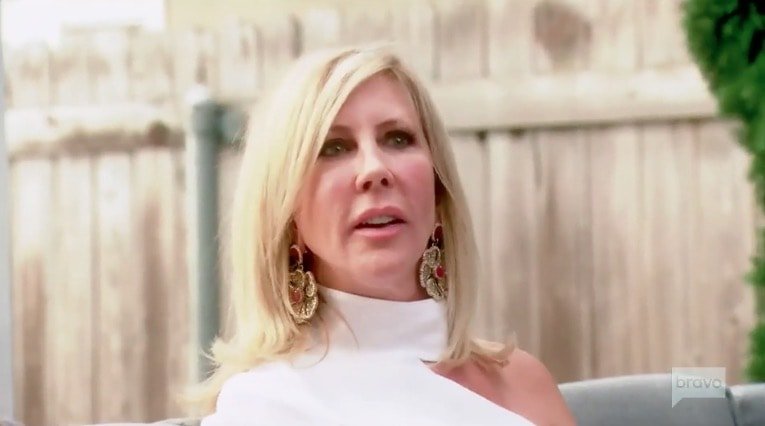 Meghan decides this is the perfect time to introduce her daughter to this peaceful and living group with a Sip & See for Aspen. She invites everyone. Even Vicki. Shannon spends the entire party guzzling diet tequila and pretending Vicki isn't there. After the latest slight Vicki decides no more contrition – she's gonna force Shannon and Tamra to be her friend … or else!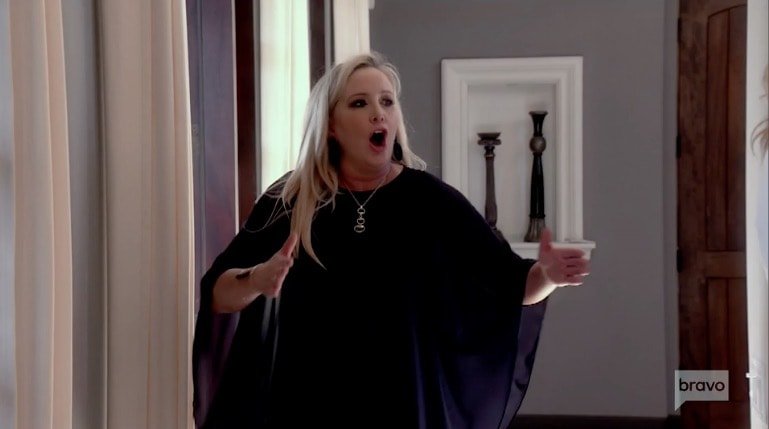 Also looking good is the best revenge so Vicki showed up with a perfect blow-out, her face work finally settled and in crisp angelic (HA!) white, whereas Shannon wore a winged cape as the crusader for carbs.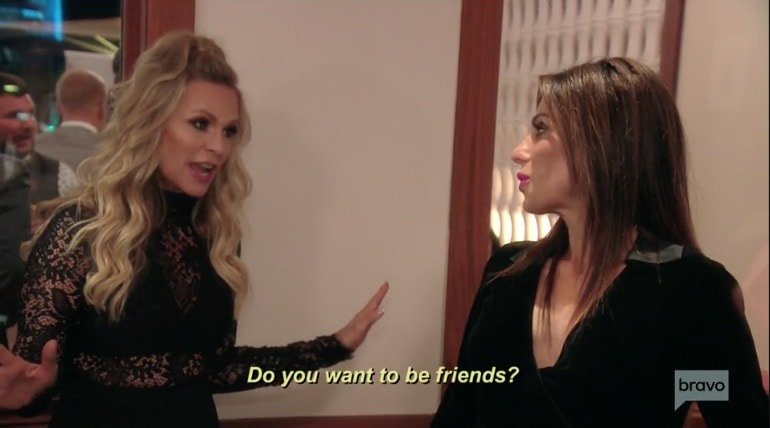 Lydia and Doug launched NOBLEMAN, a magazine where the Uber-famous cover model's name was spelled wrong on their website and decided who would fight at such a prestigious event?! After a lecture from Lydia, the voice of Jesus, Tamra's antenna to the lord ponytail tells her giving Vicki a chance to redeem herself is the right thing to do. I'm sure Peggy's suggestion that she either shit (re: hear Vicki out and move forward) or get off the pot (ignore her completely), but quit pretending she's over when so clearly she is not, also helped.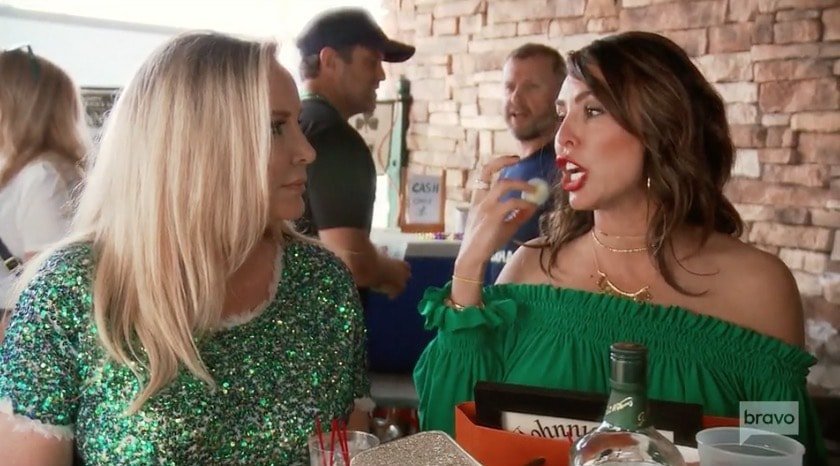 Finally, Meghan brought Kelly and Shannon together over St. Patrick's Day beers because wasn't Ireland such a fun trip where everyone got along!? But uniting these two through their true loves – alcohol – was a good move, Megs!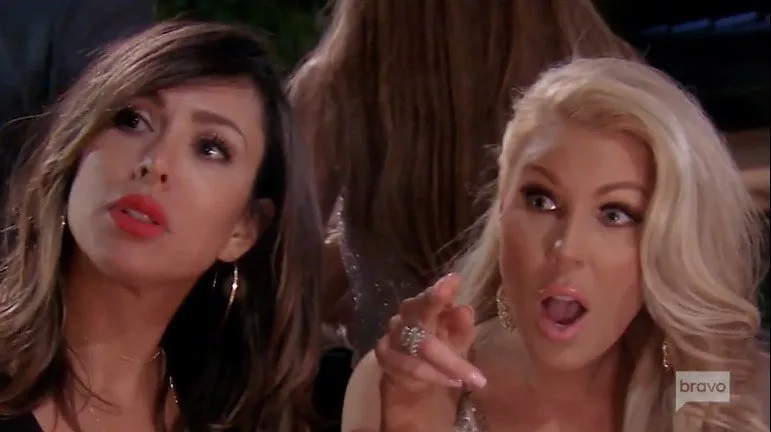 Far from wanting to move on with Tamra, Vicki's 'or else' came in the form of Gretchen Rossi and Tamra's ex-BFF Ricky appearing at Vicki's birthday party to add credence to the rumor that Eddie was gay until RHOC came knocking on his door in the form of a MILF named Tamra who offered to buy him the gym of his dreams. Vicki pretends she cannot be hearing this because she had JUST invited Tamra to coffee to 'work things out'.
Not to be outdone, Tamra invited her psychic pop star friend Scott, the one who 'had a vision' that Brooks was faking cancer and Vicki knew, to a Drag Bingo where all the ladies came as guys and all the friendships also got so mixed up.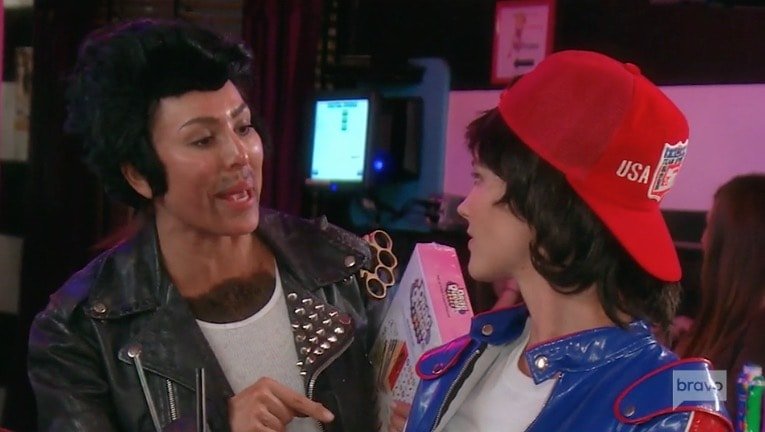 With Shannon and Kelly friends, and Kelly and Tamra friends, and Meghan finally agreeing to 'move forward' with Vicki, Kelly and Meghan had to fight with someone so why not each other?! Apparently, Meghan texted Kelly to ask if she was having an affair based on a rumor she heard from Twitter and Kelly retaliated by claiming Jim had been cheating on Meghan (and his wife before that WITH Meghan). All while Meghan was pregnant which is THE MOST HURTFUL THING LIKE EVER. Not limiting it to attacking Meghan's marriage, Kelly went further by snapping that Meghan should be spending time with her newborn instead of Housewives. Shockingly it was LYDIA, hating her costume and the gays, who found herself in the bathroom sobbing…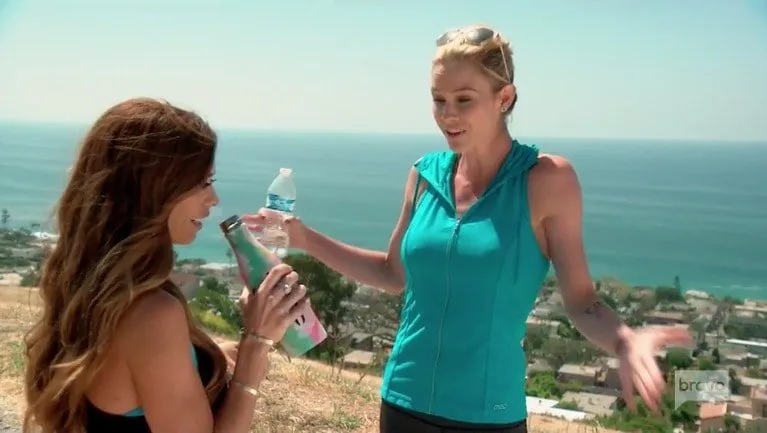 Meghan expected to find support from Lydia about Kelly's accusations, after all, they're both mothers, but Lydia was all… I dunno… I mean maybe I see Kelly's point…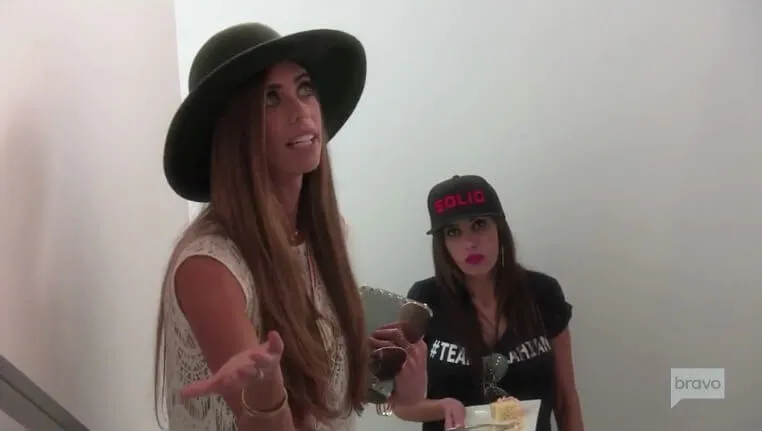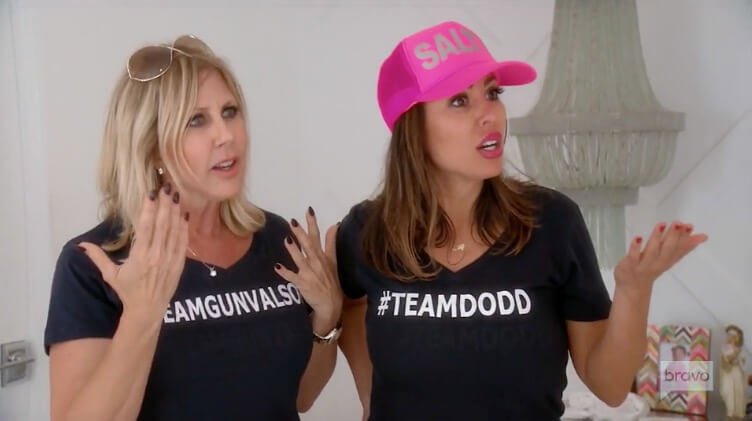 Then there was a field day at Kelly's house, but the games Housewives play never have a winner. Vicki and Tamra argued but Shannon caused the biggest ruckus by outed Lydia's "secret" boob job. Shannon screamed, Lydia screamed, then Lydia stormed out cause Shannon is "dangerous."
To prove she's still loyal to Shannon, Tamra threw a dinner and didn't invite Lydia – except Lydia found out and cried 'cause no one wants to be her friend but she's supposed to be the glitter-toting friendship whispering little pony, YOU GUYS!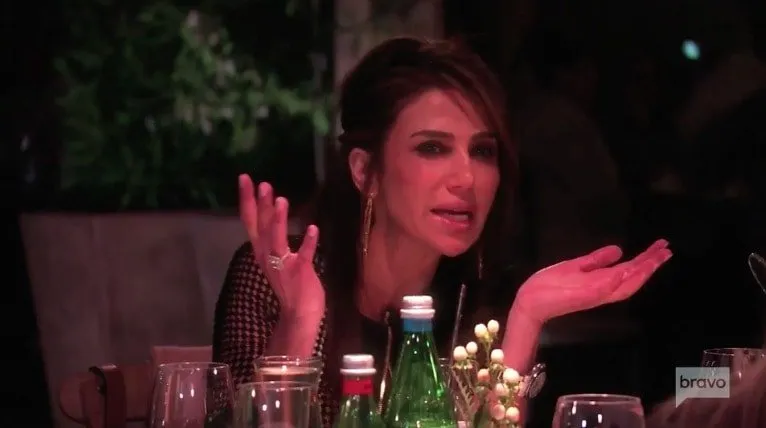 It was a good dinner to miss though because Shannon questioned Peggy about how she's possibly The New Brooks because none of her cancer talk is in English. Hangry Shannon is no one's friend! Peggy's diagnoses made more sense than Vicki's – she was hospitalized with Influenza B, no relation to Psychosis B, which is what one calls an attraction to Brooks Ayers. This is how we come full circle here on Bravo.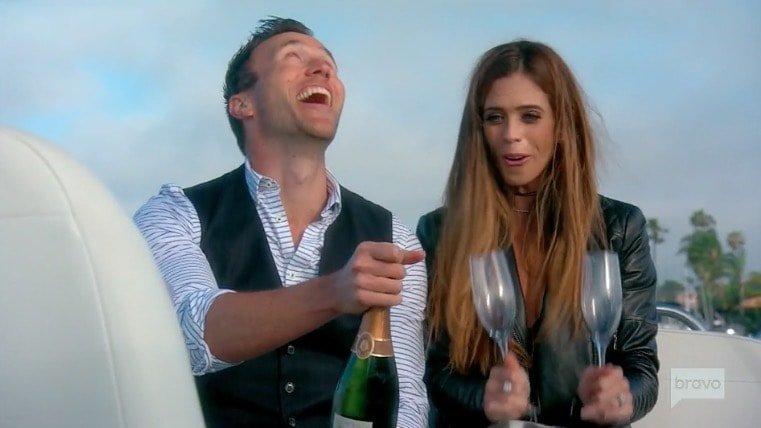 Demonstrating that she's still the bigger My Little Pony person who doesn't exclude anyone, Lydia threw a going away party for Doug's balls.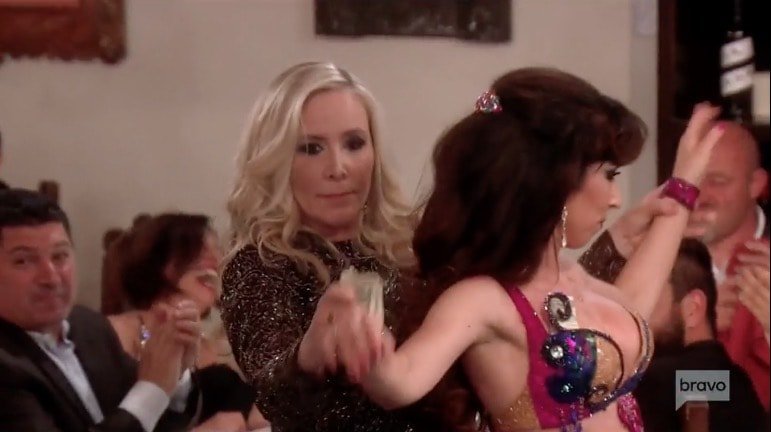 Quickly followed by Peggy and Diko hosting an Armenia anniversary party, and right in the middle of Shannon getting grabby with a hookah and a belly dancer, Diko confronted her about how she suggested Peggy is exaggerating cancer. Which he found out when David asked some skeptical questions during Doug's Balls Voyage Party. Shannon is SO HURT that anyone would question David –  a man of upstanding ethics and morals who would never, ever be part of spurious misbehavior! Guess what – she stormed out. People storming out of events was the theme of last season!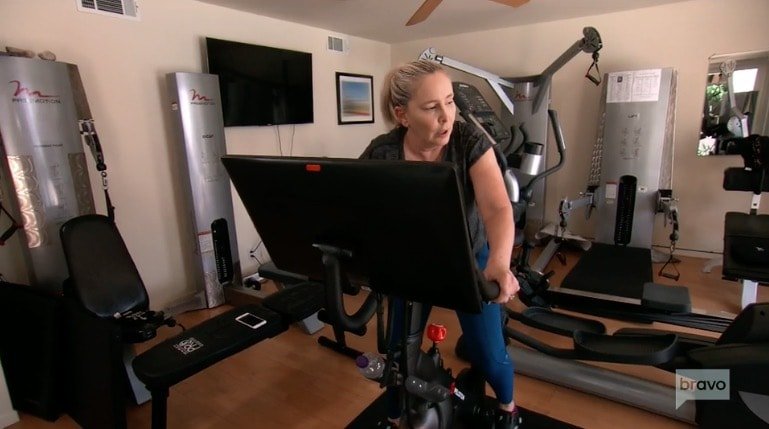 After Meghan and Kelly had a little talk, and Tamra stormed out of her coffee with Vicki, and Shannon needed to escape David her possessed demonic exercise bike, and Meghan hosted a mystic party, where the mystic herself got mystified by Shannon storming out over Peggy defending Diko – Lydia invited everyone to Iceland. So they put all their issues on ice, dragged the cooler with them, and took all that frozen baggage to there.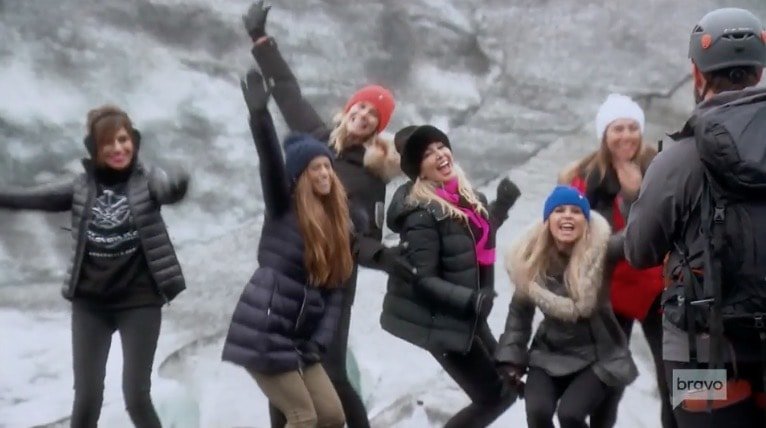 Oh, Iceland! The rooms were quirky, the women prickly, and the food scary, but the highlight was when Vicki whooped it up so hard she wound up being escorted to the hospital for dehydration with a blanket over her face. Also, Lydia stormed off the mountain because Tamra was ignoring her feelings. Not even climbing a glacier could put things in perspective for these gals!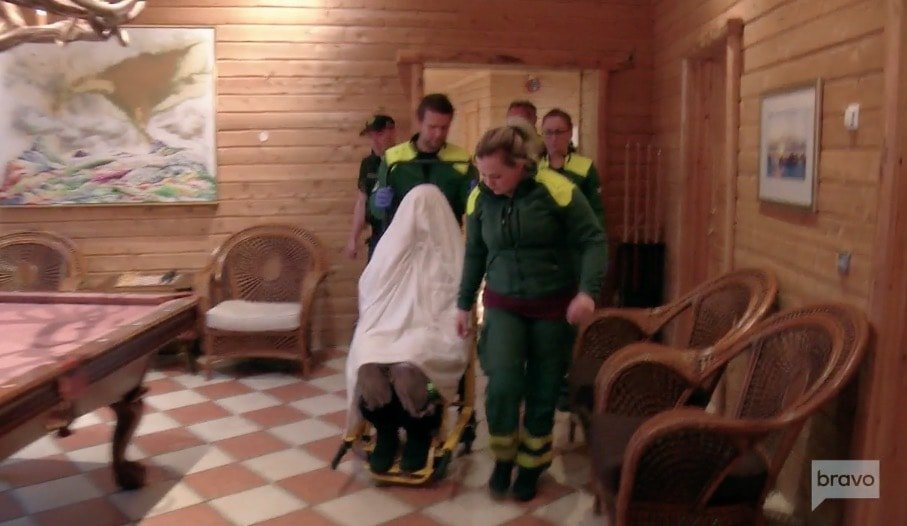 I have to say this was one of my favorite episodes of Real Housewives ever. All the women, most of whom hate Vicki, fought to take control of her health journey. Peggy appointed herself Vicki's guardian angel and blamed Kelly and Tamra for her sudden illness.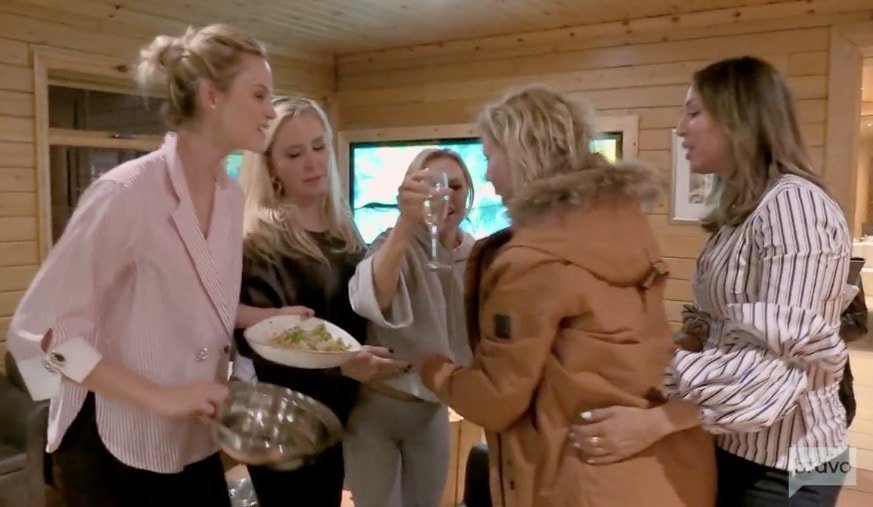 Then while Vicki was in the hospital they got the brilliant idea to surprise her with a casserole upon her return to the hotel. It was the highlight of Vicki's life! Instead of heeding the doctors to going to her room with a nice cup of tea while Peggy watched over her, Vicki partied with the girls and had a soggy, drunken reunion with Tamra who peed her pants with joy. Now that they've both peed on each other, metaphorically, what could go wrong?!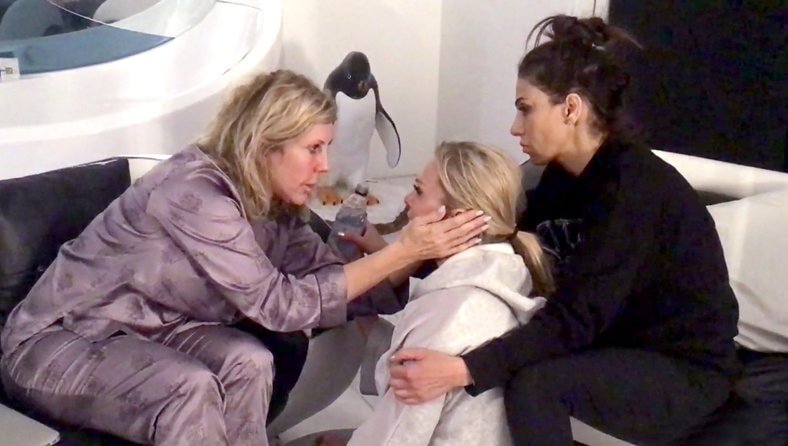 Peggy and Kelly and Shannon could! Shannon is not down for this Tamicki Reunion! And Peggy is not down for women being unsupervised and drunk, but since she can't speak English she really doesn't know how to explain this and threatened to tattle to Diko. Peggy's faux ignorance pushed Kelly over the edge. Instead of growing up, Peggy hid in her room all day while the other women went shopping and sight-seeing.
Except Peggy heard things. Bad things. Like Aspen crying for hours (minutes) while Meghan and the nanny – gasp – ignored her! Even worse Peggy feels betrayed by Vicki! Lydia managed to persuade Peggy to join them for their final supper, to which Peggy wore a prom dress, but Lydia couldn't persuade Peggy to keep her comments to herself!
Just when Vicki was managing to win Shannon over with a heart-feltish apology, Peggy went for the jugular by insulting Meghan's mothering claiming she had proof of Aspen being ignored. Peggy proved she was not Housewife material by fleeing in the middle of the night and trying to demand Bravo charter her a private plane.
Back in OC, it's as if Iceland never happened for Tamra. She heard through the grapevine about Vicki's little tet-a-tet with Gretchen and now doesn't believe her apology was earnest!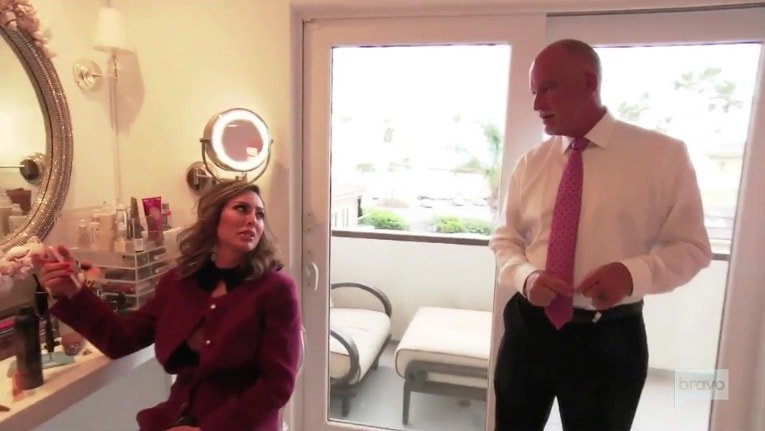 The finale party was for a candle company no one remembered Meghan launched. Before the party, Kelly decided to snuff out her marriage to Michael, who is geriatric and boring and is better suited for her mother Bobbi, and Shannon tried to discuss their distance with David, but he, obviously, didn't care.
Vicki descended the staircase of doom into the party below to learn that once again no one likes her. Casseroles don't fix everything after all! Now Tamra expects Vicki to apologize to Eddie to prove she doesn't think he's gay. #LadyDothProtestTooMuch Shannon and Peggy still couldn't get along, in case anyone cares, and the party was largely a boring mess.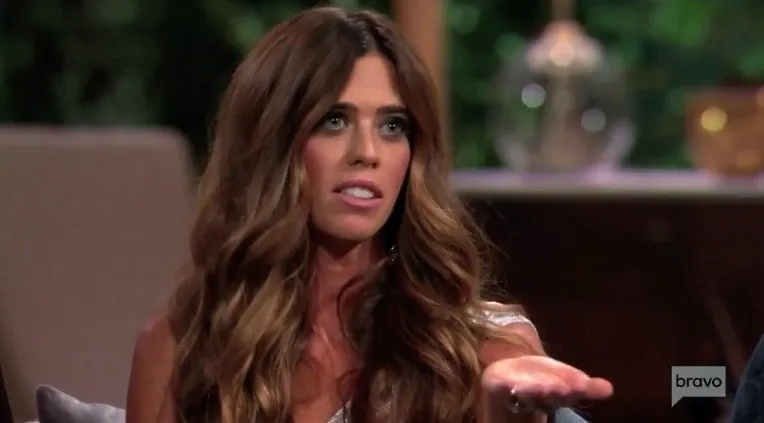 At the reunion we learned Kelly and Michael are divorcing, Shannon and David are separated, and Vicki and Tamra still don't speak. Lydia fought with Meghan about being labeled homophobic after her tantrum at drag night, Vicki was on sedatives, and Tamra cried about Sidney – again – while defying Sidney's wishes – again.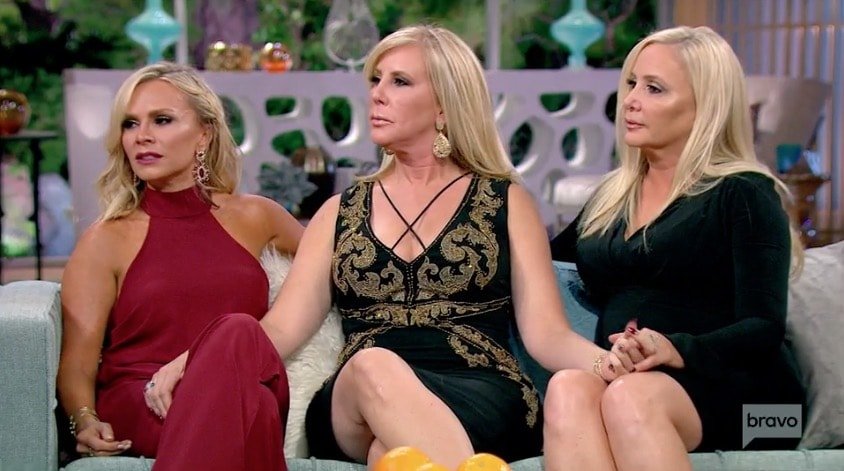 In part 2 Vicki came alive to cry over Shannon's divorce and express sincere contriteness. Tamra, Vicki and Shannon hugged and agreed to – finally – move forward. Do we believe them?! Who knows but we'll find out!
Tonight marks a new chapter. Lydia and Peggy are not returning. Meghan, who just had twins, opted to take Peggy and Kelly's advice to focus on her family – and also move permanently back to St. Louis. Instead, we're graced with two new Housewives, Gina Kirschenheiter and Emily Simpson. So let's cross our fingers for more excitement – and no cancer drama.
TELL US – WHAT IS YOUR FAVORITE MEMORY FROM LAST SEASON? ARE YOU SAD THAT LYDIA AND PEGGY WON'T RETURN?
[Main Photo Credit: Tommy Garcia/Bravo; All Photo Credits: Bravo]