Real Housewives of Atlanta cast member Shamea Morton is officially a mom! The Friend of the Housewives broke the news that she and her husband Gerald Mwangi welcomed a baby girl this week. This is probably not something that the viewers would ever get to see on the show.
Since Shamea has never been a full-time cast member, the viewers only see her when she's embroiled in controversy. Never for a happy moment of her own. Sure, they showed her bridal shower last season, but it was only to showcase the tension between the full-time cast members. Shamea has had her fair share of camera time though. She's been the subject of scandalous rumors. She has even spread some gossip about the other cast members. Of course, those storylines made the cut. And that's why we need social media to fill in the gaps when it comes to the happy news.
Shamea took to Instagram to announce "I'm officially a MOM!" She admitted, "I have whole new respect for women and our bodies."
Shamea continued, "Child birth is nothing short of a miracle. I feel so blessed to have had this experience. I don't take my life nor my child's life for granted. A 'Birthday' has a whole new meaning to me now. Whew!"
Real Housewives of Atlanta stars Porsha Wiliams, NeNe Leakes, and Kandi Burruss left congratulatory comments on Shamea's post.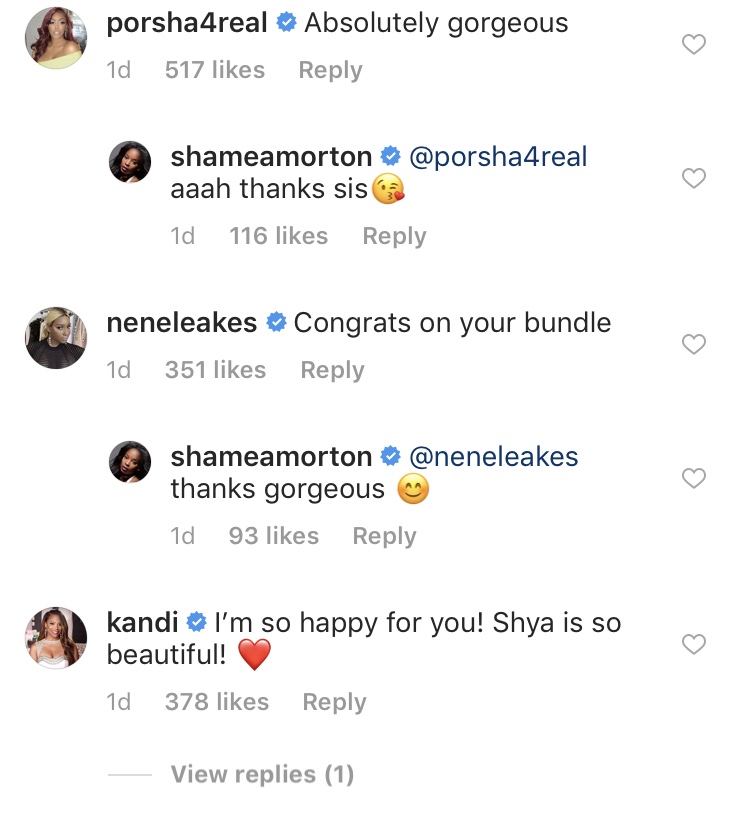 Atlanta Housewife Cynthia Bailey commented twice on Shamea's big news. Former Real Housewife, and fellow new mom, Kenya Moore posted a comment.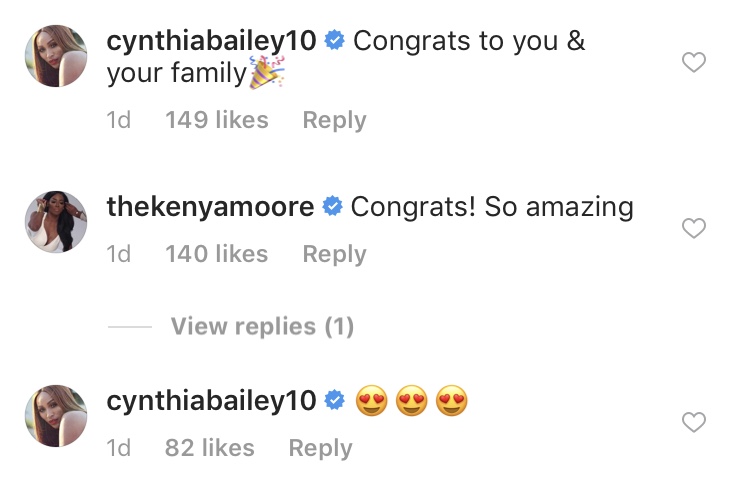 On November 30, Shamea revealed more information in another Instagram post. She wrote, "Hello World! Mee Shya Nyambura Mwangi." She also revealed that baby was born on November 25. She was just waiting to get her an Instagram username and some professional photos (which we can't legally post on this site without permission). Apparently, but for the record, baby Shya had that account  before she popped out of the womb.
It feels like there's a baby boom in the ATL. Eva Marcille gave birth to a son in April. Kenya welcomed her daughter in November. Shamea just joined the mom club. Kandi might be the next RHOA cast member to welcome a baby.
TELL US- WHAT DO YOU WANT TO SEE MORE OF SHAMEA MORTON ON REAL HOUSEWIVES OF ATLANTA? WHICH RHOA CAST MEMBER WOULD YOU WANT AS A MOM?
[Photo Credit: Instagram]