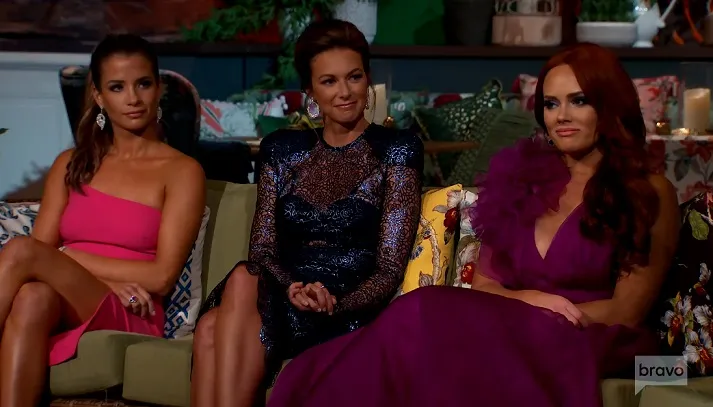 Geez Louise. There is a lot to unpack from last night's Southern Charm reunion, the least of which was the spectrum of outfits…but seriously, can we talk about that for a quick second? Cameran Eubanks keeps it chic and simple with her gorgeous dress and amazing shoes, but the rest of the ladies are all over the map! While Naomie Olindo looks cute repping her line, she could be at a dance club or hanging out at the mall in the 80's with her look. And while we're on the subject of the 80's, Chelsea Meissner stole her dress from the Dynasty costume archives. Of course, no one's ensemble is more confusing than Kathryn Dennis' bridesmaid's dress and matching eye shadow. It's just…a lot.
Cameran is under fire from some viewers who thought she whined too much about motherhood. Instead of being defensive, Cameran admits that she cringed a bit watching some of her complaints this season. While she misses her career and the adult time it afforded her, she knows she is incredibly lucky to be able to afford to be a stay-at-home mom. Motherhood has certainly changed Cameran, and she loves that she can watch Palmer grow and change each day. Cam apologizes if she came across spoiled or privileged as she is very aware of her good fortune. Kathryn comes to Cameran's defense, asserting that every mother struggles with the same feelings of guilt and the inability to balance.
Not so apologetic is Shep Rose. Andy Cohen inquires about his anger issues and how he hazes Craig Conover and Austen Kroll. Shep can barely contain his eye rolls. He isn't that bad a person, but he doesn't suffer fools. He considers his role that of a big brother picking on younger siblings. After all, he is nearly a decade older than his counterparts. That argument almost makes it worse. Andy prods with more comments from the viewers, but Shep isn't phased. He waxes poetic about how minute his role is in the grand scheme of the planet, and how everyone experiences anger, joy, arrogance, gratitude, generosity, and mindfulness. Shep is just like everyone else, except he sometimes lets his prep school side take over.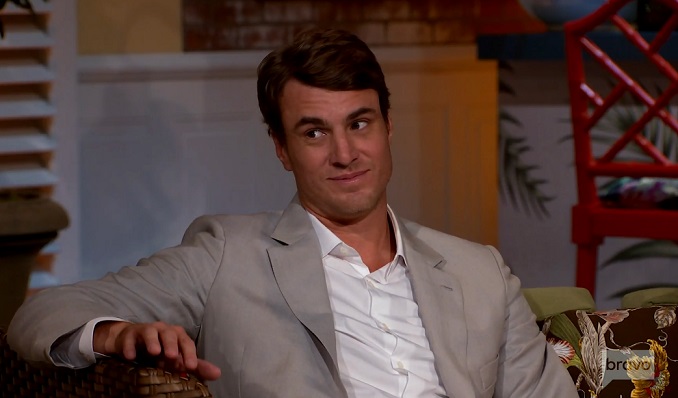 His friends seem slightly taken aback by his lack of culpability, but he doesn't back down to their responses. Cameran tries to lecture him about taking things too far, and Andy recalls the women's dinner party when all of the girls said Shep had made them cry at least once over the course of their friendship with him. Shep concedes that he only gets that angry and calculated if it's someone he cares about–he's not going to wasted time or energy getting upset with strangers.
Craig interrupts to remind Shep of his Twitter feed where he berates any followers who don't agree with his point of view. Austen chimes in that he's seen Shep belittle strangers in person. Shep sits stone-faced and then blames his elitism on his grandmother, saying she was a pistol with expensive taste and a sharp tongue. Some of her arrogance probably seeped into his psyche along the way. If Shep offended anyone, he is sorry…sorry they don't have thicker skin or a bigger brain, but sorry none the less.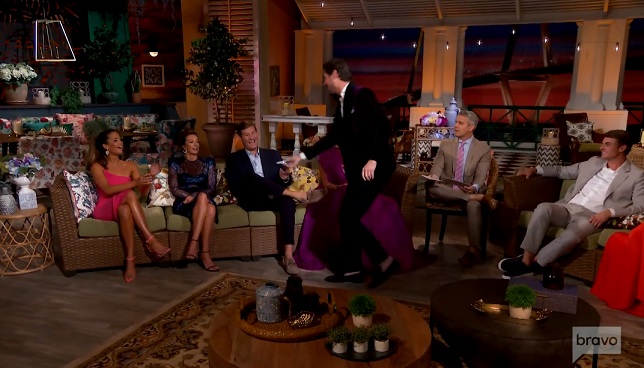 The conversation turns to Naomie's relationship with Metul Shah. They have been together over a year, and she reveals that she tracks him like she did Craig…but he reciprocates with the location sharing. Viewers agree that he's easy on the eyes, and Cameran admits that husband Jason Wimberly wasn't too keen on her fawning over Naomie's beau. Andy notes that several fans found his behavior to be controlling when he wouldn't allow Naomie to indulge in a rice krispie treat, and Craig is quick to pull one out of his pocket, building a bridge back to friendship. Naomie agrees that Metul came across as an ass, but she claims his intentions are always good. Austen isn't so sure.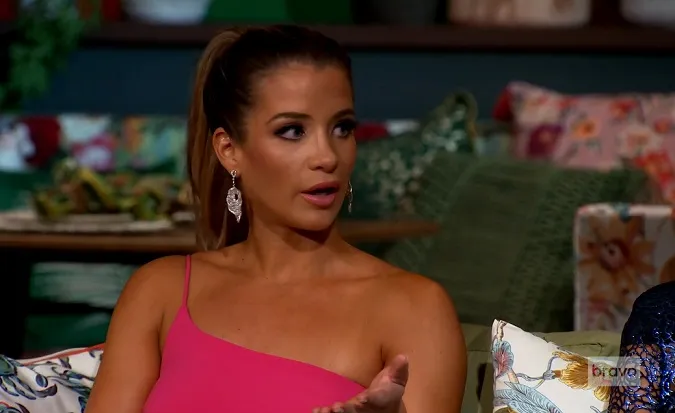 Naomie defends Metul against criticism that he is controlling, and Shep interjects that it's probably cultural. After all, his dad's business partner was from India, and he completely understood why Metul wouldn't want his girlfriend traveling with her ex. There is an awkward pause after Naomie states that Metul was born in D.C. Shep, just nod and smile going forward, pretty please!?! Naomie reminds Andy that Metul didn't sign up for the show, and he's not comfortable being on camera. She's quick to agree that his warm and funny personality didn't translate well to viewers. The topic changes to Naomie's happy hour with Ashley Jacobs while the charmers were skiing in Colorado.
Naomie jokes that morbid curiosity led her to accept Ashley's bizarre invitation. Kathryn is in awe of Ashley's inability to read social cues, among countless other faults. The fact that Ashley thought her conversation with Naomie gave her a green light to approach Kathryn is mind boggling. No one thought Ashley's apologies contain an ounce of sincerity, although Kathryn does chuckle over Ashley's Pippi Longstocking comment.
Next up, Andy addresses Craig's pillow empire and adderall use. Craig knows that he returned from his Bahamian soul searching summer a much healthier man, having ditched his prescribed ADHD meds for spear fishing. He is fully aware of the spiraling effect the pills have on him. In law school, he took them to study, took more to study more, and then took a little more to stay awake for class. A few days of this cycle leads to a very long sleep crash. Can I raise my hand and say, "Same!"? Like Craig, I am prescribed medication for my ADD, and I can feel lost if I don't take it.
On the flip side, the slightest increase, or taking a dose too late in the day, can throw off your rhythm entirely. Of course, I'm not a reality television star partying in Charleston like it's my job, so… When asked point blank if Cameran thinks Craig is addicted to adderall, she responds 100%.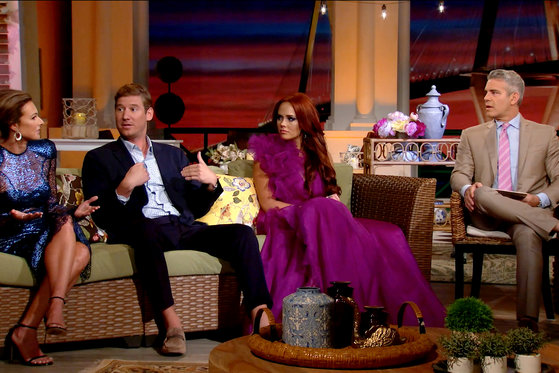 It completely explains Craig's outbursts at Cameran's birthday party and in the airport in Colorado. While Craig agrees that his meds, coupled with his sadness over losing Austen as a wing man, contributed to his outburst at Cameran's party, it was Whitney Sudler-Smith's smugness alone that is responsible for his Colorado behavior.
Andy discusses whether Craig has unresolved feelings for Naomie. The girls did feel Craig was holding onto the memory of his ex, but now everyone believes he's gotten the closure he needs. A poll of the sofas shows the charmers unanimously agree that Craig is over Naomie.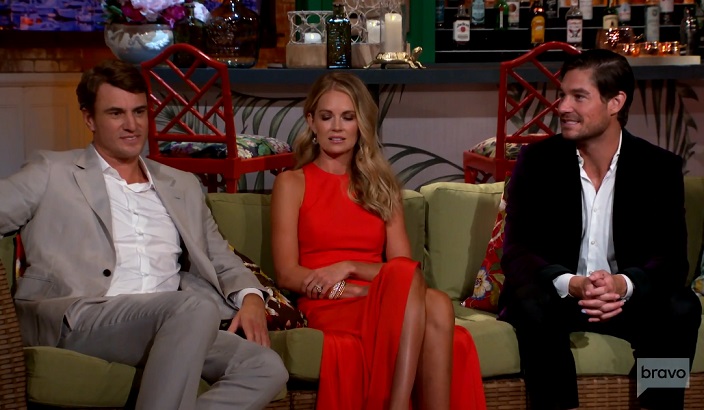 Andy hones in on Kathryn and her children. She gushes over Kensie and Saint but isn't allowed to comment on custody or disparage Thomas Ravenel. All of her cast mates are pursing their lips and throwing a lot of side eye. Kathryn is still dating her country singer boyfriend, and while it's a change dating someone her own age without an established career, she's enjoying their time together. She gives a shout out to Amazon for the $10 pleather leggings she loves to wear before asserting that her friendship with Patricia Altschul isn't an attempt to social climb.
Much like with her co-stars, Kathryn was quick to forgive the nastiness Pat had previously thrown her way. Kathryn cites motherhood as her main focus, and she has no need to hold any grudges…even against Whitney after he lied about their recent hook-up.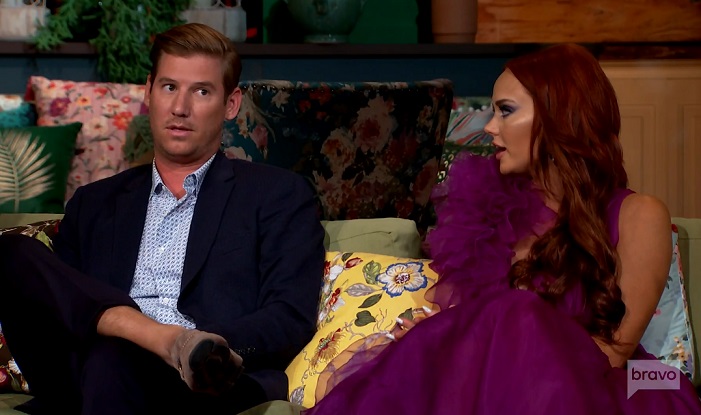 Cameran claims that Whitney denied the encounter so as not to be pulled into Kathryn's legal battle with Thomas. Kathryn definitely understands his concern, but she also feels disheartened because she can't control what Thomas does. She bears the consequences of his legal chess game. Andy ticks off a laundry list of T-Rav's accusations against Kathryn, including that she's a sex addict with prescription pill problem who failed a recent drug test.
My friend may have spotted T-Rav out last weekend, and he's not necessarily one to talk. The topic turns to Kathryn's odd appearance on WWHL, and Kathryn sticks to her story that anxiety got the best of her. Her co-stars found the show to be disappointing and disturbing. Kathryn claims she doesn't smoke weed or use illegal substances, but she does drink responsibly (although she asserts she wasn't drinking on WWHL).
Austen was peeved by Kathryn's dismissal of him on the show, but she doesn't recall it. He believes her lack of memory regarding that night is telling, but she lashes out that he better not come for her sobriety. The reason she doesn't recall the WWHL episode is because she's too embarrassed to watch it again. I don't think this will be the last we hear on this topic…
TELL US -WHAT DID YOU THINK OF THE FIRST HALF OF THE SOUTHERN CHARM REUNION? HOW AWFUL WAS SHEP'S BEHAVIOR?
[Photo Credit: Bravo]