This season of The Real Housewives of Potomac is finally reaching its last stop. What a whirlwind season it has been. Part three is set to focus on the Michael Darby allegations, and what a journey it will be. GIVE US THE STRENGTH! It'll be interesting to see how Ashley Darby reacts to everyone coming ever Michael in this episode.
Everyone is going to be gunning for Michael. Gizelle Bryant has thought he was guilty from day one. Robyn Dixon and Candiace Dillard spread the rumor about Michael and Juan Dixon. Karen Huger has been VERY outspoken against the way he never apologized. Plus, Monique Samuels could know more than she's letting on. This should be good.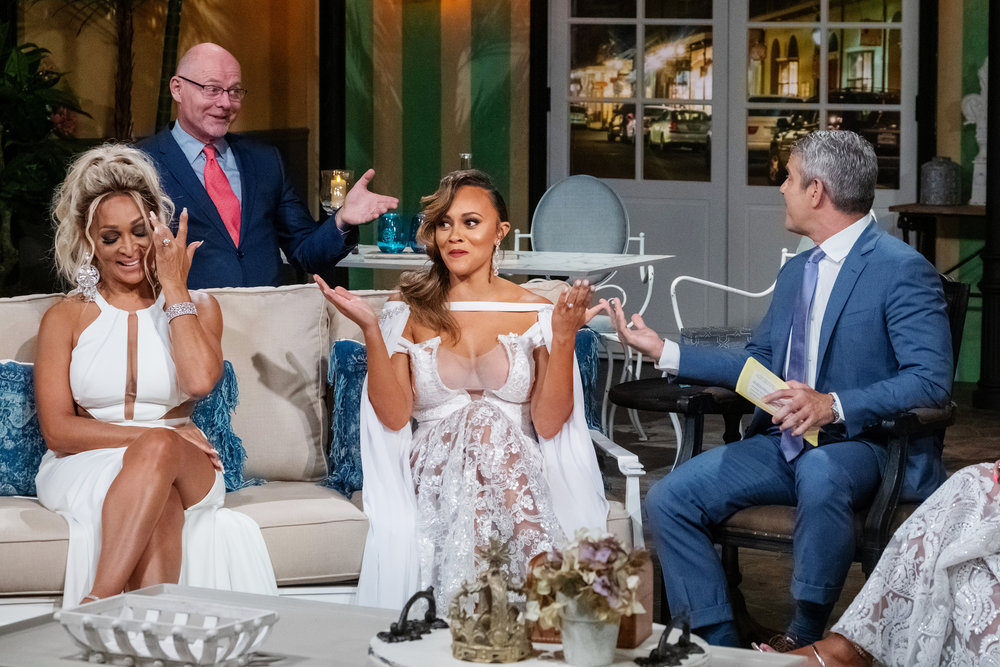 The husbands are joining the women which means Michael will be in the hot seat. It's hilarious watching Karen show how she controls Ray Huger's kiss. A little creepy, but funny nonetheless.
The women believe Ashley is the biggest freak in the bedroom. No surprise there. She has to be something to keep someone like Michael.
Monique says that she and Chris Samuels have beaten their sex drought! Good for them! Glad they're back on track.
Juan says that Robyn's estimate of when they might get married sounds great. Everyone wants them to get remarried except for Karen. She worries that it'll change things for the worse.
Robyn needs a marriage storyline next season though. She's too boring in all honesty. Let's give her something to do.
We're diving into the Michael drama early on, and I'm pumped. These allegations are about to take a new turn. Michael says the ladies should be embarrassed about what they did to him. How cocky! None of them were really feeling that response.
Michael says the first cameraman said something for no reason. He also says the second production clip was Monique's cousin Hank. Michael says it was an ongoing joke with Hank, but Monique says otherwise.
Also,the footage from Monique's house is gone forever because it recycles. That is a horrible blow to opponents of Michael.
The topic turns to how Michael responded to the cameraman. Chris Bassett says that most people say sorry or excuse me, but Michael didn't. TRUE! I thought the same thing when I saw the footage. His reaction was not that of someone who did an innocent bump.
Chris then alleges that Michael groped the cameraman a second time which Michael denies immediately. WOAH. More allegations could be damaging for the controversial Aussie. GAME. CHANGER. So much cringe with Michael.
His arrogance and unapologetic attitude is also very off putting. Gizelle and Michael argue over an alleged past grab. Ashley's silence is speaking volumes here. She's barely saying a word.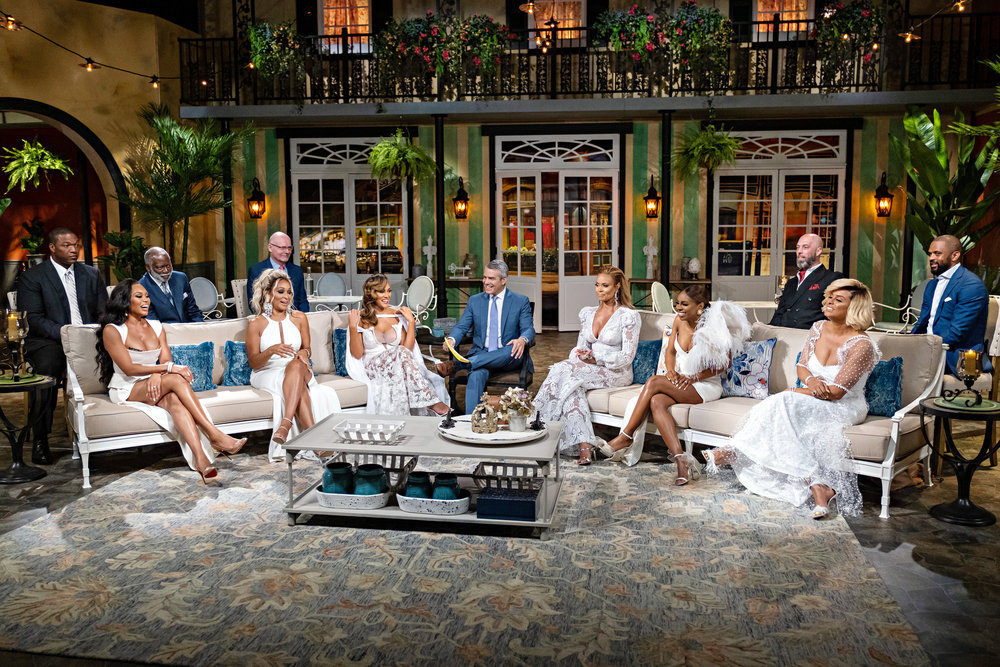 Gizelle says she saw the past grab, but he denies it being possible that she could have. Michael is doing whatever he can to discredit all of the women.
He goes after Robyn next and says she was too drunk and didn't hear the Juan comment. Michael also says he should've pressed charges against Candiace for the knife incident.
Chris then questions why Michael has all the credibility and nobody else does. FAIR POINT. SO VALID. Michael is here to say whatever he wants and not hear a word they say.
Gizelle says that Michael should have apologized to Ashley publicly, but he doesn't feel that way. He says he didn't put her through anything.
Where has Michael been the last four seasons? Is he serious right now? Be transparent Michael. COME ON. Ashley says Michael has apologized at home.
Juan interrupts everything to go to the bathroom. Funny moment, but I thought he was going to come at Michael.
Candiace implies that Michael paid the cameraman off. Gizelle cites previous behavior as why she believes the allegations. PREACH.
Juan looks so uncomfortable with the topic of conversation. Ray says he never reached out to Michael because he believed he did it. How can Michael (or Ashley) continue in this group? This feels very end of the road for them.
Ray says he say Michael do it to another man before, and Andy Cohen looks exhausted. He says that it was Andy who Michael grabbed and everyone starts laughing.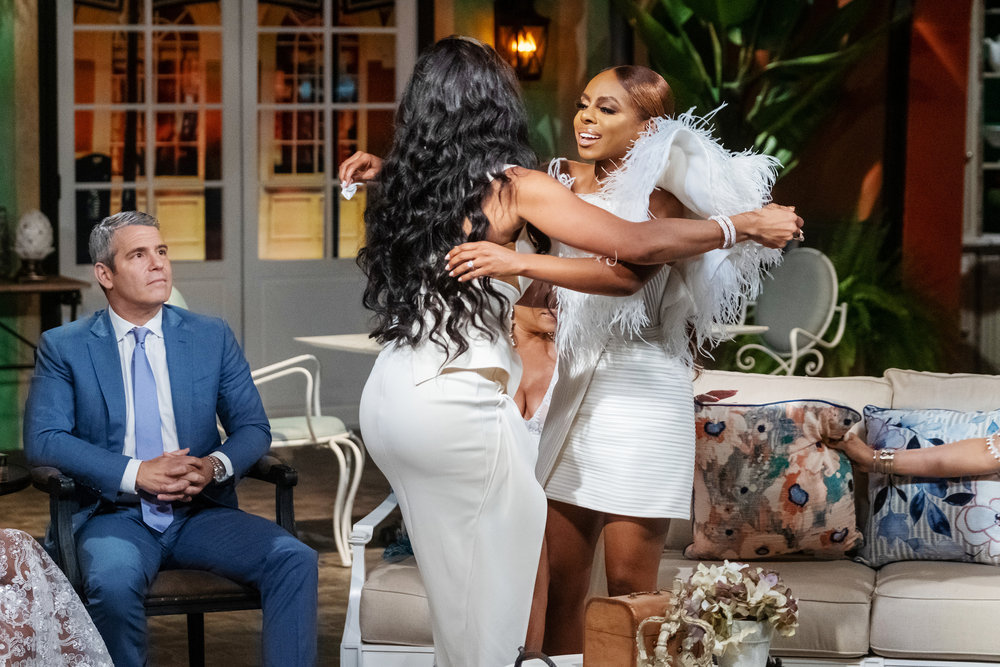 Michael hopes the future will be better for his child. I hope Michael's child has a better role model in the future. That's what baby Dean NEEDS. Michael walks over to Gizelle and tells her there is more to it that he can't discuss. It came across to me like he was admitting it.
Michael goes over to Ashley next and starts ranting, but she shuts him down. She reminds him that cameras are rolling and that she has a mic on. What is she trying to hide here? What is she trying to prevent Michael from saying?
Candiace is over how arrogant Michael was at the reunion, and I agree. He came in there with the most pompous attitude ever. He was doing whatever he could to shut them down and make the women look bad. Not cool.
Andy forgot that Michael grabbed him. So awkward. Is there anyone Michael hasn't allegedly grabbed? What is this man's issue?
Karen can't fully move on with Michael because he made contact. He didn't apologize despite contact being made, and she can't get past it. Fair enough.
It probably brings up so many old and scary memories for her. Karen is a survivor of sexual assault herself, so she takes this very seriously.
Karen says that Ashley believes Michael is 100% innocent, and that is scary to her. Ashley spins the situation to say Karen acted the same when she was accused of cheating on Ray. What does that have to do with this? One thing does not reflect the other.
The two women keep fighting until Andy is finally able to cut them off to wrap the reunion. FINALLY. Shut up.
Candiace says her rose of the season was marrying Chris. AWWW shucks. I love love. Candiace and Monique share a thorn because of their friendship ending. They hate what went down between one another. They hug it out which gives hope to the future of their friendship.
Monique's rose is the birth of her miracle rainbow baby. Chase is adorable, so I'm glad she got the happy ending she deserves. Robyn's rose was her house FINALLY closing, and her torn was all the Michael stuff. SO much drama.
Gizelle's rose was how she stepped up as a mother this season. Her thorn was all the drama with Ashley, but I think their friendship is done done. I don't think they will recover from this.
Ashley's rose was getting closer to Michael. Ew. Obviously the Michael drama was her thorn. So much chaos in her life over those allegations.
Karen says she had a great season until this fight with Ashley. Her hope is that they can work on their friendship.
On a personal note, I want to say how great it was to cover this show for all of you this season. I read ALL of your comments, and I love the enthusiasm you pour into your words. See you next season!
TELL US – DO YOU BELIEVE THE ALLEGATIONS AGAINST MICHAEL? WILL KAREN AND ASHLEY WORK THROUGH THEIR ISSUES? DID YOU ENJOY THIS SEASON OF THE REAL HOUSEWIVES OF POTOMAC?
[Photo Credit: Charles Sykes/Bravo]