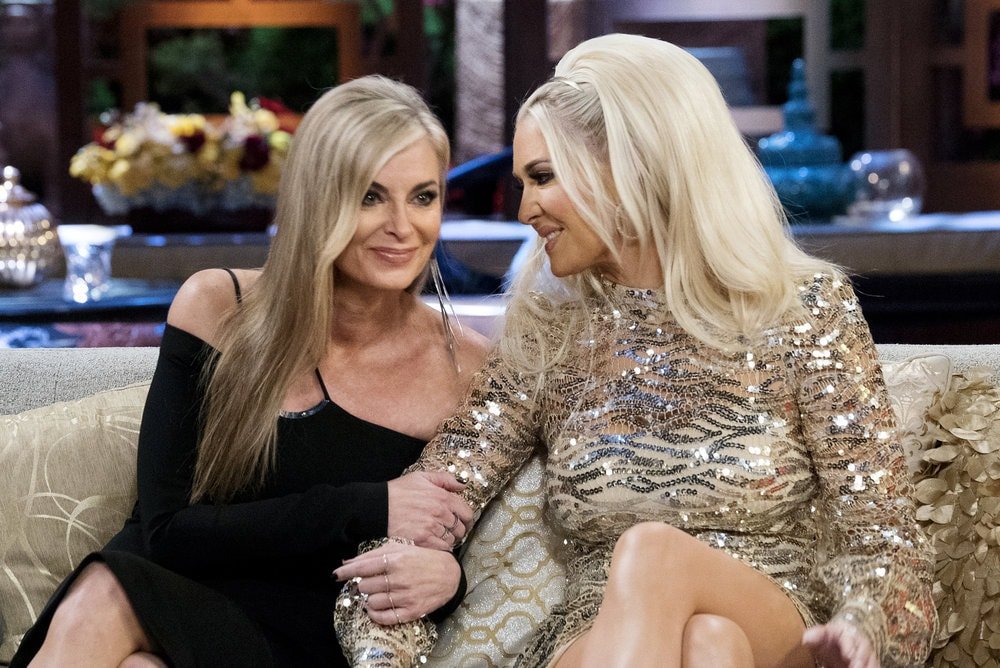 From the moment Erika Jayne has joined the cast of Real Housewives of Beverly Hills, she has been a fan favorite. Whether it is her style, her entourage or just her 'keeping it real' personality – she has become a house hold name with the franchise.
The Pretty Mess author has made a name for herself since her arrival on the show. Whether it be releasing new music, a book or a shoe line – Jayne is busy even when she isn't filming. With Season 10 of Real Housewives of Beverly Hills just beginning, why not go down memory lane!
Real Housewives of Beverly Hills  is now on it's 10th season and has had 18 full-time housewives but there is only one alum cameo that the Broadway star enjoyed! Erika told Hollywood Life exclusively "It was wonderful for us to catch up with Eileen. I miss Eileen." You would think since her introduction to the group was Yolanda Foster, that would be her top choice.
Erika gives insight on why Eileen was her pick, "Eileen was a real voice of clarity and strength, and she was honest and open," Erika explained. "And I miss Eileen, I think that she, she's great, you know, and she's just cool lady, and she's a great friend. And she's a cool chick." Eileen Davidson and Erika had a close relationship during their time on the show together. It seems the two are still in contact and have a friendship outside of the show.
The Young and the Restless icon was only on RHOBH for 3 season – for some fans Eileen was a bore but others truly miss the soap opera actress. Jayne seems to miss her as well, I mean let us not forget when Eileen surprised Erika with a guest appearance on Y&R. Who could forget that?
It doesn't seem as if Real Housewives of Beverly Hills  is on Eileen's radar. A source told Hollywood Life, "Eileen Davidson has no regrets walking away from RHOBH," the source told us, who explained that Eileen's "happy focusing more on directing and acting." The source even added "She would not go back full-time if approached. There's really nothing anyone could do or say to get her to come back."
If we have learned anything from the housewives, it is that alums should never say never!
TELL US-  DO YOU AGREE WITH ERIKA JAYNE? WOULD YOU LIKE TO SEE ELIEEN DAVIDSON RETURN TO RHOBH? WHAT OTHER ALUM HOUSEWIVES WOULD YOU LIKE TO SEE COME BACK? 
[Photo Credit: Bravo]