It's a new dawn on Real Housewives Of Beverly Hills! Kyle Richards kaftans became legit, debuting at NY Fashion Week. Erika Jayne is trying a new way to take heat off her life – being friends with the women. Lisa Rinna is still lecturing everyone about owning it, while not owning that she is overjoyed to be No 1 Lisa. Also, we met new cast members Garcelle Beauvais and Sutton Stracke. So far I love them both!
All the ladies are in NYC for Kyle's fashion show. One day before Kyle hasn't even seen most of the collection she so-called designed. She calls Dorit Kemsley in a blind panic because she has no idea what do to prepare for a runway show. Like how to present the collection cohesively? How does one figure out who wears what? Dorit is appalled that Kyle has a line that she basically slapped her name on. Um, isn't that what Dorit just finished Beverly Beach mediation over?
Kyle has a business partner named Shahida who does all the work. Shahida takes Kyle's Pinterest board and iPhone camera roll then inputs it into a 3-d printer, replicates it onto a sheet of fabric, cuts a head-hole and POOF! it's a kaftan! Ah, the magic of fashion. I Dream Of Kyle — the collection.
Dorit watches on, mouth agape (which is my favorite Dorit expression), as Kyle flicks through racks like this is a sample sale, rejecting things that she wouldn't wear. Finally the fashion show director, Tracie, interjects to explain that they have a plan so Kyle should stand aside and focus on asking the genie in the kaftan generator bottle to reverse her botched bangs.
Dorit also steps in to offer some constructive criticism. Or as she puts it "save Kyle's fashion show," but I'm not sure I trust a woman who considers too small hot pink bikini bottoms worn with giant Chanel belts up to the task. I remember Dorit's fashion show with the plastic palm trees and the fantasy world of a simulated beach where the tides came and went to the gravitational pull of Dorit's delusional mind. Time was irrelevant there! As was money. Well, maybe those who can't do teach?
What Kyle is contributing is celeb power. Teddi Mellencamp, Erika, Lipsa, Dorit, and Denise Richards are walking in the show. Even though Teddi can scarcely walk across a carpet in heels without looking like she just survived an encounter on Brokeback Mountain.
This season Erika is finally opening up to the women and the audience. Does that mean she's going to get real about her marriage and her money? Probably not. Instead she's headed back down memory lane to share how she used to be a go-go dancer in her 20's. Wasn't this revelation in her book? Which we all could've read about if we hadn't fallen asleep from utter boredom after page 2. We already know the most interesting thing about Erika is the persona she created to give herself substance.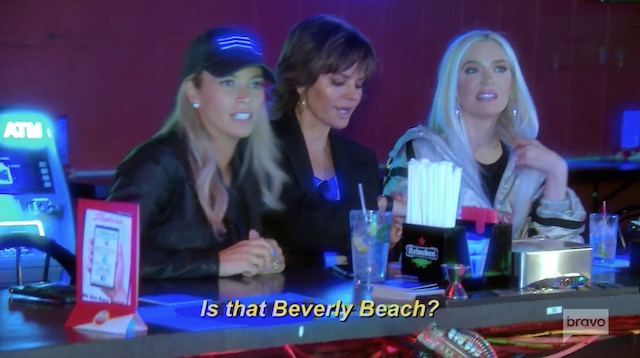 Erika takes all the women to the seedy dive bar called Shakers where she used to work. It's basically a double-wide trailer with some headless women halfheartedly gyrating in thong bikinis. A pool in Vegas has away more T & A. Erika's worried the women will be scandalized and judge her. As if Erika Jayne doesn't take her clothes off and shake it half-naked on the regular? Plus, all these women have seen Flash Dance. Denise is bored. We all are Denise!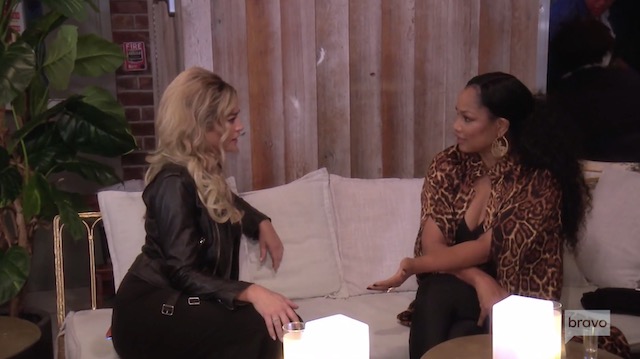 I already love Garcelle. She's a party girl and fun. Plus, she shows up to meet the girls for the first time wearing a full-length leopard cape, putting Kyle's kaftan game waaaaay to shame! Denise and Garcelle have known each other 20 years, and have a very similar energy. Right away she's doing shots, and joking about vibrators and single motherhood. Teddi is instantly uncomfortable.
Garcelle was born in Haiti and moved to America at aged 7. She had never seen snow or white people, and learned English from Sesame Street. She's proud to be living the American dream. Unfortunately she connects to Erika's new persona as 'friendly and approachable girls-girl' right away. Garcelle – be prepared to be disappointed!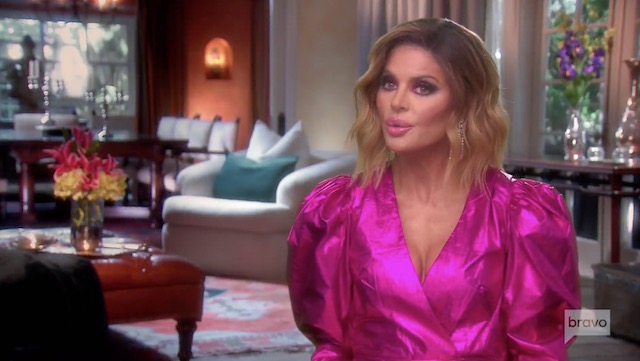 With the queen of pink Lisa Vanderpump out, everyone is exercising their right to wear the color in abundance. Lipsa and Erika are even dressed like LVP stans in their confessionals, sporting pink dresses with giant over-exaggerated pink shoulders straight out of a LVP closet.
Now onto Sutton. She's amazing. I am so confused about why she didn't get cast, because she'd surely give Erika a run for her money. Literally. Sutton is close personal friends with Dolce & Gabanna and takes Lipsa to Domenico Dolce's NYC apartment to pick up the outfit they custom designed for her to wear during fashion week.
Sutton is so uber rich from being married to a hedge fund guy who left her set for life in the divorce settlement that she actually buys her couture. There are houses,, yachts, and baseball teams … oh my! There are also the personalized tiaras D&G sends her every year for her birthday. I understand the star power of having someone like Garcelle, but a part of me still craves the old-school rich socialites who used to populated Real Housewives. We've now got 3 actresses and one performer whose whole entire life is an act on Real Housewives Of Beverly Hills, and I'm kinda over it.
Lipsa is TOTALLY enamored with Sutton. She's so giddy with being affiliated with her that she pretends to love the custom D&G creation. While waiting for Sutton to try on her pink organza and brocade romper, she finds an errant gold crown and tries it on. "It's no so heavy," she shrugs. Aaaahhh… the pink blazer, the crown — all so transparent. But still, Lipsa's crown is borrowed. Not even borrowed, secretly tried on, so… stolen? In Tudor times she'd find herself beheaded!
Also as part of Erika's new 'See I know how to be friends with people' personality she's trying to help Denise deal with Charlie Sheen. Charlie hasn't paid support in over a year, then went to the press complaining about Denise, and decided to take her to court to get child support disbanded or something. It's not going to work. Obviously.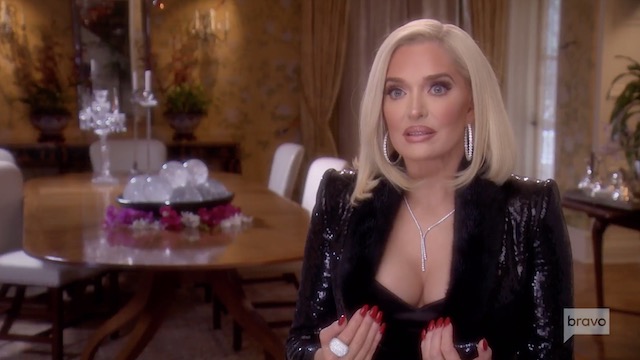 Teddi, being the good friend that she is, tells Denise when they're all sitting down to drinks that Charlie is trash-talking her and asked for a hearing. Denise's plan, stupidly enough, is to just ignore the whole thing. She doesn't even have a lawyer! Erika doesn't agree with this and phones up Tom Girardi on the spot for advice for what Denise should do. He tells her to go the court date. Erika keeps pressing Denise to handle the matter immediately – like literally leave the table to go call Tom. Denise is irritated. She's been dealing with Charlie for years and doesn't need Erika trying to be her new BFF and legal consultant. Denise is mighty testy, right off the bat this season… And doesn't seem invested at all.
Well, we all know "southern to the core" Sutton isn't going to mix with this haphazard and unsophisticated crew. Especially when Lipsa introduces her at Kyle's pre-fashion show party. Kyle and her kaftcan'ts is not what passes for fashion in Sutton's world. Nor does Erika's ass hanging out of a too-tight blazer worn as a dress, or Dorit's too big blazer worn as a dress. Sutton is judgey to the core. Which I love. She's also hardcore. Mid-party Teddi announces that she's expecting and Sutton is barely moved to muster a smile. Children are just such an interference in a person's fun. Sutton and Kyle are NOT going to get along. At. All.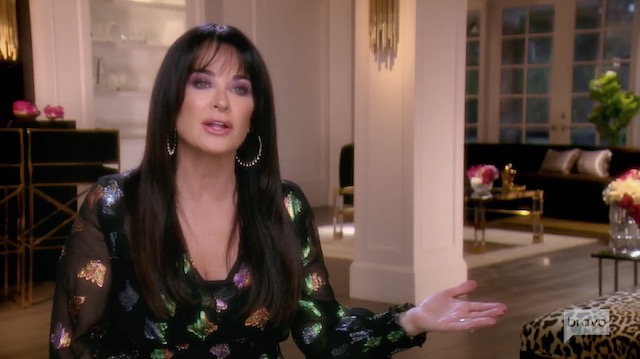 Speaking of, we finally get an explanation for Kyle's bangs! She was the original daughter in the movie Halloween and they are filming some sort of anniversary version. Kyle was asked to reprise her role, all grown up. She had bangs in the first movie, so the director asked her to cut them again. This means Kyle is flying from NYC to North Carolina for weeks filming, and will be away from her family. Cue nonstop anxiety attacks and then further anxiety attacks about whether or not it's safe to take CBD. She should just take Lipsa's whole damn freezer bag full of pills with her.
Kyle hasn't been away from Mauricio for more than five days their entire marriage. When she calls to check-in from NY, he's already partying hardcore at the annual Agency party. Let freedom ring! Also, yeah, you thought we'd make it through at least one episode without a mention of The Agency, didn't you?! WRRRRROOOOONG!
God, Kyle is just so self-absorbed! Two hours before the fashion show she still hasn't told her 'celeb' models what they're wearing or how their hair should be styled. Instead she's absorbed in how SHE should look to debut HER show. Maybe Kyle should just walk down the runway herself in every look she likes?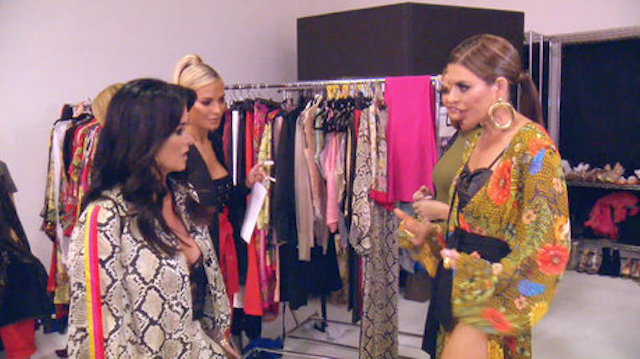 While they're doing the run-through Kyle interrupts to inform the coordinator that her other daughter, Alexia, will also be walking, thus messing up the entire color story and flow. Teddi hasn't even practiced on the runway before the show starts, and Dorit is literally coaching her seconds before. It doesn't help.
Kyle really doesn't understand that this is a professional venture, does she?  While everyone else is trying to get things together, Kyle runs around taking selfies, screeching for a cocktail, preening with Nicky and Paris (and bragging that they showed up), and taking herself waaaay too seriously.
Kyle was worried about looking like a joke? Well, she looked like a joke! All the visions in Kyle's mind look like a Lite-Brite exploded. Sutton and Garcelle, sitting in the audience, actually both like one lemon-yellow pussy bow dress that is My Fair Lady meets Lee Radziwill meets sherbet. It's probably the best thing that came out, and definitely better than whatever satin, flouncy monstrosity Sophia was forced to wear. And also better than the pink monstrosity D&G designed for Sutton. Despite what she says we all know Sutton wouldn't wear a damn thing from Kaftans By KyleKreates.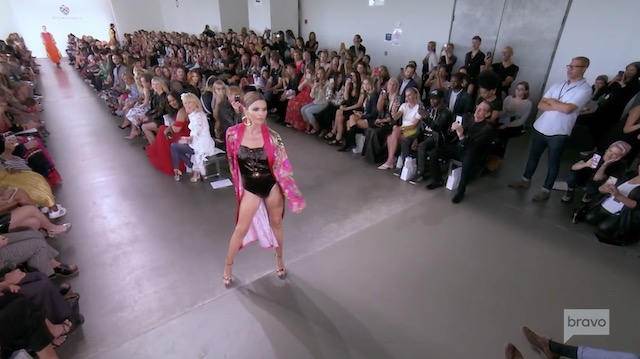 As for the ladies, Denise and Lipsa actually had decent looks, whereas Erika was in something straight out of Kyle's regular old kaftan wardrobe. Garcelle called it frumpy and she was right. Payback for all the years Erika spent torturing Kyle? Or who knows maybe Erika wanted to show range, like she can transition from Shakers to Mrs. Roper in the blink of an eye? Dorit was in satin hammer pants and a bustier. I would've thought she was wearing her own clothes except it didn't have an enormous obnoxious logo spray painted across the front of it.
As far as Housewives runway walks go on a scale of Yolanda Foster to Ramona Singer, Teddi was hovering a notch above Ramona, but just under Bethenny Frankel. Speaking of, why wasn't she there? Or modeling?? Isn't she Kyle's BFF?
The entire collection looked like a mishmash of what Kyle wears on vacation every year, but at least it was held on a professional runway unlike whatever Dorit cobbled together.
And damn if this episode would've ended there I would've called it a predictable season opener, but NOPE. Bravo, desperate to redeem Real Housewives Of Beverly Hills after last season, led into an incredibly gripping teaser about all the drama that is to come with Denise. Upfront they reveal that she quit filming in December, and show her arguing with the ladies, before bailing on an event with Aaron. Then reveal the salacious headline where it's alleged that she had a months-long affair with Brandi Glanville.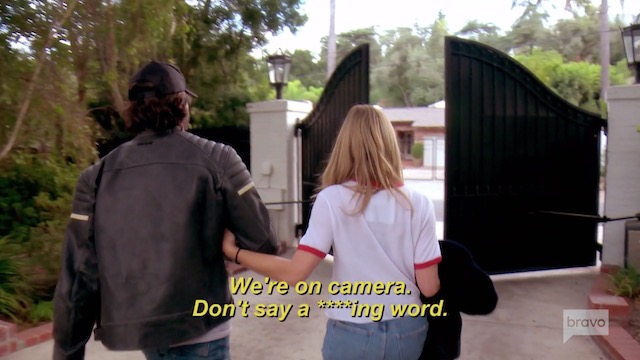 Just as Kyle and Lipsa are gossiping that we'll never see Denise again, she's shown sitting down in front of the confessional camera, looking bombshell amazing, wearing her infamous smirk, and promising to tell her truth.
I hate Brandi. I really do. What is wrong with her that she's willing and gleeful about being a home wrecker for hire? Meaning Brandi will come on TV purely to destroy someone's family, then have the nerve to cry victim when people call her out. She's absolute garbage and it disgusts me that Bravo would even stoop to the level of dealing with her. It's obvious that the other women, still desperate to take the heat off their own lives while pretending to be heralds of truth, will all rally around known-liar Brandi and throw Denise under the bus. Same shit, different season. Although wasn't it Denise lecturing LVP about hiding the truth?
These are the self-produced days of their lives…
TELL US – ARE YOU EXCITED FOR THIS SEASON? WHAT DO YOU THINK OF GARCELLE AND SUTTON? DO YOU LIKE ERIKA'S NEW PERSONALITY? 
[Photo Credits: Bravo]