Things are heating up in Charleston. Even though Southern Charm isn't currently on the air, the stars of the show are still stirring up drama on social media. Earlier this week, Cameran Eubanks took to Instagram to confirm that she would not be returning to the show. With rumors swirling as to why she came to this decision, Cameran responded with a lengthy statement shooting down vicious rumors about her marriage.
But sadly, it seems Cameran is just the first of many Southern Charm cast members to leave the series. None other than Thomas Ravenel has broken his silence about the current standing of the show. And if he's telling the truth (for once), the show is in for a serious shakeup.
Taking to Twitter, Thomas explains his frustrations with the show. "For one 40 minute episode they film 40 hours yet as a cast member you can't utter the word "edit." They show you a character acting badly but cut the part out that provoked the bad behavior. Their contract says they have the right to "fictionalize" your story, it's really bad," he writes in a since-deleted tweet.
Thomas isn't the first Bravolebrity to express his frustrations with editing. Yes, you basically sign your life away when you sign up to do a reality show. But I can see how Thomas and the other stars of the show could get fed up with the editing. Southern Charm is one of my favorite Bravo shows. There's just something about this hot-mess cast that I find endearing. But on a personal level, especially in Thomas's case, I don't think he needs any more air time portraying him in a bad light.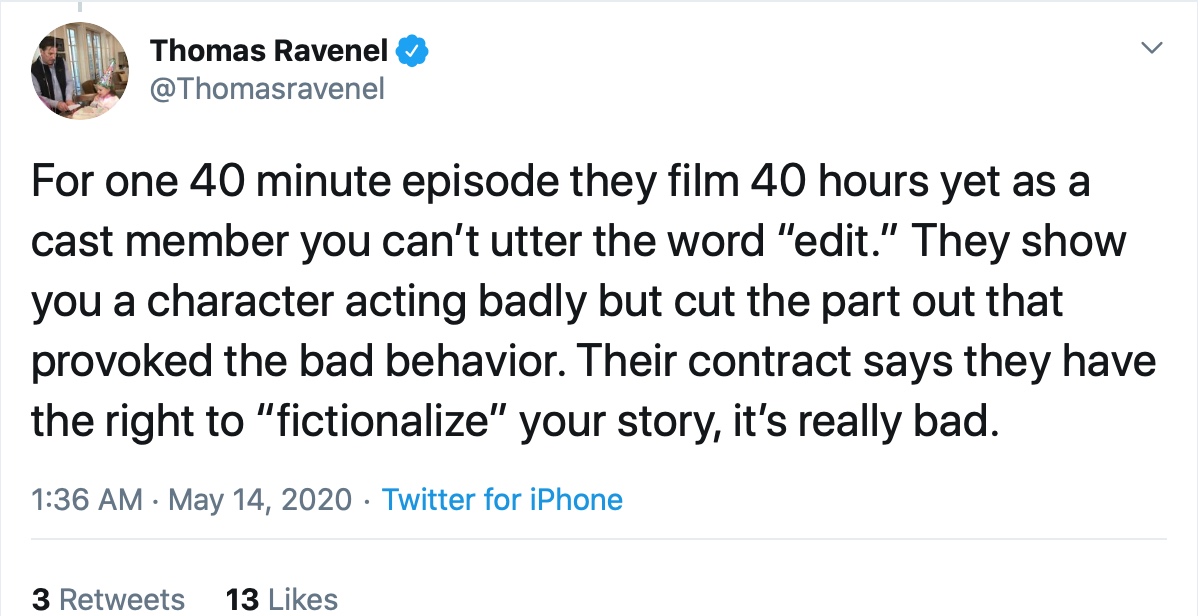 I won't necessarily miss Thomas. I'm hoping this means there will officially be no more Ashley Jacobs appearances on my television screen. But according to Thomas, a number of other cast members refused to return to the show. In another since-deleted tweet, he writes: "So Cameran Wimberly, Chelsea Meissner, Naomie Olindo as did I refused to return for another season of Southern Charm. I obviously know why. Is anyone curious?" He is forgetting the part where he wasn't asked back last season because of his sexual assault trial. Why would they want him back after that?
Obviously, Thomas, we want the tea. I'm honestly upset about the cast shakeup. I felt like Southern Charm had a really solid group of people on the show that weren't hanging out just for the cameras. They all had a history. It will be interesting to see what the new season will be like with so many of the cast members leaving. I'm assuming we will get to see a lot of Craig and his pillow business!
TELL US- WHY DO YOU THINK THOMAS, CAMERAN, CHELSEA AND NAOMIE REALLY LEFT THE SHOW? OR IS THOMAS LYING ABOUT GETTING ASKED BACK? WILL YOU STILL BE WATCHING THE NEW SEASON WITHOUT THEM?
[Photo Credit: Charles Sykes/Bravo]