Wow, what an episode! Lat night on Below Deck Mediterranean, we finally got the answer as to why Pete Hunziker has stuck around long past his firing from the show. And the answer is a tried-and-true reality TV staple, yachties: so we, the viewers, could witness his downfall.
That's right, it looks like Creepy Pete is on his way out. Or at the very least, this is the beginning of the end for the disgraced deckhand, who was unceremoniously booted by Bravo after he posted a vilely racist/sexist/downright disgusting meme on social media. But let's not get too ahead of ourselves and back up to the top of the hour, shall we?
Last week, Below Deck Med ended on a dramatic cliffhanger with Jessica More in tears after slamming her finger in a door somewhere aboard The Wellington. Now, it appears the third stew's accident somehow managed to happen off camera. Which is honestly kind of miraculous considering there isn't really anywhere to hide from Bravo's cameras on board the nearly 185-foot luxury yacht. (Seriously, if you haven't read Caity Weaver's brilliant behind-the-scenes piece in The New York Times Style section about how the show is filmed, run don't walk because it is a thrilling slice of journalism for any true Below Deck fan. I can't recommend it enough.)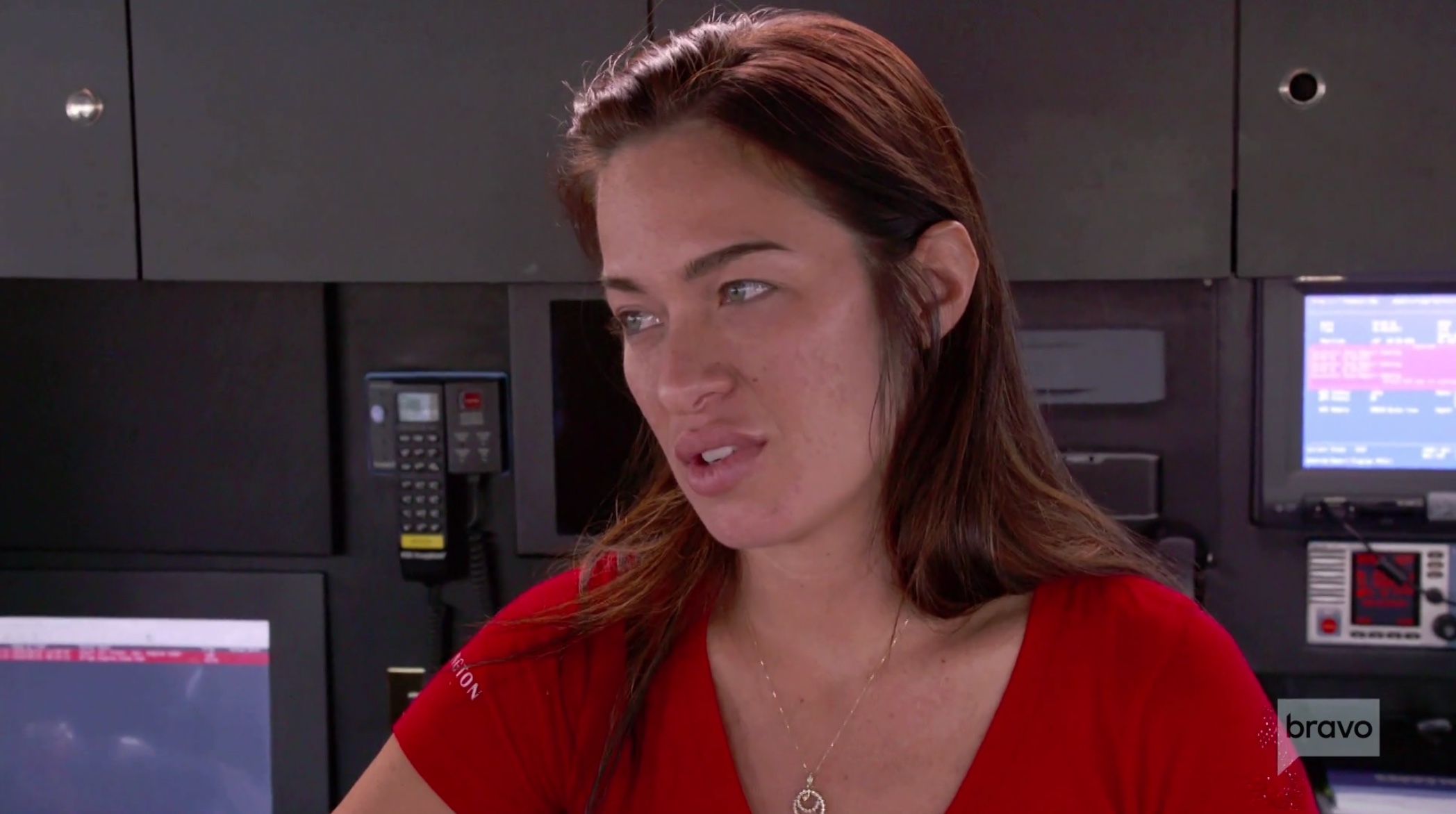 Fearing the third stew's finger may be broken, Captain Sandy Yawn immediately sends poor Jess to the hospital. She also opts to hold a preference sheet meeting for the upcoming charter while we wait for news on the stew's condition because if there's one thing we've learned over the past 13 seasons of the Below Deck franchise, it's that charter season waits for no man. And from the looks of it, the crew's fourth charter may be their most difficult yet. Via the preference sheets, the charter guests are described as a "fabulous group of Miami's most elite entrepreneurs, models and designers" led by real estate mogul Bernardo. That's right, no last name. Just Bernardo. So this sounds like it's going to be just delightful.
Meanwhile, Jess comes back from the Mallorca's closest E.R. with bad news in the form of a cast. Turns out her finger suffered a hairline fracture and she'll be down a hand for anywhere between a week and 15 days. This curveball creates a major problem for Captain Sandy, who calls an emergency meeting with Hannah Ferrier to discuss the possibility of replacing her third stew. With just hours before the next charter,  they don't have time find someone new right away, but Sandy leaves it up to her chief stew to let her know when Jessica needs to get the boot.
Now here's where Pete's undoing turns into a game of musical chairs disguised as a series of meetings. So follow along closely.
Meeting #1 & #2: While Sandy and Hannah discuss poor Jess's fate, Bugsy Drake pulls Malia White aside to have a frank chat about Party Pete's inappropriate language and treatment of women. The second stew felt rightfully violated by the lead deckhand vulgar come-ons and locker room talk in the crew mess last week. In Bugsy's eyes, he particularly crossed a line by detailing what he planned to do to former stew Lara Flumiani once he got off the boat (it's gross, I'm not repeating it) and now Pete is getting reported.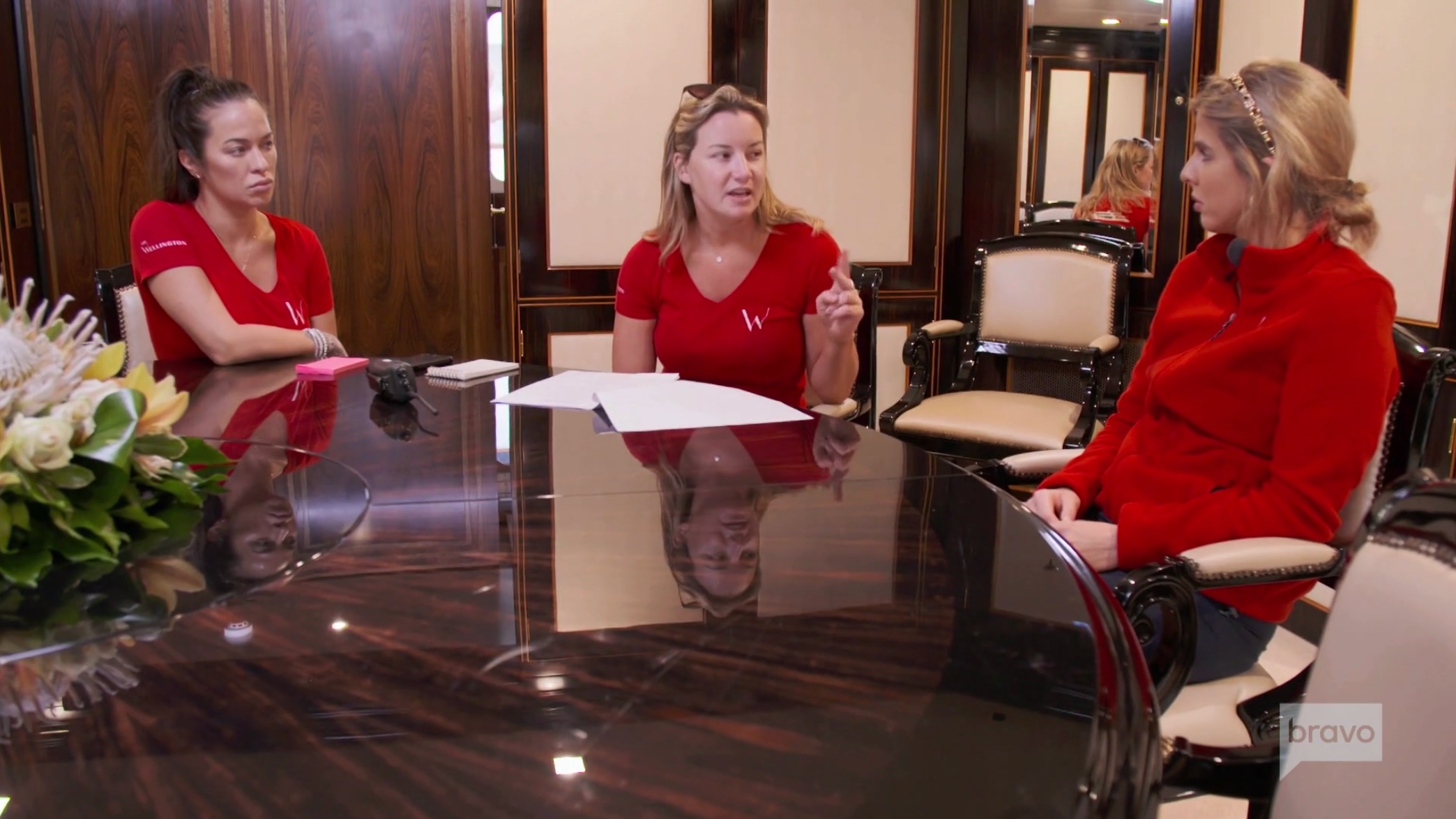 Meeting #3: After a quick smoke break on the dock with Chef Kiko Lorran, Hannah holds an interior meeting…in the interior. Basically, the chief stew has decided the best way to demonstrate her leadership is to let Bugsy pick up the slack and manage Jessica and her broken finger. Because Hannah can't be bothered, especially when she's too busy declaring her distrust of everything Bugsy does and says. Oh and one more thing. Bugs has to handle service all by herself this charter because Jess can't exactly hold a tray. She can't exactly fold laundry and turn down cabins with a broken hand either, but again, Hannah can't be bothered.
Meeting #4: Now it's Bugsy's turn to relay everything she said to Malia about Creepy Pete to Captain Sandy. On the bridge, the second stew explains that she found Pete's behavior in the crew mess slightly threatening, and she's concerned for the safety of all the girls on board. That being said, she's also willing to give Pete a second chance. Captain Sandy is rightfully appalled to learn of Pervy Pete's, well, general perviness and calls the lead deckhand to the bridge for a confrontation. Leading us to…
Meeting #5: Captain Sandy is fuming, while a clueless Pete has no idea he's about to get the fear of God instilled into him. When confronted, Slippery Pete only admits to maybe kinda sorta possibly saying a few "inappropriate things" about females on board. A furious Sandy would rather leave the misogynistic deckhand behind to rot on the dock, but considering the charter is hours away, he gets a stern warning. But oh, the consequences are far from over…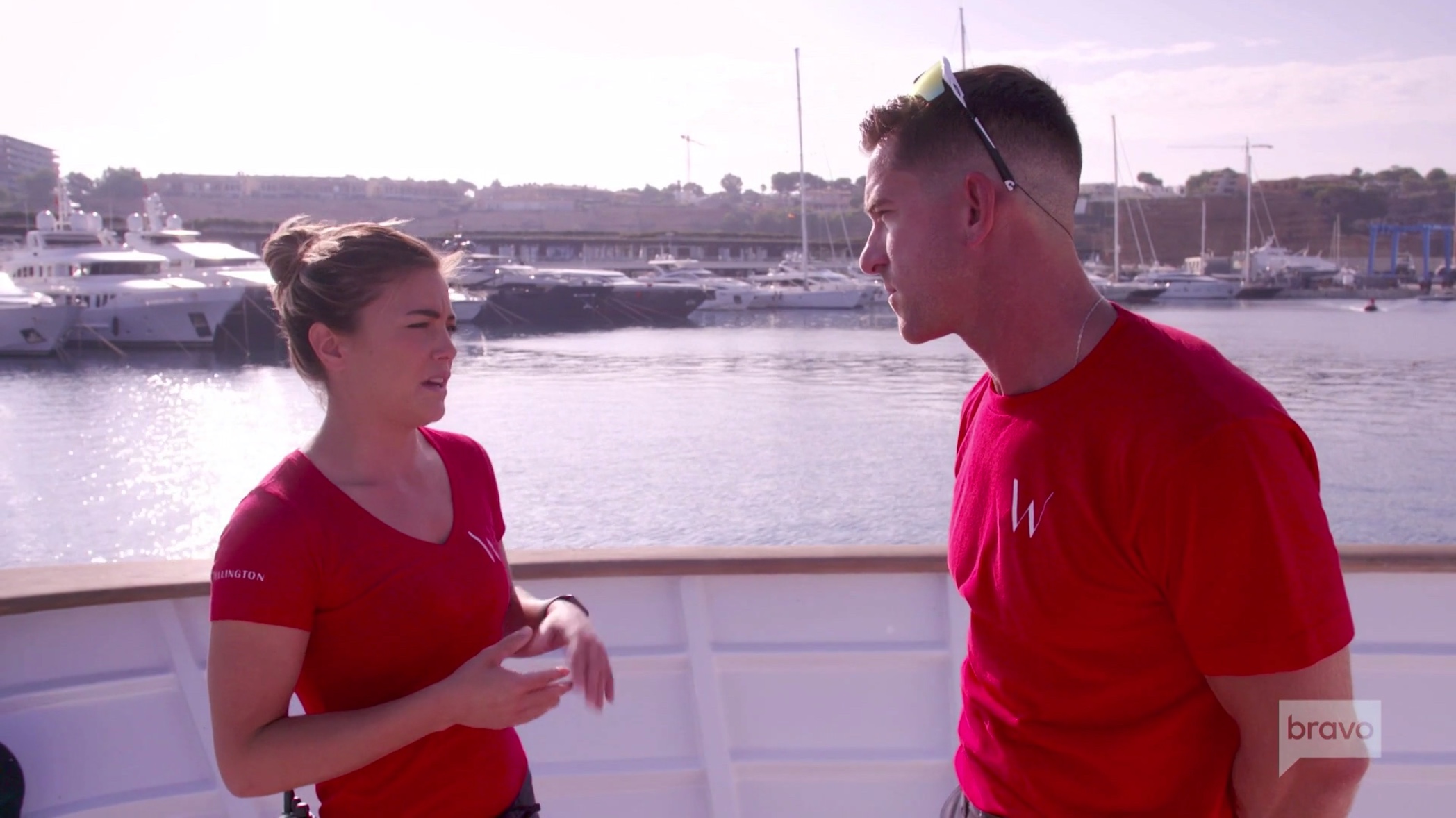 Meeting #6: Thoroughly dressed down by Sandy, Pete now has to face the wrath of Malia. The bosun promptly demotes him, taking away his title of lead deckhand with a reminder that this is happening because he's now endangered the environment on The Wellington with his toxic masculinity. Sexism will not be tolerated, sweetie. Particularly when every person above you in the ship's hierarchy is a self-assured, powerful female. In the words of Beyoncé, tell him, boy, bye.
Meeting #7 & #8: Now stripped of both his power and his pride Creepy Pete decides to pull Bugsy aside for an apology. Meanwhile, Malia updates Alex Radcliffe and Rob Westergaard on the changing deck team situation. Like she said, Bugs is all about second chances this season; Malia wants to give the other deckhands their first chance at stepping up to lead. And honestly, at this point, either Alex or Rob is bound to do a wildly better job than their predecessor. At least neither can be worse, right? But can Pete actually redeem himself? Based on what's happened in the past few weeks, I'd say the answer is a resounding no.
The charter guests arrive and immediately turn into the high-maintenance nightmare they were predicted to be. One is gluten free/dairy free. One is a vegan. Another is weirdly particular about juice. All of this sends Chef Kiko's confidence into a nosedive. Early in the charter, the chef confesses that when he's not confident, he's more prone to mess up. And this becomes a self-fulfilling prophecy as things in things in the galley start spiraling.
There's a tiff between Hannah and Bugsy over unordered lemons for the interior and poor Jess is forced to unpack a guest's suitcase one-handed, but everything that really goes wrong starts and ends with dinner. Anchored at Sa Foradada, Kiko is forced to wait for new mushrooms to be delivered after the ones he got turned out to be chewy. This delays dinner's 9:30 start time and he's a bundle of nerves. Time ticks by as the guests grow more agitated, even with Bugsy distracting them with more booze and good service. Eventually, it's after 10 o'clock by the time they're seated and waiting for their first course.
Kiko serves up mushroom teriyaki that's literally on fire. Despite the wait, the guests still love him, cheering his name as he brings their food to the table. The entree for the evening comes out at 10:45 — a grilled sea bass with asparagus and purple mash. Sandy is already upset at Kiko for his poor time management. Hannah is on his case about portion sizes. And then the primary bites into his fish…and it's raw. Pink. Inedible. He quietly sends the plate back to be cooked properly, but it's the last straw that Kiko can handle. Declaring the meal the "worst day of his life," he knows he's going to be in hot water. Because that will all have to wait until next week. And until then we have Professional Pete taking the late watch to watch over our nightmares…
TELL US – WERE YOU PROUD OF HOW SANDY, BUGSY AND MALIA HANDLED PETE? DID HE DESERVE TO BE DEMOTED? CAN KIKO REDEEM HIMSELF AFTER THAT DISASTROUS MEAL?
[Photo Credit: Bravo]