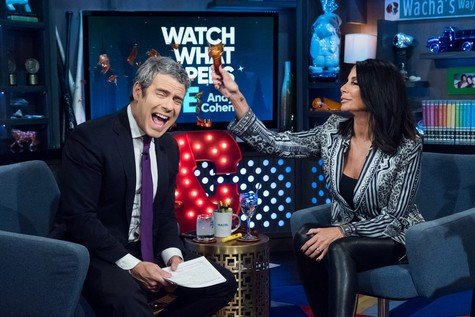 For anyone hoping that Danielle Staub would return to Real Housewives of New Jersey to wreak havoc, that ship has sailed. Why do I say that?
Danielle recently dedicated an entire podcast episode to trashing Andy Cohen, the executive producer of the show, and the spokesperson for the Bravo network. She put the nail in her own coffin with this one.
She originally titled the episode of this podcast "The One We Call Daddy" before changing it to "The Last to Know." Among other things, Danielle decided to bring up Andy's parenting, which she probably has zero personal insights on.
Danielle remarked, "Is Andy ready for his son to know who he is? Because the Andy I know would hit up Grindr and go on three or four Grindr dates an evening." I wouldn't call those "dates," but that's not the most outrageous remark she made in her rant.
Danielle continued,  "And these are people who are pretty reputable sources, I just don't, I don't even want to talk about the drugs and the partying, not now anyway, but we can get back to that. I can accuse him all I want and I'm not talking about marijuana. I'm not talking about legalizing."
The Real Housewives of New Jersey villain said, "I'm talking about like things that I've been accused of doing and he allowed to happen while he was doing the same things that he was accusing me of, or allowing other people to accuse me of."
Danielle wondered, "Is this really a spokesperson? Or is this really someone spiraling until 'Oh my god. You found Jesus'? "
She declared, "Good luck now explaining this to your kids. Just good luck because if I had a choice, if I had good parents like his, I would have made different decisions. I'm not saying you're immune to it when you have wonderful parents because everybody grows up differently, but I'm saying I didn't stand a chance. He could have given me a chance, but he didn't." He didn't? I'm not gonna lie, Andy is not my favorite person, but Danielle got plenty of chances to make this reality TV thing work for her.
Danielle said, "I gave him over a decade, be he just, he didn't want the truth." Danielle, you were on two seasons as an actual cast member and then you made appearances as a friend for three seasons years later. That does not qualify as a "decade" of work.
Danielle concluded, "But, now, you're gonna have to look at it from my perspective, Andy. And, you being the last to know is on you now. Good luck." The last to know what, though?
Check out the Reality Tea Merchandise Store to buy clothes, accessories, mugs, and more!
TELL US-   WHAT DO YOU THINK OF DANIELLE'S ALLEGATIONS? DID SHE GO TOO FAR BY MENTIONING HIS CHILD AND HIS PARENTS?
[Photo Credit: Bravo]