Whew! This season of The Real Housewives of New York has wasted no time diving into the drama deep end. Ending last week's episode with Luann de Lesseps kicking Eboni K. Williams out of her home was shocking. Nobody saw that coming. The fight was initially about Leah McSweeney, but things quickly spiraled out of control. Hopefully Luann's able to understand where she went wrong, and important conversations can be had to create change.
Heather Thomson's presence on this vacation to The Hamptons is triggering Leah. This is a powder keg waiting to explode. These two women are not vibing in any way, shape, or form. Something is going to give when it comes to these two. They started off in a rocky place on the trip, but things gradually got a bit better. That is no more. No more pleasantries between the two. This show might only be big enough for one of these Queen Bees.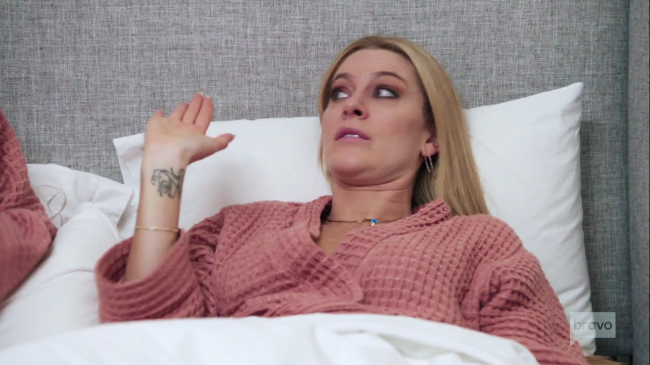 Luann kicking Eboni out of her home is so insane. This is a horrendous look for the former Countess. The way Luann keeps referring to her as "angry" is so problematic. There is ZERO excuse for that verbiage.
I appreciate Sonja Morgan & Heather backing Eboni with this. These are two women who full understand the weight of Luann's words. They should be thanked.
Luann thinks it was dumb of Eboni to bring education into it. LUANN. HONEY. It was YOU that did this. What reality is the cabaret star living in? Is she unaware of what comes out of her mouth because DAMN. The white fragility is truly radiating from her at this point.
Eboni gets back to Ramona Singer's and tells Leah what Luann called her. This is a highly emotional subject for Eboni to even discuss. She's not allowed to have emotion or passion without being labeled "angry". There's something wrong with that picture.
Leah laughs when Eboni tells her Luann made everything about education. Luann might not realize she's the one who said it, but she was. She opened the door for Eboni to discuss her own education.
Back at Luann's, Heather's doing her best to help Luann understand the gravity of her words. What happened with Luann and Eboni is now the heaviest thing facing this group. Also, why is the nude model still there gossiping with the women? He should've been long gone after the painting.
Heather wants Luann to strip her ego and listen to Eboni's perspective. I love Heather championing for black women like Eboni and explaining to Luann that her reactions need to take a backseat. This is the type of person we need on a show like this. There's no more tolerance for the ignorance. However, if you're willing to sit, listen, and learn, you can stay.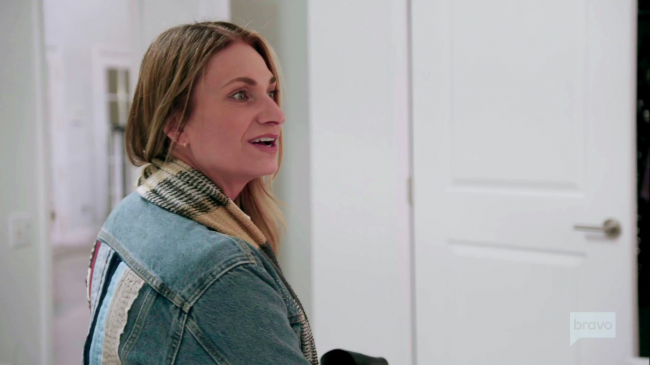 Eventually the other women return, and Heather heads straight to Leah's room. The three understand that Luann's ego comes first. She doesn't understand the words she's spewing. She doesn't even realize the venom that she's injecting into the world through her ignorance.
HOWEVER, Heather is trying way too hard to fit in and relate to Eboni. She starts going off about understanding Black America because she worked for Beyonce & Diddy. Yup, you heard that right. The richest of richest individuals who live in an entirely different tier of life than most of us. Heather, this is NOT it.
Leah's clearly unimpressed with Heather's attempt to create a moment with this. Heather starts to backtrack a bit, but it looks like Leah's beyond over her. Eboni's not feeling it either. The way Heather's going about this is highly uncomfortable for her. She's trying to relate to her, but that's not the way to go about it.
Leah thinks Ramona's anger about her sex talk doesn't even matter anymore. Now that Luann has triggered racial tensions within the group, that MUST take precedent. These are the biggest issues facing out times, and now they've trickled over into this group of women. There's an excellent opportunity in play for Luann and the others to truly hear Eboni and learn something. '
Heather moves into Luann's room asking her to speak to the girls and have an understanding. She's trying to broker a moment of peace, but it's coming across a little like s**t stirring. Luann keeps calling this a misunderstanding, but she doesn't realize how what she did was so far worst.
First of all, Eboni didn't actually do anything wrong. She was simply trying to neutralize Luann's baseless point about education. That's it. Luann however took it upon herself to perpetuate a longstanding dangerous stereotype about black women. These two women are NOT the same and do not equally share blame in this.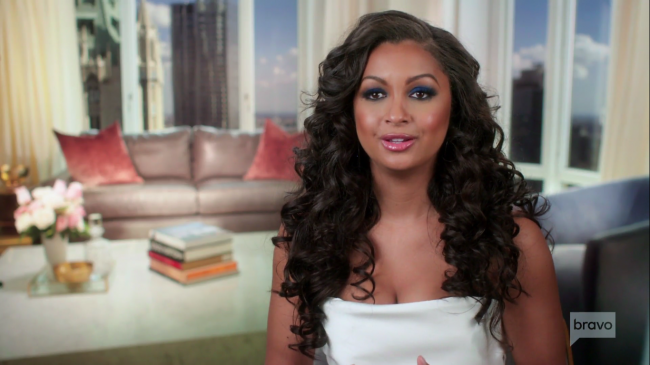 Eboni tells Luann she holds her in high regard but calling her angry was unacceptable. She goes on to explain the horrible nature of the "angry" label and how much it hurt her. Eboni goes out of her way to avoid that label, so this cut deep to the core.
Luann apologizes for the word she used and says she should've use the word "upset" instead. She wants to get an equal type of apology from Eboni, but everyone in the room sees the issue in that. There's no reason for Eboni to have to apologize for her actions. Luann might not ever get it. It's also not Eboni's burden to education this group about race.
Eboni brings up how nobody really batted an eye at Leah's expletive filled rant. There's obviously a higher standard that Eboni's being held to at this point in time. Ramona tries saying Leah gets a pass because her grandmother is dying, but SO IS EBONI'S. Do any of these women have their ears open? Holy f**k.
Leah wants Heather to shut up and listen to what's being said. Tensions between these two are going to come to a head soon. They're on a collision course to have a blowout fight.
Eboni accepts Luann's apology at face value, so maybe there is hope for them yet. Nobody is perfect. Luann screwed up. Changed behavior is the way moving forward though to properly show she gets it.
Eboni tells Sonja she's high worth and has great value. This group has gone out of their way to degrade her at times. She can't even see it anymore. I'm glad someone like Eboni is going out of their way to speak to her on a truthful level.
Heather makes a comment toward Eboni telling her she's actually very articulate. What kind of s**t ass statement is that? Why would she even say it like that. That's such a megawatt microaggression. These women are infuriating.
The next morning Eboni contacts an expert matchmaker to try and find love for Sonja. THAT IS SO SWEET. This is a lot better of a way to go about it than Luann did. This person will find someone who is actually Sonja's type. I appreciate Eboni making the effort to find a genuine love connection for her.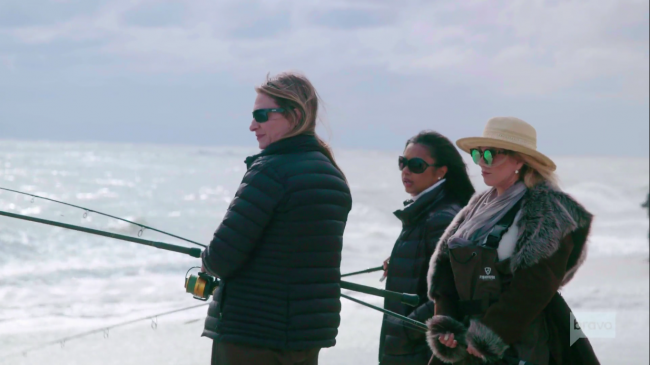 Luann & Leah elect not to go fishing with the other women. Sonja on the other hand is right in her element with this. I know so many of us were over Sonja, but there's no denying her knack for comedy. One of the funniest wives of all time. She's also the most woke white woman of this group. She's taking the time to genuinely understand what Eboni is saying. We STAN.
Luann tells Eboni she woke up upset about how much she hurt Eboni's feelings. I appreciate her working hard to own this. It's helping Eboni feel a more authentic connection to Luann. We love to see light at the end of the tunnel!
At the beach Eboni explains to Sonja how she finds her to be high value. She's going a long way in making Sonja feel like a special woman. SO MUCH THIS.
Eboni's inviting all of the women to her home for an election party. Leah's unsure about politics anymore because she's so disgusted with how both sides have become. That is understandable, but she bites Heather's head off for no reason. Heather doesn't even say a word, but Leah snaps on her about not wanting to hear anything self righteous about voting. Why is Leah coming after Heather in such an unprovoked manner?
Leah however thinks this is all another chance for Heather to feel morally superior. This is coming out of nowhere. Sure Heather can be a snot, but she didn't say a damn word to Leah. There's no excuse for Leah to walk around throwing daggers at everyone just because. Full stop. No.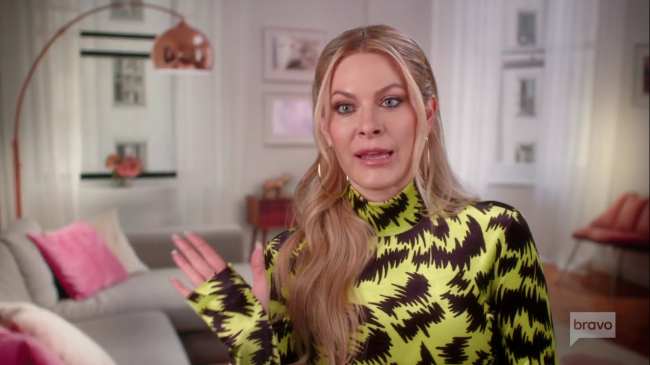 While getting ready for Luann's party, Leah gets a heartbreaking phone call. The pain from her grandmother's impending passing is too much to bare. She's crying out about never being able to speak to her again. The pain is so fresh. The mere thought of her grandmother's looming death sends her into a crying frenzy.
Heather rants to Sonja about how rude Leah is to her all the time. Apparently she was already sharing her Leah frustrations with Eboni as well. Well that's just about the worst thing Eboni could've told Leah. Leah is out for blood, and not just the blood coming out of her neck from her costume. This is game f**king on.
There's no way Heather expected to enter this weekend with such animosity. I get what they're all saying about Heather though. She really doesn't fit into this group. Plus, the way she violated everyone by running to her podcast with secrets is not acceptable. It might be time for her to exit stage left.
Eboni says Heather told her she was extremely bothered by Leah not knowing if she wants to vote. That's all it takes for Leah to charge to the top of the stairs to shout down at Heather below. Holla!
Leah calls Heather a Karen and demands she stay out of her business. She went OFF on Heather. There's no stopping Leah at this point. She wants Heather to leave her alone, but she's the one who continues to go off on her. She keeps bringing up her grandmother dying and how she needs to be left alone. Her grandmother being ill has zero to do with Heather talking about her political beliefs.
Leah doesn't want to be left in a van with Heather and keeps saying "f**k you bitch". She's calling her a loser. This is going south so quickly. This is so unpopular, but I think Heather knew exactly what she was doing here. She was stirring the pot going around to all of the women. What sort of reaction was she expecting from Leah?
TELL US – TEAM HEATHER OR TEAM LEAH? DOES LUANN UNDERSTAND THE OFFENSE OF HER "ANGRY" LABEL? WILL SONJA EVER FIND TRUE LOVE? ARE YOU ENJOYING THIS SEASON OF THE REAL HOUSEWIVES OF NEW YORK?
[Photo Credit: Bravo]