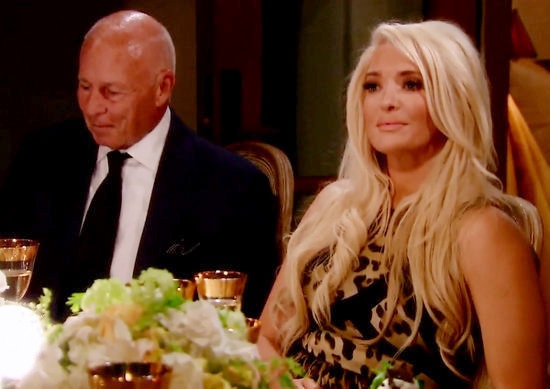 If you haven't watched The Housewife and the Hustler yet, run, don't walk to Hulu and sit down with some popcorn. The documentary attempts to break down the legal allegations against Tom Girardi and wife, Erika Jayne. While the doc focuses mainly on Tom's alleged swindling, there is also plenty of Erika footage in there. Including the flaunting of her lavish lifestyle on Real Housewives of Beverly Hills.
We also get treated to commentary from Danielle Staub and Dana Wilkey of all people. Danielle provides some fluff and makes sure to bring everything back to herself. And Dana plugs her podcast but doesn't talk about things like $25k sunglasses. After all, that would be in pretty poor taste given the circumstances. Now if only someone could explain that to Erika and her Instagram account.
As reported by Us Weekly, the heart of The Housewife and the Hustler features burn victim Joe Ruigomez. Joe was seriously injured in the San Bruno gas pipeline explosion. Tom and his law firm, Girardi Keese, represented Joe and ultimately won him a large settlement. At the time, the family thought they were lucky to have such a high powered attorney on their side. But Joe's sister, Jamie Ruigomez notes that wasn't the case. She said the family "thought he could win [the case] for us," but "we didn't know how much of a snake he would be along the way." Even Joe's mother Kathy Ruigomez described Tom as "comforting" upon meeting him.
After the lawsuit against PG&E was settled in 2013, Tom explained to the family that it would talk three months to process the funds. He also asked if they wanted to put the multi-million dollar settlement into one of his investments. Tom wrote a letter to the family to explain. He wrote, "The primary reason I am trying to manage the young man's funds is so that nothing goes wrong." Tom also said in a voicemail to the Ruigomezes that he was "in their corner." He also said he "never like a family more" than them.
While working with Tom, Joe claimed Tom "treated him like a child." He also told Joe that he worried about a young person getting too much money at once. This was after Joe pointed out he wasn't getting his settlement payments on time. And Tom was becoming increasingly harder to get a hold of. Joe recalled, "He would be like, 'Oh, sorry about that. These things happen. I'll get it to you next week.' And half the time the check would come when he'd say so — the second time — and half the time it wouldn't."
By 2017, Joe claimed the checks "disappeared completely." So the Ruigomez family filed a lawsuit to obtain their remaining settlement money. Tom agreed to pay $12 million and even signed a document to schedule the payments. Tom was set to pay the family $1 million immediately. Then another $2.5 million a few months later. Kathy alleged,"He never got to the second payment." So they went back to court, and Tom was deposed. The family is "among the first in line to collect their settlement money from the bankruptcy" case.
Regardless of how you feel about Erika as a housewife, I think we can all agree that this is heartbreaking. If the allegations are true of course. This family deserves their money and I hope they get it. And I hope Erika wises up and stops rubbing salt in the wounds with her posts. I don't think that's too much to ask.
TELL US – DO YOU THINK TOM STOLE MONEY FROM HIS CLIENTS? DO YOU THINK ERIKA KNEW WHAT WAS ALLEGEDLY HAPPENING? DID YOU WATCH THE HOUSEWIFE AND THE HUSTLER?
[Photo Credit: Bravo]