The newer cast members are shining bright on this season of The Real Housewives of Potomac. To be fair, the entire cast is giving viewers so much life, they're practically immortal by now. However, a big shout out has to be given to Wendy Osefo & Mia Thornton. Wendy's coming into her second season with new boobs, a new butt, and a whole new attitude. It's quite the serve. Mia on the other hand is giving everyone messy chaos which means she fits in just fine.
The foundation for this season appears to be built upon the feud between Gizelle Bryant & Karen Huger. This is a fight that has been underway since the dawn of time. They are living legends, and they tow the line between friends and enemies with expert precision. They give the people what they need, but they also keep it real. It remains to be seen if they can continue towing that line. It feels like this season might be the point of no return.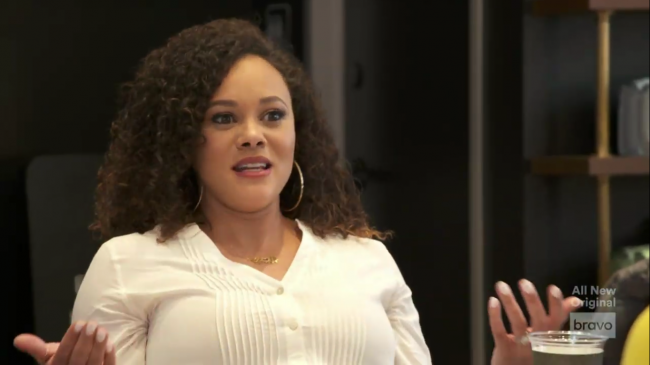 Robyn Dixon is having quite a difficult time pulling herself out of bed. This is something so many people can relate to. Whether it's depression or pandemic fatigue, many of us have been there lately.
She only woke up long enough to tell her kids to have a great day at school. That's it. Back to bed for Robyn.
Juan Dixon's having a hard time understanding why Robyn's acting like this. To him, she's making up a litany of excuses to avoid real responsibility. The pandemic's been rough on Robyn. It extracted every last ounce of motivation left in her body.
Karen's business is thriving better than ever. So many people have struggled throughout the pandemic to keep their businesses afloat. However, for the Grande Dame, her business savvy is showing. She's proving all of the doubters wrong with every success that comes her way.
Gizelle and a HEAVILY pregnant Ashley Darby meet up for some snacks and tea. This baby could come at any given time. At any moment, we could see the arrival of her second child. So exciting!
Gizelle tells Ashley she's nervous about Michael Darby because of what happened last time. He found himself with in hot water with his pants down. It wasn't a good look whatsoever. We don't want a repeat of that. Michael is addicted to scandal though, so how long can he truly control himself?
Ashley informs Gizelle about Mia's change of heart about her. It's jarring to Gizelle because Mia's been texting her ever since their first encounter. Mia's teetering a dangerous line right now. Playing both sides can't last forever. Eventually you're going to get caught, and they're going to want you to choose.
Gizelle's planning a pamper party for Ashley, but she doesn't want to invite Karen. Ashley doesn't like that idea because her and Karen have grown close recently. Karen's frequently been there for her throughout this second pregnancy. What a long way they two have come from the animosity of past seasons.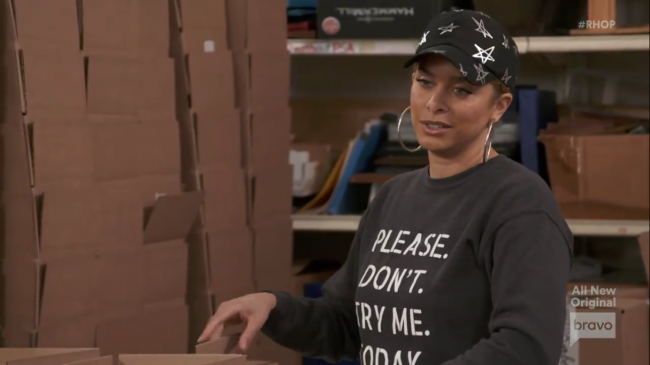 In Robyn's hat warehouse, we meet Askale Davis for the first time. She feels like another fun addition to the group. This show NEVER misses when it comes to casting. Everyone brings something to the table.
Askale gets invited to the pamper party for Ashley where she can meet the other women. I wonder how she and Mia will vibe in their first interaction. Something tells me, they will NOT vibe whatsoever.
Robyn's orders for her business are exceeding her capabilities at home. That's where the warehouse comes in. It's good to see her doing something. You gotta make that coin! You never know when you'll have to pay the IRS thousands of dollars.
Robyn's confused by Wendy's new career moves. Going from political analyst and professor to selling candles is polarizing. It makes no sense. She's acting like every basic Housewife with this career change. What made her so fresh and unique was all of the degrees and what she did with them. Anyone can go out there and sell a fucking candle. STOP.
Wendy fills in Robyn about the showdown with Mia at Karen's party. Luckily for Mia, Wendy was ready to introduce Zen Wen into the world. Zen Wen is giving us absolutely nothing. She doesn't want to engage with Mia.
Robyn confronts Wendy about checking her for coming for Karen. It doesn't make sense to her why Wendy would suddenly be Team Karen. They spent most of last season at odds, so it doesn't make sense. What changed between her and Gizelle? Why is she suddenly jumping ship?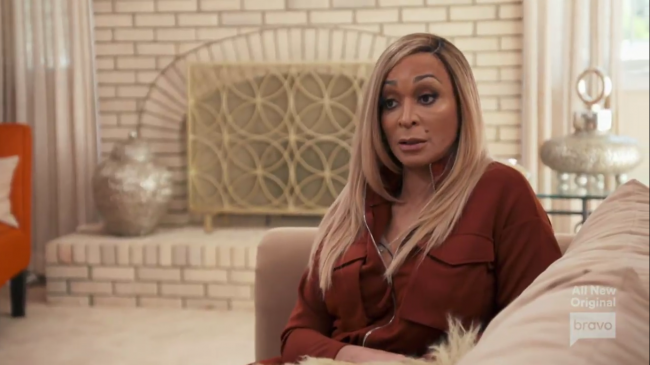 Dorothy Dillard calls Candiace Dillard Bassett for a life update, and Candiace tells her she's meeting with Karen soon. Candiace loves Karen, so she needs her to express that she was wrong. She needs Karen to admit that the other woman with the bird was the bad one.
Dorothy doesn't like the idea of Chris Bassett managing Candiace's career. Their conversation falls to pieces when Dorothy continues to be passive aggressive about it. Why does it matter to her if Candiace's husband is a part of this?
Is she jealous that she's not the one getting a cut of everything? Hell, I should be the one doing it. Does the president of her fan club get NOTHING? Sigh.
Wendy visits Karen at her home, and they go to the woman cave for some juicy conversation. Wendy's feeling a newfound respect for Karen because of her business prowess. Could that be an ulterior motive for this newfound friendship?
Karen's honored Wendy would seek her out to be a mentor in business. Karen's showing off her knowledge, but so far it doesn't seem like Wendy is prepared. There are so many aspects on the business side she doesn't seem to understand. If she truly wants this home essentials line to be a hit, a lot more needs to be done before it's sold.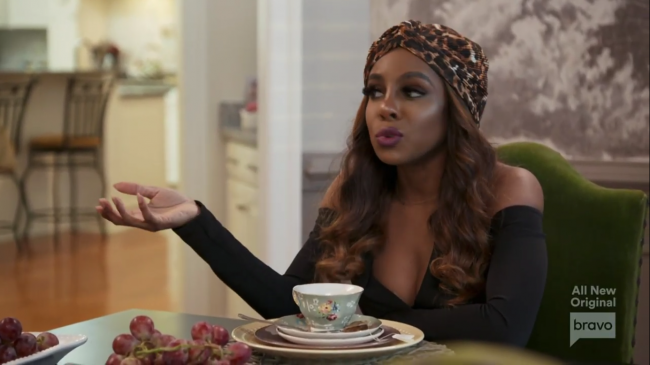 Mia talks with her husband Gordon Thornton about her relationship with her mother. Things have been strained for many years. She gave up Mia when she was a young girl as a result of her drug addiction.
Mia sheds tears discussing waiting for her mother to show up on Christmas. She realized that night, she didn't really have a mother. Their relationship is still nonexistent because of how her mother gave her up.
I hate that any of this ever happened to Mia. However, this is a side of her that we needed to see. We needed to witness something more to her than the messy drama we've seen so far. Depth is key to being successful on a show like this. Mia has range. I predict she'll be around in this group for many years to come.
THE BIG MOMENT IS HERE. Candiace & Karen are FINALLY sitting down for a one on one to hash out last season's drama. These two were the greatest of friends before the barn fight that changed everything.
Karen was in the worst possible position. She was stuck between Candiace & Monique Samuels. She was friends with both women, and she did NOT want to choose one definitive side. Not doing so might permanently dissolve their friendship.
Candiace feels like she's now in a place to move forward and redefine the friendship. She wants to understand where Karen's coming from. Karen acknowledges her hurt, but she informs Candiace she doesn't regret being neutral. Karen felt iced out because she wouldn't condemn Monique.
Candiace wonders why outside factors like the green-eyed bandits would factor into any of this. Karen is holding firm because she makes it clear she wouldn't change things. She isn't sure if she can trust her, so from now on the friendship will remain superficial.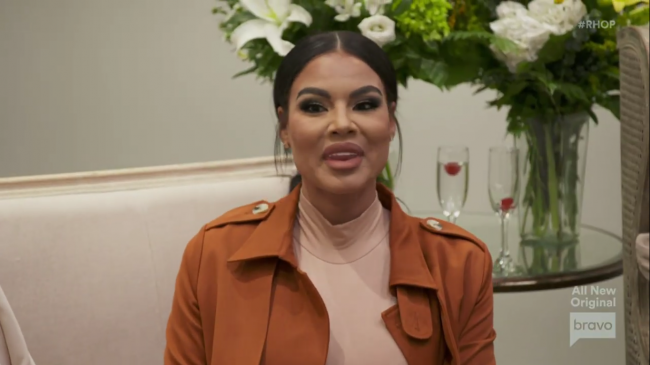 Candiace is the first to arrive to the Pamper Party for Ashley. She gives Gizelle the tea about her sit down with Karen which resulted in basically nothing happening. They're still in the same weird place they were last year. The only difference is they plan on faking it on the surface now.
Neither Gizelle nor Karen plan on interacting with the other one at this event or any other. They both think the other should be the one to bite the bullet and apologize. Neither are ever going to happen.
Wendy's open to getting to know Mia, but the mood is still tense. I suspect this isn't going to end well for them. It doesn't take long for Karen to ask Mia how things are with her and Wendy. HERE WE GO.
Wendy tells Mia to NEVER try her like that again. She has time today to give Mia the verbal run down. Tick Tock Mia! Zen Wen has time to read your ass like a lesson plan!
Mia doesn't get why Wendy thinks she's acting shady and accuses Wendy of being unhappy at home. AHHH!!! We did not just go there!
Gizelle tries to scold Wendy for talking to much, but Wendy was defending Gizelle? Something's off between Wendy and the bandits. It hasn't felt right from the start of the season. We're clearly on our way to another falling out.
Candiace doesn't want Mia to think she can trigger Wendy like that. Askale asks Karen about the comments she drinks a lot. It's weird because I don't think Karen's drunk that often on camera, but they know her better.
Mia tells her origin story of becoming a stripper which was obvious. She didn't have to actually tell us that. We got the memo honey. It's interesting that Mia never worked a pole though. She was a classy stripper! Ball gown and everything. Now was it the strip club or the prom. SOMETHING WAS SHOWING. Admit it!
TELL US – SHOULD CANDIACE FORGIVE KAREN? TEAM MIA OR TEAM WENDY? WHAT DID YOU THINK OF ASKALE? ARE YOU ENJOYING THIS SEASON OF REAL HOUSEWIVES OF POTOMAC?
[Photo Credit: Bravo]