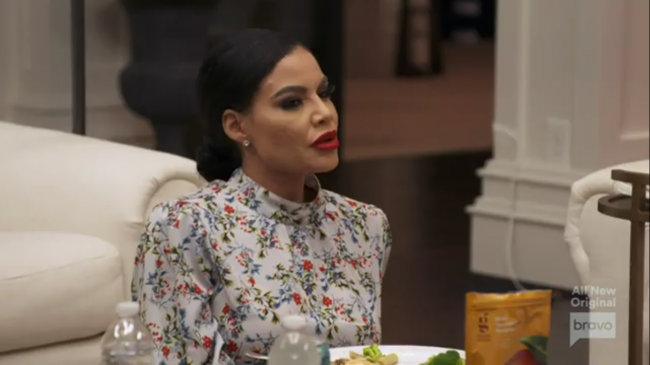 Ashley Darby understood the assignment. On last week's episode of Real Housewives of Potomac, she brought those Eddie Osefo rumors to the light. Someone had to do it. Ashley is as messy as they come, so she had to be the one to bring it up. There was no other choice.
Wendy Osefo UNLEASHED on Gizelle Bryant & Robyn Dixon once all was revealed. She held nothing back. It doesn't seem like a friendship between she and Gizelle is feasible after this. Zen Wen is no more, and Gizelle's in the warpath.
How inside is it that it's only Day 2 of the trip? So much has gone down in such a short period of time. The vibe in the group is hella uncomfortable following the fight between Wendy and the bandits. It's not a good situation.
However, Robyn does point out how crazy it was for Ashley to show up and drop a mega bomb on Wendy. It's kind of weird to think Robyn was left out of the conversations regarding the rumors.
Wendy thinks Gizelle might be jealous of her life because she's miserable in her own. None of this stems from a place of jealousy. Gizelle is entirely unbothered by everything that went down. She knows her role on this show, and she plays it well.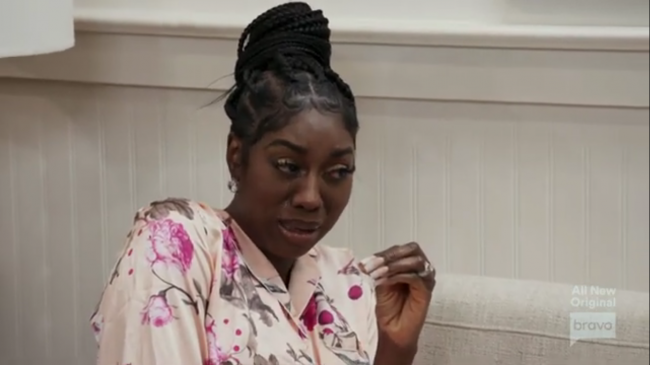 Karen Huger tells Wendy & Askale Davis that Gizelle likes to butt fuck people without permission. That's a unique way to put it. Karen really does tell fables when it comes to Gizelle. She's out there acting like the Aesop of Potomac.
Wendy cries to Karen & Askale about her husband's name being dragged through the mud. At least she's finding solace in some of the girls during this difficult time. I have a feeling it's going to get a lot worse before it gets better. She's going to need people to lean 0n.
Robyn feels like she now sees the real Wendy. To Robyn, it's obvious Wendy always looked negatively on her relationship with Juan Dixon. Now she sees it clearly for the first time. For Wendy though, this was a moment of disappointment with Robyn.
Askale is seeing a new side of Robyn because of her friendship with Gizelle. She doesn't know this Robyn. She does however understand the level of loyalty.
At the end of the night Wendy calls Eddie and says she has a lot to fill him in on. At the end of the day, it must be hard to have your marriage being discussed in this light. Her reaction to the rumors though are quite telling.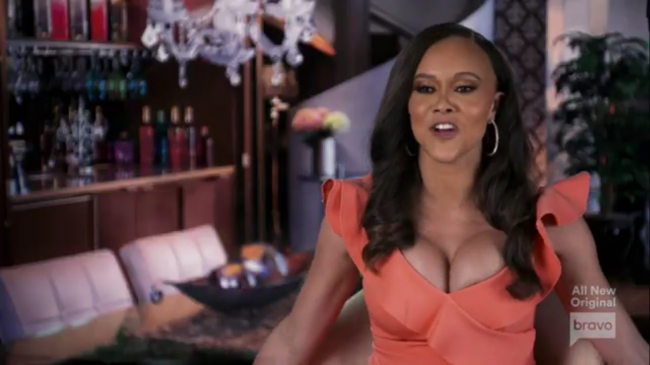 Karen being sworn in as the ambassador of this small ass town is the extra I aspire to be. I can see how being a big ass fish in the smallest pond might be a powerful feeling. The Grand Dame's kingdom is getting a little bit bigger.
Ashley has the cutest family of all time though. Michael Darby has seemingly stepped up as a husband and a father. Hopefully he can keep his sketchy ass out of trouble for a change. Can we go one season without a Michael scandal breaking out?
Surprisingly Robyn does not have a hangover the morning after the whiskey tasting. With the way she was sucking them back, she got off lucky. She still can't help but feel hurt at how quickly Wendy dismissed her relationship with Juan. That's really weighing on her. Why does she care though? If it's not true it shouldn't matter. Right? That's how she wants Wendy to be when it comes to the Eddie rumors.
Gizelle owns up to being shady and messy, but not everyone can handle that. If you're going to be a group with her, you need to expect anything from her. It's not right, but it's the reality of the situation.
Gizelle tells Wendy it's good to see her and says she'd like to speak to her eventually. Wendy doesn't give her a definitive yes or no. It's a little soon for Gizelle to try and patch things up. Give Wendy some room to breathe and some times to process.
Mia Thornton opens up about the traumatic birth of her child. Not only was the actual birth painful, the father hooked his gaming system up to the TV. It's nice to see he was focused on making sure Mia was comfortable. What a douche. Be there for the mother of your child. Do better.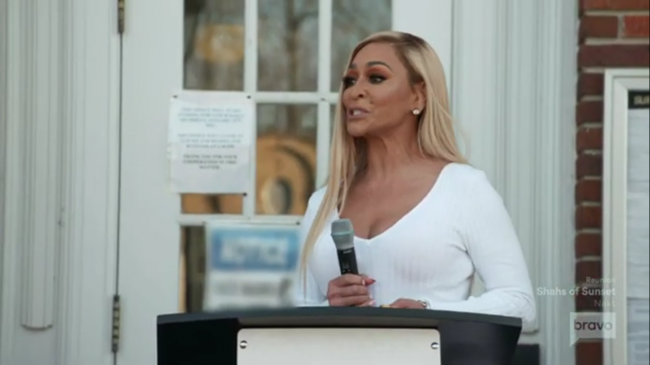 Candiace Dillard Bassett asks all of the ladies to play a game to be extras in her music video. As someone who has seen the video, she did the damn thing. It's a bop. As the president of her fan club, I urge you to listen to her on your chosen music streaming platform.
Gizelle might be the worst dancer in the history of moving your body. It wasn't good. Karen however, gave us infinite life with her moves. The Grand Dame can get NASTY if you present her the opportunity. More of Karen slaying the girls!
Tennis is not Candiace's game. Serena Williams she is not. She doesn't know how to hold the racket or really do anything at all. I am deeply cringing inside watching her try this.
Despite the extraness of it all, it was touching to hear Karen mention her deceased parents in her speech. It was quite beautiful, and hopefully she knows her parents are always in her heart.
KAREN ANNOUNCES HER NEW CANDLE LINE AT THE SWEARING IN CEREMONY. How shady is it that Karen never mentioned it to Wendy when she sought out business advice. That is some foul play to do your friend dirty like that.
Robyn feels like Candiace is trapping her in a box by lumping her in with Gizelle. Robyn has her own issues with Wendy after the way her relationship was accused of being nonexistent. Obviously that cut Robyn deep to the core, so she is now wanting to exclude her from all bridal events.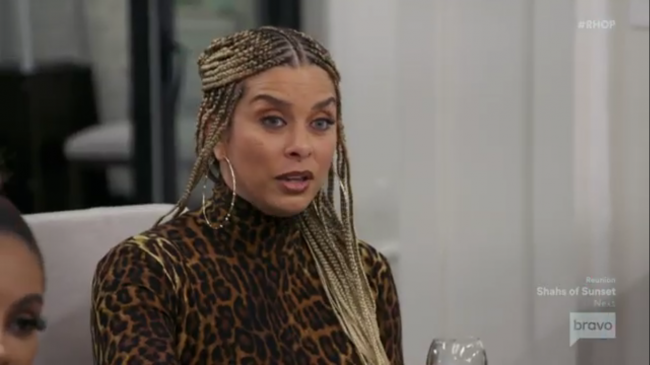 Mia is stirring shit up and not getting any of the facts right. She told Wendy that Gizelle called her a weak bitch after the fight the night before. That's not at all what came out of Gizelle's mouth. If you're going to be messy and stir the pot, get your facts straight. It's that simple.
At dinner Juan calls, and Robyn goes on and on about how it's being said their relationship doesn't exist. She asks Wendy if she's going to ignore her as well or just Gizelle. That's a great question because it would be nice to separate Robyn from Gizelle. There's no need to always bundle them together. They aren't a two for one drama special.
Wendy chooses to apologize to Robyn which was an unexpected move. However, Robyn's not accepting the apology that easy. She's still perplexed how Wendy changed her tune about her relationship so quickly. Robyn doesn't find any of it to be genuine, but it's on ice for now.
Wendy asks Gizelle why she would call her a weak bitch after she left the room. Mia gets called out for lying. If you can't get the facts straight, you shouldn't be trying to stick your nose into shit. Stay out of things that don't involve you.
Wendy gives a speech about not needing anything from Gizelle, and Karen's so extra in the background. Every comment Wendy makes, Karen's making some overly dramatic facial expression or sound effect. She really needs to never stop though. It's hilarious how much she lives to be a thorn in Gizelle's side.
TELL US – TEAM WENDY OR TEAM GREEN-EYED BANDITS? IS ROBYN'S RELATIONSHIP WITH JUAN REAL? IS MIA BEING TOO MESSY? ARE YOU ENJOYING THIS SEASON OF THE REAL HOUSEWIVES OF POTOMAC?
[Photo Credit: Bravo]