I can't believe it's only night one of this trip. So much has happened. Nobody does it better right now than The Real Housewives of Potomac. There's been a salad toss at the house and a near brawl at the restaurant. Can someone restore some order to the group?
Gizelle Bryant & Robyn Dixon want to escape this nightmare house. The green-eyed bandits are already looking for a hotel. I can't say that I blame them though. They don't even have access to a bathroom in their dusty accommodations. I get being petty, but DAMN.
Wendy Osefo's enjoying herself, but she knows the trip has been awful. Good vibes only has turned rather quickly into no good vibes at all. It has to be embarrassing to go out to dinner with people who cannot behave.
Mia Thornton tries provoking Candiace Dillard Bassett in the car because she doesn't know when to stop. Does she really want that smoke? Mia's so messy, but she's not good at it. It's way too chaotic.
Gordon Thornton talking about his massive erection is something I could do without. If that wasn't bad enough Chris Bassett tries to show everyone his brown dick. Ashley Darby makes an attempt to say Michael Darby wouldn't do this, but let's all laugh at that together. Stop joking Ashley. Michael is the worst of all of the husbands.
Back at the house a drunk Chris tells Candiace he's sick of the women always going at it. He's the smart one because he knows Ashley only does what she does because Candiace will react. Ashley's truly not as bad as Candiace makes her out to be. Sure she's messy, but aren't they all?
Gizelle & Robyn are making a break for it in the middle of the night. Their plan is to arrives back to the house in the morning before anyone wakes up. They get caught by Mia which means Wendy will know as soon as humanly possible. Mia can't help but have diarrhea of the mouth and spill any and all gossip.
UPDATE: Wendy is well aware of them leaving in the middle of the night. Looks like the second day is going to be just as intense as the first. One day. Can they have ONE DAY without the shenanigans? It wouldn't hurt to have good vibes only for an extended period.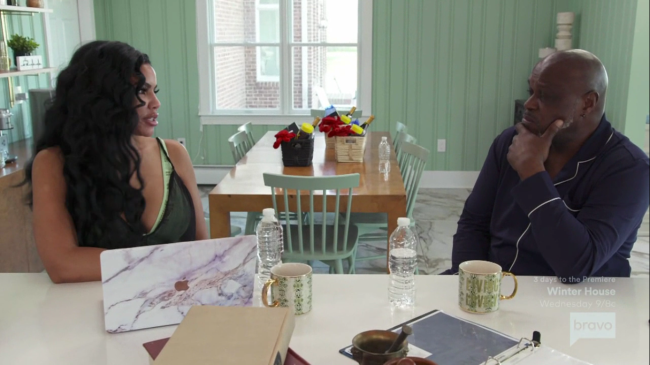 Why is everyone so up in arms about the lack of accommodations? This is a HOUSE. This is a vacation in a home. This isn't a five star hotel. There's no turn down service Mia. Go to the Quality Inn down the street if you want someone to bring you towels.
Karen Huger says Gizelle leaving in the night is tackier than the way she dresses. Woah, that's a level that didn't seem possible. Gizelle dresses worst than most Housewives in history, so that statement carries a lot of weight.
Ashley checks in with Gizelle to see how she's doing since the abrupt house exit. Karen chimes in and asks if Gizelle checked in with the host, and she says the host hasn't said shit to her. Welp. Here we go. Wendy was in earshot of that, so Gizelle's about to get a nice Facetime read. She just HAD to poke the bear and keep throwing digs at Wendy.
Wendy gives Gizelle a refresher about coming to her room and greeting her. Looks like the drama between these two isn't dissipating anytime soon. This is a feud that's here to stay.
Mia's down to have a conversation with Candiace because she wants to understand her motivations. If they take time to listen to each other, they may be able to find common ground. However, it devolves into a shouting match anytime they attempt to squash it.
Ray Huger arrives on the trip, and Karen's so happy to be saved. She's been there less than 24 hours, and it's been pure chaos since she got there. I live for Karen filling in her hubby on all the gossip. The Black Bill Gates is now up to speed thanks to The Grand Dame.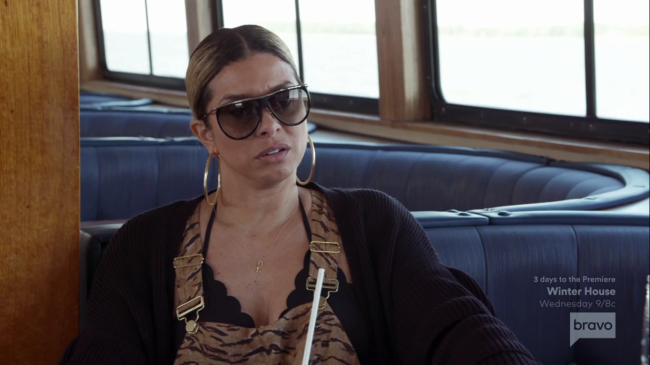 Gizelle & Robyn return to the scene of the crime. It has to be awkward for them to walk back into there after they dipped. Ray making cracks at Gizelle the moment he sees her is perfect revenge. If he was harboring any resentment about the alleged wishing of his death, he's obviously over it now. Karen & Gizelle are finally moving into actual friend territory.
Askale Davis & Robyn wander away from the rest of the group on the boat. Robyn doesn't think Wendy purposely gave them trash accommodations. She believes it's simply a case of poor planning. That wouldn't surprise me because we've seen how well Wendy's planning her business. That's another thing she jumped into without any thought or planning whatsoever.
Robyn's still hurt about Wendy's attack on her relationship with Juan Dixon. She wants to keep any interactions with Wendy to a minimum. It's going to be difficult to avoid Wendy in a group this small. Things are often super intimate, so good luck trying to keep the peace.
Mia tries to be the bone carrier and tells Wendy that Robyn said she's not the same person she was a year ago. She's the worst bone carrier of all time. She tries so damn hard to stir shit up, but she sucks at it. Mia never gets the facts right. Once again her attempt at creating new drama goes nowhere because she told the story wrong.
Robyn actually said her friendship with Wendy isn't the same as she was a year ago. She's allowed to feel like that. It's a fact. Their friendship isn't at all the same as it was previously. Robyn was unfairly lumped into the mess caused by Ashley & Gizelle on the last vacation. Their shadiness led to Robyn & Wendy having the worst fallout of the situation.
Wendy welcomes open dialogue with anyone who would like to speak to her. The trip was booked prior to Gizelle's toe injury. Also she didn't know Gizelle & Robyn wouldn't come on the trip at the beginning like everyone else. Plus, Robyn didn't want to share a bathroom with strange men. I don't think that's too big of an ask.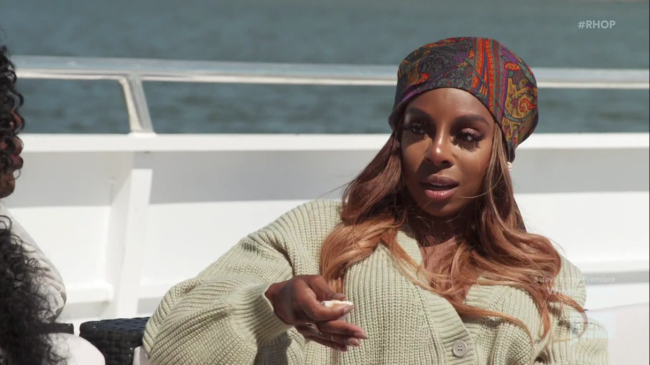 Mia wants to speak to Candiace about their lingering issue. She recognizes she struck a nerve when speaking about Candiace's music video. Mia apologizes to Candiace because she was never trying to hurt her like that. It wasn't the comments about her mother that triggered her. It was the comments about her music video being low budget that hurt her the most.
You can see the true pain in Candiace's eyes because she worked her ass off to make that happen. It's important to her to be a success. She's taking a huge leap by going out on her own as an independent artist. To have someone shit all over her dream is obviously going to hit her deep to the core. However, Candiace now needs to be equally as open to Mia and listen to the things that hurt her.
Candiace admits she was unaware of Mia's issues with her mother. She was making a generic "yo mama" type of dig at Mia. She had no clue about the long history of pain and suffering regarding Mia and her relationship with her mother.
Mia tells everyone in the group the full story about her mother and those struggles. It's a level of pain that most people couldn't even imagine. Candiace is appreciative she received this information because she can approach Mia in a different way now. This information would've been vital if it came earlier. The salad toss could've been avoided!
In the van, Gordon won't stop poking fun at Ashley. She's minding her own business, but he has zero filter. His behavior is rubbing Ashley the wrong way. He's an idiot. This man is the worst. Leave Ashley alone. Disgusting!
TELL US – IS WENDY A GOOD HOST? IS GORDON THE WORST HUSBAND IN THE GROUP?
TEAM MIA OR TEAM CANDIACE? ARE YOU ENJOYING THIS SEASON OF THE REAL HOUSEWIVES OF POTOMAC?
[Photo Credit: Bravo]