It's Real Housewives of Potomac finale time! It's been a wild season of secrets, lies, and scandals. So basically it's been the same as any of the previous seasons. These ladies DELIVER. That's a fact.
I can't believe Karen Huger's really having all of the women attend her vow renewal. At the beginning of the season, she wanted absolutely nothing to do with Gizelle Bryant. Clearly a lot has happened. It would be refreshing if these two could remain on good terms for an extended period of time.
Shockingly the next scene has BOTH Michael Darby AND Juan Dixon in it. It's surprising to see either of these men actually showing up to film a scene outside of their own homes. Michael must be in heaven getting to sit that close to his favorite Potomac husband.
Juan's cool with Michael, but it has to be uncomfortable for him at times. We all know what's been alleged in the past about Michael's possible affinity for Juan's certain appendage. It's weird.
Robyn Dixon asks Michael why he didn't attend the cast trip. He tries to beat around the bush, but Ashley Darby gets right to the point. She makes it crystal clear that Michael's referring to Candiace Dillard Bassett & Chris Bassett.
Michael wants to know how Candiace pays Chris for his managerial services. It's basically implied that Candiace pays him in sex which is such a misogynistic viewpoint. Why is he out here trashing Candiace & Chris. He's the absolute worst husband to ever grace our screens on this show. He's the one out there embarrassing his wife every season.
Ashley asks Robyn & Juan about the possibility of having another child. What was supposed to be something cute and innocent turns to drama rather quickly. Robyn's shutting down any idea that Juan was hands on as a parent with the others. You can tell Juan doesn't like this being discussed, but facts are facts. If they're going to do this again, he needs to be all in. He needs to be a present father because Robyn has too much going on to do this alone.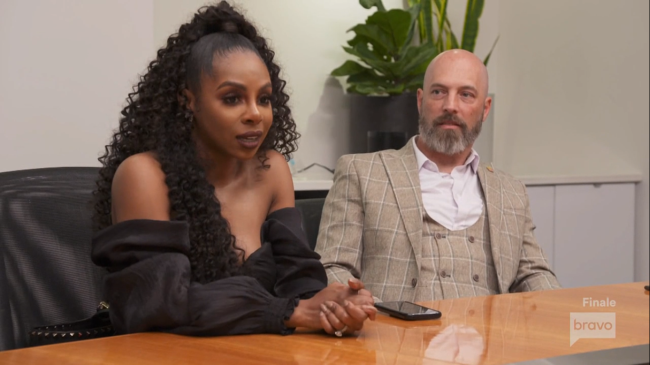 It breaks my heart watching Candiace with Chris & Dorothy Dillard. The comments Dorothy made totally wrecked the relationship between she and Chris. This family won't ever be the same because she didn't know how to keep her mouth shut.
In happier news, Candiace is finally singing a music deal! Drive Back is an absolute banger. Some of the other songs on the album are iffy, but I'm giving it a chance. She's a new artist, so there's bound to be some choppy moments in the early stages.
The label wants to make sure Candiace shines as a real artist and not as someone controversial. She's tearing up because this is the moment she's been waiting for her entire life. With Chris by her side, she felt confident enough to push through and make her dream a reality. Everything she's ever wanted is coming to fruition because she never gave up.
There's always so many haters of Candiace online, and sometimes it just doesn't make sense to me. You can't argue the fact that this franchise got better once she joined the fray. The arrival of Candiace was a game changer for Potomac. If it weren't for Candiace, you could argue it would've suffered the same fate as Dallas by now.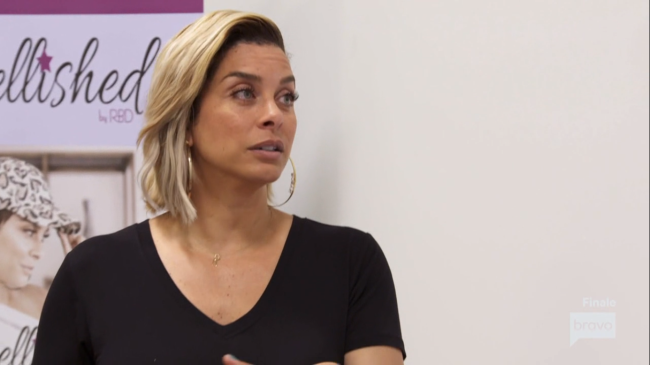 For anyone who cares, Robyn's finally moving her business to a larger warehouse space. It's nice to hear her hats are selling like hotcakes, but she's just so damn boring. I try every season to give her a chance, but she's only giving us "friend of" vibes. There's not enough substance to justify hear holding a champagne flute.
Robyn wants to ensure the mistakes of Juan's past to come into play if they have a new baby. He was totally hands off. He didn't even change a diaper. As someone who is going to be a father in the very near future, I couldn't imagine leaving all of that to my wife. Absolutely unacceptable.
Juan storms off because of everything Robyn's saying. He's taking this to the next level. I understand he doesn't want to be called out for past actions, but this isn't the right way to handle it. He wants Robyn to take some accountable for the things she DIDN'T do. Well damn.
Robyn says if Juan can't have a conversation about this baby, they have serious problems. It's true. If she has a baby with this man and he flakes, she's going to be stuck raising all on her own. Fuck that noise because it should be both parents sharing equal responsibility.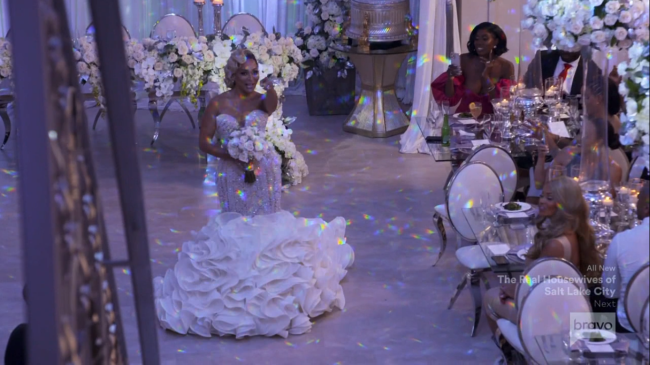 Candiace finds Karen's wedding ugly as hell, and we already know Wendy Osefo & Mia Thornton think the same. Someone as extravagant as Karen could've found a more desirable location. It definitely fell a little flat because when you think of Karen, you expect something more over the top.
The bar is location on an entirely different floor than the rest of the event. This is so poorly planned. Karen, do better. Not at all what you'd expect from her.
Ashley's intrigued by the idea of Chris & Michael interacting with each other, and I don't disagree. That dynamic alone makes this event worth watching. However, as far as finale episodes go, this one has been lackluster. Sigh.
Wendy's been so fake and forced this season for me. Every time I see her, nothing feels organic. It feels like every minute she's on camera, she's trying to create an iconic moment. Nine times out of ten, it falls flat. It wreaks of desperation because she's better than that.
Macy Gray being a surprise performer at the event is EVERYTHING. This is the type of Karen Huger Grand Dame moment we're looking for. Pull through with the icon! YESSSS.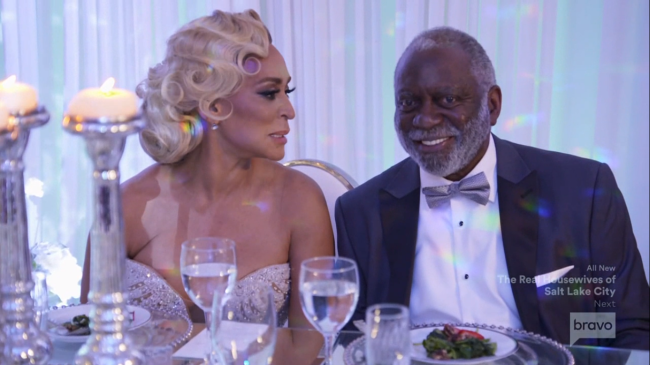 After everything they've been through together over six seasons, Karen & Ray are very much in love. Let's hope the curse doesn't fall on them because we've seen this song and dance with many reality TV couples. Hopefully they're not doomed!
Everything's awkward between Michael & Chris after the ceremony. Michael doesn't fuck with Chris and has no desire to ever speak to him. Chris says he's willing to let everything go, but Michael doesn't want it. Michael's looking for a fight with Chris & Candiace because that's who he is. He's never going to change.
Michael wants an apology from Chris for putting his hands on him, but let's not rewrite history. Candiace isn't going to listen to it any more. She says this is the whitest privilege she's ever seen. Of course Michael doesn't know what she's saying. Of course not. He never will. If Michael were a Black man, he'd never be able to get away with the slimy shit he gets a pass for. However, Michael is white and somehow always gets a pass, yet somehow Candiace is crucified for arguing on a show about drama. Make that make sense.
Michael & Chris agree to move forward and not disrespect each other's wives. This is forward progress I never expected. These two agreeing to go in a positive direction is something that was highly unexpected.
After, Chris & Candiace argue over the way he handled everything with Michael. She doesn't think Michael's taking any real accountability for anything. However, it looks like Chris just wants to keep the peace. These two aren't going to see eye-eye about this.
TELL US – TEAM MICHAEL OR TEAM CANDIACE? WILL KAREN & RAY LAST? WAS WENDY FAKE THIS SEASON? DID YOU ENJOY THIS SEASON OF REAL HOUSEWIVES OF POTOMAC?
[Photo Credit: Bravo]