The Real Housewives of Orange County are off to Aspen! Personally, I've been looking forward to this cast trip since the season started. And especially after the teaser we saw at the end of last week's episode. But even I was surprised at how quickly we jumped into the trip. Like, we were on the private jet and landed in Colorado within, what? Five minutes of the episode beginning? There's definitely pressing tension between Shannon Beador and Gina Kirschenheiter not to mention lingering hostility between Heather Dubrow and Noella Bergener going into this  vacay. But there was very little set-up, narratively speaking, to get this party started. (Side note: this season has to be the first time in RHOC history that the women have flown private all season. Thank you Heather.)
Now, Emily Simpson is technically the one who's organized the trip this time around. And she specifically chose Aspen hoping that the colder temperatures would chill out the drama swirling amongst the group. Yeah, slim chance of that happening… But she's booked an absolutely fabulous villa, anyway. It literally has a private bowling alley built into an actual mine inside. And Emily has even provided a welcome gift of IVs and oxygen treatments to help the 'Wives climatize to the (much, much) higher elevation in the Rocky Mountains upon arrival. Because darling, we're definitely not in Orange County anymore.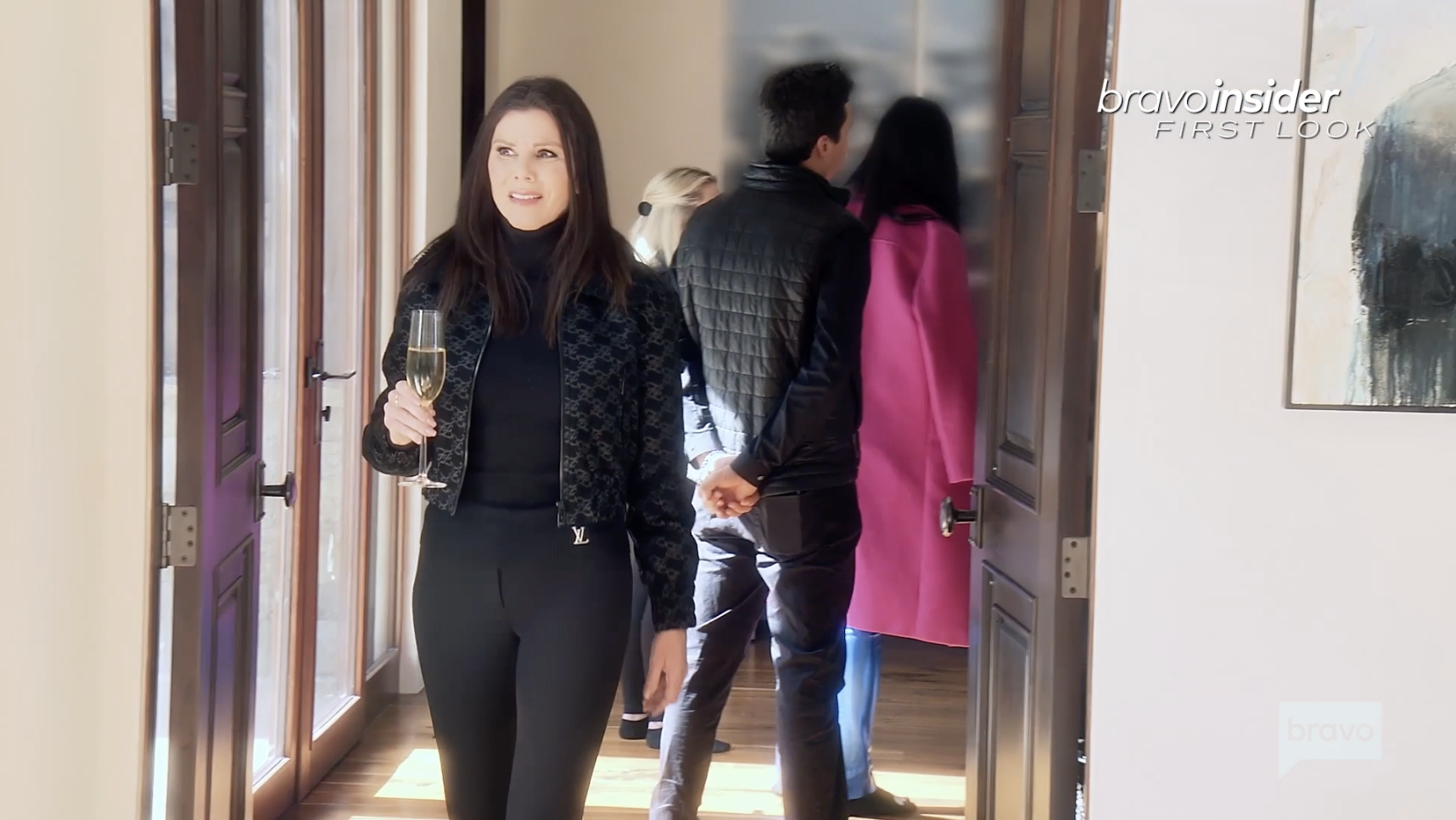 However, there's important business to attend to first. Yes, I'm talking about the yearly ritual of the Housewives choosing rooms. Now, historically speaking, the women of the OC have been far less chaotic — or ruthless — when it comes to this annual contest than, say their counterparts in New York City. Or even the all-stars on Real Housewives Ultimate Girls Trip. And there was no problem on the trip to Cabo earlier this season because Heather had booked a house so large that each of the women could've had their own casita if she wanted. But this time around, not everyone's so accommodating and gracious. I'm talking specifically about Noella.
First, she tries to lay claim to the house's master suite. And even tries to use the fact that her dad just died as justification for why she should have it. That's, uh, icky. To say the very least. Not to mention that Emily organized the trip, so she automatically gets first dibs on the best room, which she's happy to share with Gina, as usual. So then, as her second and final choice, Noella sets her sights on the identical suite on the floor below. Never mind that Heather's already claimed it. But the second Noella puts up a fight, Heather cedes the room and picks another. Probably for the sake of her sanity and not having to hear Noella's endless litany of reasons about why the suite should be owed to her. I wouldn't want to pick that battle, either.
Now, I need to pause here for a moment. Or, as they say, put a pin in it, to clarify something for Noella's sake. Last week, there was a lot of confusion online and in the comments of my recap about the death of the newbie's father. A large contingent of fans were certain that her dad, Christopher Nance, had died in 2012 and even went as far as to claim that Noella was lying about the timeline of his death on the show. However, there's been a huge mix-up. Because, trust me, I found that obituary from 2012 as well. It's the very first thing that pops up on Google. But that Christopher Nance is not Noella's biological father. The man who passed away ten years ago was born in Myrtle Beach, South Carolina, spent his whole life in the state and died at the age of 54.
Noella's father, on the other hand, was a very well-known weatherman in the Bay Area on NBC for two decades. And died at his home in Hawaii after a lifelong battle with sickle cell anemia. Some of this information has even been mashed up with biographical details of the other Christopher Nance on various posts and websites. But they're not the same person. Noella may lie about a lot of things — and more on that in a moment — but she's not lying about her dad's death. Just felt the need to clear that up. Ok, now back to our regularly scheduled drama…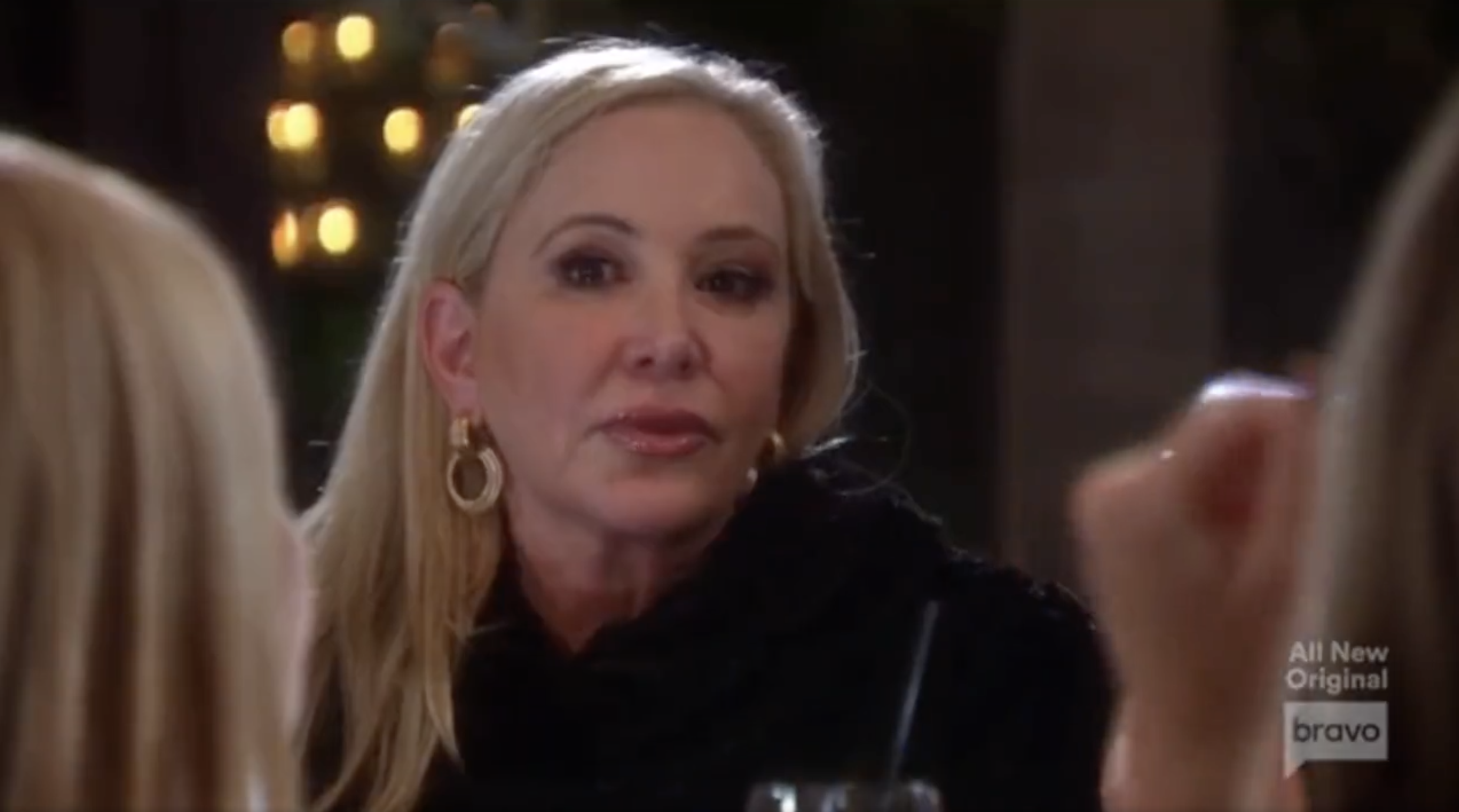 Almost as quickly as they arrived, the 'Wives head out to their very first dinner at Bosq, an upscale eatery steps away from the Aspen Art Museum. And at first, the vibe among the women is…almost friendly! They're all dressed in their best winter neutrals and drinking house cocktails named inexplicably after Matt Damon. Get-to-know-you games even commence around the table, with the most interesting factoid revealed being that Dr. Jen Armstrong has been engaged seven times. Which, I guess is a lot for the average person. But it pales in the pantheon of Bravolebrities, where the leading Housewife in the Bravoverse has been engaged 21 times. Seven rings does put Dr. Jen on par with Ariana Grande and her girlfriends on a casual post-breakup trip to Tiffany's though. So at least she has that.
After Heather dishes on her first (rather inaccurate) impression of Shannon when they met way back in Season 9, the conversation somehow turns to the asinine "fun competition" from a few episodes back. Shannon tries insisting that she wasn't attempting to outdo Heather and Gina's trip. Even when the flashbacks prove otherwise. No matter what anyone says, though, Shannon's sticking to her story that she merely called the 'Wives in New York to check in and say hello. And Heather's still hurt that Shannon never bothered to ask about her live podcast. So the two veterans are at an impasse. But before they can really properly talk out their (admittedly minuscule) issues, Noella can't resist jumping in and aggravating Heather. (Quick aside: what presidential campaign do we think Noella ever worked on? President of her high school debate club?)
Honestly, I don't even know how to succinctly summarize what happens next. Because the conversation at the table takes off in so many different directions that it's hard to keep it all straight. Shannon and Heather actually make some genuine headway and start speaking each other's language. Shannon starts breaking down in tears, feeling like no kind gesture she ever offers is good enough. Which makes me empathize for her for the first time in quite a long while. Then she's accusing Emily of being a pot-stirrer. Which prompts both Noella and Gina to jump in. Noella claims Gina says "hurtful things" to her as compared to Shannon, who has a "big, juicy, yummy heart." (Her words, not mine.) Are you keeping up so far? Because the drama's about to kick into a whole other gear…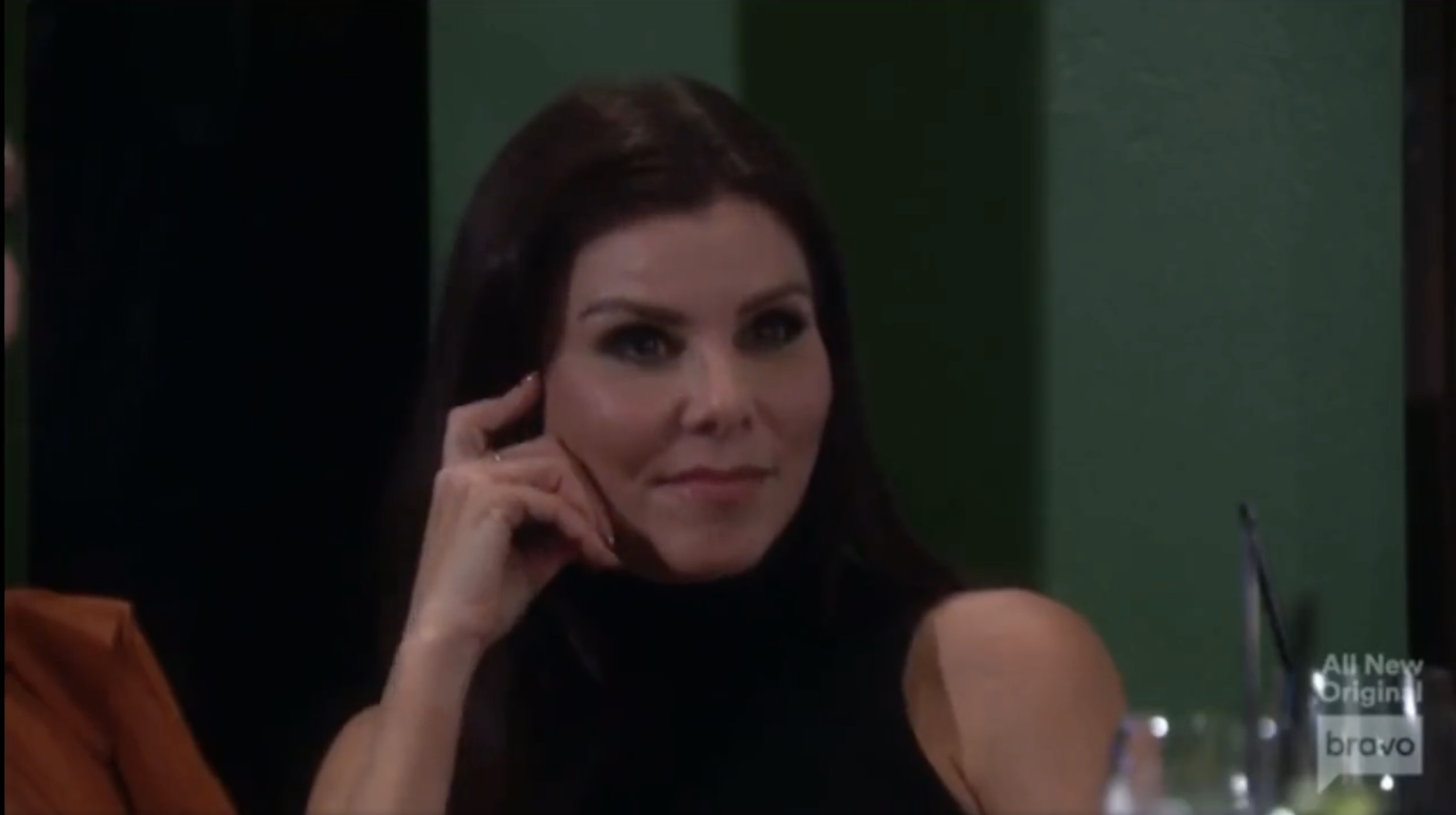 Heather can't help but laugh at Noella accusing someone else in the group of spreading damaging rhetoric. Hmm, let's think for a second. What about the time Noella claimed Heather was shoving people against walls at her party in the premiere? That's not hurtful? Let alone dangerous and straight up defamatory? But Heather isn't afraid to bring it up because she's confident it's a lie. And almost immediately, Noella's story starts changing. First she says she saw Heather physically put her hands on someone in the crew. Then it's that Heather pushed a camera. Then she plays the "just because I didn't see it with my own eyes doesn't mean it didn't happen" card. And that's when her credibility's pretty much out the window. If we've learned anything on this trip so far, it's that Noella's just as messy at 8,000 feet as she is at sea level.
The newbie then tries to change the narrative with some more revisionist history that Heather "came after her" when she visited the Dubrow Chateau back in Episode 6. Which is, again, simply not true. And she tries to drag Emily in as backup, implying that the lawyer compared notes with her after the sushi party and was privy to the same damaging information. But at this point, Heather's had enough and storms out of the restaurant, with Emily close behind. At its core, this is an accusation of physical assault. So I don't blame Heather one bit for being angry and defending herself. However, she's ready to jet back to California, and it takes some major convincing from Emily to get her to stay on the trip.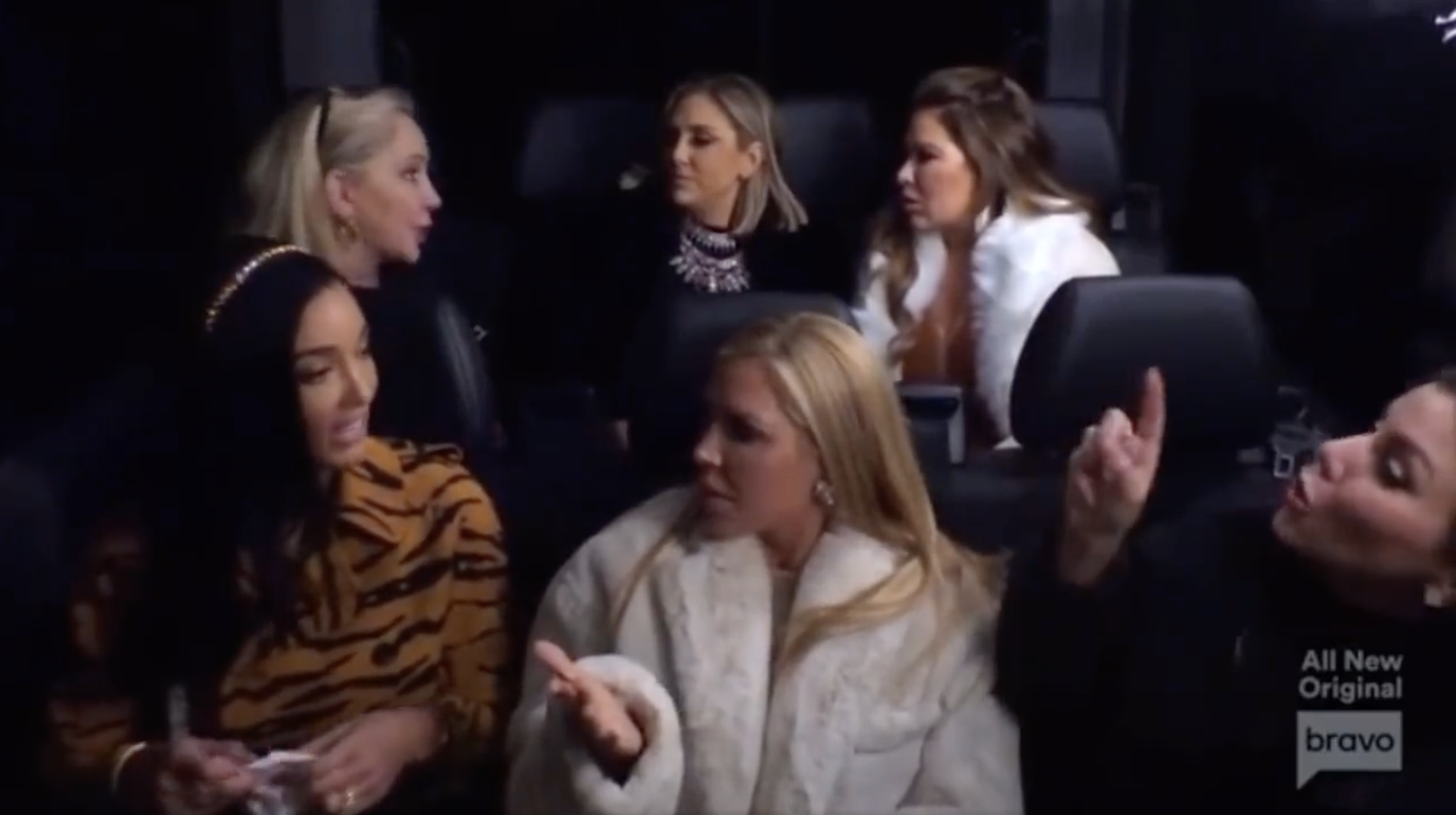 Needless to say, dinner is over. But the argument follows the women out to the van, where Shannon tries to get a clear story out of Noella while the others rally around Heather. It's actually kind of shocking that Noella and Shannon don't take a separate car home. And it makes for an explosive and chaotic van ride to the house. (Honestly, though, is there any other kind in the Bravoverse?) While Heather and Noella go for round two with Dr. Jen stuck between them, Shannon picks a completely different fight with Emily out of nowhere in the back seat. By the time the van arrives at the house, everyone — and I mean everyone — is at each other's throats.
Once inside, Shannon tries to mediate by playing Switzerland. But that's not good enough for Heather, who wants a little more explicit support from her fellow veteran. I think that, in the moment, Heather was expecting Shannon, out of all the women, to stand up for her. Just like she did back in Season 11 when the tables were turned and Vicki Gunvalson had confided in Kelly Dodd that David Beador had physically abused Shannon. When a line this serious is crossed, there's no middle ground. There are no "rational conversations" to be had. There's wrong and there's right. And you expect your friends to defend you. But Shannon's not taking a strong enough stance for Heather's liking.
However, the one thing Shannon does do when Noella comes back downstairs in pajamas, is coach her word for word through a careful apology. Of course, the term "liar" is nowhere to be found in the monologue Shannon lays out for the younger 'Wife, but it's better than nothing. Noella wants to have a one-on-one with Heather to, hopefully, clear the air and sort things out once and for all. But just as Heather agrees to the sit-down, the episode ends and we're left with a quite well-earned "To Be Continued…"
TELL US – WHAT DO YOU THINK OF THE TRIP TO ASPEN SO FAR? IS NOELLA LYING ABOUT HEATHER? WHY DOES HER STORY KEEP CHANGING? DID EMILY STIR THE POT? SHOULD SHANNON BE MORE ACTIVELY DEFENDING HEATHER? AND CAN YOU BELIEVE DR. JEN'S BEEN ENGAGED SEVEN TIMES?
[Photo Credit: Bravo]