We've arrived at the Season 16 Reunion of The Real Housewives of Orange County. And to borrow the words from Gina Kirschenheiter, it's time to pay the piper. The set is a full-blown ode to the OC, complete with a replica of Tammy Knickerbocker's famous Coto de Caza gates, which have graced the show's opening credits for more than a decade and a half now. (How many of you dear readers genuinely know who Tammy is, by the way? I'm a day one fan of RHOC, but I'm always curious to when other Bravoholics got hooked…)
The seating arrangement this year was obviously a no-brainer. But before we jump into all the drama on the couches, let's talk for a moment about a much more controversial topic: the fashion. When they were revealed a few weeks ago, the 'Wives looks were roundly lambasted as terrible. However, I've learned over the years to withhold my final verdict until I see each ensemble on camera rather than in a single picture. And yes, there doesn't seem to be any rhyme, reason or theme happening on stage. But a lot of the looks work better on the couches than they did in the pictures.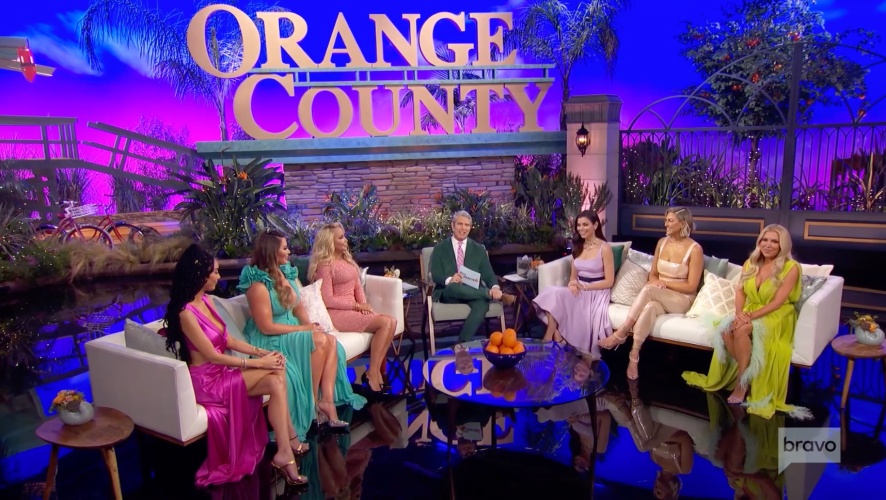 Take Heather Dubrow's lavender Christian Siriano number for example. Trolls called the cut dowdy and criticized the tea-length hem as too matronly, but when she's seated (next to Andy Cohen for the first time, I might add), it's perfectly lovely. And continues her reunion tradition of favoring monochromatic color palettes with just the right amount of jewelry. Then there's Gina. I say, if you can figure out a way to make pants and a crop top reunion appropriate, why not? The set is certainly younger and fresher than the jumpsuit she wore last season. In my opinion she's serving Long Island Britney Spears vibes and it's working. My only complaint about Dr. Jen Armstrong's choice is the color. But that's just because that shade of chartreuse happens to be probably my least favorite color in the entire rainbow. The cut is great though, and I'm obsessed with her hair and glam.
Onto the opposite couch! There's simply no denying that Shannon Beador wins best dressed here. I mean, has the woman ever, ever looked better? I dare say she has not! And the OC Barbie look is all the more impressive given it was a desperate last-minute purchase by producers after Shannon's planned collaboration with Project Runway's Bones Jones imploded into one of Big Bird's nightmares. Thank the Bravo gods she's not sitting there in that neon yellow travesty.
I'd like to think that Emily Simpson's look is a nod to the OC's signature sky tops from back in the day. Still, it's a far cry from the va-va-voom of her slinky gown at last year's reunion. And I never love a ruffled shoulder, but I do like the braid. And I appreciate Noella Bergener's nod to her roots by wearing a Black designer and putting her hair in braids. The color is great; the cutouts work perfectly. I just wish the dress didn't have those…lapels? If you can call them that?
The Triumphant Return of Heather Dubrow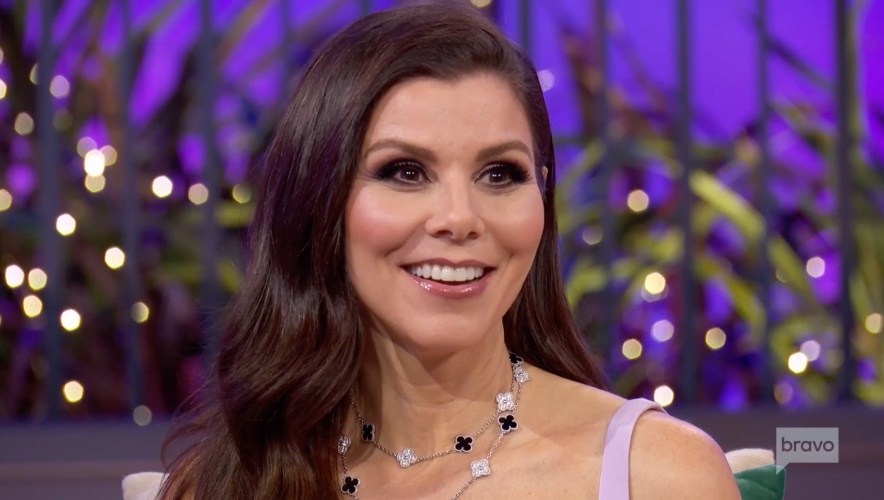 Naturally, after the requisite pleasantries and introductions, Andy kicks things off by heralding Heather's grand return to RHOC. We all know I love her. We all know she's my favorite. So I'm biased here. But I'm still just so, so glad she's back on the show. And happy to see that Andy brings up one of the best ways Heather used her platform this season: to champion Max Dubrow and Kat Dubrow, her two LGBTQ+ daughters. The way that Heather has supported them, built them up, and helped them share their own stories with the audience was so touching, especially for all of us LGBTQ+ fans who maybe didn't get that same level of unconditional acceptance and allyship from our own families growing up. Say whatever else you want about Heather, she's such a good mom. There's no room for discussion. Not even Noella can find fault with her nemesis when it comes to this.
No, No, Noella
Speaking of Noella, how did she get here? And yes, I mean both onto this show and at this point in her life. Andy lets slip that producers had actually been considering the newbie for a few seasons now. So we could've been enduring her for years now. A few key things we learn from her intro package. 1. She apparently met Sweet James Bergener on Seeking Arrangement, a dating site traditionally used for young, attractive women to find wealthy, older sugar daddies. 2. She and her now-ex-husband were actually residents of Puerto Rico and basically rented their OC mansion for filming. Hence why he sent her divorce papers from Puerto Rico. Emily speculates the situation was some sort of race to establish jurisdiction because Noella's lawyer actually sent James' notice that she was the one intending to file for a legal separation. So how blindsided was she, really?
3. Noella claims James was just as enthusiastic about being on the show as she was. Well, maybe at first. But the rest of the ladies think that once the scandal of  his massive tax debts became public, he suddenly didn't like the prospect of being a Bravolebrity quite so much. And basically turned tail and ran for the hills island. However, Noella maintains that if James had ever told her he didn't want to do the show because of the problems it would cause, she would've bowed out. But no one's actually believing that. It's clear by now that Noella's thirst for fame supersedes any and everything else in her life. And 4. She has a new, 33-year-old boyfriend named Bobby who bought her an, umm, adult toy company called Playland. So get ready to potentially be subjected to that for Season 17…
Loose Lips Let Lawsuits Slip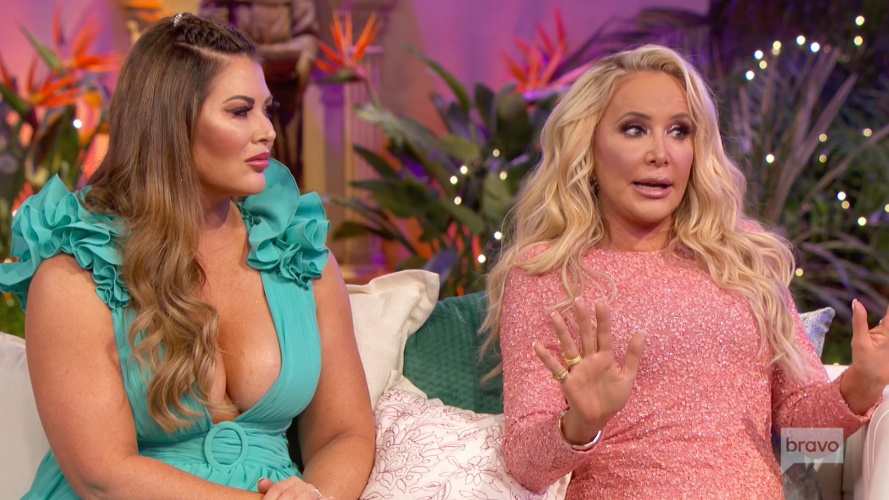 Next, Andy moves on to the drama that kicked off the season: Nicole James' long-dormant lawsuit against Dr. Terry Dubrow and the fallout between Heather and Shannon. To this day, Shannon swears she thought Nicole (who wasn't invited to the reunion) couldn't possibly be the same girl she knew from years before. And brings up the widely-circulated before and after photos to prove just how much Nicole had changed. However, Heather's still left to wonder why Shannon would bring up the nearly 20-year-old, dismissed lawsuit at all. Gina accuses Shannon of trying to plant a seed about the lawsuit early in the season with the intention of using it for some huge reveal down the line. Which is something I hadn't considered before. But given Shannon's history — for example, accusing Braunwyn Windham-Burke at last year's reunion of offering her daughter drugs — I'd say that theory isn't too far outside the realm of possibility. Once again, she just wanted someone else to do her dirty work for her.
However, the issue cuts much deeper for Heather, especially given her personal history with Shannon. Back in Season 9, when Shannon was the new Wife on the block, Heather actually knew that David Beador was having an affair. And she chose to protect Shannon at all costs, even after they spent the entire season feuding and she could've easily used it as life-altering ammunition to publicly humiliate her new frenemy. After finding out about David's infidelity herself, Shannon called Heather's loyalty "the ultimate girl code."
Now cue Heather's return to the show, and what's the first thing her old friend does? Returns the favor by stirring up a story behind her back that could've caused irreparable damage to Terry's career and her family's livelihood. When you understand it through that context, it's a major betrayal. On the couches, Heather fires off that Shannon actually knew about David's affair during the Season 9 reunion. And yet pretended everything was wonderful and healed in their relationship. Only to turn around and later air out all the dirty laundry for her Season 10 storyline. Though when it comes to Heather's mafia boss-style threat about ruining Shannon's life, Fancy Pants walks that back, promising she would never ever get litigious with her fellow 'Wife And through tearful apologies, the two vets leave it rather tenuously at that.
Who Should Pay the Piper?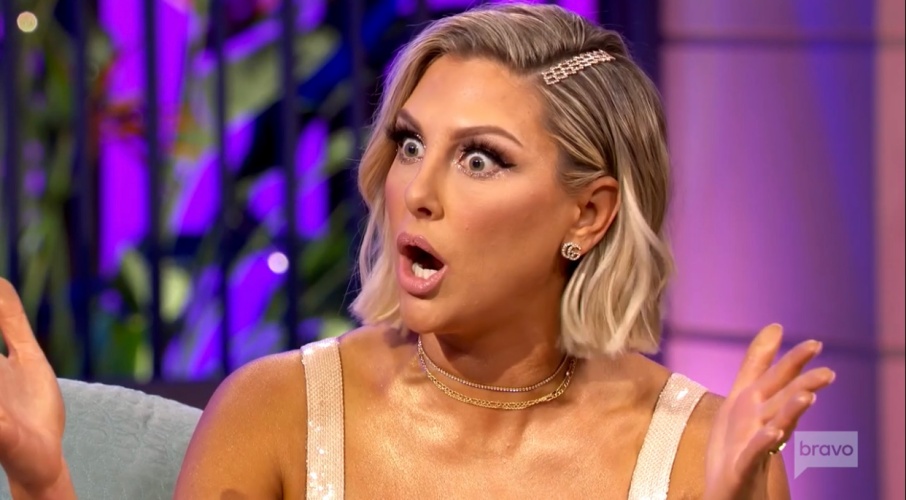 Emily gets a nice package about her (truly admirable) work with the California Innocence Project, balancing out Shane Simpson's Mormonism, and her self-appointed role as the bone collector of the OC. And Gina looks back on how far she's come, particularly in her relationship with ex-husband Matt Kirschenheiter before Andy's son Ben adorably interrupts the reunion via Facetime. But the drama reignites when Andy brings up Gina's opposing friendships with both Heather and Shannon.
Even if it wasn't malicious, Gina was rightfully bothered by Shannon's penchant for throwing her DUI back in her face. Seriously, what's so hard to understand about that? But when Emily jumps in to defend her bestie's position, Shannon promptly puts her back in her place. And then goes on to accuse Gina of "gunning for [her]" not only all season long but dating all the way back to Gina joining the show in Season 13. (Only after once again referencing all the ways she's gone above and beyond to be such a wonderful friend to the younger 'Wife, of course.) The two go back and forth over their strained friendship until Shannon snaps and Gina uses that same line I kicked off this very recap with. And with that, Part 1 of the Reunion comes to a rather abrupt end. Can someone please pay the poor piper before Part 2 next week?
TELL US – WHICH 'WIFE HAD YOUR FAVORITE REUNION LOOK? DO YOU BELIEVE NOELLA'S SIDE OF THE STORY WHEN IT COMES TO HER DIVORCE? SHOULD SHANNON HAVE PROTECTED HEATHER REGARDING THE LAWSUIT THE SAME WAY HEATHER PROTECTED HER BACK IN SEASON 9? WHO HAS MORE TO ANSWER FOR IN THEIR FALTERING FRIENDSHIP: SHANNON OR GINA?
[Photo Credit: Bravo]