This season of Real Housewives of Atlanta feels like more of a sisterhood than ever before. This cast vibes more than the group has in many years. It's about time Atlanta got its groove back.
Kenya Moore's planning a third birthday party tea for Brooklyn. LOVE. The event sounds a bit too extravagant for a small child's party. The price tag on the birthday is at least ten thousand. Why? She's barely going to remember this in the future.
Marc Daly has no limitations on when he can see her if it's in Atlanta. He has yet to sign the papers. There's no real reason as to why he hasn't. Let Kenya go. Sign the papers, and let her live her damn life. What's the hold-up?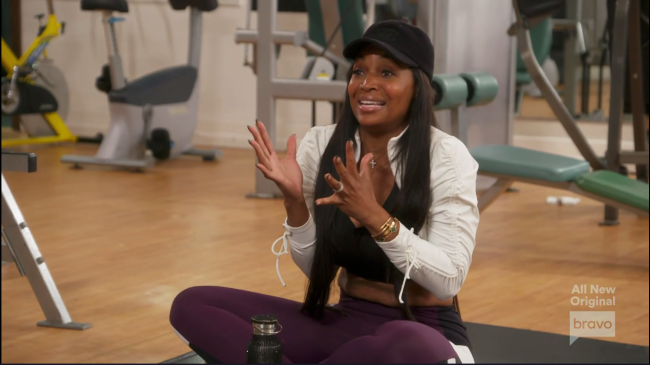 Marlo Hampton joins Sheree Whitfield for a workout. Can we get rid of this Housewives trope? Why does every episode feature the wives eating out or working out? It gets tiring.
Marlo's not really there to work out. She wants a toned ass, but she's not into putting in the work. However, she wants to hear everything everyone said about her event. Marlo's here for the hot gossip. She's not going to let a salacious rumor pass her over. She's going to listen closely and run with that shit.
Sheree thinks Marlo's doing a great job raising her nephews. It's nice to see these two on such good terms after their tumultuous past.
Marlo relays the gossip being spread by Drew Sidora about Sheree and her assistant. This is already spreading like wildfire. Marlo's thrown off by the idea that Kandi Burruss would've spread this to Sheree
Apparently, the streets are talking about Kandi and Todd Tucker. Sheree is here to be the bone carrier once again. She's ready to expose any piping hot tea about Kandi and her alleged escapades.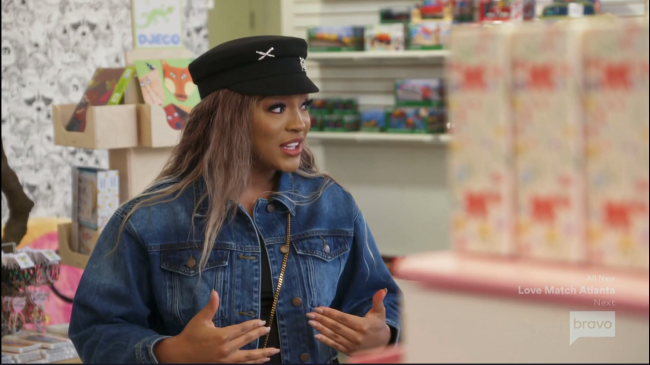 Kandi's acting career is continuing to take off. The next character she's going to play is a female into other females. Thanks to Kandi's blossoming career, Todd's feeling left out. However, he's the one who cut her out the first time.
Todd's being so annoying and showing some fragile masculinity. Is he resentful of her success? You married a mogul. Deal with it. Recognize the talent possessed by your wife, and move on.
Drew's on the guestlist for Kenya's invite which is surprising after their relationship last year. She's being messy as hell though when it comes to bringing this former assistant of hers around. This man is dragging her name in the streets, and Drew's running with this narrative that she doesn't pay people.
While Drew's out shopping with THE assistant, Sanya Richards-Ross frantically calls her. AN 18-WHEELER DRAGGED HER CAR DOWN THE STREET. THAT'S HORRENDOUS. Drew's being a good friend though and dropping everything to come to pick her up.
Sanya says the car experience is one of the scariest of her life. I can't even imagine. Her life probably flashed before her eyes at that moment. Thank goodness she wasn't injured.
Monyetta Shaw is on the scene. I've heard great things, so I expect her to be a solid addition to the group. I'm here for the cast this season!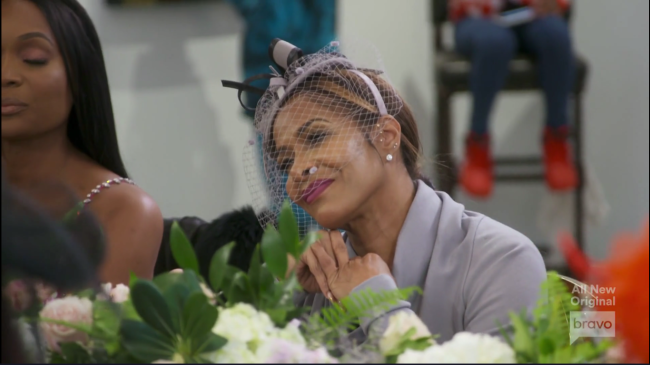 Ralph Pittman's on another out-of-town trip. Go figure. This man is so sketchy, and Drew can't be that naive. Stop it.
The group is going to play a shady tea game which is an awful idea because there are kids everywhere. Nobody's going to like this. This isn't the time or place for a raunchy party game like this.
SOMEONE WROTE ON A CARD THAT KANDI SUCKED DICK IN A LOCKER ROOM. WHO SAID THAT? It had to be Marlo. I'm on the floor, and I cannot breathe!
Nobody's owning up to issuing this accusation toward Kandi. Before we can get some answers, Kenya moves on to a shady comment toward Marlo. They're going at each other over nothing. It's getting old. Kandi's sick of it too.
The next card is about someone not paying their assistant, and it's obvious that's from Drew about Sheree. Update, it was Kandi who wrote it to get Drew to be honest. Sheree's denying everything being hurled at her and tells Drew to shut the fuck up.
Apparently, the same assistant is going around saying Ralph is gay! The tea is so hot at this party. Monyetta is ripping into Drew about this, and I need to get my popcorn ready. Are they insinuating that's what Ralph is so secretive about? This is maybe TOO messy.
There's so much bad blood brewing between Drew and Sheree now. Kenya knew what she was doing by holding this game at the party. She set everything in motion to be the ultimate pot-stirrer in the group.
Drew says the stuff about her is a lot more serious than the money claims about Sheree. This is a rumor that directly affects her marriage which is already on the rocks. There's so much that could go wrong now that this is out. We have no idea how Ralph's going to react to someone slandering his name in the streets.
Sanya thinks this is a side of Drew that she's never seen and getting in Sheree's face is crazy. Drew goes from 0 to 100 so fast, so I'm not surprised that she did that. At the end of the day though, this is so messy. Forever here for this women.
TELL US – TEAM DREW OR TEAM SHEREE? WAS THE GAME INAPPROPRIATE FOR A KID'S PARTY? WILL DREW AND RALPH LAST?
[Photo Credit: Bravo]