The Real Housewives of Atlanta Season 15, Episode 14 gave us a front-row seat to the demise of Drew Sidora and Ralph Pittman's marriage. It's been a slow crash-and-burn since they joined the show, but this week, we clearly saw how many cracks are in their foundation. There's no saving this house; we just have to watch it crumble.
But this episode wasn't all doom and gloom — this week had a pregnancy announcement, the return of Shamea Morton, and even more Cynthia Bailey. Here's what happened this week on RHOA.
Drew and Ralph's downward spiral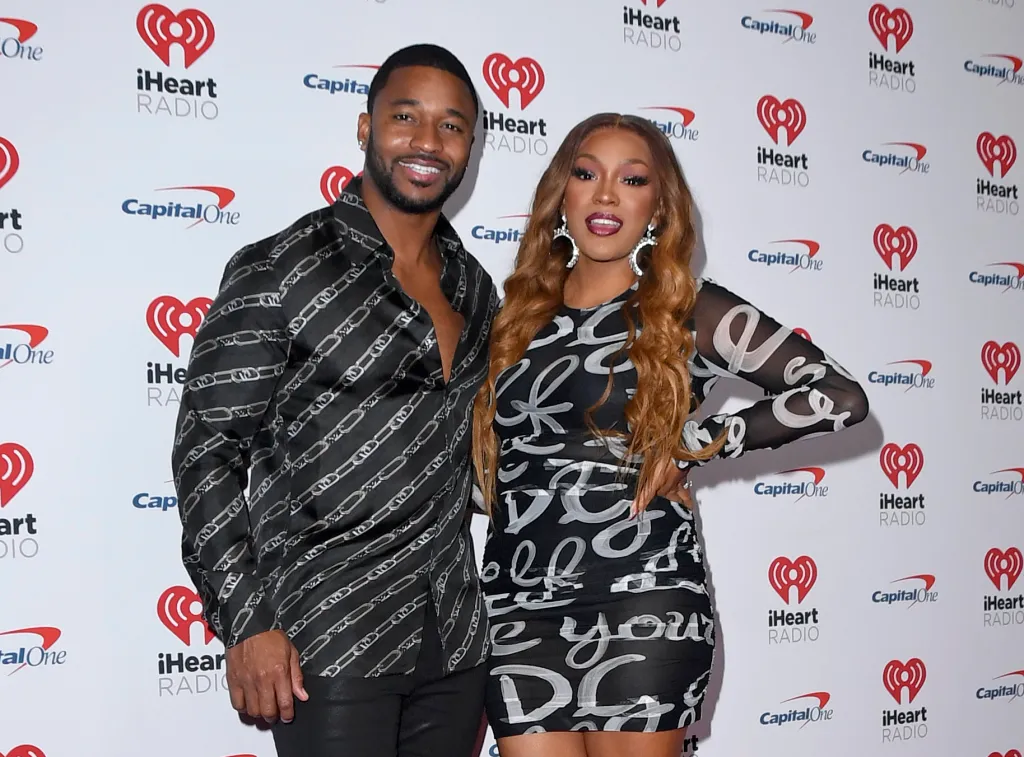 In real-time, we know that Drew and Ralph filed for divorce. Watching this season of RHOA is like waiting for a bomb to go off. We know it's just a matter of time before these two race down to the court to file for divorce. Until then, we have to endure these scenes leading up to their demise.
During marriage counseling, they were instructed to go on weekly dates to help restore their bond. They haven't been doing the dates as regularly as they should, but the cameras rolled this week as the two went on a boozy bowling date. It reached maximum levels of cringe in less than five minutes.
The date started well, and they seemed genuinely excited to spend time together. But, it took a turn when they started talking about their marriage. We learned that Ralph completely gave up on marriage counseling. That's a major red flag. Drew has continued to see the counselor because she wants to focus on herself and be more independent. Good for her.
Another red flag from Ralph popped up when he expressed his insecurities about Drew's increasingly busy work schedule. Ralph looked right at Drew and said, "I'm not daddy daycare."
Between the gaslighting and the nonstop red flags, Ralph might be on a mission to become the most unlikeable husband on this show. Then he told Drew he wanted their relationship to be like "Barack and Obama." We know what he meant, but good grief. Someone get this man off of television and back into counseling.
Although counseling isn't on Ralph's agenda, Drew is planning a mental health retreat for all the Housewives and their husbands to enjoy some zen time. Inspired by her sister's mental health struggles, Drew was excited to bring some good vibes to the group — especially since the Portugal healing journey didn't quite hit the way it was supposed to.
Pregnant We're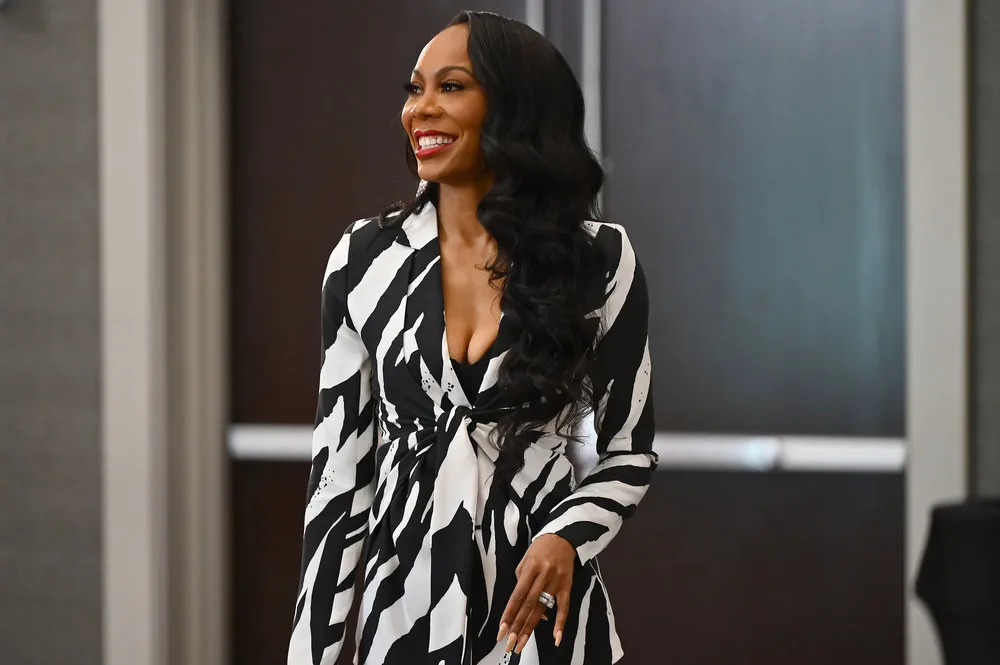 Sanya Richards-Ross made a huge announcement this episode and surprised her husband, Aaron Ross, with the news that they're expecting baby number two! Of course, Sanya and Aaron announced their pregnancy to the public before this episode aired, but it was so cute to see them share that moment on Real Housewives of Atlanta.
The couple then announced the baby news to the rest of the family/staff, and they wore shirts that said "We're Pregnant," but they stood in the wrong order, so the shirts said, "Pregnant We're."
Either way, the family got what Sanya and Aaron were trying to share. But once the excitement settled, Sanya's sister told her they'd found apartments, so the sister and parents can (finally) move out. Their exit is imminent, and with the news of a second baby, Sanya's sister was probably so stoked to get out of dodge. Imagine how many diapers Sanya would have her change.
Meanwhile, on the other side of Atlanta, Kenya Moore also discussed baby number two. Throughout the season, she's been teasing the idea of using one of the embryos she has with Marc Daly to have a second baby. This week, she sat down with Kandi Burruss and Shamea (who we hadn't seen in ages!) to discuss the idea of having a second baby via surrogacy. We learned that Kandi's recent surrogate now serves as Shamea's surrogate. Do you think she got a referral discount?
Since both mothers were intimately familiar with surrogacy, they had a frank discussion with Kenya about her concerns. Kenya wondered, "What if other mothers judge me?" and "Will I feel envious of the surrogate mother?"
Shamea and Kandi helped validate Kenya's concerns, and they assured her that surrogacy is a viable option for a mother like Kenya. Kandi's only concern was that Kenya was considering using Marc's embryo. We're all thinking the same thing. Is that really a good idea?
Are Shereé and Martell still together?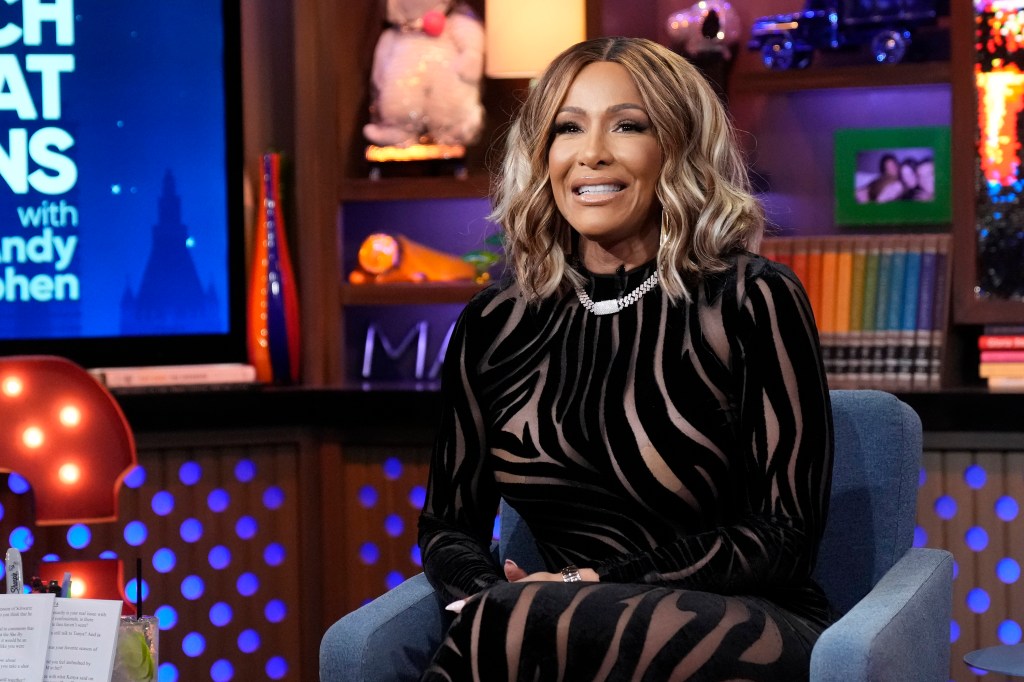 One question on everyone's mind at this point in the season: What's going on with Shereé Whitfield and Martell Holt? They were hot and heavy at the beginning of the season. But, since then, Shereé has had excuse after excuse for why he's been absent.
In her confessional, Shereé hesitated to put a label on their relationship. She said they're "enjoying life," but their relationship is "complicated." If there's one thing Shereé is good for, it's talking in circles and never directly answering a question. So, are Shereé and Martell still together? Probably not. But we'll have to wait for Shereé to own up to that.
Another juicy tidbit surrounding Shereé and Martell stemmed from Shereé's off-camera birthday dinner at Nobu, where she invited everyone from the RHOA cast except for Kandi and Drew. Kandi learned from Sanya that at the end of the birthday dinner, when the $1,500 bill came around to the table, Martell got a little nervous and started asking around the table for everyone to throw down some money via CashApp.
In the regular world, that wouldn't be a huge deal. Why wouldn't everyone throw down some money? But, in The Real Housewives world, that's the sign of a man that simply can't keep up with the lifestyle. You already know Shereé was embarrassed to hear Sanya running around Atlanta telling that story.
Mental health matters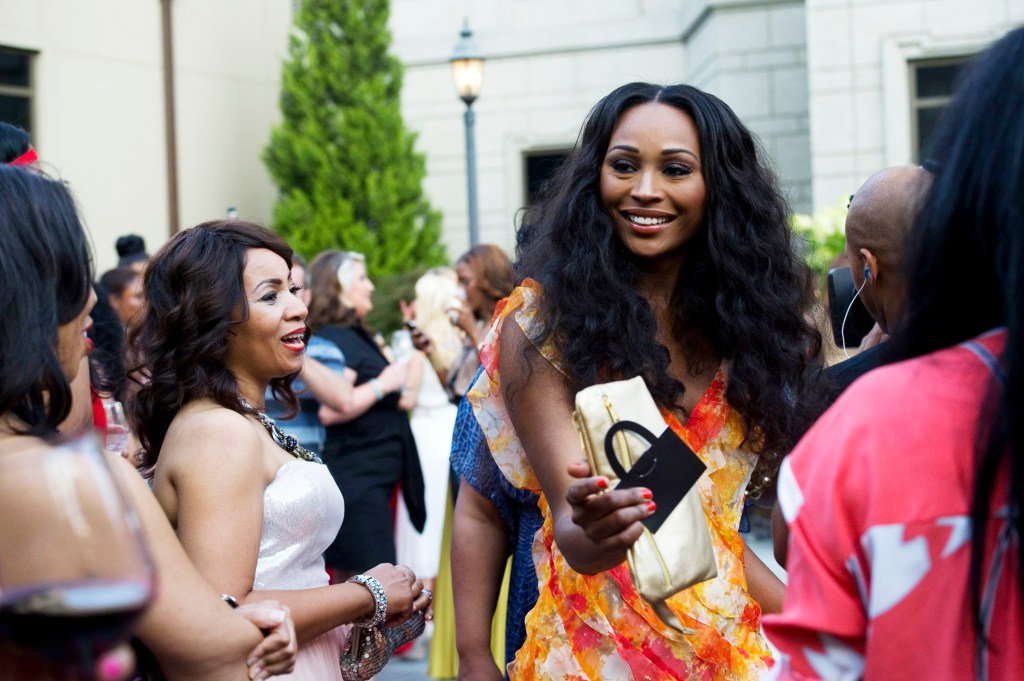 When it came time for the mental health retreat, everyone showed up to support Drew, her sister, and their cause. Cynthia showed up looking as glamorous as ever. The husbands were there, too, because mental health applies to everyone.
The event legitimately looked like a good time. They had brain–boosting foods, meditations, and even a revival of Drop It with Drew! The only thing missing was booze, which Drew initially had difficulty wrapping her head around.
Ralph arrived at the retreat and completely ignored Drew. He hugged every Housewife, cousin, and friend but barely acknowledged Drew. Everyone in the room noticed it.
In her confessional, Drew explained that when Ralph feels disrespected, he becomes cold. That's probably not the best energy to bring to a mental health retreat. But there he was, smiling in everyone's faces while making Drew uncomfortable. And as if Ralph's awkward energy wasn't enough to shift the dynamic of the retreat, conversation about their ongoing lawsuit certainly did.
From $1K to $10K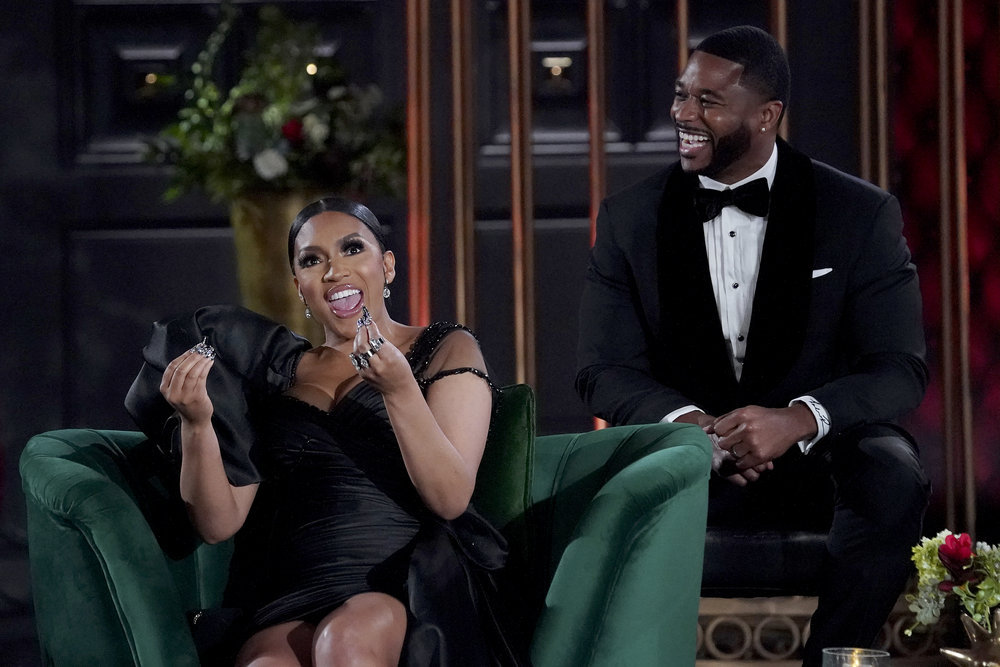 Remember when the ladies were in Portugal, and Drew had a breakdown over a $1,000 lawsuit? At the time, she said a chef was suing her over some food that didn't turn out right. Drew's overreaction to the lawsuit always left us with the impression that there was more to this story, and now, we're getting it.
During the mental health retreat, both Ralph and Drew talked about the lawsuit. Ralph offered the information on his own to the guys, but Shereé and Cynthia had to force it out of Drew.
Apparently, the lawsuit has magically changed from $1,000 to $10,000. We learned that Drew has also filed a countersuit to "send a strong message." In Portugal, Kenya was ready to CashApp the money to Drew to get the chef out of her hair. She's probably not as willing to do that now that the lawsuit is ten times bigger.
Between Drew and Ralph, we got more backstory on the lawsuit. Allegedly, the chef brought some food to their house, but their hair was in it. Drew and Ralph didn't want their food with a side of weave, so they refused it. For some reason, the chef wanted to work for Drew and Ralph so badly that she was willing to give up her chef's coat and work as their nanny instead. They tested her out as a nanny, but that didn't work either. When the lady got fired, she started asking for money for her services, and thus, the lawsuit.
Shereé asked Drew if she won the lawsuit, but she clarified that there's a waiting period before she finds out. We'll stay tuned to see if Drew has to fork over the money for the lousy nannying and gross food.
Love her or not, Drew's weird, convoluted storylines have carried much of this season. Between Ralph's nonsense, the lawsuit, her drama with the ladies, and the career pressures, Drew has a lot happening. Following the mental health theme of the episode, Episode 14 concluded with her paying a visit to her counselor. With Drew carrying so much in her head and having no support from Ralph, the counselor asked her a poignant question in the episode's final moment: "When will you know that enough is enough?"
Real Housewives of Atlanta continues Sundays at 8/7c on Bravo.
TELL US – WHAT DID YOU THINK OF RALPH'S BEHAVIOR IN THIS EPISODE? DID YOU ENJOY SEEING SHAMEA AGAIN? DO YOU WANT TO SEE SANYA'S PREGNANCY ON RHOA NEXT SEASON?