As details emerge about Shannon Beador's DUI, where she smashed her car into a house, things get more disappointing. Some of Shannon's friends and castmates have publicly expressed shock and sadness.
The OG of The Real Housewives of Orange County, Vicki Gunvalson, is usually known for "whooping it up." This time though, she just "whoopsied." Vicki, Shannon, and Tamra Judge have coined themselves the Tres Amigas for years now. They're known for their loud, boozy antics.
Somehow, the trio cobbled together a live show. One would have to assume includes a lot of yelling over each other and tales of Andales antics past. Tickets for the show go for $75-$250 and all tres of the amigas have been promoting the show on their socials. However, Vicki either forgot about Shannon's pesky little weekend reign of destruction or had forgotten she scheduled a post that included a picture of Shannon and the mention of cocktails yesterday. The comment section swiftly came for Vicki, and the post was deleted shortly after.
Vicki's post was roasted for being "too soon" and "tone deaf"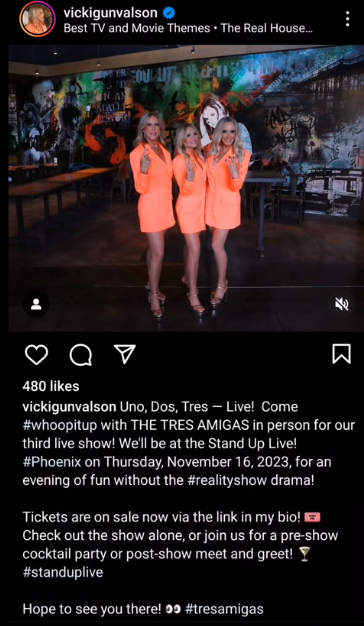 "Shannon Beador" and "cocktail party" are two things that don't need to co-exist in any arena in the wake of Shannon's early morning September 17 DUI and hit-and-run. Several of Vicki's followers "nailed her to the cross like Jesus was" when the post popped up. They were pointing out the orange jumpsuit-esque outfits and all-around tone deafness of Vicki's "too soon" post.
"Kind of tone deaf but the picture of orange jumpsuits is a nice touch."
"After last night it might be Dos Amigas for awhile."
"Read the room."
"I'm not sure Shannon will be in the mood to party and drink."
Others surmised this was a scheduled post Vicki forgot to cancel, or that she had a social media person who was "gonna be fired" for letting the post hit the 'gram. Either way, the post was gone after a decently awkward 15 minutes.
Will the live shows continue?
None of the Tres Amigas have addressed whether their live show will continue. Still, it seems unlikely that a performance that probably revolves around the shenanigans of three women who liked to do shots of tequila while wearing sombreros is the look Shannon will be going for. Not while she handles the legal implications of her awful, dangerous decision.
You can catch the Tres Amigas whooping it up during the cast's Mexico trip tomorrow night on Bravo at 8/7c, with the smug foresight of what's eventually to come for Shannon – who pretty recently still hadn't let co-star Gina Kirschenheiter's DUI go.
TELL US – DO YOU THINK VICKI OR HER TEAM WERE BEING TONE DEAF OR JUST FORGOT TO CANCEL THE SCHEDULED POST?