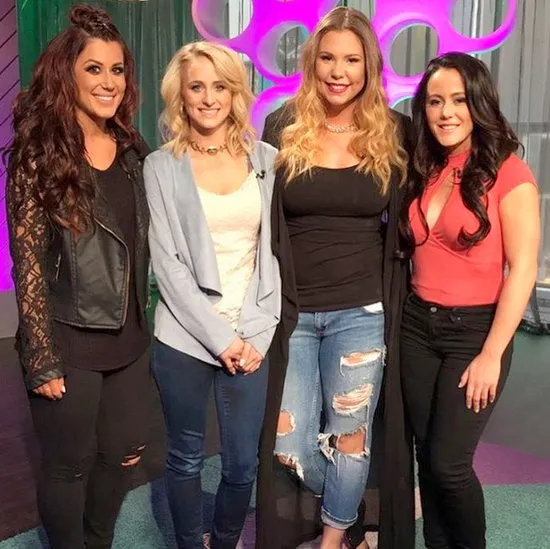 Chelsea Houska, Leah Messer, Kail Lowry, and Jenelle Evans, as well as their assortment of boyfriends, ex-boyfriends, husbands, ex-husbands, and fiances, were in New York City this past weekend to film the Teen Mom 2 after shows, a special with Teen Mom OG stars Amber Portwood, Maci Bookout, and Farrah Abraham, and a Teen Dad special.
As per usual, drama ensued; one dad announced he is quitting the show and one mom delayed filming with her non-stop histrionics.
CLICK CONTINUE READING FOR MORE – PLUS PHOTOS!
Jeremy Calvert, ex-husband of Leah number two, is following in Adam Lind's footsteps and quitting Teen Mom 2. I'll believe it when I see it. Times 2.
"Jeremy is over it," reported The Ashley. "He's tired of being attached to this show, and now that he and Leah are divorced, he doesn't want to be part of her drama. He's tired of dealing with all the negativity that comes from him being on the show, too."
Unfortunately for Leah and MTV, if Jeremy goes, his daughter goes too. "Jeremy wants Addie out of the spotlight," added the source. "He doesn't want her to grow up being known as the kid from Teen Mom 2."
According to The Ashley's source, "If Jeremy refuses to sign off, Addie cannot appear, regardless if Leah wants her to. Both custodial parents have to agree." The source added that MTV won't bother to fight Jeremy in court, but they will definitely try to "buy" his change of mind.
Unfortunately for Leah and MTV, again, Jeremy doesn't need the money.
"Jeremy's one of the only cast members with a 'real' job," said the source. "He makes an impressive amount of money on his own, so money's not really an issue for him like it is with some of the other cast members, who completely rely on their Teen Mom 2 income to live off of."
RELATED: Catelynn Lowell Seeks Treatment for Anxiety and Depression
Season 8 isn't a done deal, but the powers that be and the stars have been in talks. Rumor has it that one of the four – Chelsea, Leah, Kail, or Jenelle – is hesitant to continue. Um, well, I think we all know that person is Chelsea. Like Jeremy, she has a "real" job, she's not desperate for attention, and she's most likely ready to move on with her life.
In other news, Jenelle Evans has been a total drama queen in New York City. You're shocked, I know. Me, too. When I read that, I was like, I do not believe it; did April Fool's Day come early this year?! #sarcasm
On Saturday, Jenelle, her mystery illness, and her dramatics delayed filming. 
Jenelle reportedly fell hungover ill and told the Teen Mom 2 producers to call an ambulance. According to The Ashley's source, "The producers said they were not getting Jenelle an ambulance and thought it was ridiculous." They did, however, call in a nurse and an IV for the poor thing.
In addition to her near-death experience, Jenelle tweeted on Saturday, "Going home tomorrow. Drama isn't for me." Obviously, she stayed. Yesterday morning, she whined, "Just want to go home. Famous words of this horrible weekend."
Five hours before last night's live after show, Jenelle wrote on Facebook, "Will not be attending the live premiere show tonight. Being bullied isn't right and not associating with cast members that continue to do it. My health comes first as well… still not feeling well. Hope everyone enjoys the premiere. I'll be sleeping."
With minutes to spare, she announced, "I'll be live. Ugh. F–k it."
Jenelle credited Mob Wives star Drita D'Avanzo (how random) and her fans for giving her the will to go on, tweeting, "If it wasn't for @DritaDavanzo giving me the best advice and get on stage and do my thing… I don't know if I would be motivated! Thanks, girl!" Also, "My fans keep me alive! Thank you for all the support always!" 
TELL US – WILL JEREMY QUIT? WILL JENELLE EVER GROW UP?

Photo Credit: Instagram