Is the Tinz taking over Real Housewives Of New York? That oughtta get Bethenny Frankel in a tizzy! Tinsley Mortimer, the once famed NY socialite behind the failed reality show "High Society," has seemingly lowered her standards sufficiently enough to become a Bravolebrity.
"The 'Housewives' have been trying to get her forever . . . I guess they finally did it," sneered a socialite insider amid rumors that Tinsley has been filming for Real Housewives Of New York.
CLICK THE CONTINUE READING BUTTON FOR MORE!
With Jules Wainstein out, the powers that be at Bravo have been tying to entice big names or big clout (aka truly rich and fabulous) ladies to join the cast. While the Tinz may not fit that bill per se, she definitely has an interesting social lineage and a certain down-on-her-luck prestige that could be intriguing. I mean, she used to party with Rosthchilds and Wintours!
RELATED – RHONY Season 9 Is Filming – Is Everyone Back?
Rumors of Tinsley joining the cast have been circulating for a couple months now. Ever since she fled Palm Beach after getting arrested, and vowed to start her life over again back home in the Big Apple. Recently Tinsley was spotted debasing herself alongside Ramona Singer and Sonja Morgan while partying at Beautique until 2am.
Being that they're all single gals on the prowl, spies report that Tinsley was flirting with many men (but hopefully not taking any of them to the bathroom – ahem Luann de Lesseps!). Instead, the source clarifies that despite many, many glasses of champagne with Ramona, Tinsley was "well-behaved."
The 40-year-old former A-list socialite, once married to old-monied Topper Mortimer, must have made a connection with the Pinot because Tinsley then made an appearance at Ramona's 58th True Renewal Birthday.
Instead of the typical luncheon, friends surprised Ro-Ro Pinot with a party Glasshouses. "Tinsley was there," an insider told Page Six. "She's definitely the next new 'Real Housewife.'" All the Housewives were in attendance save for Bethenny (Yes, even Carole Radziwill).
Bethenny, who has voiced complaints about how negative OTHER PEOPLE made the show and groused that she may not return.
Tinsley was once a star on the NY social scene with dreams of being the next Paris Hilton. All that came crashing down when she got a bit too big for her Bill Blasses and attempted to forge out on her own by divorcing her bluechip hubby, dating an errant prince, and believing herself to be imminently brand-able. Then came that disaster of a reality show. A disastrous move to Palm Beach and a toxic relationship later, Tinsley is back in Manhattan trying to go at it again with the bolstering of Bravo. Let's hope she succeeds, because I really need to see more Housewives hawking lifestyle products I don't want to buy!
Tinsley reportedly struck up a "friendship" with Sonja – whom she knows from the old days when they were both married to money, which will be her entrée into the group. Or they could go the route of her having a Miami connection with Luann through Tom. Bethenny also grew up in Miami, so we'll see if they have any connection but word on the wind is that they're not the best of friends!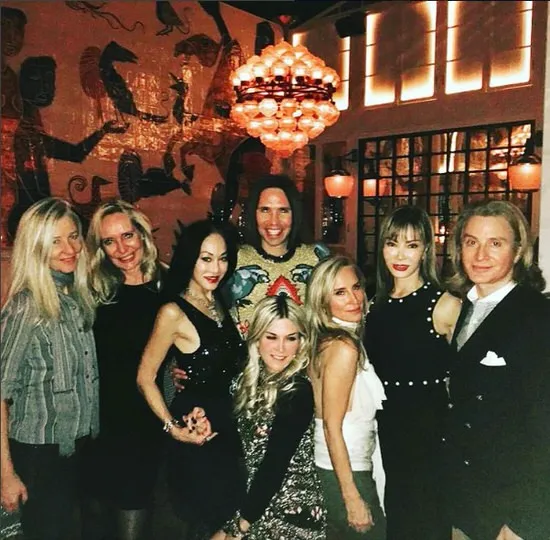 In any case, here's Tinsley partying with Sonja last week. [Credit]
TELL US – YAY OR NAY ON TINSLEY?
Photo Credit: Johnny Nunez/Getty Images
PHotoSave
Save