On last night's Real Housewives Of Beverly Hills, we learned that Dorit Kemsley and her her husband Peek-K are obsessed with Erika Girardi's vajanynejayne. Dorit was patting Erika's puss more than an Erika Jayne dance routine!
Dorit told everyone that PK not only had seen the Girardi family jewels, but appraised them for value at length. I think Dorit believed the reveal that Erika 'forgot' how to use her lady-like manners while wearing a white micro-cocktail dress was supposed to make Erika look bad. Honestly, though, Dorit's non-stop complaining and over-analyzing, combined with Peek-K's stalkerish staring, over what was essentially a wardrobe faux pas in poor taste, made Extra-Cheesey Dorit look worse.
As Erika herself surmised, the entire situation was, quite frankly, fishy. Like, why was Dorit so intent on telling everyone? What Eileen Davidson dubs 'The Crotch Chronicles' (or "SnatchChat") becomes what Peek-K saw up Erika's skirt. According to Dorit: everything.
CLICK THE CONTINUE READING BUTTON FOR MORE!
First Dorit told Kyle Richards, then Lisa Vanderpump. Who then told each other and had a good-natured laugh over the exposing situation. I can understand telling them – they were at the same event. Especially because Lisa had herself a look when she went right up Erika's skirt. Lisa jokes that Ken was jealous he didn't switch places with PK, but in all honestly I can imagine that Ken would feel annoyed that Peek-K just sat there and looked.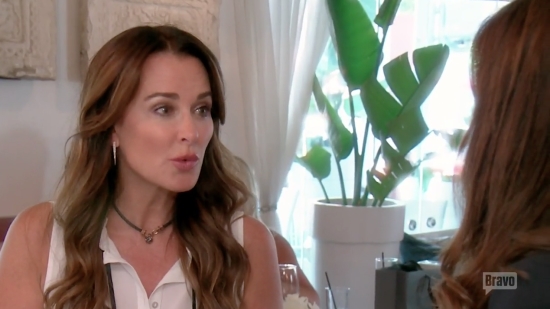 But then Dorit told everyone else, until she finally told Kyle again, and finally-finally confronted Erika not once, but twice in a truly awkward way! Like girl – you were giving the situation a pap smear, and the results were abnormal! It says more about Dorit's insecurities, possibly even in her marriage, than it does anything else, but I think we're seeing that in general Dorit's confidence seems a bit put on and contrived? She seems to require a lot of reassurance from what she wears, to what she drives, to the shape of her kid's head, to her importance in the world…
On the positive, Dorit and PK got the plastic helmet removed from Little Phoenix's previously 'deformed' skull. Looking at the before and after scans, it seems to me that the kid's head looked normal for a newborn – especially if Dorit had a vaginal birth. I'm truly saddened we don't get to hear alllllll about that ala Lisa Rinna! Like maybe the whole misshapen head drama was just that: a drama over Dorit's obsession with aesthetics. That baby is gorgeous though.
Lisa and Ken have other concerns than Erika, like the Vanderpump Dog Foundation. After the success of the Yulin Dog March campaigning outside a Baptist church last year *haha!* the organization has gained traction with local government, and is now headed to congress and beyond. Locally, however, Lisa and Ken are donating money to rescue organizations. Ken is escaping the fools on Vanderpmp Rules to volunteer with the far sweeter and more intelligent animals.
RELATED – Lisa Opens Up About The Vanderpump Dog Foundation
They visit one such rescue where Lisa threatens to adopt every other dog, and is finally warned against it when one the doggies shats on her designer blazer. How cute was Ken bathing puppies?! Actually Lisa fell in love with Ken on one of their early dates when he saw a dog on the side of the road and stopped the car to help it. Some people fall in love over a puss, and others over a pooch!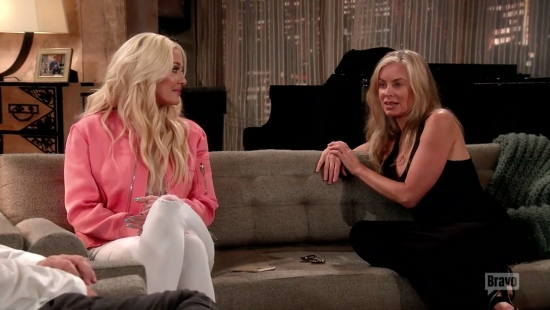 Meanwhile, Eileen has Erika visit the Y&R set to discuss her future guest part. Erika is nervous, but gives us a lecture about how now is her time to shine in life – which I believe was once a nascent Housewives tagline (Taylor's perhaps) – and everyone comes into their success at different periods. Erika is apparently teaching us a lesson about the power of a middle-aged woman as bankrolled by Tom G's millions?
Erika tells the Executive Producer that she might be perfect playing a Hooker Next Door, even though she's just a shy gal from Atlanta with big dreams of stardom in her eyes, and a prayer cloth under her skirt! Eileen believes that a high powered executive may be a better test of Erika's 'acting' abilities.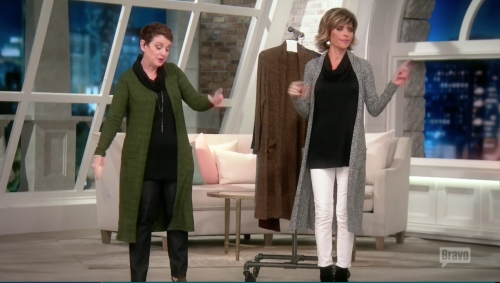 Meanwhile, Lisa Rinna is in Westchester, PA, hawking 'dusters' which are the height of coolness. In Harry Hamlin's QVC millions mind. Lisa is selling on and off for a 24-hour period. At one point, Lipsa becomes so delirious she hallucinates that she left her teenage daughters unattended in NYC and that Eileen called in to order 5 polyester plaid ponchos.
Afterwards, Lisa jets back to LA and immediately runs to grab a drink with Dorit and Eileen. #Priorities Dorit is wearing some sort of plastic stripper heels – maybe she's hoping to channel a little of Erika's 'leave nothing to the imagination' to capture PK's attention?
These three ladies were having fun together laughing and joking, until Dorit mentioned you-know-what. Eileen, who is strangely fiercely protective over the 'sweet and naive' Erika, gets that sour puss (pun intended!) look on her face, and listens-on warily to Dorit's tale of how Erika's figurative lack of panties in a twist. You can tell Lipsa just wants to burst out laughing. Dorit decides she ultimately wants to let Erika know it happened with a joke to prove she doesn't care about 'What Peek-K Saw.'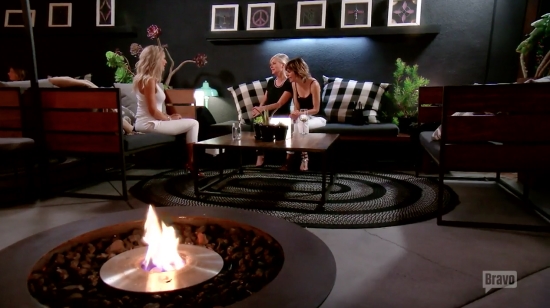 Lipsa intrinsically understands what's bugging Dorit: Dorit is confused about whether or not this is normal Erika behavior, or a one-night stand. Like is there a little more Erika Jayne in Erika Girardi than she lets on? Or is Erika really the shy, reserved dutiful wife she professes to be?
Lipsa and Eileen insist it's the latter, but Dorit goes off unconvinced to shop with Kyle and plot her panty joke.
Oh Kyle – life is so challenging: bopping around L.A. in too-tight clothes, wrangling the compression garments she calls a wardrobe, and making the difficult decision not to cast her own daughter in a sitcom about her own dysfunctional childhood. Even worse, Maurice is constantly traveling! Well luckily Kyle gets plenty of breaks to cavort with her lady friends and shop for buttons with Dorit.
RELATED – Kyle Talks Surviving Real Housewives With Heather Dubrow
Honestly, I feel like Dorit needs her daughter's special helmet, because her sense of perspective appears deformed. In her mind she has this fabulous lifestyle which behooves her several nannies, because she's sooooo busy shopping and gossiping and buttoning she couldn't possibly be bothered to spend time with her precious children. New motherhood is hard, you guys! Has this woman ever even changed a diaper?!
No. Instead, Dorit is setting out to change Erika's underwear. While shopping with Kyle, Dorit announces she's going to let Erika know PK looked up her skirt by giving her a pair of sheer knickers as a joke. Dorit plans to give the gift of ladylike good taste during Erika's upcoming "Escape Room" event.
Kyle cackles that she can't wait to see Erika's reaction. Too bad Dorit couldn't even wait until Kyle walked in the door.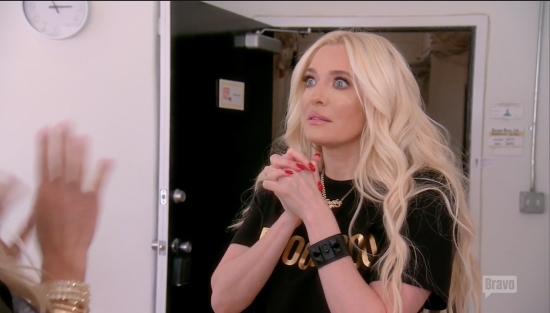 Nearly as soon as Erika arrives to the Escape Room facilities Dorit launches on her and thrusts the little box in her face like a kid overly excited about telling a joke and giving away the punchline before the joke is even completely told. Erika's face freezes – eyes wide.
Dorit just goes on and on about how PK looked and insists she's laughing about how Erika's puss is so pretty, and insisting it's not awkward between them, and then joking that she hopes Erika wouldn't do it on purpose, until Erika tells her that Peek-K should've either said something (like what 'Hey your vag is sticking out'?), or moved. Erika eventually warns Dorit to just stop talking about it immediately. While this is happening, LVP and Kyle wandered in, clearly disappointed they missed the whole show. It's the first time these ladies have ever been relieved to see LVP's smirking face over their shoulders.
Finally, the escape room host saves them from themselves by leading to a place where they must use their minds coupled with team work to escape a confined and creepy place, which resembles Carlton Gebbia's house! LVP and Eileen are naturally placed in the same group, while Erika is trapped with Lipsa and Kyle. Shockingly, the ladies manage to escape if only because they are so desperate to escape each other it motivated them to work together.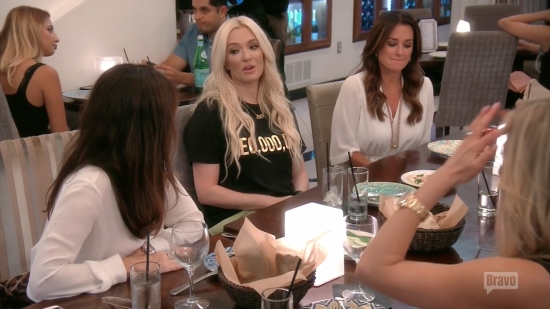 Afterwards, they need to emotionally eat. I mean, they were briefly confronted with a future of being trapped in Carlton's house with each other for all eternity! Of course the emotional turmoil over pantygate resumes because Dorit cannot. stop. fixating. on. it. She even suggests discussing it privately with Erika another time. However, Erika is convinced that PK and Dorit are lying and he wasn't actually able to see a thing, yet they're just trying to make her look bad. Interesting…
Erika treats Dorit like iceberg lettuce and picks through her comments, barely batting an eyelash, which means that despite what she says, she is far from over it! Eventually, LVP intervenes to ask if the ladies are good? Well, they claim to be.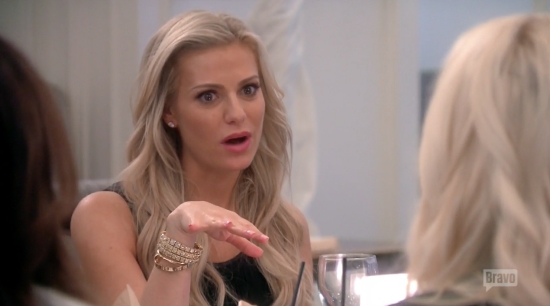 Erika loves the panties so there's that. Although I bet she tossed them in text trash outside the 7-11 on her way home!
TELL US – WAS DORIT RIGHT TO CONFRONT ERIKA? OR WAS SHE MAKING TOO BIG A DEAL OVER A LITTLE CROTCH?
[Photo Credits: Bravo]
Save
Save
Save