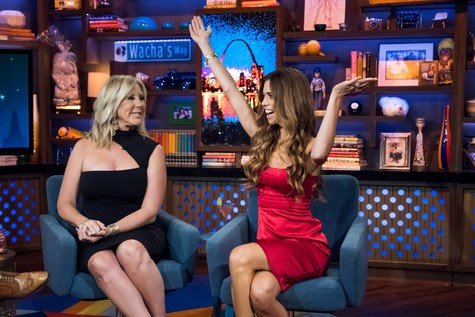 It really seems like Lydia McLaughlin is in over head with this whole "Friendship Whisperer" shtick. She does not have the ability or the knowledge to reunite Tamra Judge and Shannon Beador with Vicki Gunvalson. She wasn't in touch with anyone when she initially left the show and she didn't even watch Real Housewives of Orange County when she wasn't a part of the cast, so she just doesn't know what she's talking about- even if her heart really is in the right place.
Lydia is a bench player on the Real Housewives JV team while (most of) the other women in this cast are varsity starters. When Lydia and Vicki appeared on Watch What Happens Live, Lydia stuck to her guns as the self-proclaimed "Friendship Whisperer" and did what she could to be sassy, but it just fell flat. In more surprising news, Vicki actually admitted that she wants to be friends with Tamra again.
My boy Andy Cohen tried to bait Vicki and Lydia by asking about Tamra's recent face lift. They didn't fall for it though. Vicki said, "I think it looks great" and Lydia chimed in with, "She's a babe." So true though. The best face lift in Real Housewives history.
Andy continued to stir shit up by telling Lydia, "By the way Tamra and Shannon tweeted tonight that they asked you to stop talking about Vicki many times many times." Lydia asked back, "Did they show that?" And Andy confirmed that they didn't. Lydia insisted, "I mean I can say a lot of things too, but that's why it's video and we can all watch what happens." Sure, video evidence is pretty concrete, but just because something wasn't shown in an episode, it doesn't mean that it didn't happen in real life.
A viewer called in and asked Vicki if she and Tamra would have made up by now if Shannon wasn't in the picture. Vicki asked back, "What do you think?" And then declared, "I think yes" before she posed the question to Andy who said, "I think without Shannon in the picture, we don't know what would have happened with the two of you." And of course Vicki declared, "I believe yes."
Of course Lydia shared her two cents: "I think Tamra has been hurt. I think that hurt would be there if Shannon was there or not, but sometimes it's nice to have an alliance with somebody." Later Vicki admitted, "I totally miss Tamra. I've told her that. I want to bury the hatchet and I want to be friends again." I'm not sure how accusing someone's husband of secretly being gay can foster friendship, but stranger things have happened with Real Housewives friendships, so you never know.
Another viewer asked Lydia to "clarify exactly how Shannon is just like Vicki," which is something I'm already tired of hearing about even though I can just tell it's going to get dragged out all season. Lydia insisted, "I wasn't allowed to finish my train of thought because someone was yelling at me. What I was trying to say that they both are alike because they both have been hurt. My intention was to try and bring them together."
And it wouldn't be a Vicki Gunvalson interview if Brooks Ayers wasn't mentioned- even though she's been dating Steve Lodge for a while at this point. A viewer asked about her relationship status with Brooks and the last time they talked which caused Vicki to freak out and hilariously wonder, "Why doesn't anyone talk about Donn [Gunvalson]? I was married to Donn for twenty years. I dated Brooks for four and a half. It's like come on. We weren't engaged. We weren't married. It was a boyfriend for a little bit of my time. There is no status with Brooks. He's moved on. He's in Indiana." Oh, Vicki. Unfortunately the Brooks association is something that she will probably never be able to shake.
RELATED:  Tamra Judge Calls Vicki Gunvalson Delusional; Thinks Vicki's "Immature Comments" Show Her Character
TELL US- WILL VICKI & TAMRA BE FRIENDS AGAIN? WAS LYDIA TOO PUSHY QUESTIONING SHANNON ABOUT VICKI THE FIRST TIME THEY MET?
Photo Credit: Charles Sykes/Bravo