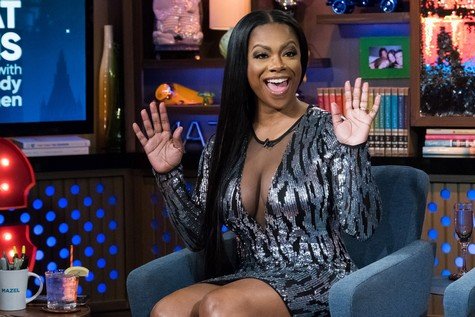 As much it (typically) annoys me when a Housewives story line gets dragged out for more than one season, but there is one exception: I don't blame Kandi Burruss for wanting nothing to do with Porsha Williams after Porsha spent a whole year spreading lies about Kandi wanting to drug and rape her. That really goes beyond a Real Housewives of Atlanta story line.
In all honesty, I feel like Kandi oscillating between shading Porsha and treating her coldly is a lot more than she deserves. Obviously Porsha and Kandi are coworkers and their job as reality stars does have a lot of overlap with their social lives, so this is a tough situation for Kandi to navigate. I can understand why the viewers are annoyed that this "story line" is still going on, but what Porsha did goes beyond tugging on a wig, waving a fan at a reunion, or making fun of a doormat. This is a serious offense and she should just be grateful that Kandi didn't take legal action against her.
For anyone who is over this story line, I'm sorry to tell you that Porsha was a hot topic of conversation during Kandi's Watch What Happens Live appearance last night. Andy Cohen asked her, "What is your reaction to seeing that scene with Porsha and NeNe [Leakes]? You just laughed out loud when you watched it."
Clearly Kandi wasn't buy Porsha's tears since she told Andy, "A lot of the times, I feel like she's good at playing the victim, but this is a situation she brought on her self. She admitted when she was on the show with you that she didn't really think I would do something like what she put out there to the world, so why would you say it in front of a TV camera? Now you can't be mad that other people are looking at you crazy, you know?" As redundant as it is to hear about the same story line over and over again, I can't help agreeing with Kandi.
Kandi continued, "Overall, I just kind of felt like we were all having fun. They were all taking digs at the table, and then all of a sudden she started crying about the doormat. So I was like 'Wait. Why is she crying about a doormat?' So, I sort of understood what Marlo [Hampton] was saying when Marlo was like 'I know you ain't crying about a doormat' and then it just went left. I do think that it just went out of control, but you know how we are. If we're in close proximity and she started fanning that fan in Marlo's face, of course Marlo is gonna snatch it out her hand, which took it to the next level." That fight was so unnecessary. It wasn't entertaining and it was just completely pointless. I would rather watch NeNe and Kim Zolciak shade each other back and forth.
Speaking of which, Kandi was asked, "Whose side are you on: Kim or NeNe?" She responded with, "I just feel like both of them have a lot of craziness going on right now, but I do not, and I told Kim, I say it in a future episode: that was not cool to bring out a video that you've been saving to try and throw some negativity on somebody." It really wasn't, but it definitely elevated this season to a whole other level. I just know that reunion confrontation with Kim and NeNe is going to be epic.
Later in the episode Andy referenced a future scene with Kandi and Kim, telling her, "I'm looking forward to seeing the two of you sit down this season." Kandi hinted, "It started out not so great, but we were able to pull it together."
A caller asked Kandi, "What was your reaction to seeing Mama Joyce's sit down with Porsha and did that change any of your feelings toward her?" After a long, "Ummm," Kandi admitted, "I was really more bothered about what my mom was saying about Todd [Tucker] when she was sitting with Porsha than the overall sit down with Porsha."
Andy reminded Kandi, "She said you made lemonade out of lemons" when referring to her husband Todd. Kandi shared, "It really was offensive. Todd's feelings were hurt by it. As far as her sitting with Porsha, I was like why would you do that behind my back? And you're supposed to side with me."
Andy also revealed that Kandi has a second Old Lady Gang restaurant in the works. Kandi confirmed that they are at the "beginning stages." She also pointed out, "We are on the one year anniversary of Old Lady Gang March 17."
See the photos from her appearance last night, along with Gina Neely (oh how I miss her cooking show!) below!
RELATED: Kandi Burruss Explains Why She Is Still Angry With Porsha Williams; Shares NeNe Leakes' Reaction To Her Playing The Same Role In Chicago
TELL US- IS IT VALID THAT KANDI IS STILL MAD AT PORSHA? DOES MAMA JOYCE OWE TODD AN APOLOGY?