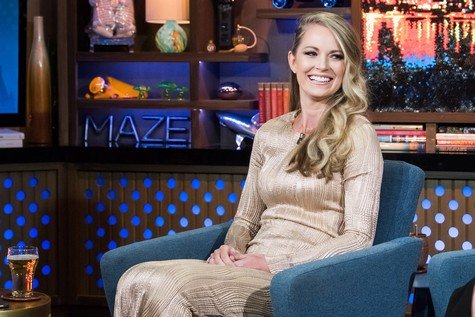 The cast of Southern Charm has truly stepped up its game this season- at least for the most part. As per usual, everyone is bleeding out for the show and opening up about their personal lives except for narrator Cameran Eubanks, who just comments on everyone else's drama while keeping her own life under wraps. Nevertheless, the show is really on point this season.
One major reason for this reason's entertainment value is the anger of post-breakup Naomie Olindo. She is calling out the good ole boys of Charleston whenever she can. She has a major ax to grind with ex-boyfriend Craig Conover and (kind of, sort of cast member) JD Madison. She is giving us the most talked-about moments- by far.
Cameran may not share a lot of her personal life on this show, but she had no issue unleashing her opinions on everyone else's lives during her appearance on Watch What Happens Live last night.
Before getting into the interview, let's address some necessary backstory. Shep Rose's love interest Peyton Pritchard moved to Charleston. Yes, that Peyton, the girl that Shep "dated" on his spin-off show Relationshep is now on this show "hanging out with" Austen Kroll. It gets even better though. In the preview for next week's episode, Naomie confronts Peyton over something Craig-related. This is all very reminiscent of the male cast members competing to win over Kathryn Dennis during Southern Charm Season 1. On top of that, Naomie and Peyton argue at a Halloween party- fully decked out in their costumes. There are few things that I love more than reality stars getting into a serious discussion while wearing ridiculous outfits for a themed event.
Andy Cohen asked Cameran, "Do you like her? Does she fit in with the group?" And Cameran threw her best polite Southern Belle shade that she could. She didn't say much, but that really said a lot. After a very long pause, she answered, "I mean, I like her. She's got a body alright." Doesn't everyone have a body? Yes, I get what she's doing. She didn't answer the actual question and deflected with that "compliment," but the fact that she had nothing else to say really does speak volumes. Cameran is not a fan.
After all that Naomie given us this season- even though we are only a few episodes in- it was only right for Andy to ask Cameran about Naomie. He asked, "What do you make of her? I don't know. She's obviously still into Craig.  She's fighting it almost. It's kind of weird." She added, "Craig's hot and Craig keeps getting better looking. Especially this season." I can't argue with that.
After years of being in the background as Thomas Ravenel's loyal confidant, JD was front and center when Naomie called him out for hooking up with twenty-year-old women behind his wife's back. Andy asked, "Whose side are you on: JD or Naomie and the girls?" Cameran admitted, "I believe Naomie. I do." That makes most of us.
Cameran was asked, "Are you surprised by everything that's gone on with JD?" She admitted, "No, I wasn't. I think it's hard. They have kids." Damn. Then she said, "If you don't want your business out there, you probably shouldn't go on a reality TV show." Really, Cameran? You of all people shouldn't be saying this. Your husband doesn't appear on the show and we know nothing about you other than your perspective on everyone else's drama. Yes, I don't blame Cameran for being more private. She is having her cake and eating it too. She gets the perks of being on reality TV without the massive invasion of privacy, but come on. She of all people should not criticize anyone for wanting privacy on a reality TV show.
A viewer asked, "Do you agree with Kathryn saying Patricia [Altschul] was being petty by not inviting her to your baby shower? Would you have even wanted Kathryn there?" Cameran shared, "I wanted Kathryn to come. That's why I called her and personally told her that if it was up to me she would come. I think with Patricia there were residual feelings with what has happened in the past."
Another fan asked a very loaded question: "Do you think Craig is turning his sewing hobby into an obsession because he's still  in love with Naomie?" And Cameran had a very harsh response: "No, I think Craig is just procrastinating being an attorney." Mic drop.
RELATED: Elizabeth Madison Says Naomie Olindo Made Up Accusations Against JD Madison On Last Southern Charm Episode
Tonight is an all new episode of Southern Charm New Orleans. Join us here in the comments to snark through the show!
TELL US- DO YOU BELIEVE NAOMIE'S ACCUSATIONS ABOUT JD'S INFIDELITY? IS NAOMIE STILL INTO CRAIG? WHAT DO YOU THINK ABOUT PEYTON MOVING TO CHARLESTON?
Photo Credit: Charles Sykes/Bravo