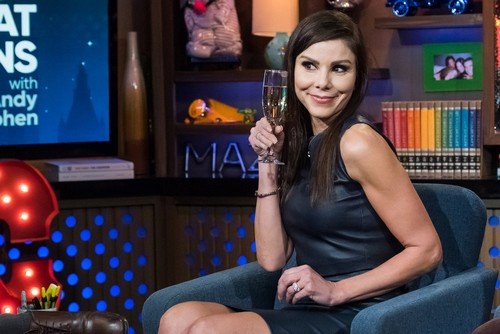 Even though Heather Dubrow hasn't been on Real Housewives of Orange County for the past two seasons, Andy Cohen couldn't help getting her insight on the show's current season when she appeared on Watch What Happens Live– even though she admittedly doesn't watch the show anymore.
Pretty much everything on Real Housewives of Orange County comes back to Vicki Gunvalson, so of course she was a main topic of conversation. Heather dished on her famous mansion Chateau Dubrow, the Housewives she keeps in touch with, and Alexis Bellino's recent divorce.
After that last Real Housewives of Orange County episode, it makes sense that Andy would ask, "Do you really think Vicki needs sex four times a day?" Heather told him, "Honestly, I've known her for several years now. She is the horniest person I've ever met in my entire life. I say that with a lot of love and generosity. I think it's fabulous, but she is." I'm sure her man Steve Lodge doesn't mind.
Of course Andy asked, "How's life in the mansion?" Heather replied, "Fabulous." When has Heather's life been anything but fabulous? Especially in these last few years. What's the most unusual feature in the house? Heather shared, "My champagne doorbell that rings in the kitchen." She clarified, "It's in my closet." I guess she has it just in case she needs some champagne while picking out an outfit?!
Heather admitted that she has not watched Shannon Beador on QVC, but she did share, "I texted her before and wished her good luck."
Then Heather was hit with a question that she is probably asked in just about every interview: "Which Housewives are you still in touch with?" She said, "I've texted in the last week with Tamra [Judge] and Meghan [Edmonds] and I just ran into Vicki."
A viewer wanted to know if Heather thought Steve was filling Vicki's love tank. She shared, "I've met him a few times. He seems like a great guy. I think he should fill her love tank." That's not a "yes" and it's not a "no." Maybe she was just caught off guard by the question?
A fan asked Heather, "Are you surprised about Alexis getting a divorce?" Heather shared, "You know what, I have not spoken to her in quite some time. I really didn't know what the state of their marriage was. I was a little bit surprised, I do have to say."
Then she revealed, "Interestingly out of everyone on the show, I've seen Alexis the most recently because her son and my daughter Katarina are in a theater group together. Her son's super talented and I've seen Alexis a lot recently. She looks fabulous." She really does. And always has.
TELL US- ARE YOU SURPRISED THAT HEATHER SAID VICKI IS THE HORNIEST PERSON SHE'S EVER MET? IS STEVE FILLING VICKI'S LOVE TANK? DO YOU WANT HEATHER TO RETURN TO REAL HOUSEWIVES OF ORANGE COUNTY?