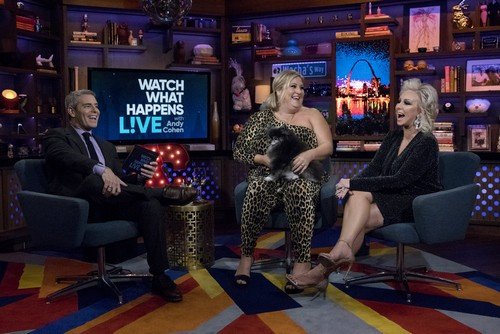 Last year, fans were living for Margaret Josephs' and Danielle Staub's friendship. That's about to change with the current Real Housewives of New Jersey season. There's some obvious friction between the two of them. Will the fans pick sides? Or will the viewers be able to love them both?
Only time will tell. Two episodes in, the viewers haven't witnessed outright drama between Margaret and Danielle, but there has been plenty of shade and tension. Margaret discussed the situation with Andy Cohen during last night's episode of Watch What Happens Live.
During the last Real Housewives of New Jersey episode, Margaret told Danielle that she planned to attend Dolores Catania's hatchet throwing party. This is very ironic since Margaret and Dolores just "buried the hatchet" during the season premiere. Obviously she pretty much "has to" attend this party since they are cast members on the same show and they need to hang out at some point. Not only that, but they are getting along at this point, so why not go sip some wine and throw an ax?
Danielle was very offended by this because of her beef with Dolores last season. She even had the audacity to tell Margaret, "What do you two really have in common? You cheated on your husband and she got cheated on?" Wow. Danielle went from zero to one hundred. Real quick.
Andy asked Margaret, "Were you surprised by Danielle's response?" Margaret admitted, "I was surprised she went that far. I mean, she flipped out in about two seconds." Pretty much. I'm so here for this Margaret and Dolores friendship. I don't want anyone messing this up- cough cough Danielle.
Later in the episode a caller asked Margaret, "Were you offended when Danielle threw it out there that you cheated on your husband?" As per usual, Margaret kept it real. She joked, "Well, I knew I did it." Fair point.
Margaret continued, "I wasn't so offended, but I think a good friend shouldn't hit with such a low blow, but you know she's the backStauber." How long has she been sitting on that insult? It's admittedly clever though.
This Danielle vs. Margaret showdown is going to be one for the ages. In all honesty, I am more emotionally invested in the demise of their friendship than the 928284th reincarnation of Teresa Giudice vs. Joe Gorga and Melissa Gorga.
Nevertheless, Andy asked Margaret, "Whose side are you on, Teresa or Joe?" Their father Giacinto Gorga wants to spend more time with Joe. Joe feels bad, but he is very busy with work. Teresa stuck up for her father, which makes sense, but she also attributed responsibility for Joe's absence to Melissa, which really isn't fair.
Margaret admitted, "It's a tough call because Papa Gorga lives with Teresa and she's with him all the time. Joe does as much as he could. It's a tough situation. I was very torn." Same here, Marge.
In the Teresa vs. Joe situation, Teresa seems right at this point. Sure, she shouldn't have called him out in front of their kids and their father, but her intentions were noble. Teresa vs. Melissa is just completely unnecessary. Teresa should not be dragging Melissa into this issue. Her issue is with her brother, not her brother's wife. I don't want to see these two screaming at each other unless one directly wronged the other.
Spoiler alert: Teresa blaming Melissa is the clear impetus for the point later in the season when Jackie Goldschneider asks Teresa if she could "control her own husband." Talk about a table flipping comment. Teresa will not handle that well.
Aside from this Giudice vs. Gorga nonsense, the other big story right now is Joe Giudice's potential deportation to Italy. Margaret admitted, "I was devastated and surprised." But does she think they will divorce? Margaret said, "No, I don't think they will. I think Teresa is super traditional and I just don't think she'll do it."
TELL US- ARE YOU SURPRISED THAT MARGARET JOSEPH'S AND DANIELLE STAUB'S FRIENDSHIP IS IN DISARRAY? WHOSE SIDE ARE YOU ON: TERESA GIUDICE OR JOE AND MELISSA GORGA'S?
[Photo Credit: Heidi Gutman/Bravo]
Margaret Josephs On Watch What Happens Live November 2018
Margaret Josephs

WATCH WHAT HAPPENS LIVE WITH ANDY COHEN -- Pictured: Margaret Josephs -- (Photo by: Heidi Gutman/Bravo)

Margaret Josephs & Bridget Everett

WATCH WHAT HAPPENS LIVE WITH ANDY COHEN -- Pictured: (l-r) Margaret Josephs, Bridget Everett -- (Photo by: Heidi Gutman/Bravo)

Marge Sr,

WATCH WHAT HAPPENS LIVE WITH ANDY COHEN -- Pictured: Margaret "Marge Sr." Kiss -- (Photo by: Heidi Gutman/Bravo)

Andy Cohen, Bridget Everett, & Margaret Josephs

WATCH WHAT HAPPENS LIVE WITH ANDY COHEN -- Pictured: (l-r) Andy Cohen, Bridget Everett, Margaret Josephs -- (Photo by: Heidi Gutman/Bravo)

Andy Cohen, Bridget Everett, & Margaret Josephs

WATCH WHAT HAPPENS LIVE WITH ANDY COHEN -- Pictured: (l-r) Andy Cohen, Bridget Everett, Margaret Josephs -- (Photo by: Heidi Gutman/Bravo)

Andy Cohen, Bridget Everett, & Margaret Josephs

WATCH WHAT HAPPENS LIVE WITH ANDY COHEN -- Pictured: (l-r) Andy Cohen, Bridget Everett, Margaret Josephs -- (Photo by: Heidi Gutman/Bravo)

Andy Cohen, Bridget Everett, & Margaret Josephs

WATCH WHAT HAPPENS LIVE WITH ANDY COHEN -- Pictured: (l-r) Andy Cohen, Bridget Everett, Margaret Josephs -- (Photo by: Heidi Gutman/Bravo)

Andy Cohen, Bridget Everett, & Margaret Josephs

WATCH WHAT HAPPENS LIVE WITH ANDY COHEN -- Pictured: (l-r) Andy Cohen, Bridget Everett, Margaret Josephs -- (Photo by: Heidi Gutman/Bravo)

Margaret Josephs

WATCH WHAT HAPPENS LIVE WITH ANDY COHEN -- Pictured: Margaret Josephs -- (Photo by: Heidi Gutman/Bravo)

Bridget Everett & Margaret Josephs

WATCH WHAT HAPPENS LIVE WITH ANDY COHEN -- Pictured: (l-r) Bridget Everett, Margaret Josephs -- (Photo by: Heidi Gutman/Bravo)

Andy Cohen, Bridget Everett, & Margaret Josephs

WATCH WHAT HAPPENS LIVE WITH ANDY COHEN -- Pictured: (l-r) Andy Cohen, Bridget Everett, Margaret Josephs -- (Photo by: Heidi Gutman/Bravo)

Andy Cohen, Bridget Everett, & Margaret Josephs

WATCH WHAT HAPPENS LIVE WITH ANDY COHEN -- Pictured: (l-r) Andy Cohen, Bridget Everett, Margaret Josephs -- (Photo by: Heidi Gutman/Bravo)

Andy Cohen, Bridget Everett, & Margaret Josephs

WATCH WHAT HAPPENS LIVE WITH ANDY COHEN -- Pictured: (l-r) Andy Cohen, Bridget Everett, Margaret Josephs -- (Photo by: Heidi Gutman/Bravo)

Margaret Josephs

WATCH WHAT HAPPENS LIVE WITH ANDY COHEN -- Pictured: Margaret Josephs -- (Photo by: Heidi Gutman/Bravo)