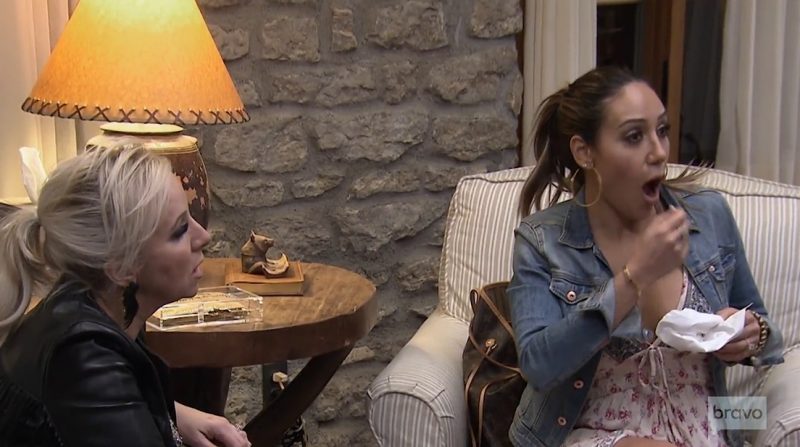 If the Real Housewives of New Jersey haven't been banned from the fly-over states, it's a corn shucking miracle! Poor Oklahoma is still dealing with the weaves and wackiness from last week's episode as the ladies head off to a tense dinner. Margaret Josephs is happy to hear that Teresa Giudice and Melissa Gorga seemed to have smoothed over their argument…although Tre is unaware of how riled up Joe Gorga is after hearing Melissa's rehash of the nasty breakfast. At the restaurant, Jennifer Aydin is talking about her ginormous house. She has to have an extra "wife" to cook and clean her seven bedroom house. She even has cameras in every room and she does random bag checks before the nanny heads out for the evening. Jackie Goldschneider finds it frighteningly hilarious that Jennifer trusts the nanny with her children but not with her collection of Chanel.
To change the subject, Margaret enlists the ladies in a game of two truths and a lie. Her statements: she used to fool around with her high school gym teacher, she's only done cocaine once, and her ex-husband used to lock her in a closet when she made him angry. The women are surprised to hear her lie was the gym teacher. They can't imagine feisty Margaret putting up with that in her marriage. No one believes Dolores Catania when she states she had sex with her ex-husband/roommate Frank Catania last week. Jennifer goes for shock value with tales of playing the submissive to her bestie's dominatrix, getting a butt lift, and pooping herself in traffic. She was lying about the butt lift. Jennifer was wild before she met her ultra-conservative husband.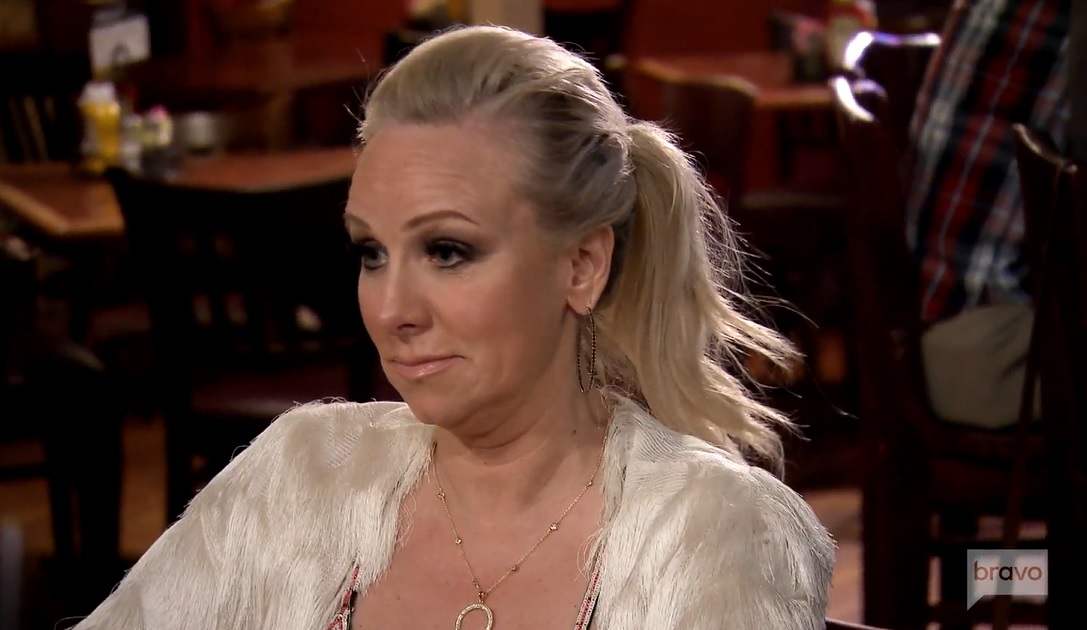 The following morning, Jackie and Melissa chat about Jennifer's bag checking. Margaret hears the word "pretentious" from the hallway and immediately knows that Jennifer is the topic of their convo. Meanwhile, Jennifer's young daughter calls crying hysterically because she can't function without her mom. The waterworks stop completely when Jennifer promises to return home with a $400 toy. Despite Margaret's annoyance, Melissa convinces her to give the newbie a second chance. Over breakfast, hostess Polly reveals she's entered the ladies into a cattle show. Time to blow dry some heifers before hitting the town for line dancing!
Back in Jersey, Margaret's husband Joe Benigno is waiting hand and foot on Marge Senior (or is that Mama Elsa?) after her recent facelift. Margaret feels bad for Joe, and she's prepared to owe him big time for all the foot rubs he's bestowing on Marge Senior. On the way to the cattle show, the women are wearing Western Pink by  Victoria's Secret and discussing the fate of the cattle show's loser. They agree the loser will have to stay the night alone in the RV. Jennifer is appalled. She comes from the land of sixteen toilets. It's hard roughing it on a ranch that is anything less than a five-star resort. Margaret barely holds her tongue as Jennifer proverbially poops all over her friend Polly's lovely home. I'm starting to see a pattern with this shiz talking braggart.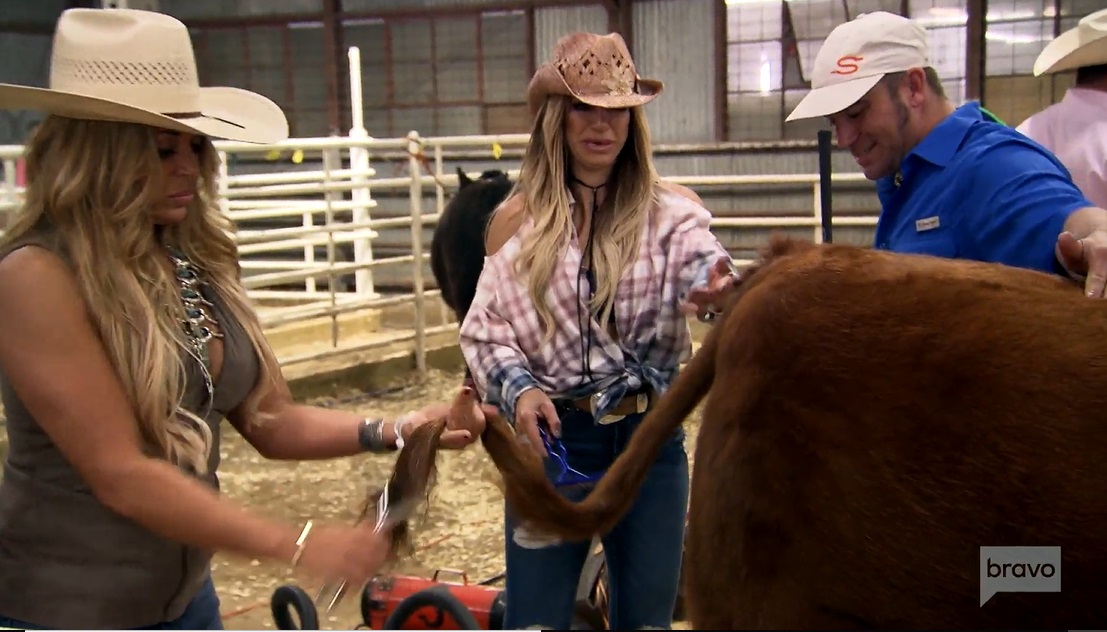 The crew pairs off in the giant barn, and I sincerely hope the cows aren't offended by the women's parade of faux leather boots and over-sized Louis Vuitton totes. Teresa is terrified of the animals, but thankfully Dolores is the bull whisperer. Speaking of bull, Jackie can't decide if she's more tired of the cattle smell or the bullshiz coming out of her partner Jennifer's mouth. Only one woman in each pair is permitted to show the prime beef, so Margaret, Jennifer, and Tre head to the audience. Their counterparts strut through the hay before having their bovine beautician skills put to the test. Jackie wins–sparing Jennifer from the trailer.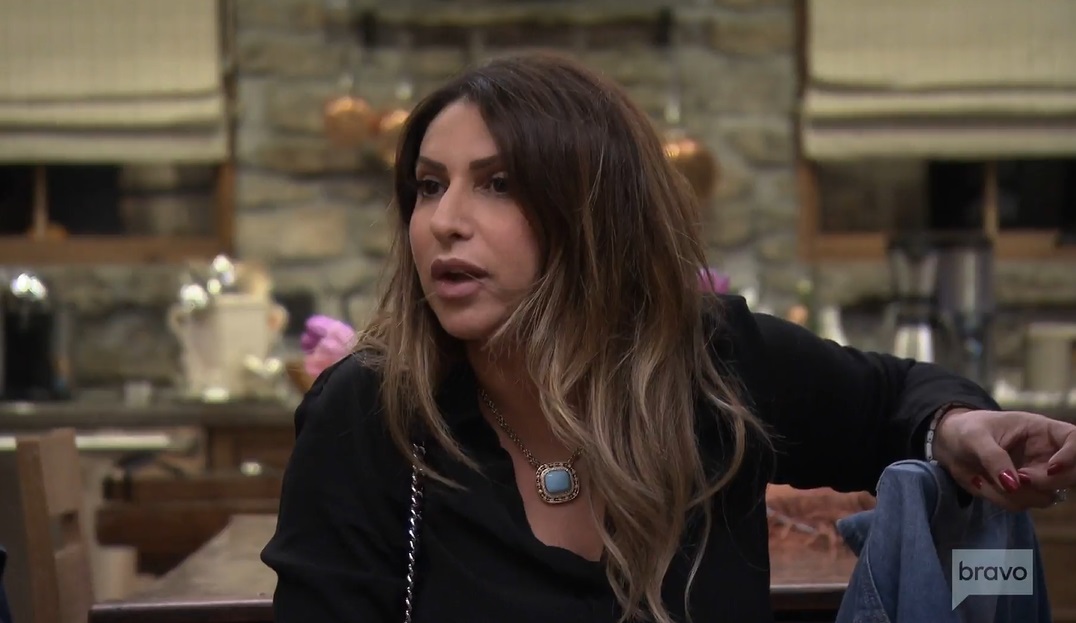 Returning to the ranch, Jennifer calls her husband to whine about the perils of being a pioneer woman. She senses some weirdness from Margaret. Jennifer wants the women to see her in her element. She asks her husband's permission to host a party at the house for the group. Nothing says "down to earth" like forcing friends to do a three-hour tour of the umpteen poop palaces in one's home. The ladies convene on the veranda. They gush about how gorgeous Polly's home is. Upon hearing this, Jennifer interrupts to invite them all to her home. She has a bidet and a fountain. Not to brag (too late), but Jennifer knows the ladies will be in awe of the property she hasn't been able to shut up about for the last two days.
Joe and his kids are dining with  Nonno [Giacinto Gorga]. Nonno rides  his son for not spending enough time with him. He blames Melissa. Joe thinks Teresa poisoned their father against his wife. Meanwhile, back on the ranch, the women are ready to ho-down, no pun intended. The ladies are actually fun to watch. They seem to truly enjoy themselves with cornhole and two-stepping. Jennifer opts for a dosey-don't. She'd never disrespect her husband by dancing three feet away from young bucks. The others are impressed by how gracious these Midwestern men's manners are. After the dancing, Melissa announces that Joe took her mother and Teresa's father for a wine-filled dinner. Teresa visibly bristles. Teresa wants Joe's help with their father when she's actually in town.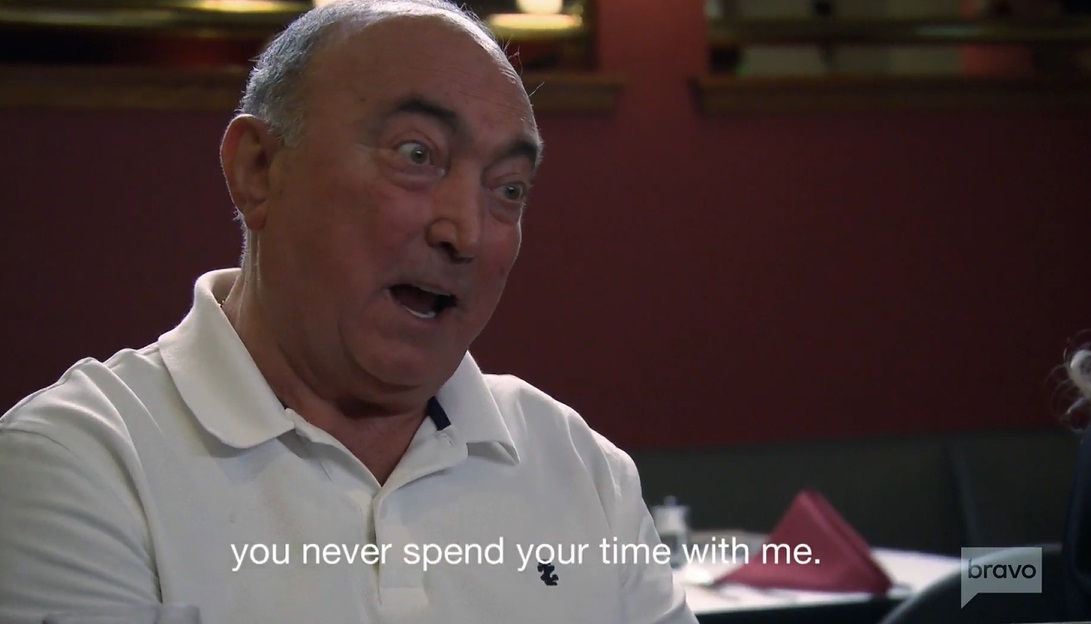 The women chow down on barbecue and mingle with the locals. Meanwhile, Jennifer complains about everything from the food to the music. Jackie, Margaret, and Dolores can't believe Jennifer's lack of filter, but Tre defends it as her humor. In front of Polly, Jennifer insults the town, the solo cups, and the caliber of plastic surgery in Oklahoma. Polly jokes that Jennifer views Oklahoma as a third world country before taking the high road by walking away.
She takes to the mic to praise Margaret's work on Hospital Heroes gowns. Dolores believes Margaret's friendship with Polly speaks volumes. She must be a good person to have a friend who would willingly invite several strangers and open up her home to them. Teresa and Dolores urge Polly to make the trip to Jersey, and they jokingly fight over who would get to host her. Jennifer yells over them that Polly should stay with her. After all, she has sixteen bathrooms! Margaret has had it.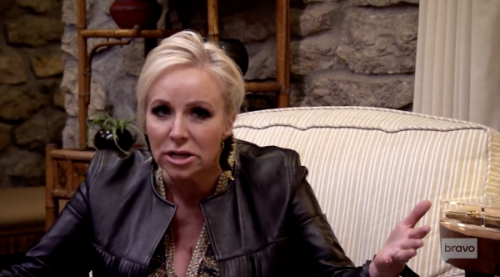 Before bed, Jennifer goes on a tirade over the horrors of "boring country music." She disses Polly for not catering to her guests by playing house music. Margaret calls out her social inappropriateness.  Jennifer retorts with a little J.T., retorting, "Cry me a river, Margaret." Clearly, Jennifer missed the memo that Timberlake headed back into the woods this year. Margaret states that Jennifer has horrible manners and is an awful one-upper. Jennifer is insulted. Margaret tries to explain that it is rude to talk shiz about her friend's beautiful weekend. Polly interjects that Jennifer has been nothing but offensive. Dolores intervenes, and Jennifer offers up a half-hearted disingenuous apology. She then banishes herself to the trailer.
TELL US – WHAT DID YOU THINK OF LAST NIGHT'S REAL HOUSEWIVES OF NEW JERSEY EPISODE? WAS JENNIFER BEING RIDICULOUSLY BRATTY AND RUDE? OR IS THAT JUST HER SENSE OF HUMOR? IS JENNIFER A GOOD ADDITION TO REAL HOUSEWIVES OF NEW JERSEY?
[Photo Credit: Bravo]