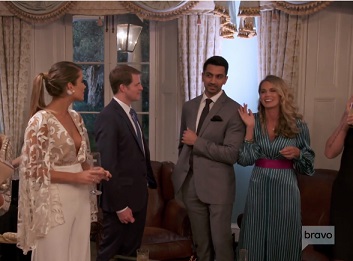 Well, last night we finally got to see the two minutes of cocktail chaos that Southern Charm has been teasing us with all season! While the party crash was anti-climatic, the real drama was the demise of a bromance and the rise to fame of those elusive ladies from the cell phone footage…let's dig in, shall we?
Kathryn Dennis and Patricia Altschul are shopping at Gwynn's and exploring fifty shades of Gucci. As they try on shoes for Pat's upcoming cocktail party, the pair gossip about Shep Rose's horrible attitude towards Austen Kroll's relationship with Madison LeCroy. Patricia reveals what we've all known–Shep despises Madison because she once rebuffed his advances. Color me shocked by that news!
Their conversation turns to Kathryn's recent run-in with Ashley Jacobs. She relays Ashley's insincere apology but wants to put it behind her. Not so fast, Kathryn. Patricia is quick to share that Shep overheard Ashley shiz-talking Kathryn immediately following her sorry swan song. She even had the gall to say Kathryn would never get custody of her children. Patricia doesn't trust the manipulative Ashley after being cyber-bullied by her on social media. If only someone had warned Ashley not to mess with the puppet master grand dame.
Austen is hosting his friend Bailey and rehashing his break-up with Shep after reconciling with Madison. They chat about Pat's party, and Austen is shocked to learn that, while Bailey will be in attendance, she won't be on Shep's arm. Of course, she remains mum when he asks about Shep's date. Thankfully, we don't have to wait long for the news because across town, Shep is getting a much-needed haircut from Chelsea Meissner. He giggles as he says he and Craig Conover will be escorting the two girls from Austen's threesome which was caught on video.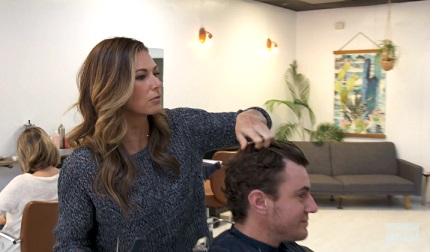 Chelsea questions whether Shep ever had a thing for Madison. He vaguely recalls thinking she was maybe cute, but she is not the kind of girl he'd take home to his mother. Of course, Bravo's production team's memory is a lot better than Shep's so we're treated to footage from a past season of him attempting to flirt with Madison.
Downtown, Bailey spills the beans about Shep's plus one, and Austen knows he must warn Madison. He can't believe that Shep has been accusing Madison of being so underhanded when this is the level to which his friend will stoop.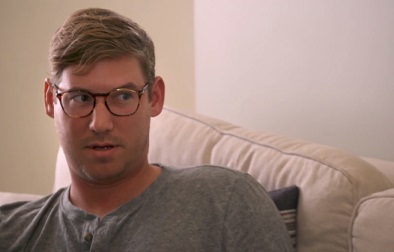 Naomie Olindo and her adorable mom Carole are painting Naomie's bathroom. They chat about work and girl power and Metul Shah. Her parents like Metul. He has a mind of his own, and he doesn't sew. Plus, Naomie's mom is ready to be a grandmother. Naomie knows she wants to marry Metul, but she's not in that much of a rush. Carole shares her love story with Naomie's father and pinpoints the important traits in a relationship. When do I get to have tea with Carole?
Eliza Limehouse is getting new extensions when she is bombarded by Ashley at the salon. Wanting to keep Ashley in the mix, RCG tells Ashley about Miss Pat's party. Eliza is met with a slew of profanities about Patricia as Ashley's crazy eyes go into overdrive. Ashley can't forgive Pat for calling her a gold digger, and Eliza feels compelled to placate Ashley's insanity with some Bible verses. Unfortunately, she can't get a word in edgewise thanks to Ashley's tirade.
Oh, and where is this cocktail party taking place? Speaking of the event, Austen breaks the news to Madison about Shep's date. She's pissed, but not surprised. They make a pact to stay sober(ish) at the party to avoid any extra drama.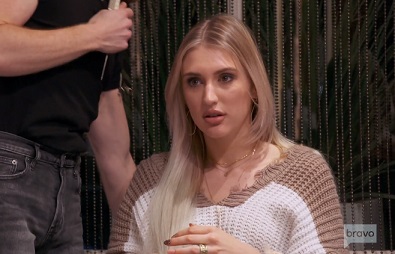 Patricia and Michael are finalizing the details of the evening's event. It's a stag party…for singles and deer heads. Cameran Eubanks, Naomie, Chelsea, and Danni Baird convene at Kathryn's house to prepare for the fete. As they style and snack, Kathryn giddily confides in her gal pals that Hunter Price will be joining her for the party. Cameran's husband Jason Wimberly will be making his first appearance, and Danni is bringing Bailey with her. Kathryn shares that her friend overheard Ashley and Eliza talking at the salon, and Ashley asserted she'll be crashing the party.
Cameran can picture her climbing over the gate. The mood shifts when Danni learns that Kathryn and Hunter will be riding with Austen and Madison. Doesn't Kathryn remember how that duo treated her in Colorado? Kathryn seems sincerely remorseful for hurting her bestie's feelings, so she texts Austen saying she and Hunter won't need a ride.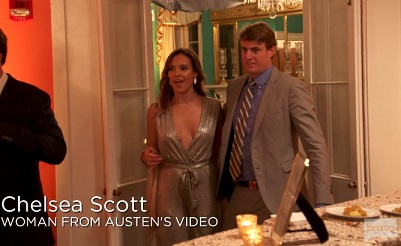 The time has arrived for the big night. Patricia has enlisted an international security detail, which seems normal for such an event, right? We are treated to Jason Wimberly's Bravo debut as the charmers walk the purple carpet and greet the contortionists and carnival performers. Kathryn introduces her new beau to Whitney Sudler-Smtih, and she seems to have mistaken the theme for Moulin Rouge.
On the ride over, Madison is a ball of nerves about what's to come. However, in another car, Shep and Craig are giddy about having Austen's seconds on their arms. Imagine if your claim to reality fame was being labeled "Woman from Austen's Video" by a Bravo intern?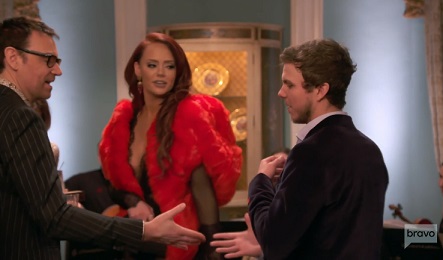 Austen was prepared to see Shep and his date, but he's floored that Shep convinced Craig to bring "the other one" as his date. When Cameran questions Shep's intentions, he slurs that if Austen and Madison are secure in their relationship it shouldn't matter. Madison escapes the ambush on the balcony, and she finds an unusual ally in the amazing Danni who tries to calm her nerves. Danni is a class act, and she calmly expresses her extreme hurt over Madison's actions. Madison returns a sincere apology, and the two make amends. If only Austen was having as easy a time with his friends.
Kathryn thinks Craig's involvement in Shep's scheme is the ultimate dick move, but Craig feigns innocence. He didn't know who his date was going to be…Shep just brought a girl for him. Craig lies about as well as he fills his massive pillow orders. Meanwhile, Shep is defending his actions to Cameran, claiming he used to hook up with video threesome girl long before she ever met Austen. So, you're telling me she's attracted to reality show stars?
Cameran lectures Shep, but he drunkenly laughs at his dastardly plan. As Austen further explains the situation to Craig, Craig begins to see the error of his ways. However, Shep has not one ounce of remorse. Chelsea gathers Naomie, Cameran, and Kathryn to confront the "Women from Austen's Video" who give a colorful rendition of the night in question. Neither of them hooked up with Austen, but yikes, they are a pair.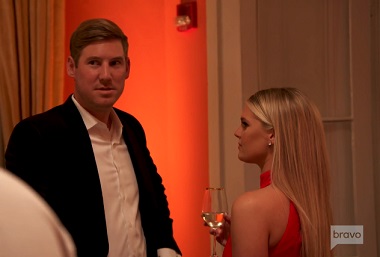 Inside, Austen asks for a moment with Shep. He relays how upset he is over his friend's actions. Austen calls him petty, and while Shep agrees, he's not sorry for his behavior. Austen accuses Shep of being mad at someone, but it's not him. He's disappointed, and Shep remains steadfast in his assery.
Finally, Austen comes to the realization that Shep isn't a friend he needs in his life. When Shep retreats, he comes across Craig who is hiding from the guests who thinks he's an ass by association. Craig didn't sign up to do Shep's dirty work, and he's peeved that Shep made it seem as if he liked this chick when really she was just a missile to launch at Austen.
Before the Ashley antics can commence, Bravo has to tie up the loose ends. Madison is grateful to Austen for putting Shep in his place, and Whitney apologizes to Kathryn for lying about their hook-up. He's a private person and was simply trying to protect their reputations.
Patricia urges Madison to stand up to Shep. She pulls him aside to apologize for her outburst in Colorado, and she reminds him how much Austen values his friendship. Shep doesn't care, but his twitching knee tells another story. Madison hits a nerve, and Shep does a poor job convincing her (and himself) that he is completely fine with the state of his life.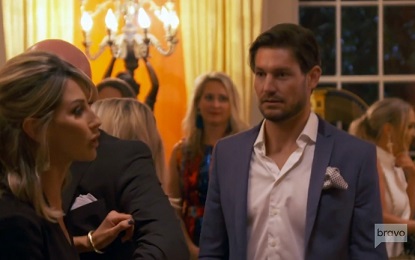 Finally, with mere minutes left, Ashley descends upon the party like a vulture. Ashley asks for a moment of Pat's time, and Pat obliges. She immediately introduces Ashley to her security guard. As he escorts out, Patricia makes sure Ashley's final sight is of Pat pulling in Kathryn for a hug. The lady knows what she's doing! Ashley claims to be aggressively pushed, and the remaining guests rush to the balcony to watch the aftermath on the street.
Calling Thomas Ravenel, Ashley considers his advice to alert the police. Lucky for her, the mortified friend she brought along on this train wreck shuts down that idea. That security guard was the best money Patricia ever spent!
TELL US – WHAT DID YOU THINK OF THE FINALE? WHAT'S UP WITH SHEP'S BEHAVIOR? WHY DID ASHLEY CRASH THE PARTY?
[Photo Credit: Bravo]