This season of The Real Housewives of Potomac is coming to a close, and my heart can't take it. I never want this season to end. From start to finish, it's been a breakout season in every possible way. Tonight is the big fragrance reveal for Karen Huger, and Gizelle Bryant has been waiting forever to see results. Do you think we'll actually see a real perfume tonight?
Last week's episode ended with Ashley Darby thinking she's pregnant. Her costars like Candiace Dillard are going to have a field day with that news. Nobody likes her husband Michael Darby, so this could be really interesting to see go down. No matter what happens, I have a feeling this season will end with a bang. Hopefully, we get a Katie Rost appearance too!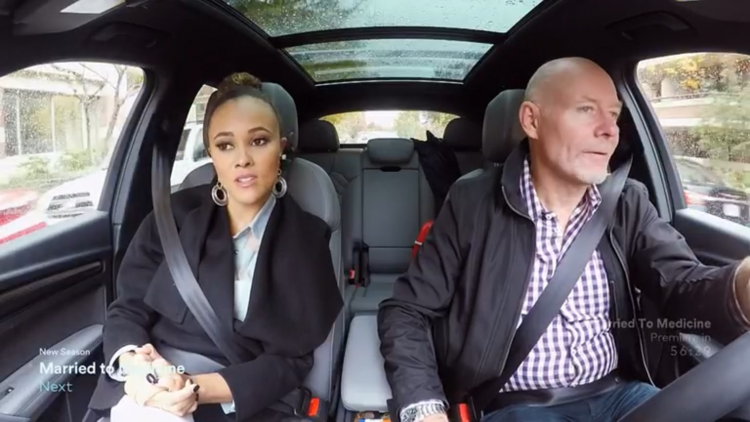 The women are all back in Potomac! The epic Grand Cayman trip has unfortunately come to an end. What a fun time that was!
Ashley tells Michael about her self pleasuring and all of the symptoms that resulted. All signs are pointing toward Ashley being pregnant. She took a test and it came back positive, but she's apprehensive because of the previous miscarriage. I have a feeling things work out well. WINK WINK.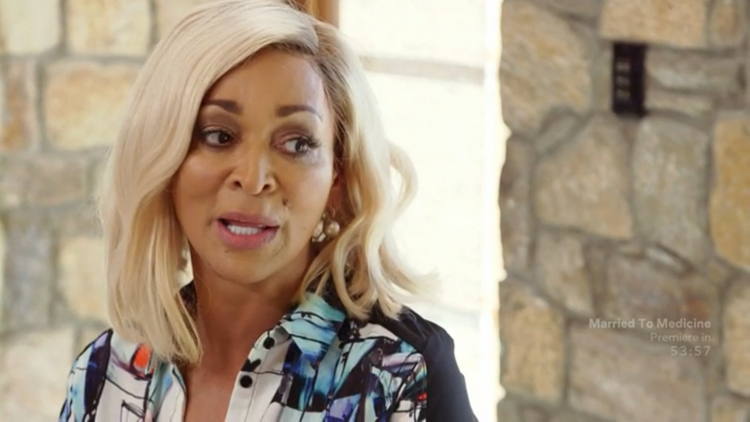 Monique Samuels is STILL pregnant. It seems like this poor woman's been with child all season. Karen comes to visit her and is surprised at how big Monique is right now.
They discuss Gizelle and how she actually apologized for minimizing Karen's grief. All of the women are invited to the fragrance reveal event which means DRAMA.
Monique hopes the perfume is real so Karen can prove the haters wrong. Yes, let's witness the coronation of Queen Karen. Karen is still unsure of Michael which threatens to end her truce with Ashley. Ugh. Always fighting.
Ashley and Michael go to the doctor, and you can see how scared they are about this pregnancy. They went through a horrible tragedy, so they're understandably on edge.
She's about six weeks pregnant, and Ashley is ecstatic. Love her or hate her, this is an incredible moment for both of them. I guess her drinking didn't hinder the fertility journey after all. Sorry, Candiace.
Random side note coming. A commercial just came on for Real Housewives of Dallas, and I strongly encourage you all to watch it. LeeAnne Locken is a LEGEND, and the ladies deliver just as much. For some reason, many people aren't watching this show, but YOU NEED TO!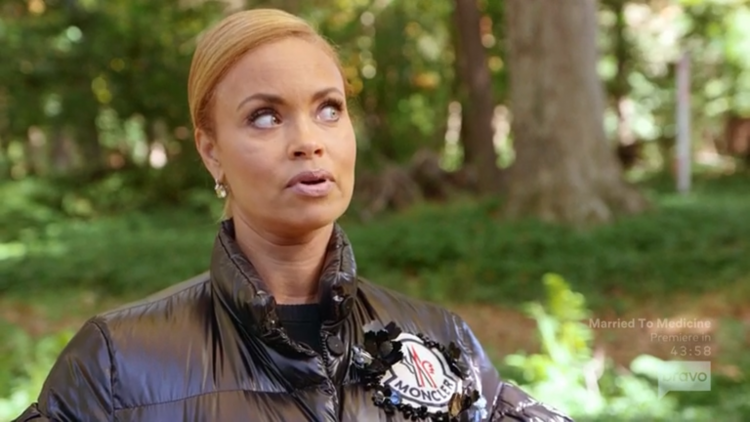 Gizelle wants to move into her new home ASAP because having both houses is getting expensive. There's a lot of work that still, but I think she'll do it faster than Robyn.
Speaking of Robyn, she shows up to see the house and shares an update on her and Juan Dixon. There won't be a lavish ceremony or anything, but Juan has agreed to get matching tattoos.
I think the wedding band idea is cute, and it at least shows some level of commitment by Juan. They've had the weirdest relationship for a long time, but, finally, some progress is being made.
The topic turns to Katie who is allegedly in a much better place. When the women got home, she sent everyone a text that she's doing better. That's good I guess. She was looking really rough on the vacation, so any positive Katie news is welcomed.
However, the way she acted kind of makes what Ashley said seems more valid. Perhaps Katie isn't mentally strong enough for that group. Just saying!
Gizelle and Robyn mock the invites that Karen sent out for being too basic. That's so rude. No matter what Karen does they find a way to criticize her. What kind of friends always want to tear the other one down?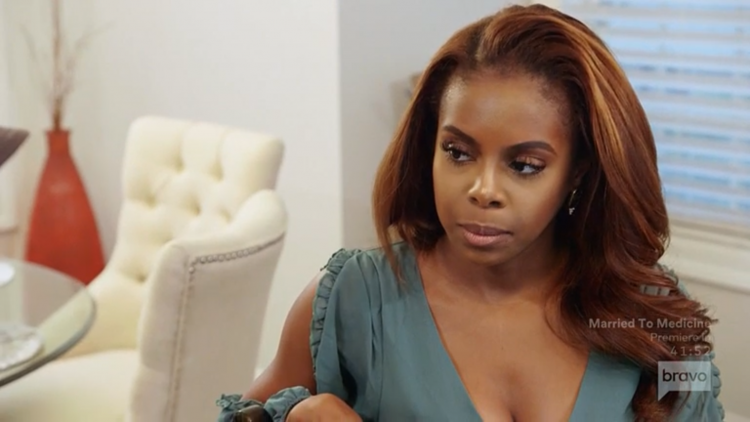 Candiace and Chris Bassett want to cut the cord from her mom and take over the mortgage. Hopefully, this creates some much-needed boundaries between them.
She calls her mom to discuss their plan, and she's so happy. PROGRESS. Usually, her mom would bite her head off, but she actually seems supportive here. Maybe therapy is working after all.
The conversation eventually turns to her mom accuses her of being in competition. Why does she have to make everything about her? Chris says this will all lead to less arguments, and that's much needed. They have such a toxic dynamic, and the less her mom can hold over her the better.
I forgot about Karen's assistant Matt. He's so random, and the weirdest side character ever. Karen's fragrance is becoming more real by the second. She does a gorgeous photoshoot for it, and she looks fabulous.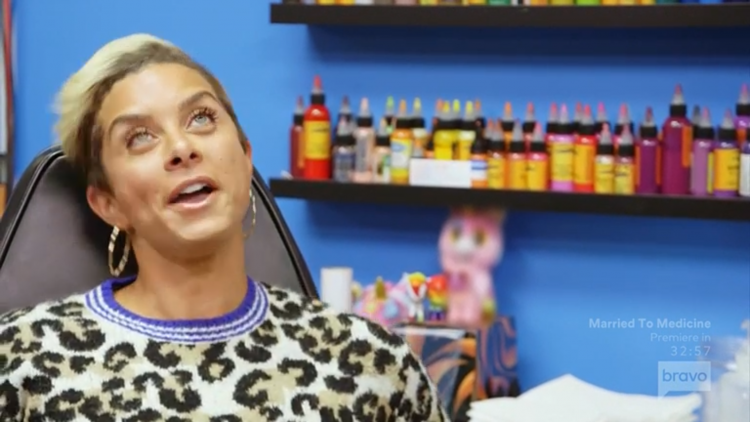 Juan says the trade-off for getting the tattoo should be Robyn agreeing to have a baby girl. UH HOW ABOUT NO? She doesn't want any more kids, so stop asking dude. FOR REAL.
Robyn gets her tattoo first, but Juan starts to chicken out. He has six tattoos so what's the problem? His subconscious just won't let him recommit to Robyn. He's not as into it as she is.
Eventually, he gets it done, but their son thinks it's kind of stupid. They video chat Gizelle to show her, but she is confused about why it's on the inside of the finger. That's a great question!
I guess it makes cheating easier of nobody can see it. Not saying anyone is being unfaithful, but I felt the need to point that out.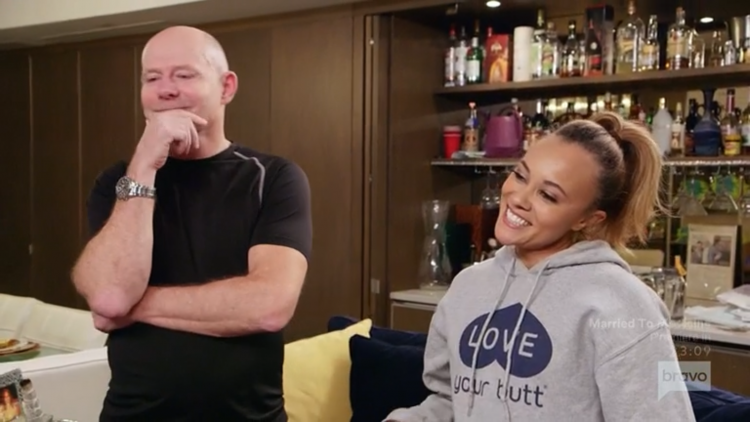 It's yoga time for Michael, Ashley, and her mother. She had it spelled out in stickers on her stomach that she was pregnant, but it comes off during yoga. This is so strange. It's a weird way to tell her mom. but do your thing girl.
Since the stickers came off, Ashley decided to pee on a stick instead. Her mom is elated to learn of her pregnancy, and it's great to see this family in a good place. Obviously, there's a lot of controversy surrounding Michael, but it's great to see people triumph after tragedy.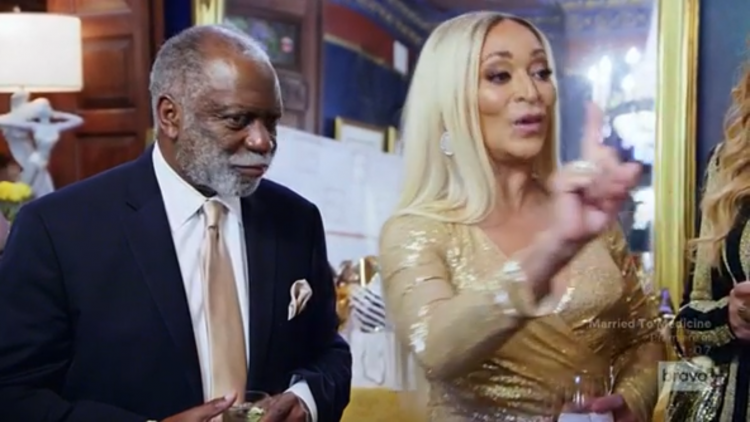 Karen's big day has FINALLY arrived. She is here to slay the critics and silence the haters. Words cannot express how happy I am that Karen is thriving and proving people wrong.
Monique and Candiace are the first of the group to arrive, and they're looking flawless. Kudos to Monique for being nine months pregnant and still showing up to support her friend. No strings either.
She's not looking to see if Karen will fail. Take note, everyone, because that's how a REAL friend acts.
LADIES AND GENTLEMAN KATIE ROST IS IN THE BUILDING. SO SHOCKED. She's looking great too! Thank god that horrible wig is gone, and now she's slaying in every way. She doesn't seem to take much ownership for skipping out on the vacation, but whatever.
Ashley isn't planning on telling the other women that she's pregnant. You can't really blame her though. Candiace has been coming at her all season about the pregnancy topic.
Plus, everyone is against her relationship with Michael. Why would Ashley want to share anything with them? I'm not an Ashley fan at all, but I do get where she's coming from here.
Gizelle and Robyn can't stop mocking this perfume. First they joked at the idea of there even being anything on the care ride to the party. They're doing the same thing at the party too. Who would want friends like that in their life?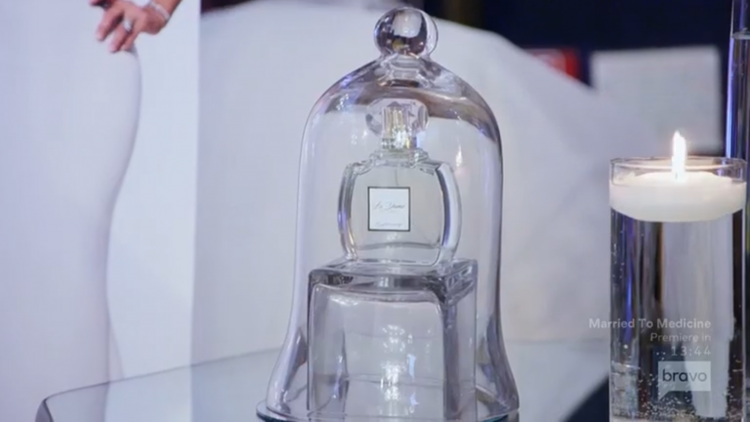 Once the perfume is revealed everyone acts supportive to Karen's face. However, behind her back, most of the group mocks it for being an "old lady" fragrance. Could it be jealousy?
Perhaps Karen's success is intimidating to most of the group? I mean what does Robyn have going on besides her ONE house that she flipped. I'll wait.
Gizelle and Robyn are thrown off when Ashley is seen drinking water and not a Corona. She says she's just really parched, but nobody is buying that line. Everyone assumes she's pregnant, so she might as well just tell them!
They also made a comment about her locking down a baby to secure money from Michael. OUCH. So much shade in this group. Does anyone actually care about each other?
Karen gives a fabulous speech about her journey with the fragrance and thanks Gizelle for always asking questions. She says that it'll be in a retail store in the spring, but Gizelle is annoyed she doesn't name which one. Oh well.
The thing with Gizelle is that it feels like she only wants to know to be messy. It doesn't come across genuine at all. She wants to know so she can find something else to target. Karen is so smart for keeping her power moves quiet and out of Gizelle's word on the street.
At the end of the episode, we got an answer to which retail store would call her perfume home. Bloomingdale's sold it at a pop-up event, so Karen continued to prove everyone wrong. YAAS. We love an entrepreneurial queen with a budding empire!
MONIQUE HAD HER BABY FINALLY. I didn't think the day would ever come, but she finally gave birth to a healthy baby boy. She's not the only one! Ashley also gave birth to a boy of her own.
So many Potomac babies! I am so curious to see how motherhood changes Ashley. Will she be the same messy person, or will she approach things in a different way?
Candiace and Chris are officially paying all the mortgage themselves. No more reliance on Dorothy. IT'S ABOUT TIME.
It gets revealed that Candiace is no longer speaking to her mom which isn't much of a surprise. Her mom is a hot mess who treats her like dirt. I wouldn't want to associate with her either. I mean how much verbal and physical (that purse though) abuse can one person take?
Robyn closed the deal on her house after taking a thousand years to finish it. She made a sizable profit, so that's good I guess. I don't think it's her calling. Sorry. This first go-around was not a shining example of what the future could look like.
Gizelle moved into her new home, so things are looking up for her as well. What a SUCCESSFUL season for these fierce boss women! It's been an absolute privilege recapping a show with such dynamic women at the forefront. Now we move on to the reunion where ANYTHING can happen.
TELL US – ARE YOU HAPPY FOR KAREN'S SUCCESS? IS GIZELLE A GOOD FRIEND TO KAREN? DID YOU ENJOY THIS SEASON OF THE REAL HOUSEWIVES OF POTOMAC?
[Photo Credit: Bravo]