The Real Housewives of New Jersey are in Jamaica, but it's not a peaceful vacation. The drama has already begun. On last week's episode, Margaret Josephs made a dig about Teresa Giudice that won't go unpunished. She said Teresa prefers over 21 to jailbait. HAVE YOU MET TERESA? You cannot joke with her about something like that. With all of the rumors floating, that was the wrong thing to say.
Another situation brewing on the island is between Jackie Goldschneider and Dolores Catania. Tequila Jennifer Aydin made sure that happened. Dolores doesn't really consider Jackie to be her friend, and now that's a whole big issue. Unfortunately for Melissa Gorga, she's right in the middle of all of the drama. The trip isn't over, so, hopefully, everyone returns to Jersey. Wine glasses to yourselves, ladies.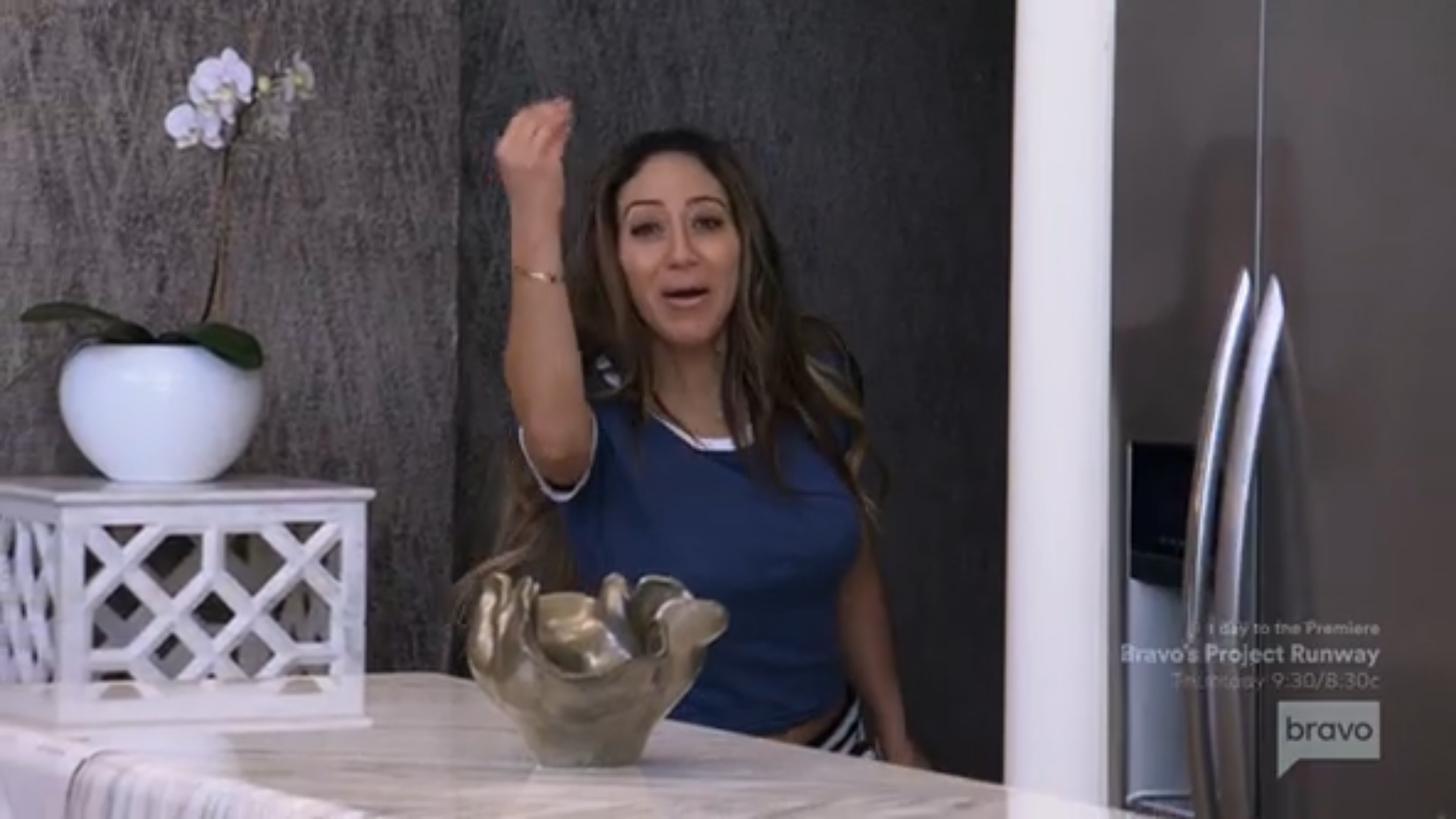 I still can't get over the look Dolores gave Jennifer when she outed her. She was so pissed off that Jennifer told Jackie she doesn't consider her a friend. Awkward to the max.
Jackie and Teresa are seeing eye to eye for now. This truce probably won't last long, but it's nice for now. There's no way these two will stay on the same page.
Dolores says Jackie has a habit of bringing up things that she shouldn't. She doesn't like the way she repeats rumors that she hears. You can definitely tell that Jackie brings things up knowing she's going to get a reaction. She repeated those cheating rumors because she knew it would hurt Teresa.
All the men are meeting up for poker at Bill Aydin's house. What a time that will be! Hopefully, they don't get into too much trouble.
Teresa gets annoyed that Melissa wants to go check on Margaret and Jackie. Why is that a problem? They're her friends, and they're in a totally different building. She just wants to see if her friends are good to go.
Everyone is still shook that Melissa is considering having another baby. It definitely came out of left field. I'm not sure if she's looking for another storyline or what, but it's very random.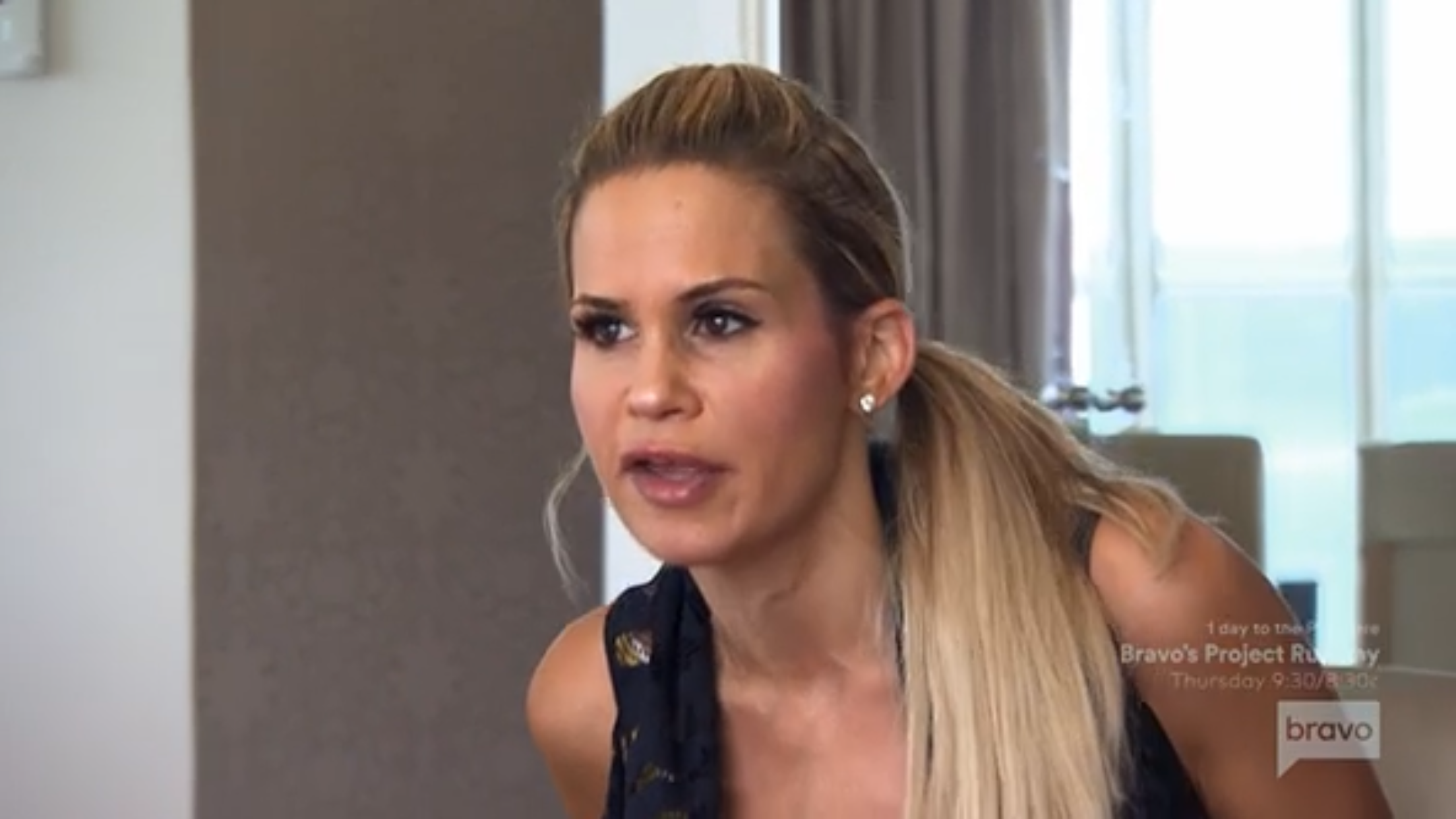 Jackie is outraged that Dolores says they can't be friends because of how they were raised. She and Jackie come from two very different backgrounds, but does that have to be a bad thing?
Dolores definitely says it with a negative connotation, but everyone is different. Open yourself up to something new!
Melissa warns Margaret that Teresa is taking time to process the jail bait comment. Knowing Teresa, she'll address it eventually and destroy the powerhouse in pigtails.
Melissa says Teresa takes twelve hours to process something, so it's only a matter of time. I predict another blowout is coming at the next group dinner.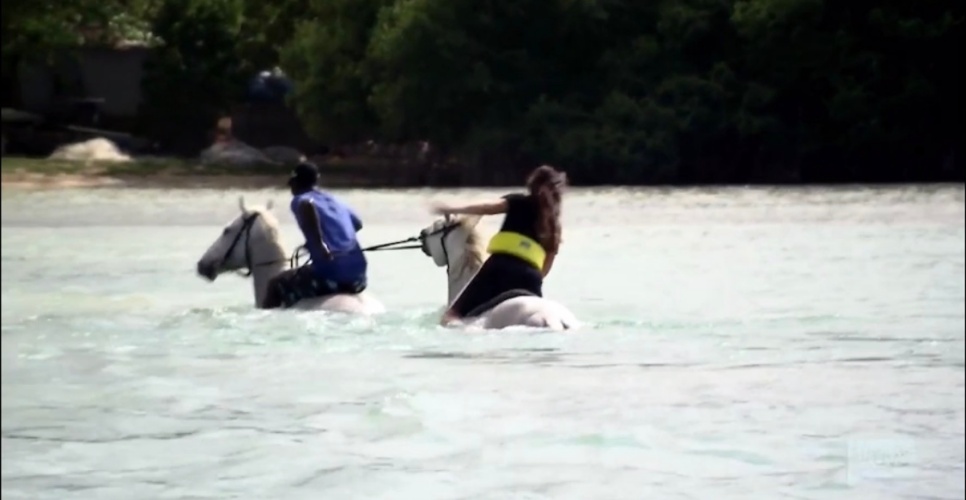 Jackie, Margaret, and Jennifer are going ocean horseback riding, so this should be hilarious. I just can't picture Jennifer doing anything like that at all. She says she's not athletic at all, so this is GOLD.
The other three are spending the day on the beach, which is a lot more ideal. That's more Jennifer's speed. I'm surprised she didn't elect to do lounge instead of the horseback excursion.
These horses really like to poop. I'm sorry, but what is appealing about that? All you can see is whatever is coming from these animals. HARD PASS.
POOR JENNIFER. She fell right into the water. She's swimming in all of that excrement. Jennifer, you need like 32 showers to recover from this.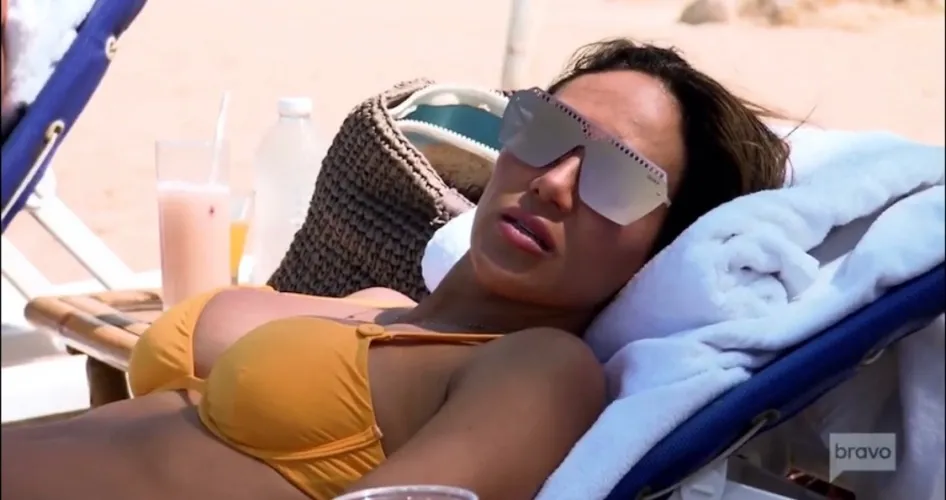 Teresa tells Melissa and Dolores that an appeal decision about Joe Giudice is coming soon. Melissa thinks they're going to make an example out of Joe. That happens a lot with celebrities.
Melissa's gut says Teresa is going to move on and have a world of possibilities. Only time will tell of her and Joe actually end their marriage. They just don't seem happy together anymore.
Jackie starts complaining about Dolores not considering her to be a friend. BLAH. Not everyone can be friends. It is what it is. Luckily, Jackie and Teresa are in a better place. However, now she's complaining about THAT.
Jackie's upset that she can't be super close to Teresa. She says that she cannot talk to her about important issues in Teresa's life. STOP. JUST STOP COMPLAINING.
Jennifer asks Margaret about her lawsuits, and Margaret is very open and upfront. She was almost wiped entirely broke by her legal issues. However, she says it helps her relate to Teresa in a way. I mean, I guess.
Melissa relays to Dolores that Jackie is still upset, but Dolo doesn't care. She calls Jackie fragile and sensitive. I don't think there's any issue in expressing how you feel. However, there is definitely some truth in the dog with a bone moniker Jackie has.
Teresa FINALLY catches up and brings up Margaret's dig. The explosion of anger has arrived. She calls Margaret a "clogged toilet with all her bulls**t". That's a little harsh. It wasn't that bad of a comment.
The guys all get together, and it looks like a lot of fun. Jennifer's house is beautiful, and I'm totally jealous. Bill can actually host an event. I guess Jennifer isn't the only party planner in the family. I also love how into the drama the Jersey men get.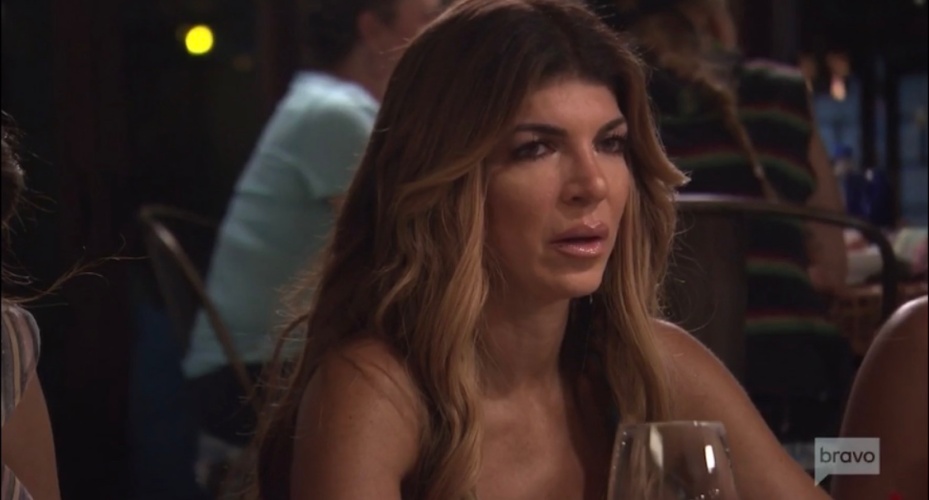 It's time for Jennifer's birthday dinner, and s**t will probably hit the fan. Jackie vs Dolores and Margaret vs Teresa are all possible tonight. They're in public, so maybe things won't get too nasty.
Teresa hilariously points out a sign in the bar about 21-year-old men. Well, now Margaret knows Teresa is upset about this. It was a very calculated statement no matter what Margaret says. Don't even play.
Margaret manages to talk her way out of Teresa's wrath. That was smooth. At least they're good for now. I'm sure they'll manage to clash again.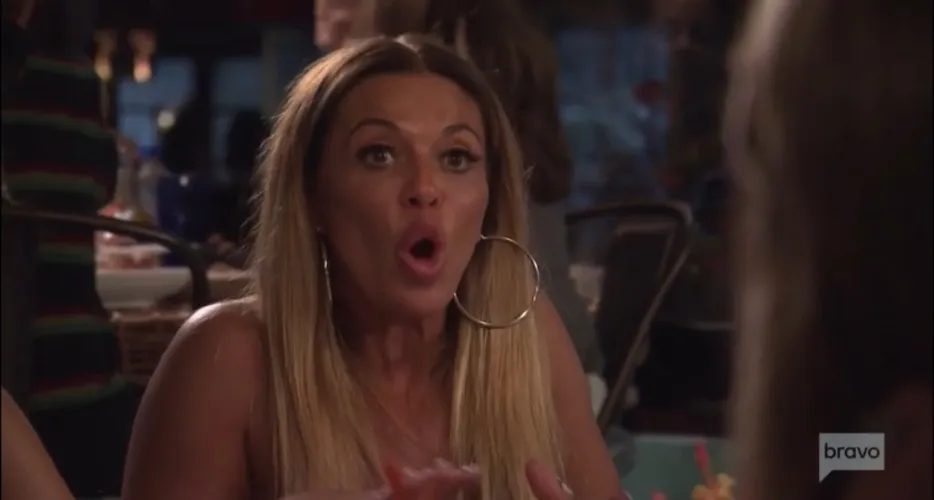 Dolores calls out Jackie at the table about being upset about the "friend" comment. Dolores says they are cut from a different cloth, and Jackie gets on her nerves. The part about Jackie dwelling on drama and harping on stuff is so true.
Teresa calls Jackie insecure and says she wouldn't give it a second thought. Dolores tries to pin it on Melissa, but that was a total lie. She's trying to make her turn on Jackie for no reason. That was not cool at all.
Everyone blames Jennifer for the situation, and rightfully so. You can't really argue that one. Jackie says Dolores doesn't know s**t about her. HERE WE GO. Dolores is coming at Jackie for no real reason here.
Jackie tells Dolores she doesn't consider losing her as a friend a loss, and Dolores mocks her voice. Wow. She knows how hurt Jackie was by the video of Jennifer doing that. What a totally uncouth move. However, I doubt Dolores cares.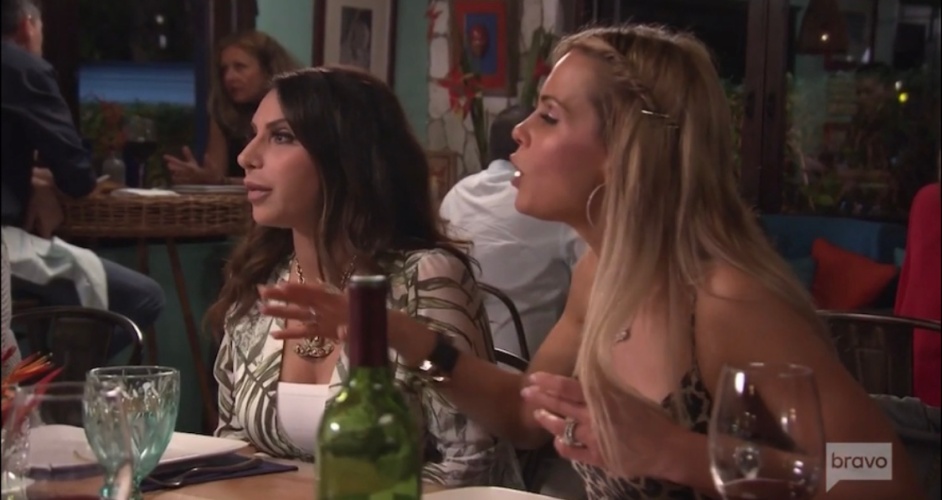 It's embarrassing they can't go anywhere in public without screaming. Have a little class ladies. They totally ruined Jennifer's birthday dinner.
Melissa and Jennifer tell Dolores they felt bad for Jackie at the dinner. It sucks to have someone run down everything they dislike about you. That's rough.
Jackie opens up to Margaret about why she was upset at dinner. She's taking this really hard. She's definitely more sensitive, but maybe they should lighten up.
In all honesty, this is the most interesting Dolores has been in years on this show. She actually has a storyline. Thank you for not being boring for a change.
However, this entire trip might crumble if the tension doesn't fade. Generally, Dolores is passive, but this is different. She loathes Jackie which is probably in part because of the issues Teresa has with her.
Regardless of what goes down, it'll be another memorable trip. How long until Patterson Dolores emerges?
TELL US – DO YOU AGREE THAT JACKIE IS A DOG WITH A BONE? DID MARGARET MEAN WHAT SHE SAID ABOUT TERESA? ARE YOU ENJOYING THIS SEASON OF REAL HOUSEWIVES OF NEW JERSEY?
[Photo Credit: Bravo]