We all saw that video circulating on Instagram this past weekend, but now Robyn Dixon has officially confirmed that she and Juan Dixon are engaged, again. Real Housewives of Potomac viewers recall that they were pulling a Dolores and Frank Catania during Season 1: living together as exes. However, the Catanias were not sleeping in the same bed.
Slowly, their relationship shifted from just being co-parents to something more romantic. Before RHOP got started, Juan and Robyn divorced following infidelity on his part. However, the RHOP viewers didn't see any of that. Instead, we've been rooting for Juan and Robyn to slowly inch their way back to husband and wife. I care a lot more about this than Robyn's house flipping storyline.
Robyn confirmed the engagement to Bravo's The Daily Dish. She told the publication, "Shocked and excited is an understatement to describe my reaction to Juan's proposal! I could barely breathe!"
This isn't even my relationship and I was both shocked and emotionally invested. I really thought it would take a lot longer for Juan to make this move. And it seems like Robyn felt the same way. She shared, "We had definitely discussed the topic and agreed that marriage was the next step for us, but I was not expecting it to happen so soon!"
She also opened up about the proposal specifics. Robyn revealed, "Juan gave the sweetest speech and set the whole room into an uproar when he got down on one knee! It was truly a special night and is definitely much sweeter the second time around. Oh, and he knows me well and got my ring just right!"
In an Instagram post, Robyn elaborated on the MASSIVE ring. She told her followers, "An untraditional relationship calls for a non-traditional ring! I told a little birdie that if Juan ever proposed, I didn't want a diamond ring…that didn't work out too well the first time, lol. I fell in love with the Pink Morganite stone because I wanted something with significance and meaning. Morganite represents unconditional love – something that our relationship exhibits and has relied upon." She also included a wedding hashtag: #DixonsPartDeux, which I think is much cuter than #CHill. Sorry, Cynthia Bailey.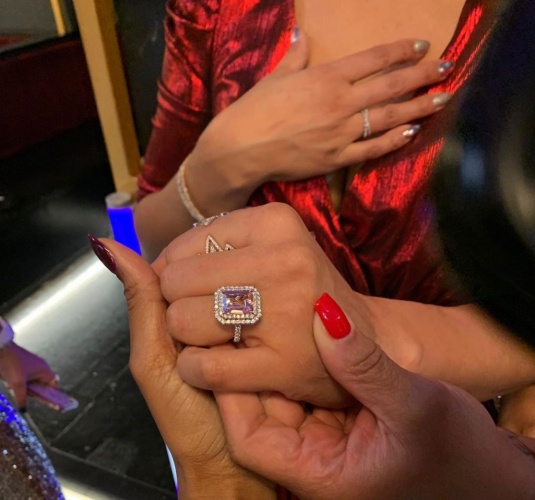 Real Housewives of Atlanta star Kenya Moore commented on Robyn's post with some red heart emojis. Robyn's co-stars Gizelle Bryant, Ashley Darby, and Candiace Dillard commented as well. Hopefully, Karen Huger and Monique Samuels congratulated them privately. Maybe, Karen sent over a La Dame fragrance gift basket.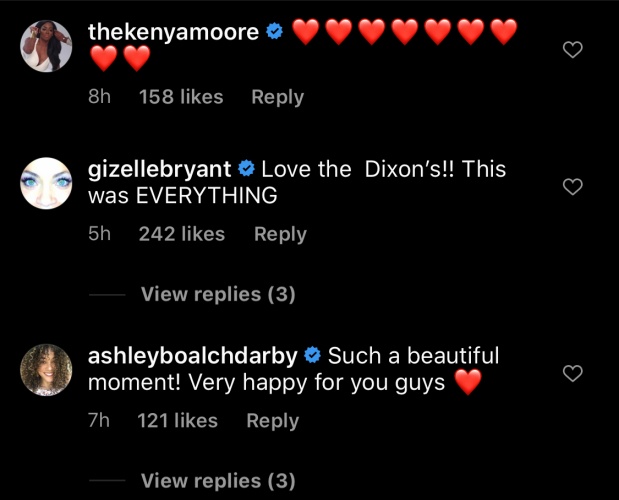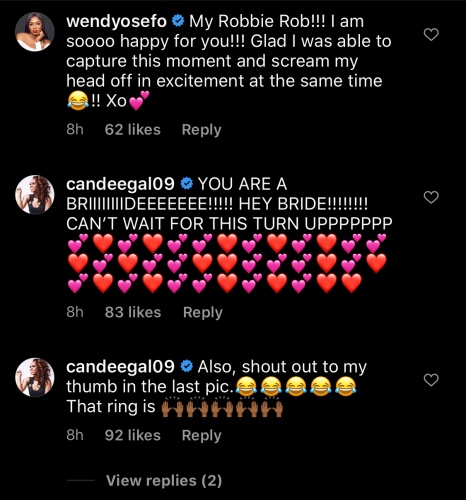 Oh, and rumored RHOP addition Wendy Osefo commented and she is the one who took the photos Robyn posted. I'm just gonna take this is as another confirmation that she's a part of the cast.
TELL US- WHAT DO YOU THINK ABOUT ROBYN'S COMMENTS FOLLOWING THE ENGAGEMENT? DO YOU LIKE THE MORGANITE RING?
[Photo Credits: Instagram]