I don't know about you, but Lala Kent had me cringing during last night's episode of Vanderpump Rules. She got together with Raquel Leviss for a peacemaking coffee sesh, which apparently did work, for a day, anyway.
From the footage we were shown, it was tough to understand why Raquel felt Lala's "apology" was so meaningful. Raquel explained that she was upset that Lala called her "dumb" last season. And in response, Lala told Raquel, "My time is very precious and I wouldn't waste it on someone who I felt was a true idiot." How… heartwarming. Then, we saw Raquel tell Lala, "That means so much to me, Lala." What? In what universe could that sentiment ever mean "so much" to someone. Clearly, some of the talk was edited out for time. Or to be shady, you be the judge. Regardless, I think most of us are #TeamRaquel on this one.
Later during that same episode, Lala crossed the line, telling Raquel that James Kennedy was at a party with drinking and said that meant he was also drinking. Lala wasn't at the party and no one actually said they saw James drinking, but shit stirrer Logan Noh said he saw footage of James at the party. Not footage of him drinking, but just social media posts that he was there, which Raquel knew anyway. Lala insisted that James was drinking.
Then, Lala backslid further and reignited the rumors about James hooking up with Logan. With "friends" like Lala, who needs enemies? I was cheering from my couch when Raquel clapped back at Lala and left the party.
And that's why I was so confused to see that Raquel posted a photo with Lala from the day they met up for coffee. Obviously, that was filmed months ago. So, maybe they're cool now. But, still, Lala was so out of line last night.
In the comments, a Bravo fan account commented, "That editing was so obvious and shady during Lala's apology. They tried to make it look like Lala gave you a non apology and you were just so grateful for any crumb lol… I see you editors."
Raquel responded, "our conversation was much much longer than what was shown. This conversation was one of my favorite moments of filming because we really connected and were able to move on from last year's argument."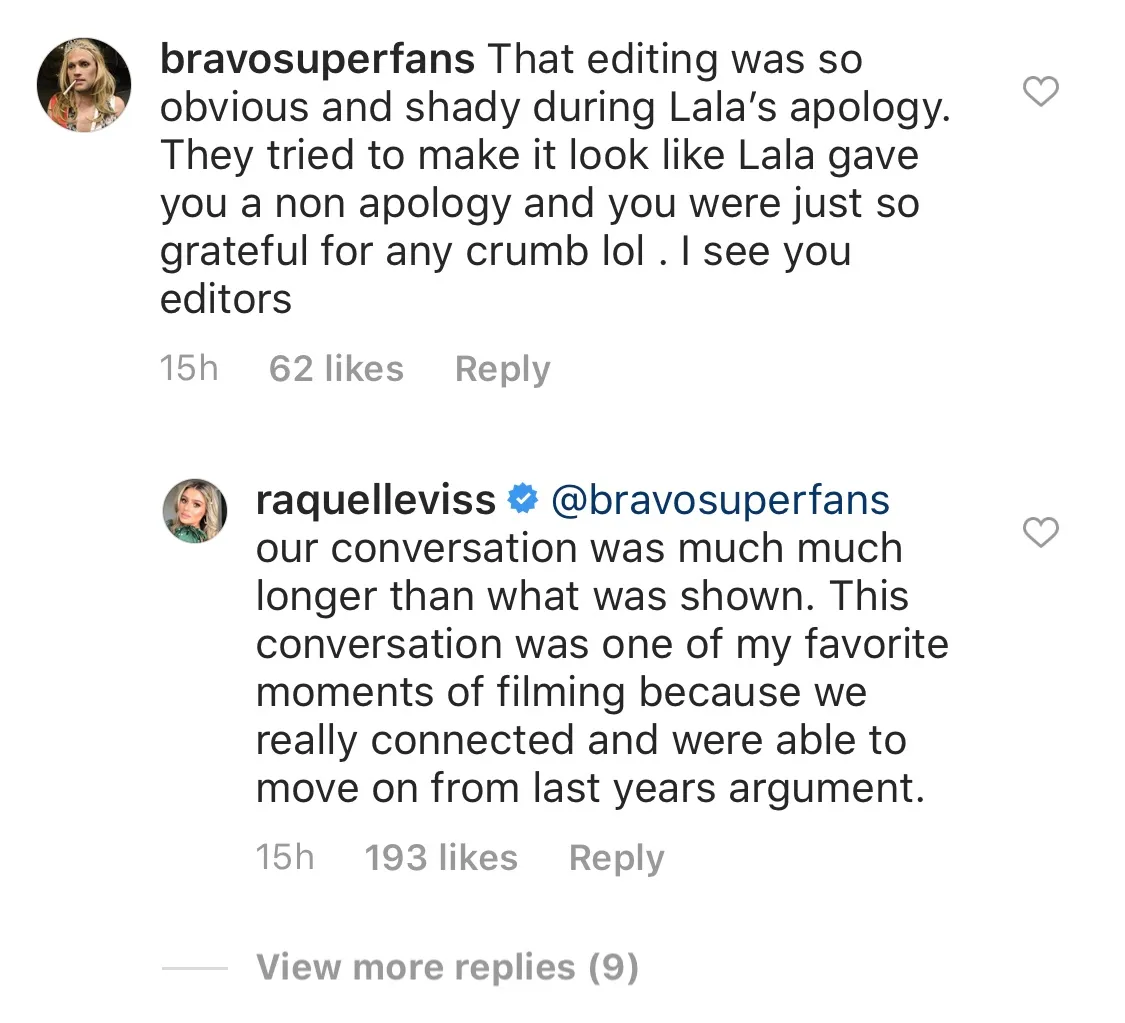 Now, I'm just waiting for Raquel to react to Lala's attempt to out James during last night's episode. That was just despicable, editing or not.
TELL US- WHAT DID YOU THINK ABOUT LALA'S "APOLOGY" WHEN YOU WATCHED THE EPISODE LAST NIGHT? WHAT DO YOU THINK NOW THAT RAQUEL SAYS IT WAS HEAVILY EDITED?
[Photo Credit: Bravo]