We celebrated Tom Sandoval's birthday on last night's Vanderpump Rules and the theme was being extra. As if this group even has to try! Hey, at least it wasn't more wedding nonsense.
Ugh – every time I reach a place where I kinda like Lala Kent, she goes and acts like a horrific ego-consuming monster whose such a bitch that I'm right back to wanting to smash cupcakes in her face. Super fattening, gluten-y, sugary cupcakes. Lala is a wench. A worse wench than Stassi Schroeder ever was in her Stasstrocious heyday. Lala is Jax Taylor bad. She's also a dry drunk. Someone who has treated the symptom, not the disease. Lala reminds me of Kim Richards, formerly of Real Housewives Of Beverly Hills, now of never-to-be-published salacious memoir because Kyle Richards will tie your ass up in cord for ad infinitum. Which is also how long it will take Lala to realize that she's a horrible human being who is still secretly in love with James Kennedy.
Anyway, these are my preliminary thoughts on last night's Vanderpump Rules.
My other thoughts are to follow. Aren't you excited? Yes, Yes you actually are. Because you are stuck at home, quarantined and avoiding covid-19 like it's an invite to Jax and Brittany Cartwright's wedding, and you have nothing else to do than read my 2,000 plus word musing on the synthetic lives of people you do not like. Except for Raquel Leviss and Tom 1. The two maligned scapegoats of every Vanderpump Rules season past, present, and future. They will have the last laugh, though, because they are the only two redeeming people on this show. OK, I'll add Ariana Madix in there too.
So Jax and Brittany are MAAAAAAA-aaaaaaa-AAAAAAiiiiiIIIIIIIII-RRRRRRRRRiiiiiIIIEEEEEEEEEEEEEDDDDD. That's Brittany speak for married. The wedding is over and now begins the countdown until the marriage is over. Of course, Brittany is sad because she's no longer the wedding princess. Disney never got to the parts where the frog and the princess are stuck together in a tract home in the far-off Valley. Maybe a flying carpet can come rescue Brittany? That flying carpet will be Kristen Doute, who is on the perpetual peak of a nervous breakdown. This time because Stassi and Katie Maloney don't love her anymore. For now, Brittany's princess scenario is Cinderella doomed to a life of fetching ham sandwiches for Jax. Shall we call her Spamderella?
Jax has never been more nihilistic about the prospect of a forever than while he's sitting in his Z-Gallerie'd living room watching Brittany squeal over hand towels. All the better to wipe up his jizz with when he cowers in his motorized cooler watching porn hub. It's the best revenge ever served to Jax.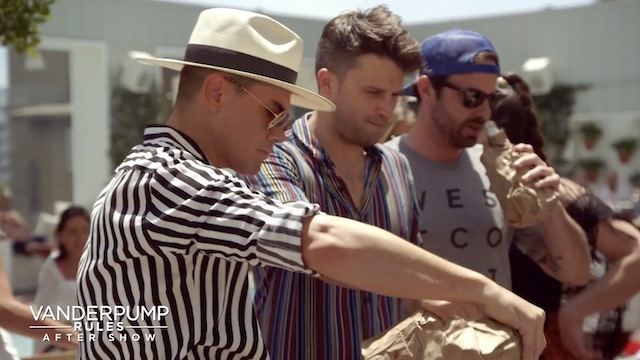 Kristen is so 'out' she's not even invited to the funeral Tom 2 throws for his doomed lizard, Daug (which auto-correct keeps making into Daughter-in-Law. Why? I do not know). Never has there been a better metaphor for the lives of the people on this show, and especially Tom 2's, than Daug's short-lived vapid life; an accessory for the sake of being an accessory.
Tom did everything to it, but still, Daug perished. Probably because the thought of spending eternity with Katie was too much. Or because one should not keep an exotic pet that deserves to be wild and free. Plus Katie probably fed it Hot Cheetos while she was high and working so hard on all the so much hard work she has to hard work because she's like… busy. And successful. Whatever happened to her beauty blog? Based on Katie's confessional look, which is Dee Snyder from Twisted Sister. it's probably a good thing she's no longer pursuing that career path.
Hilariously apt considering that Katie and Stassi are the twisted stepsisters of WeHo, wanting to destroy Kristen for daring to not play by their rules. At the funeral, after the foolagy, Scheana Marie (wearing hoop earrings big enough to contain their own circus act) sits down with Stassi and Katie to ask what's going on. The only reason these two are even gracing Scheana with their presence is because they love bitching about Kristen so much they will do it to anyone. Even Raquel.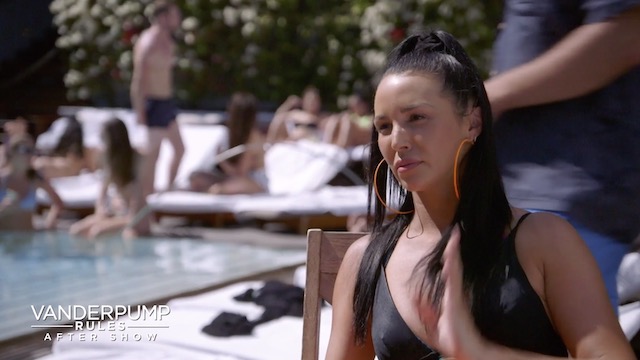 Also, Scheana is going to Kristen's after the party and Katassi want her to be the messenger who delivers the death knell to their friendship. Scheana loves being deemed important and liked, so she's game for cutting off her own nose to spite her face. I mean maybe she'd meet a hot doctor in the ER?!
Basically, it boils down to this: Kristen thinks Katie is unhappy (duh) and projecting that unhappiness onto her. This floors Katie. I mean WHO in their right mind would think Katie is unhappy?! KATIE?! Noooo… Also, Kristen is frustrated that despite Katie having nothing going on all day (literally nothing) she doesn't help with Kristen with anything pertaining to the wine company they all co-own, Witches Of WeHo. OK, who even remembered these three own a wine until now? <<Crickets>> Anybody ever actually try said wine?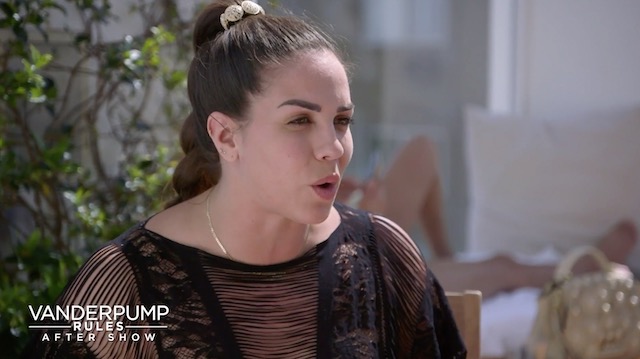 The problem is that Katie is veryveryvery busy, like, doing Katie. Furthermore, it's not like Kristen is busy when all she did was steal some slogans off Pinterest and iron them on a couple T-shirts she sells out of the back of her car off the Venice Beach boardwalk. I mean it's kinda true… Like a good little pony wagging it's ponytail to the glue factory, Scheana trots off to deliver the message.
Not so easily wooed is Raquel, who got a text from Lala asking to meet for coffee so they could talk. Raquel doesn't really trust Lala's motives, but given that Lala is now sober, Raquel wants to give her another chance. That's because Raquel is a nice person who sees the good in people. Lala is… Jax with extension.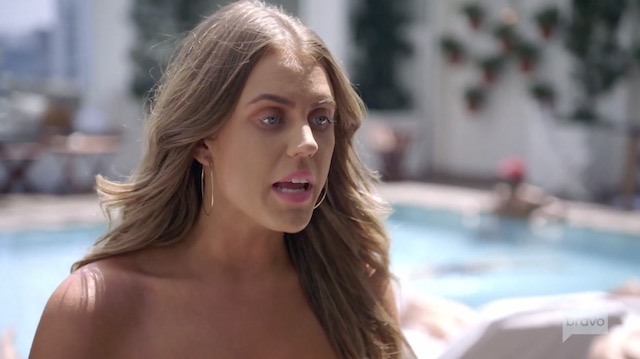 Anyway, this funeral is dumber than dumber than dumber than DUMB. So dumb I just want to throw a 40 at the TV. The only other thing of note that happened is that Max Boyens tried to assert himself as a man by 86'ing Danica Dow from Tom Tom for spreading rumors about his sex life. When the Toms find out Max's motive for blackballing her has everything to do with his balls, and nothing to do with Danica's behavior, they lecture him on professionalism.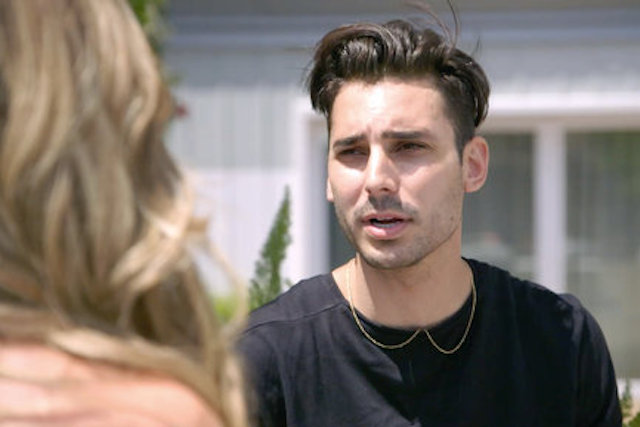 Then Dayna Kathan tries to have a talk with Max about why he won't even consider giving their relationship another chance. Right away Dayna realizes Max is secretly glad they split, cause playas play to play, right?! Max sucks.  I'm starting to like Danica though. Especially when she corners Max near a particularly ominous palm tree and laughs in his face that his evil trick didn't work. She is wearing a leopard print onesie for this which seems fitting. She will chew Max's face off just for fun, and then she'll come to Tom Tom to wash it down with a cocktail.
At the funeral, Tom 1 also announces that he's having a birthday party and the theme is being one's most extra self. Basically him on an average day. Tom plans to surprise the masses by showing up in stilts. A secret only Tom 2 knows…
Before the party, Lala and Raquel meet for chai, not coffee, and seem to have a great conversation about James going to AA. For this meeting, Lala dresses up like the spinster neighbor from your favorite 70's sitcom while Raquel is wearing another hair bow. I interpret this to mean that Lala is old news and trying to cosplay J Lo to give herself some cred, while Raquel is just … a human being who has somehow had her eyes replaced by the plastic orbs inside a Bratz doll's head.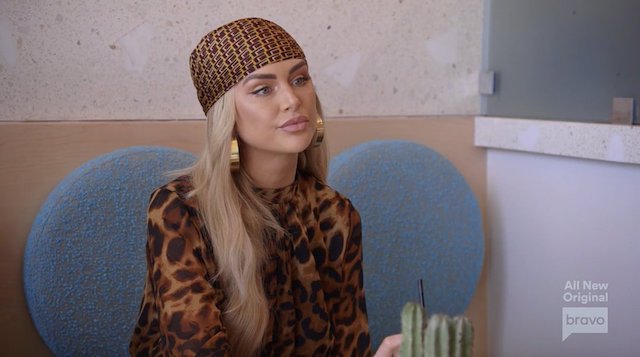 Things start with Raquel standing up to Lala for calling her dumb last year. Raquel is clearly remembering those lonely days feeling like Pooh in Pooh-land while all her fiends were eating ice cream in the cool classroom. Still feeling like she controls the narrative, Lala offers the fake kind of apology she gives when she wants to sound superior to everyone else. Which is Lala's defense mechanism: to verbally bully in a superior-sounding tone and try to intimidate. I was actually enjoying a softer side of Lala, who seemed to want to make amends and work those AA steps by reaching out to a struggling addict in need, and supporting Raquel in the process. Too bad!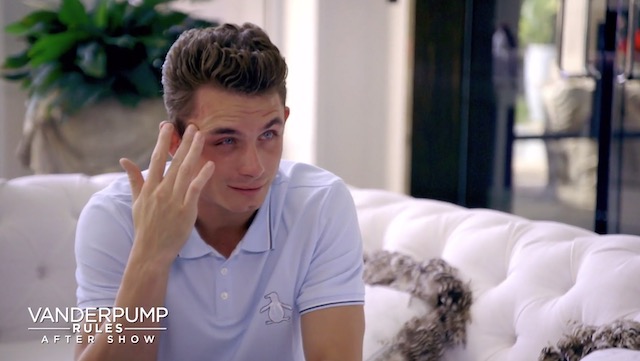 Meanwhile, James pays Lisa Vanderpump a visit and bursts into tears when she confronts him about the texts he sent Raquel. James promises he's serious about making a chance and tells her he went to his first meeting. Lisa vows to support him. And unlike Lala, she's genuine.
All Lala's empathy was a farce and by the time we get to Tom's party she's yelling at Raquel and back to calling her a dummy.
First, though, there is Jax. Jax complains that Tom's party is too extra and he doesn't want to have to do anything special for his friend. "Why do we always gotta be extra," Jax sulks and pouts to Brittany as she fixes him a drink that is 3/4 vodka; 1/4 shed tears after she realized their marriage license did not 'pull a Tom 2.' These complaints are from a man who made everyone celebrate his wedding for a year, including multiple bachelor parties. Jax, you are the Number 10 guy. Carter beats you.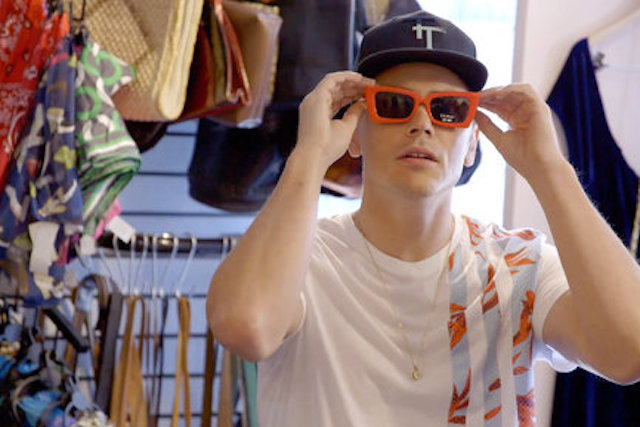 Jax decides to come to the party dressed as himself from 10 years ago, when he was a hot, single, sought-after male model. Jax resents Tom 1 for living his life on his own terms. Also, the man mastered walking in stilts, in a few mere days, by practicing in his walk-in closet and wore them to his birthday party.  And Tom was not even quarantined at that time!! That is EXTRA impressive!
Lala arrives with Logan Noh, whom you may remember as James' former friend and pasta-eating pal, and she is totally living up to the EXTRA theme when she pulls Raquel aside to report that Logan saw James at a party where people were getting fucked up. Logan didn't actually see James drink, just that James was there. Lala also tries to tell Raquel that Logan and James used to be fuck-buddies of convenience. Raquel is tired of hearing this though. She's made the decision to stand by James, and honestly, WHY DOES LALA CARE?!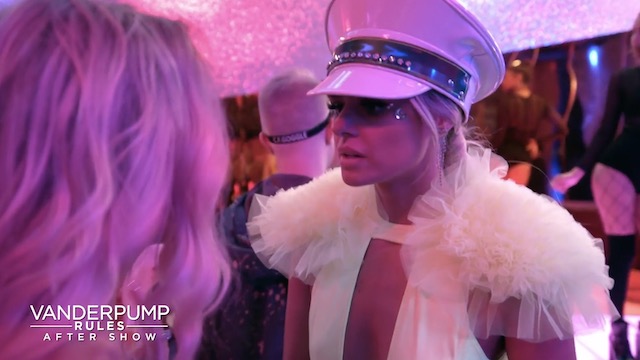 Raquel snaps that Lala needs to "shut the f–k up!" and calls her out on being insincere. Which means it's time for Lauren from Utah to pull out her plastic nails of wannabe gangsta to wave a staph infection in Raquel's face by threatening her. Raquel, always a class act even in polyester clothes and a ridiculous hat, walks calmly away to collect James at the bar where he's sipping water.
It's almost like Lala was trying to make James relapse, but he refrains and they leave. Good for you guys! Lala is a piece of garbage. When will she realize that no one takes her seriously? If Lala is so soberly happy with Mandall why is she so invested in what James and Raquel are doing over there in their one-bedroom WeHo apartment with their recipes.com fajitas. Hmmmmm….
Then Kristen, Stassi, and Katie get in a huge argument about, well, Kristen. Stassi, who is dressed as Marie Antoinette, wants to bail out of the wine company because she can't work with others. Dark Passenger is alway her business partner. Also, Stassi is tired of Kristen being fake and dishonest with them, and isn't interested in having a friendship with someone living a lie. Yet, she's gonna keep on keeping on with Katie and Tom? Girl… your slip is showing and that's not just cause you're dressed up like a budget Marie Antoinette who is letting her people eat stale cupcakes from the Price-Rite.
After an argument that goes round in circles, Stassi rules that their friendship with Kristen is no more. Kristen storms away, blindsided and dejected. Um, Stassi better watch out because the oppressed rosè'd up and sabered their oppressors. Off with her ego! Also with Stassi vacating Witches of WeHo, maybe Lala can jump in instead? She's more like Bitches of Bel-Air though.
TELL US – WHAT IS LALA'S DEAL WITH RAQUEL? TEAM KATASSI OR TEAM KRISTEN?
[Photo Credits: Bravo]