Last night on Below Deck Sailing Yacht we lost one crew member and gained a new one. I stand by my stance that Parker McCown is appalling. He has no respect for authority, plus his over-confidence and arrogance is so typical white male privilege. He's like Gordon Gekko of the high seas.
In a meeting with Captain Glenn Shephard and Paget Berry about whether or not he should be fired, Parker yells at the Captain, argues that he's being stressed out, then decides to flip this whole firing thing into him resigning because that's how positive people handle problems. Plus he doesn't like to be around people who don't love him. Parker does realize he was gonna be fired anyway, right?
Parker's real problem is that he doesn't want to work. He wants to blow all his tip money proposing to the ex-girlfriend, Kati, who dumped him a couple months ago because she wanted to sleep with other guys, then begged him back when she saw a free trip to Greece and the opportunity to be on TV.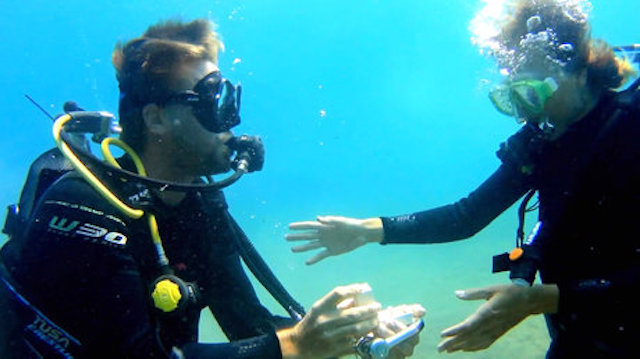 While everyone else is prepping for the oncoming charter we get some lovely underwater footage of Parker proposing to Kati in scuba gear. It was… ugh something you'd find on the original Full House. Or a cheese Bachelor date. Apparently loving animals is their common denominator. So congrats!
Madison Stalker is the only person whose sad to see Parker go. Madison feels like her only remaining friend is Georgia Grobler and even that may be up for debate. Poor Madison is about to be the 'New Parker' with everyone directing their irritation at her. Well, at least Adam Glick and Jenna MacGillivray. At every opportunity Georgia is sucking up to them, and trying to get in good while privately complaining to Madison. Madison seems unaware that Georiga is playing both sides. Not that it's a bad idea…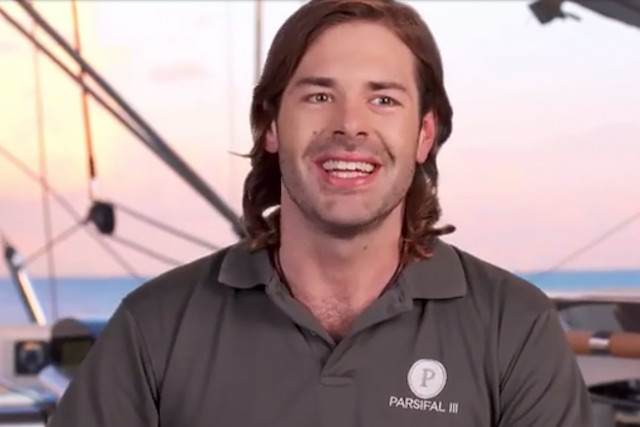 So enter new deckhand Chris Miller! Unlike Parker, Chris has tons of sailing experience and also experience working with people who aren't his mom. Meaning Chris values having a j-o-b and isn't here to swim with the turtles then get a tattoo about what a moving experience it was. Chris also genuinely loves sailing. More importantly he's a fellow Brit who gets the gallows humor of boat culture and won't be tantruming over any 'your mom' jokes. Just in case Byron Hissey warns Jenna against any breastfeeding jokes. Maybe Jenna should take her own advice to shut up…
Seriously – Jenna is officially beyond irritating. That night at the crew dinner she complains about Parker being too entitled and proclaims that if you want to survive on a yacht just "shut your mouth." Wow – salient leadership! Then Jenna and Adam go back to the boat to fuck in the master cabin. Did they ever get Captain Glenn's approval on that? Ciara Duggan whisks Paget away for a little alone time, which involves putting on flannel PJs and climbing into bed with a peck after bickering about brushing their teeth. Did Paget really get his molars well enough? See, this is why Georgia's 'just the tip' jokes is getting Paget all in a frizzy. You can literally see him turning pink in her presence.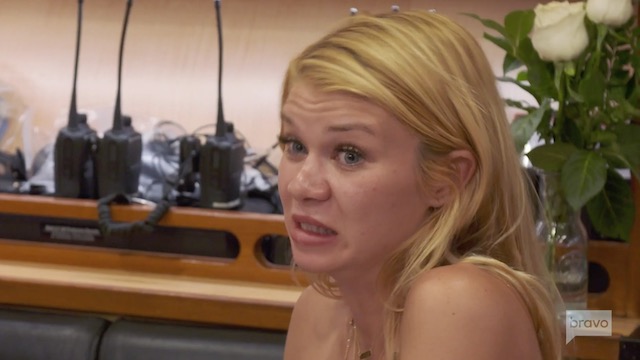 One person not living by Jenna's golden rule to take it and shut up is Madison! The next day, after realizing that the master got all wet from somebody taking a shower, Madison makes a comment to Byron (within Adam's earshot) that she wasn't aware they were allowed to use the master whenever they don't have guests… I think Madison was trying to show off a bit in front of Chris. Or maybe she's reached her limit of dealing with Adam and Jenna's hypocritical BS. Adam flips out and rips into Madison for "starting drama" as always and trying to come for her boss.
Adam snaps that Madison needs to talk to Jenna and stop trying to create problems when their ain't one. Um, the problem is that Adam and Jenna feel they operate above the other staff, and have full discretion to do whatever they want while threatening people around the boat who don't play into their tyranny.
Also Adam is such an unprofessional asshole, and no amount of living in the dessert away from people has quelled his out of control temper. Adam is ALL THE RED FLAGS. The red flags are on fire.
Madison is mortified. Byron and Chris seem completely unsure of what even just happened. I think I might really like Jenna as a chief stew if it weren't for the injection of Adam into the equation (see what I did there!). She has beautiful and classy table settings (far better than whatever Kate Chastain or Hannah Ferrier ever put out), the guests seem to really like her and leave consistently happy, service is excellent, and it does seem like she had the intentions to be a good leader. Unfortunately she is so focused on appeasing Adam she's blinded. No excuse, but it's disappointing.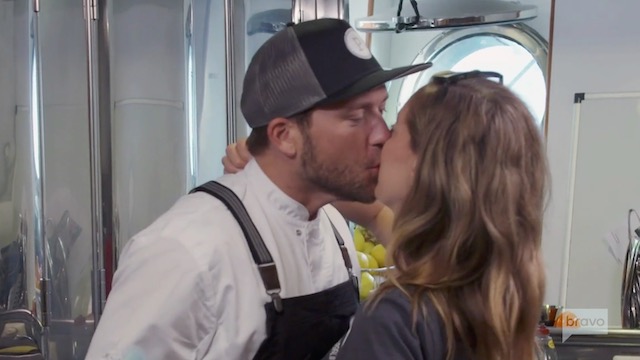 Later while making out with Jenna in the galley (cause mature! responsible! totally not hypocritical from the people who complained that Parker is immature), Adam reveals Madison's insubordination. Jenna, believing she sufficiently quelled any of Madison's rebellion by reporting her to Captain Glenn, now decides to enact some revenge by giving the sycophantic Georgia more service experience this charter and sticking Madison in the laundry. Considering how shitty these guests are Madison probably got off easier!
Oh the new charter guests… Hailing from Orange County (the primary, Lindy, is a serious contender for Real Housewives Of Orange County) they are social media influencers and fashion vloggers. The sole reason they're on this yacht trip is to provide content for their channels in the form of beautiful scenery as a backdrop for their vacation fashions. It's kind of hard to see what they even look like becasue their faces are just constantly obscured by a giant phone. Like they are literally squares framed by giant, day-glo blond extensions.
I also fail to see the so-called fashions, but they brought about 32,000 suitcases. Madison is wooed. She dreams of working in fashion and being an influencer. She's only doing yachting to fund her future ambitions so as she unpacks the primary's clothes she oohs and aah over everything and imagines herself wearing them. Madison is so sweet. She can be very annoying and frazzled, but I think she has a sweet soul and an innocence that I appreciate. Georiga… well, not that innocent! Right away Georgia starts flirting with Chris. Paget feels rejected and snaps that Georiga flirts with any many who has a penis. I'm intrigued that Paget's putting himself in that category because I assumed he had a rigatoni in his pants?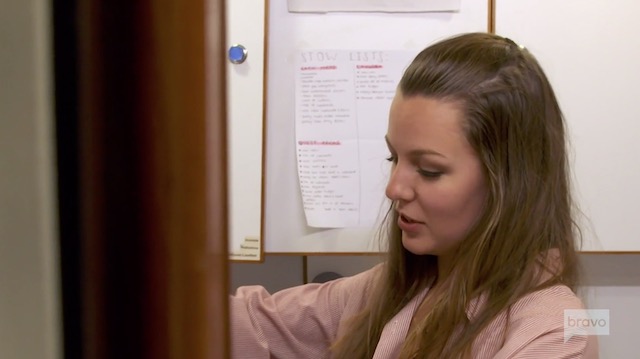 Georgia is probably trying to make Paget jealous because she seems like the type of woman who would love to have two men pining over her. It's fodder for her music career, you guys! Or perhaps she realizes that Paget really isn't gonna give more than the tip…
Right away the charter guests are all lusting after Adam. Sure, Adam is pretty to look at and he cooks mighty fine, but that's about all he has going for him! The female guests are literally trying to break into the galley though. Jenna is jealous and also protective. Oh goody – another layer to add to the dysfunctional lasagna that is this preposterous relationship. Now Jenna is stonewalling the guests to save Adam!. Adam promises she has nothing to worry about because superficial isn't his style. No, subservient is.
Lindy, the primary,  just won't quit. The crew arranges a beautiful dinner out on the bow so they can have the backdrop of the Corfu town with its twinkling lights. All to take pretty pictures, not to actually experience the situation. The table is gorgeous. Elegant and sophisticated. Adam is serving up a classy dinner with the first course being a champagne and cheese pairing. All. So. Perfect. To brag about living your best life on Instagram.
Unfortunately, Lindy is living her worst life. She's trashed, and so openly rude and dismissive to her boyfriend, Jesse, it's humiliating. She keeps making comments about how hot Adam is and how she needs some satisfaction. It's cringe-worthy. At one point, Jesse snaps at her to "Lock it down," which prompts Lindy to launch a full on assault about how unfulfilled she is by Jesse. The other guests and Jenna are paralyzed by the awkwardness and intensity. This gorgeous backdrop spoiled by such an unpleasant scene of domestic discord. Jesse tries to placate Lindy, but she hisses that the fastest way to get her to lash out is by giving her orders. Ouch.
I'm seriously shocked that Jenna didn't start jumping up and down, screaming, "He's my boyfriend – you can't have him!" Or straight up making out with Adam at the dinner table in front of the guests.
TELL US – ARE ADAM AND JENNA OUT OF CONTROL? DID PARKER MAKE THE RIGHT DECISION TO LEAVE? 
[Photo Credits: Bravo]