If you're still sleeping on The Real Housewives of Potomac, please fix your life. This franchise DELIVERS. If you've been paying attention, you know we are in for a whirlwind of a season. All eyes are going to be on "Drag Me" Monique Samuels and Candiace Dillard Bassett. The fallout of that friendship is set to be a major focal point this season. Plus, we are getting a new wife! Dr. Wendy Osefo is ready to school these women.
There's no shortage of Potomac OG's returning this season either. Gizelle Bryant, Karen Huger, Robyn Dixon, and Ashley Darby are all back for another round. Gizelle and Karen have been frenemies for so many years, will this be the season they fix things? Robyn is usually paint dry boring, but maybe she'll step it up. As usual, it seems like Ashley is giving us marital drama with more Michael Darby allegations.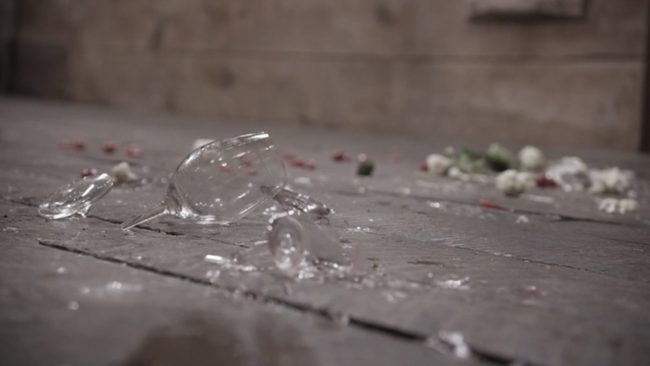 THE OPENING MONTAGE WITH THE BROKEN GLASS IS GIVING ME CHILLS. There is clearly a lot to come in the form of a fight between Monique and Candiace. That's the kind of thing that can tear this group apart forever. How do they even recover from this? One of them won't be back next season, I bet.
They flashback to seven weeks earlier, and we are going to see how we get there. UGH! Give it to me now. It's what I want and deserve. I'm begging!
Monique's baby is so cute! She and Chris Samuels make the most adorable kids. Monique has a new pet bird that I'm obsessed with. I'd never want one though. They're so loud, and it seems like a lot of maintenance. I'm wayy too lazy for that. She literally potty trained it. She is not a real person. HOW?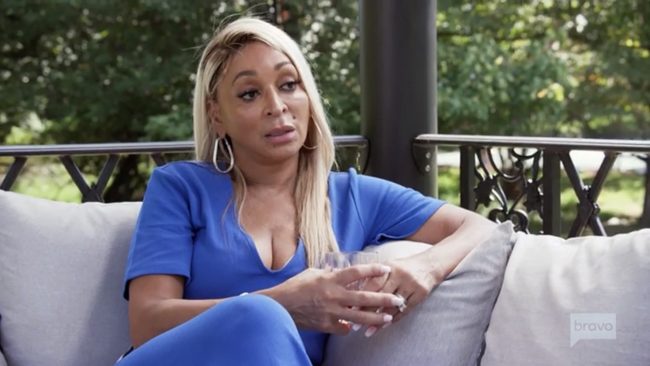 Monique is bringing the bird to Karen's house, which is a little odd. She asks him not to bite Karen's wig. DYING. Could you imagine? I'd pay big bucks to watch that any day.
Karen is finally back in Potomac, so the women can stop coming at her about that. Karen totally loses it over seeing a bird on a leash. I for one am totally dying watching it. I live for Karen's reactions every season.
Karen's fragrance business has taken off, and Ray Huger isn't happy about it. He's barely engaging in any of her events. Monique can tell it's serious because Karen never shares this much about her marriage. I think we've all known for quite some time that her marriage won't last. There's something about them that's always felt a little phony.
Karen vows to fight for her marriage no matter what it takes. I think she's finally become her own woman, and she is seeing a newfound freedom in that. The Grand Dame is taking over!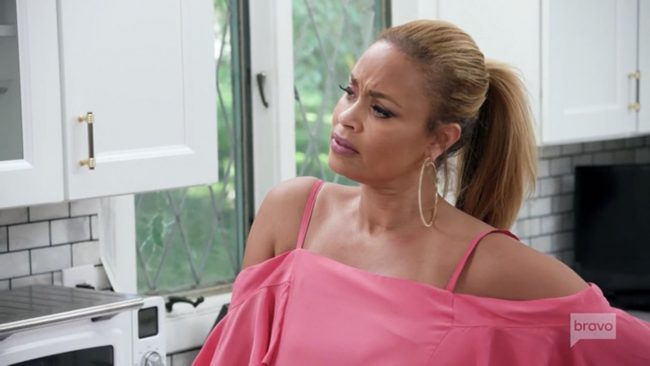 Gizelle's new house is looking fabulous. The decor isn't exactly my own personal taste, but if she loves it then great. I'm all about seeing people THRIVE.
Gizelle is back with her ex-husband Jamal Bryant which is a little shocking to hear. They've been through so much, but Gizelle says they've fixed it. Her relationship life has always been a disaster. It's nice to see her in some sort of  good place with him.
Her daughters are not really into the idea of them getting back together. They've never seen them as a family unit, so it's a little weird to them. They feel like they're fifth wheeling with them.
My parents were never together either, so I don't know how I would've reacted to that. It would've been a little jarring, to say the least. I kind of feel for the kids here.
Gizelle believes in her relationship to give their relationship another go around. He cheated in the past. However, that is a gamble Gizelle is willing to take this time.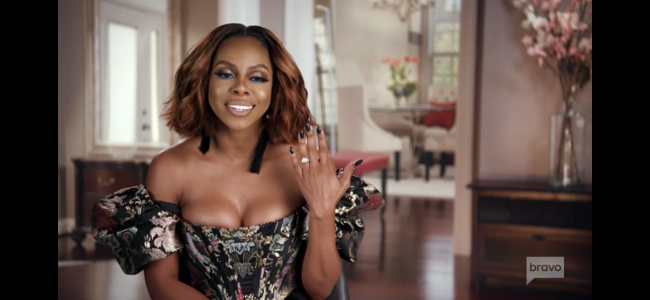 Candiace and Chris Bassett are planning their one-year anniversary party. The theme is denim and diamonds which I'm already intrigued by. It's going to cost nearly $22,000 at the venue they have picked out. Her mother isn't contributing this time, so they need to be practical.
It must suck to have people constantly bringing up her relationship with her mom. Everyone uses it against her. We don't get to choose our parents. It's not Candiace's fault that her mom is a little psycho. Can you believe her mom is a therapist? Who after watching this would EVER go there?
I'm so glad her mom isn't a part of this because she's so damn rude to Candiace. I don't care if you like her or not, but Candiace is majorly mistreated by her mom. She hit her daughter with a purse!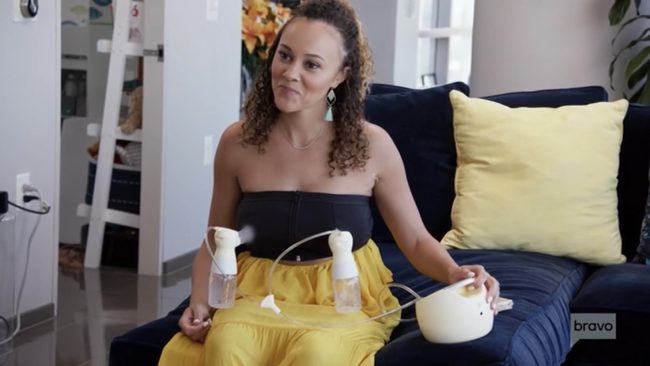 Ashley's son looks so much like Michael that it's creepy. They have the exact same face! Ashley and Michael are in a good place despite all of their personal drama last year. How the charges were dropped against him will forever blow my mind. How did anyone believe him? He looked soooo guilty.
Whatever arrangement they have is probably coming to an end soon. She got the baby she wanted. What else does she need Michael for? I don't mind Ashley, but there's no way this is a legitimate marriage. If it is legit, then they clearly have an arrangement. If that's true, just OWN IT BABY.
Being a new mom has brought a lot of paranoia to Ashley. She thinks every little thing is going to kill him! The world is a scary place, but damn girl relax. I'm guessing it's just a new mom thing.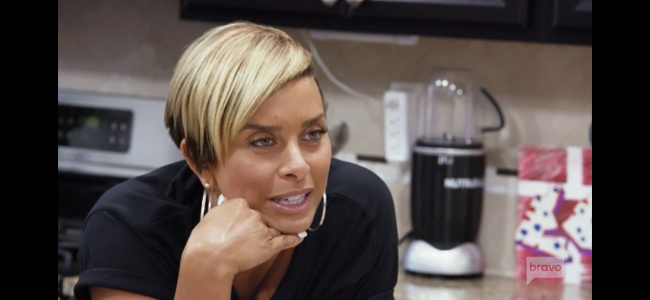 The producer asks Robyn when she and Juan Dixon are going to get married, but she doesn't know. She feels like they're outgrowing their current house and says they need to get married. Juan may think they just need to grow as a couple, but Robyn wants more.
I can't really fault Robyn for wanting more out of her relationship. She's been doing this weird song and dance with Juan for what feels like forever. Eventually, she's going to get tired of waiting for this marriage to happen. Either do it or don't. However, don't drag Robyn along making her think it's a possibility if it's not.
Juan says he's happy with their growth in the last three years. According to Juan, marriage is something he's looking forward to. That's all it takes for Robyn to start shedding tears of happiness. Hopefully, things work out for them this time around.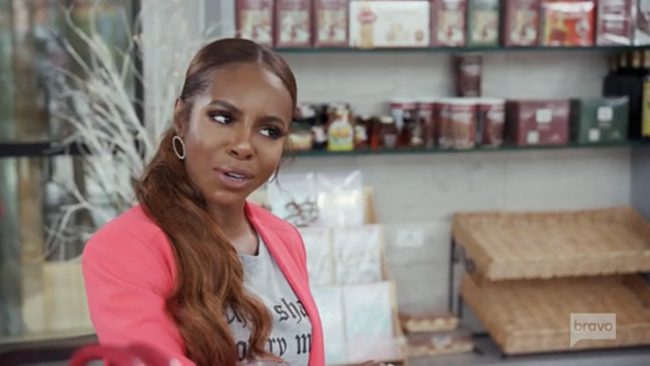 Candiace and Gizelle meet up at a bakery, and these cookies look so good. I'm a sucker for cake, but I'm also a sucker for cookies. I need to accept that I'm a fattie, and I love dessert.
Candiace says she probably would've never taken back Jamal, but she's supportive of Gizelle. Karen's "no comment" and disgusted expression when asked was hilarious. She looked so appalled at the idea.
Gizelle is taken aback that Candiace didn't invite Ashley to her party. Candiace cites Ashley being a new mom and lactating all over the place as a reason for that. TRUE THOUGH. Ashley can stay home with her joey and away from Candiace.
Candiace calls out Gizelle for being a mean girl about her home search. However, Gizelle feels like Candiace hit back too far below the belt. She wants an apology for her less than nice behavior. Oh boy. Drama in the P already!
In some ways, Candiace reminds me a little of Brandi Glanville. She calls it like it is, and strikes back at someone who starts with her. That's all she was doing with her tweets about Gizelle. Don't poke the bear if you don't want the claws.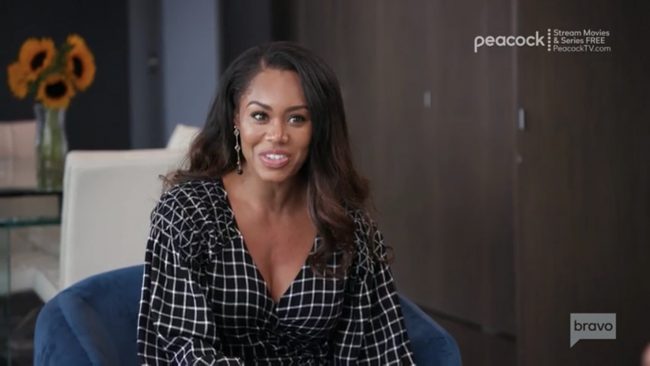 Monique brings baby Chase over to Ashley's. It's crazy to see how far they've come in their friendship. Chase is already potty trained which makes me question my entire life. 9 months is really early for that right?
Ashley calling Candiace a hamster face ho made me laugh more than it should. I'm sorry Candiace, but that's an epic insult. Candiace is the only one out of the group to not reach out after Ashley had the baby. Oof.
If things could get better between Monique and Candiace, then maybe there's hope for them too. I mean probably not, but a guy can dream right?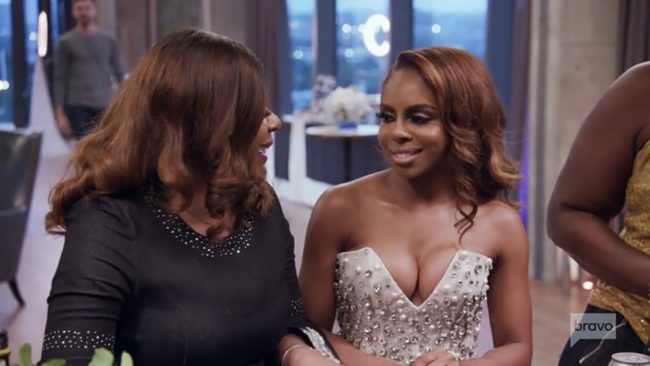 Candiace choosing to have a cash bar at this party isn't going to go over well with these women. Her own mother didn't even like the idea. I get she's trying to save costs, but her guests aren't really going to appreciate this.
We finally meet Wendy at the party, and Karen already knows her and is unimpressed. I guess we know how their relationship is going to be this season.
Monique and Wendy have a lot in common. Their kids are like the same ages. However, given the future rift between Monique and Candiace, this friendship likely isn't going to last.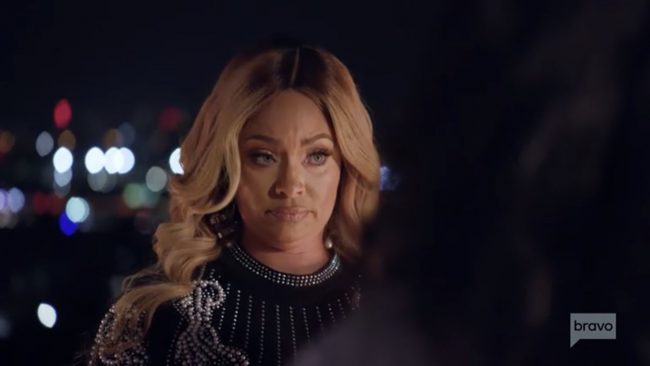 Gizelle arrives next, and Candiace asks to speak to her in private. After the disaster at the dessert tasting, Candiace wants to clear the air. Gizelle tells her to stop talking, so they can have a real conversation.
Gizelle has a point when it comes to Candiace's behavior on Twitter. They're her own opinions, but she shouldn't be shocked that they piss people off. You can only fire back at people so many times.
Monique comes outside and chimes in and talks to Gizelle about her rekindling with Jamal. Given their history, I expected Monique to be a little bit nasty toward her, but that wasn't the case. She seemed genuinely happy for Gizelle and her new change in attitude. Well, she did try to question why Gizelle suddenly needed a man. That was a little shady.
Shout out to Juan for being the only husband to show up. He's wearing a hideous flannel, but at least he's there. Robyn immediately notices Charrisse Jordan being in attendance, which she finds suspect. Is Candiace plotting behind Monique's back here? She knows these two are not in a good place these days.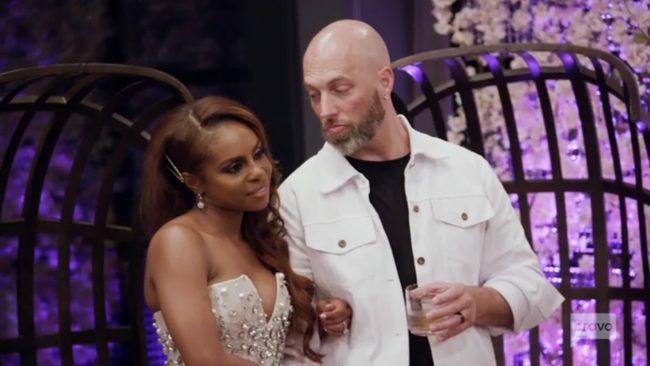 Karen is disgusted with the cash bar. I feel you! Please don't invite me to your anniversary event unless it's going to be an open bar. I'm trying to get my drink on.
Monique refuses to talk about Charrisse. Not at all. No capacity. She has nothing positive to say about the woman who is allegedly spreading rumors about her.
Candiace has Karen speak at her party about marriage. Bad timing! Karen and Ray are going through it right now, so it's not the best time. I'm not sure how open Karen has been with Candiace about that though. Maybe she'd only shared that with Monique.
Check out the Reality Tea Merchandise Store to buy clothes, accessories, mugs, and more!
TELL US – ARE YOU EXCITED FOR THE FIGHT BETWEEN CANDIACE AND MONIQUE? SHOULD GIZELLE HAVE TAKEN BACK JAMAL? ARE YOU EXCITED FOR THIS SEASON OF THE REAL HOUSEWIVES OF POTOMAC?
[Photo Credit: Bravo]