We're headed to Ibiza, baby! That's right. Below Deck Mediterranean is leaving Mallorca behind for the bright lights and unstoppable party of Ibiza. Well, for the next charter, at least. No promises after that because it's not totally clear if we're staying there for the rest of the season.
In the closing moments of last week, we learned the identity of the new second stew: returning yachtie Aesha Scott! Everyone's favorite bushpig from Season 4 is beyond thrilled to be back, even if the entire crew are strangers to her. In fact, the only cast member she knows is Captain Sandy Yawn, whom she envelopes in a huge hug the moment she steps on board. (Personally, I don't know that I would come back after being thrown up on by a charter guest last year. But more power to Aesha!)
As she meets the crew, there's a snap second of awkwardness being introduced to Bugsy Drake. Via confessional, Aesha admits she's still chummy with Hannah Ferrier. Enough to have texted the chief stew when she was asked back. But she still doesn't know the details surrounding the OG's abrupt exit from the series. So apparently Hannah didn't spill all the tea off-camera. Sans her former boss, Aesha's more thrilled about the fact that Johnny Damon and his wife are returning as the next charter primaries.
During the four-hour passage to Ibiza, Bugsy fills her new second stew in on everything that's happened so far this season. And I can't help but wonder: has there ever been more cast turnover on a single season in the entire history of the Below Deck franchise? At this point, there have been a grand total of 12 cast members over the course of 14 episodes. One has quit. Two have been let go. Another is still on the boat but was fired after the fact by Bravo. It's truly been a rotating door and we just got to the midseason trailer a couple of weeks ago…
Next, Bugsy calls her first official meeting with her new interior team. However, Jessica More seems less than enthused. She questions via confessional why she wasn't promoted to second stew, and it's a fair question. But instead, Bugsy informs her that she'll be spending most of the charter in the laundry. After the constant debacle the laundry has been, she wants Jess to show Sandy how it can be done properly. The chief stew is also determined to let her underling shine through her table settings, so…yippee for Jess?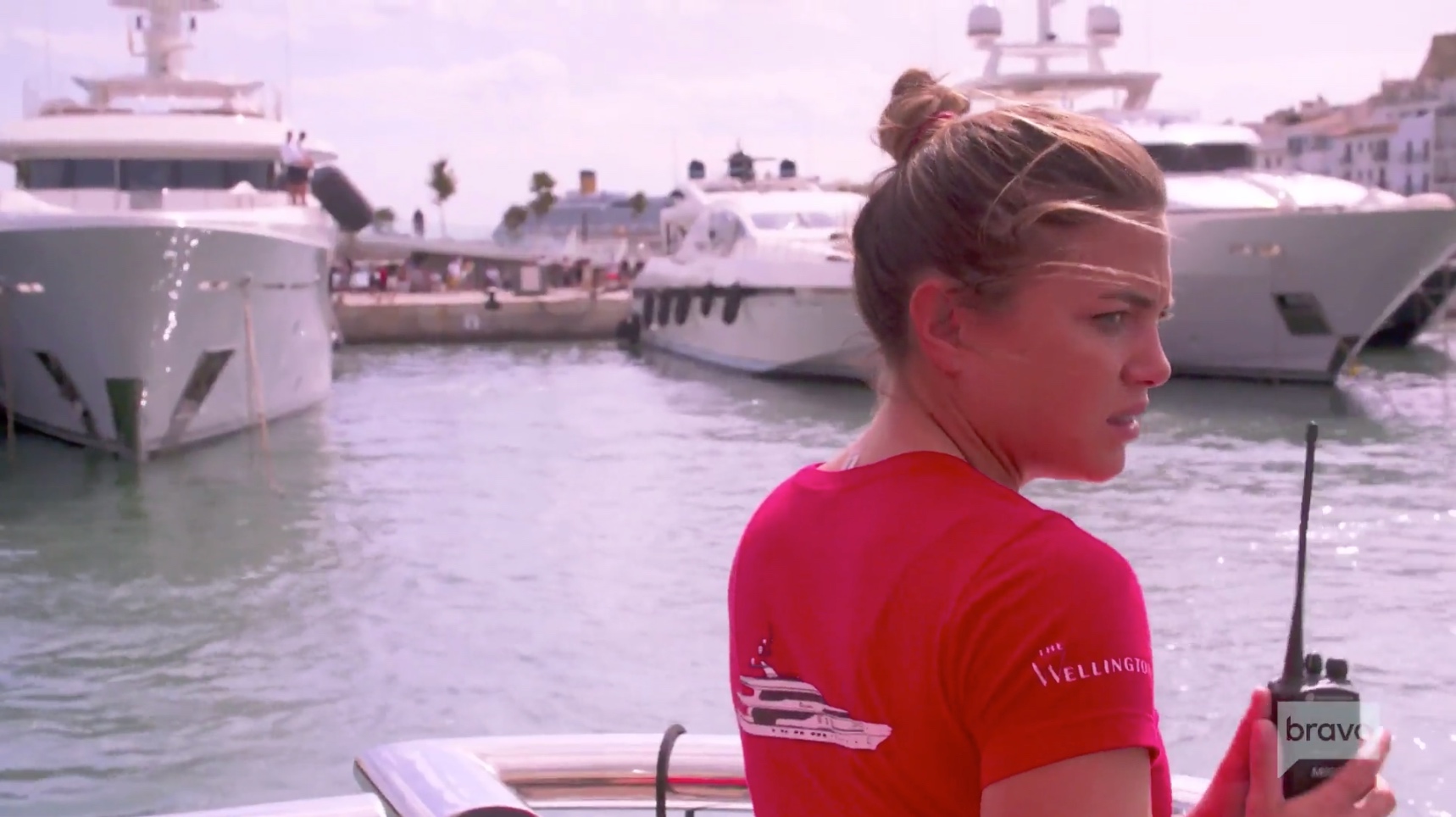 After an insanely tight docking made successful courtesy of Malia White and the deck crew, we're finally in Ibiza and it's charter time. The Damons arrive with their entourage in tow. And while Chef Tom Checketts has to google American baseball, Alex Radcliffe is starstruck by the former Red Sox outfielder. (He's still bitter about Damon leaving Boston for the Yankees, but like Tom, I had to google the athlete's position so…despite living in New York, I'm not really an authority on the Red Sox/Yankees rivalry.)
Five seconds into the charter, Aesha recognizes one of the other guests. It turns out the woman also made an appearance last season, but with the Queen of Versailles instead of the Damons. The stew points out in her confessional that this particular guest doesn't exactly hold her alcohol well. And just like that, the already-wasted woman manages to shatter a champagne glass and slice her hand. Is Aesha going to serve as the voice of the people for the rest of the season? The pressure this charter is mostly on Tom, since last season Johnny complained about all of his meals being cold. However, he hits his first home run with a cutesy baseball-themed lunch. There are whistles and white chocolate and ricotta parfaits frozen into the shape of baseballs. Bugs is even dressed as an umpire!
After the meal, Alex takes the job of protecting the guests from jellyfish while they use the slide. And drama starts seeping into Jessica's relationship with Rob Westergaard. Turns out Rob's ex-girlfriend has been reaching out to him via text and Jess is even less happy with this news than she was for Aesha's arrival. However, the third stew does admit that everyone's jobs seem to be easier ever since Bugsy took over. Hannah didn't deserve to go out the way she did, but there are certainly benefits to, you know, clearer direction from a positive leader.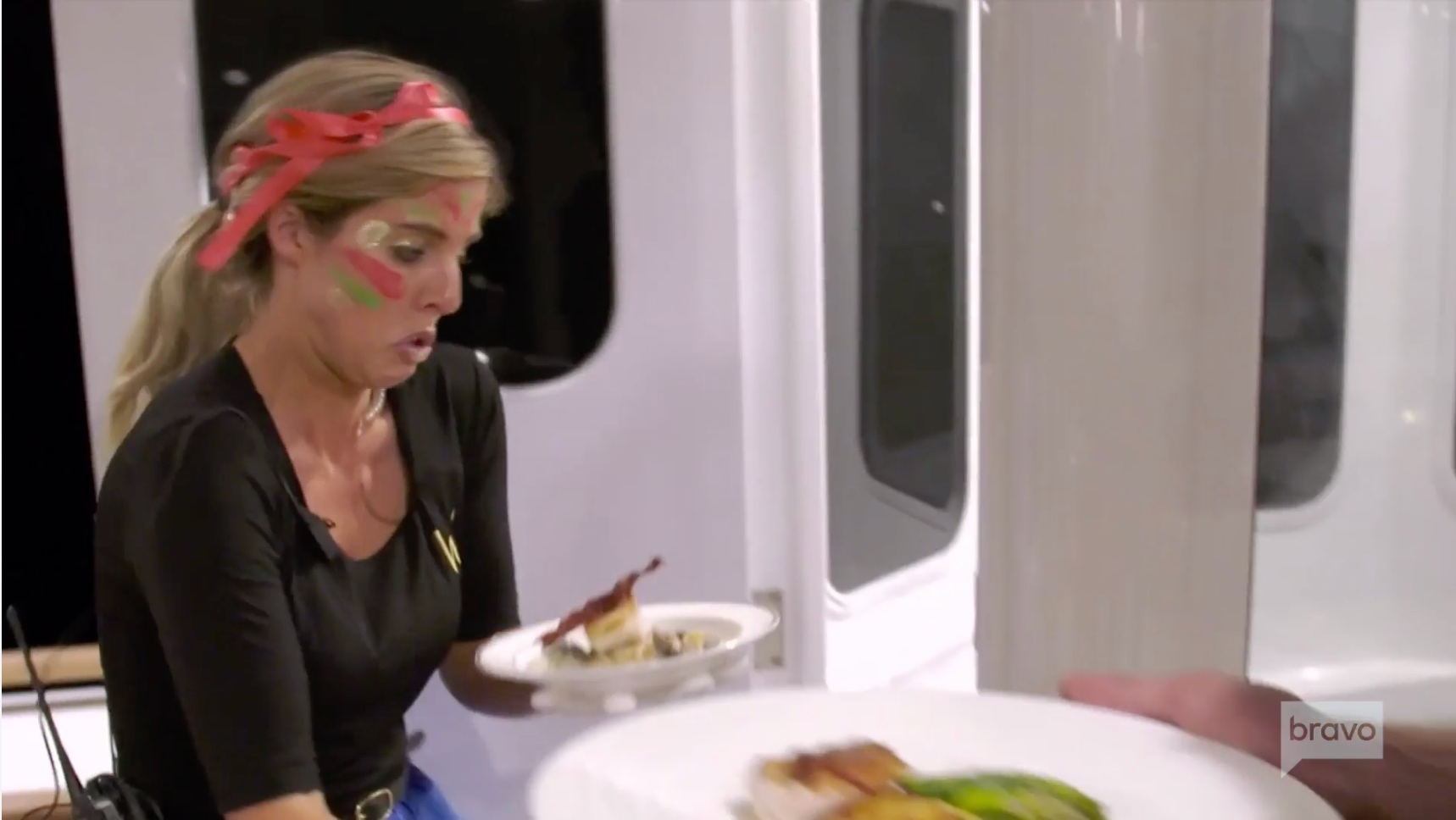 That night, the crew throws a funky neon party for dinner. (That seems like a very loose idea of a theme, but sure OK, run with it…) Rob is still stuck in his head and fully checked out. He even says as much to Captain Sandy in front of Malia, which is an incredibly ballsy thing to admit point-blank to the captain. Despite the neon theme, Johnny complains that his pan-fried cod is "warm, not hot," which like, bro. Get a grip. Bugsy ends up dropping a bowl during dinner service, and an inane drunken fight erupts between guests over Spanx, but all in all it's a relatively uneventful meal.
The next day, things go from bad to worse between Rob and Jess, who admits she's starting to see red flags in her whirlwind romance. Rob complains to Alex on deck, who tries to mediate and talk to Jess, but it doesn't help. Mostly because, while he worked with Jess in the past, our favorite Jersey teddy bear seems mostly to be on his fellow deckhand's side. Which is definitely not what Jess wants to hear when her buddy is telling her not to turn the relationship drama into such a big deal.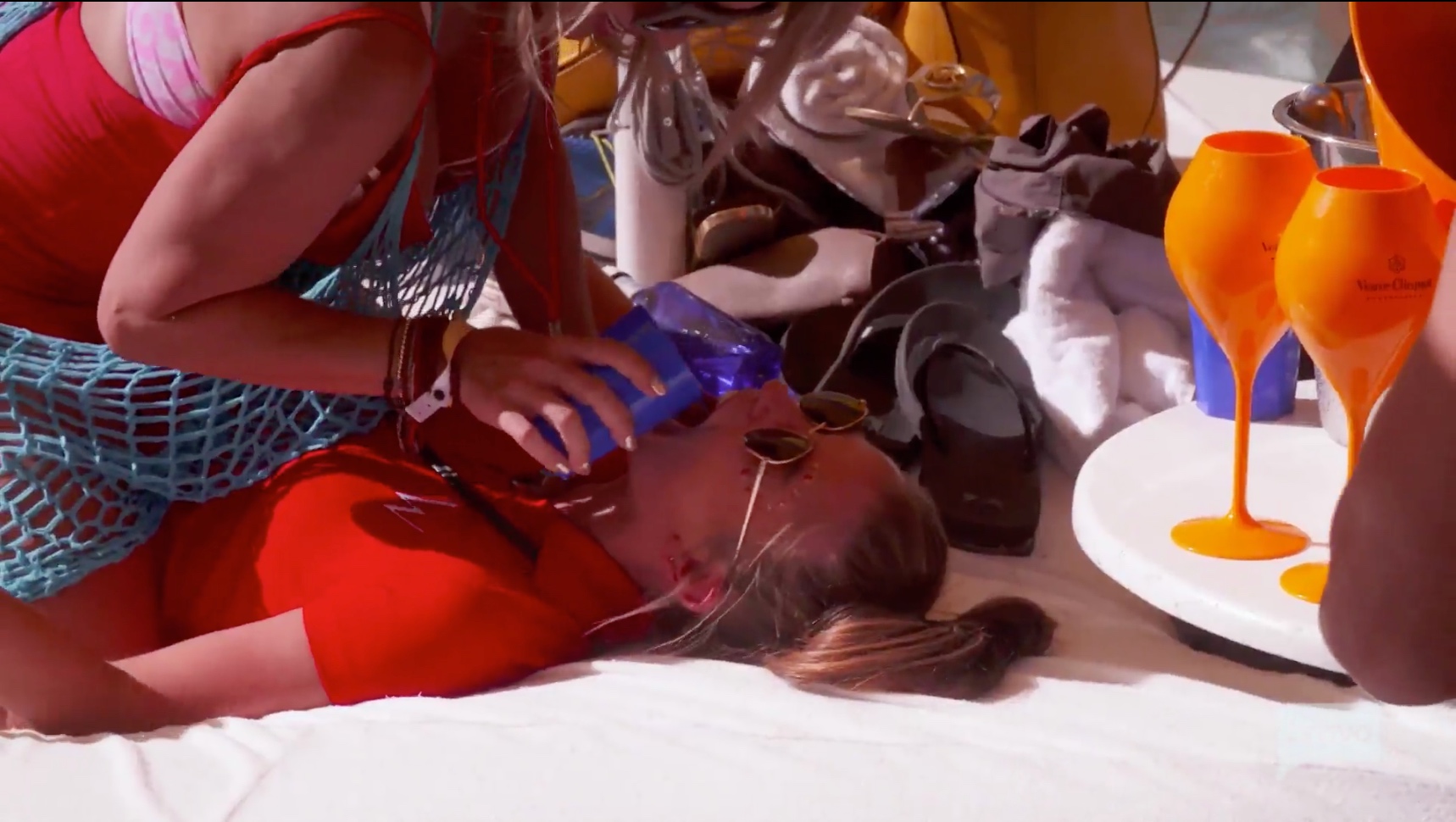 Meanwhile, Bugsy informs Aesha that she's being rewarded for her one day of work by going ashore with the guests to a beach closing party. (Pete Hunziker is going too, but since we don't talk about him anymore, it's not mentioned in the narrative.) Naturally, Aesha is thrilled and immediately makes a crude joke about smuggling shots up her lady parts. There's the Aesha fans remember from Season 4! I knew it wouldn't take long for her to jump out and say something off-colored and shockingly unprofessional!
While Aesha and Creepy Pete are at the party, Sandy lets the rest of the crew play on the water toys. This gives Alex the chance to have a sweet heart-to-heart with Bugsy while riding the Sea Doo. You guys, I just want Alex to be happy, OK? The levity is dashed, however, when Jess starts grabbing for her heart, complaining it's wildly palpitating. Of course, Rob is napping on break while this happens, and the episode abruptly ends, so we'll have to wait until next week to find out if this is a real medical emergency or just an excuse at a weak cliffhanger capping a filler episode! (My guess is the latter.)
Check out the Reality Tea Merchandise Store to buy clothes, accessories, mugs, and more!
TELL US – WHAT DO YOU THINK OF AESHA'S RETURN? WHOSE SIDE ARE YOU ON IN ROB & JESS'S RELATIONSHIP DRAMA? IS THE BOAT RUNNING SMOOTHER NOW THAT BUGSY IS IN CHARGE?
[Photo Credit: Bravo]