How is it possible that this season of The Real Housewives Of Potomac is coming to an end? What a stellar season it has been. Top notch television from beginning to end. The fight between Monique Samuelsand Candiace Dillard Bassett changed everything though. There's been a divide ever since, and that tension is about to boil over on this finale. It's time for the men to get in on the action I suppose. Michael Darby, do your thing.
Candiace is questioning her friendship with Karen Huger now. At one point does straddling the line between two fighting friends become shady? Should she have to pick a side? Candiace certainly thinks so. After feeling set up at Karen's wig party, it will be interesting to see where the two of them go from here. The damage is done because TRUST is broken.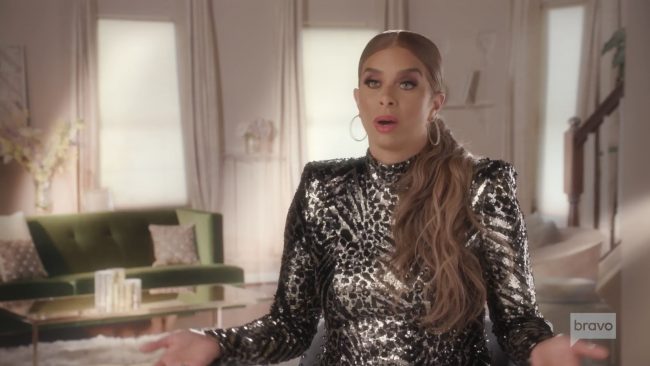 Robyn Dixon is throwing a holiday party, and all of the women (sans Monique) are invited! She might take "deck the halls" too literally, so that's a good idea. Nobody wants violence putting a damper on the magic of the holidays.
What Robyn doesn't know is this holiday party is where Juan Dixon plans on proposing. The big moment is finally here! Hopefully Gizelle Bryant can keep her mouth shut, so Juan can pull the surprise off. Word on the street better not be about this proposal. Zip it.
Monique meets with her therapist, which is a good thing. If she truly blacked out that night at the barn, she needs someone to help her work through those emotions. I don't want to hear her complaining about the assault charges because she made that bed. Lay in it.
My heart goes out to Monique for the feelings of isolation she's experiencing. That's a feeling that nobody wants to deal with. HOWEVER, give us all a break. You crossed a line and took things physical in an argument. No excuse for that.
Monique's therapist asks her to write a letter to Candiace about the experience. After everything she's been through though, Monique says she isn't sorry for defending herself. Of course she's not.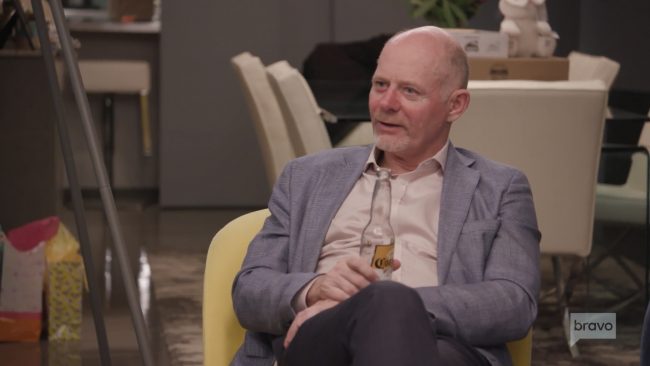 Ashley Darby says things in her marriage have been a lot better since the family meeting. I know she believes this, but let's get real. Michael will f**k up again. He always does. Like clockwork, Michael finds a way to embarrass Ashley and the entire family. He cannot help himself.
Apparently stepping up to the plate means doing what fathers are supposed to do. Be proud because that's life goals right there. Doing the bare minimum is the new gold star.
Ashley tries telling Michael about the events of the wig party, but he has zero sympathy for Candiace. He has no interest in interacting with her husband Chris Bassett either. No love lost between all of them because of everything that's transpired.
Michael hops on some bizarre conspiracy train and tells Ashley that Juan isn't proposing to Robyn. What is he trying to insinuate? The last person Juan would ever confide in about his plans is Michael. After the weird sausage sucking allegation from last season, I'd imagine Juan wants to keep his distance.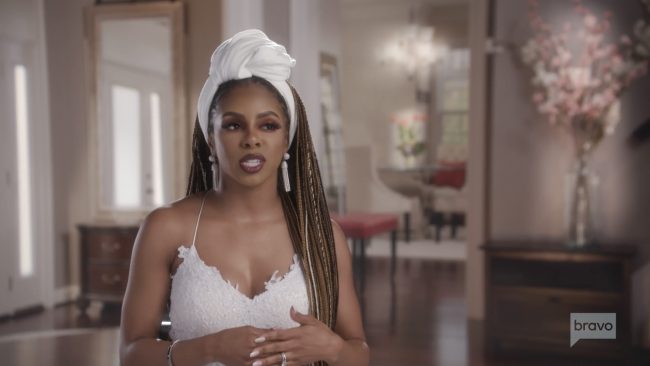 Candiace is in a place now where she doesn't know if she trusts Karen anymore. The wig party put a lot of things into perspective for Candiace regarding that friendship. I just feel like Karen needs to be more upfront about where she stands. It's fine if she wants to be friends with and support Monique. Just be forthcoming about it.
Candiace and Chris are on the hunt for a new house! Let's pray her momma isn't financing this thing. This grown woman needs to spread her wings and fly into adulthood. Pay for that house yourself.
Karen is heading to HSN to sell her fragrance! We love to see her flourishing with this company. Everyone doubted her and if she could succeed, but the Queen is on her throne raking in that coin.
On the subject of if she set up Candiace at the wig party, she continues to vehemently deny any accusations. It did look a little sketchy. If Candiace really was originally supposed to come earlier than she did, that would have increased the odds of an interaction. Uncool.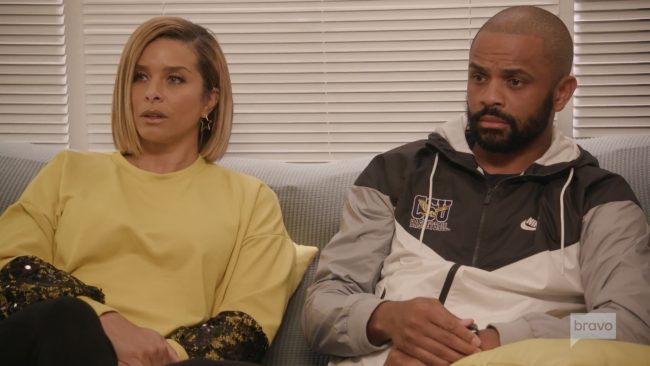 In counseling, Robyn and Juan are tasked with discussing the first iteration of their relationship. It's a romantic story of young lovers, but we all know it wasn't all strawberries and motherf***ing rainbows. During the early days of her childhood, Juan wasn't hands on at all with the kids.
It's refreshing to hear Juan own up to his mistakes and his missteps as a husband and father. Robyn says filing for divorce from Juan was one of the most difficult decisions she's ever made. With Juan on the road all the time, she has her hands full with two babies at home. I hope this time is different for this couple. He's owning it more than ever, so I have hope.
Watching Juan get emotional talking about his past failures is a great sign for the two. He admits he was getting emotionally involved with other women, and Robyn starts crying. I know it's painful to hear, but it shows a lot of self growth that he's able to own his s**t. Not everyone can or is even willing to do that.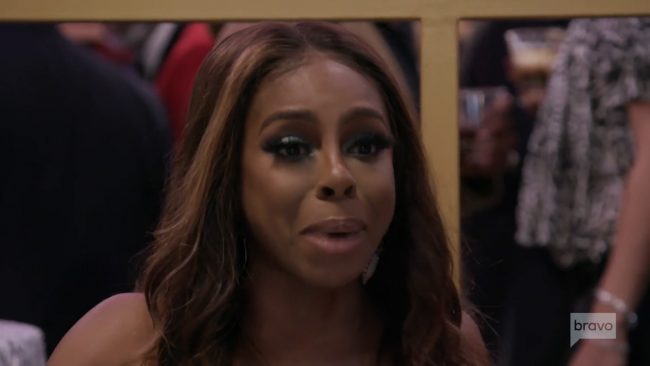 Of course, Jamal Bryant won't be attending the holiday party because he lives in her phone. It feels like a desperate ploy to have a storyline. A poorly executed one at that because the man is practically invisible in her life.
Karen says she isn't coming to the party because of mechanical problems on her plane. That's a blatant lie that isn't fooling anyone. She isn't coming because she doesn't want to face any questions about her wig party. Karen thinks she's above the fray and never has to address any of the pressing matters. That's not how this works. Show up, and own your stuff.
Candiace is going to perform at the party which is setting herself up to be ridiculed by the other women and Michael. Her singing can be good at times, but doing it around this group is a bad idea. That being said, the I See You remix is such a bop.
Michael is already wasted, and this party is just getting started. That's about to set the tone for how this event is going to end. His actions have Gizelle thrown off as well once she learns he's questioning if the engagement is happening or not. This man is forever a total mess. Ashley shouldn't let him out in public. It's embarrassing.
Gizelle starts to spiral when Michael says Juan is acting like tonight is NOT the night for the proposal. To me this is just Michael being drama and stirring s**t up. He should get an honorary Housewife award. He's had more drama this season alone than half of the cast. Someone get this man a champagne flute ASAP.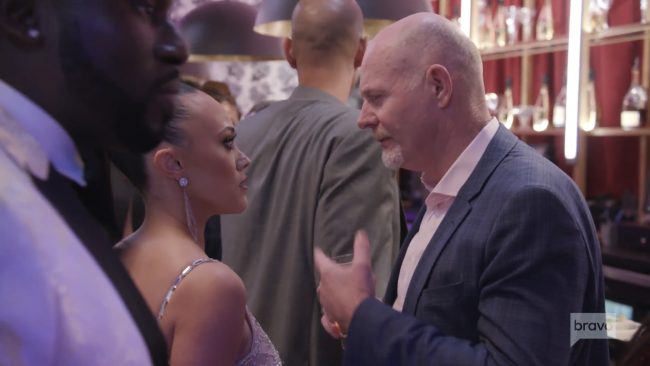 To say Candiace's performance was a disaster is more than an understatement. There's no music in the background really. The microphone is almost mute. WHAT IS HAPPENING.
Thankfully the sound system fixes itself, and Candiace delivers like only she can. Monique could NEVER. Cut me some slack in the comments for that dig. I couldn't help myself.
OMG I AM SCREAMING AT JUAN GRABBING THE MIC. SCREW YOU MICHAEL IT IS SO HAPPENING. FINALLY. Bryce, stop with the all caps. I CANNOT HELP IT. All of the women lose their s**t just as much as me, and this is the most perfect moment.
In the most dramatic fashion, Karen arrives to the party in full fashion. What happened to the mechanical issues? Tell us everything.
Robyn tells Karen to her face that they felt she made up the plane issues to avoid talking about the wig party. Karen does admit though to asking Candiace to come early to the party. If Candiace had shown up at the earlier time, she absolutely would have run into Monique.
Karen knew exactly what she was doing because SHE JUST DID. I'd respect her a million times more if she would just own up to her sketch behavior. Speak your truth, and let your true colors out.
Candiace and Karen break into an argument over Monique because Karen was talking about "the truth".  Before that fight can fully escalate, a new fight breaks out between Chris and Michael. HERE WE GO. A major Michael Darby dramatic moment? Gasp. NOT MICHAEL. No way. Eye roll.
It definitely looks like Chris puts his hands on Michael to get him away from him. The entire thing smells like a setup. Michael knew exactly what he was doing when he went over to Chris. He didn't even push Michael. He stuck his arm out and walked forward to get creepy Michael out of his space.
Michael keeps shouting that Chris is going to jail. Michael ends up pushing Juan in the process of the fight being broken up. What a gross display from a man who has his hands dirty every single season. What a way to end the season!
Just when it looked finished, Michael starts freaking out on the producers over everything. Ashley tries her hardest to calm him down, but he's like total trash. Ashley please leave this man. Sadly she doesn't, and they're expecting their second child. I'm starting to feel zero percent sorry for her at this point.
I don't even want to comment on the way Monique laughed at the end of the episode about the attack. Someone saying to "drag" them doesn't actually mean they're literally asking for a physical attack. Let's make that clear.
TELL US – TEAM MICHAEL OR TEAM CHRIS? IS KAREN SHADY TO CANDIACE? WHO WOULD YOU LIKE TO SEE BACK NEXT SEASON ON REAL HOUSEWIVES OF POTOMAC?
[Photo Credit: Bravo]