Tonight on The Real Housewives of Orange County, we finally met the real Elizabeth Lyn Vargas. No more half-truths. No more gag orders. And no more hiding behind claims of being the "richest bitch in Newport." No, this week, the newbie laid bare her past and a lifetime of hidden trauma for the Bravo cameras. And if I do say so myself, the whole thing was pretty dang riveting. (But maybe that's just because I have a deep, deep fascination with cults?)
That's right, Elizabeth grew up in a cult. Which she revealed to Braunwyn Windham-Burke last week on a walking path in Lake Arrowhead. All before promptly breaking down into a full-blown panic attack on said walking path. Which, can you blame her? Surely, sharing such a deep and painful secret was not exactly what she had in mind when joining a show about, well, being one of the richest bitches in Newport.
Though they're now very much on the outs, it seems Braunwyn was the absolute right person for Elizabeth to open up to about her secret. Braunwyn is empathetic, kind and walks the rookie 'Wife down from her panic attack with some classic grounding techniques. Once she's calmed down, Elizabeth shares even more details about the cult. Which is great because honestly, I need to know EVERYTHING. From birth to age 13, the Housewife grew up on a commune in the Ozark Mountains. The cult controlled everything about its members' lives, from what they wore (uniforms) and ate (whatever the church hunted) to where they went and how they spent their time.
Elizabeth's grandmother was the leader of this church. Her father was one of the main preachers. So it sounds like they weren't just innocent bystanders swept up in the cult's control as unsuspecting members. However, the one thing Elizabeth doesn't reveal is the name of the church. Instead, she jokingly tosses out that it was raided by the FBI after she told a neighbor boy what was happening and that Braunwyn can Google it if she wants. Via confessional, Braunwyn admits she feels terrible for ever digging into the petty parts of Elizabeth's past. In the grand scheme of this trauma, it hardly matters whether Elizabeth is renting her home or has a separate condo for her clothes. (But seriously, I'm curious to know the name of the cult.)
The women meet up with Kelly Dodd and Gina Kirschenheiter, who are none the wiser to what's just happened. In fact, they've been busy learning how to fish. But now that the bandaid has been ripped off, Elizabeth just decides to go for it. When Gina confesses she has a hard time understanding Elizabeth, the newbie everything about the religious abuse she suffered growing up. This time, she also mentions the years and years of childhood sexual abuse at the hands of numerous men in the cult. And the only reason she got out was because she told the little boy next door, thinking that kind of abuse was just what adults did to kids. That it was normal behavior.
After the rest of her family escaped, the newbie's father disowned her. They never reconciled before his death. And Elizabeth has spent the rest of her life feeling guilty for displacing her family and, basically, causing all the trouble. I'm no expert, but this kind of misplaced guilt is an all-too-common trauma response. It can manifest itself as lifelong PTSD. Or as Elizabeth feeling like being born into a cult is some sort of weakness or flaw. And it's not. At. All. My heart broke hearing Elizabeth ask Braunwyn if this big secret made her think any differently about her. Because none of this was Elizabeth's fault. In her young innocence, she saved her family by confiding in that boy. And my heart hurts watching her carry so much pain for so many years. Hopefully sharing her story is the first step in a long road to real healing.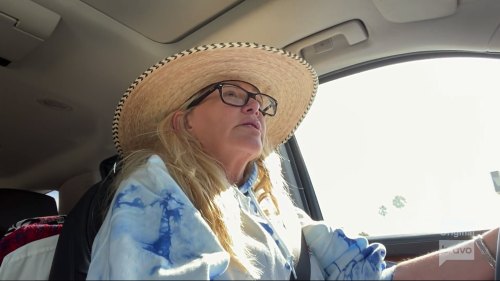 In other news, coronavirus continues to wreak havoc on filming. Now that Shannon Beador's tested positive, she's faced with the prospect of being apart from John Janssen for the first time in a year. Which is, naturally, something she's not happy about. Plus, she now has to quarantine for two additional weeks. At her own house. With her girls, who are already midway through their recovery. Shannon's even less thrilled to arrive home and discover the teens have been, well, teenagers while they've been left unattended. Meaning the laundry hasn't been put away, the house is a mess, and god forbid, Stella sprayed perfume somewhere in the house. Hearing Shannon lose it on her girls while filming the whole thing with her iPhone is just nothing but unpleasant to its core.
Meanwhile, after an eight-day hospital stay, Shane Simpson finally comes home to Emily Simpson. This whole experience has given Emily a new outlook on her marriage. Even if Shane almost immediately falls back into his crotchety ways after returning from the hospital. One thing did bother me though. Did any of the 'Wives even bother to check on Emily while they were away? We saw them calling and FaceTiming Shannon constantly from Lake Arrowhead. She was a topic of conversation at multiple meals. But not even once did anyone call Emily, whose husband was literally on oxygen in the hospital, on camera. Not even her BFF Gina. Is it just because Shannon is more high-maintenance and thrives in a medical crisis?
Cut to one week later. The women are all back in the OC. Via FaceTime, Kelly spills the tea to Shannon that Braunwyn's claiming she encouraged her to dig up dirt on Elizabeth. Surprise, surprise, Shannon is aghast at this accusation and vociferously denies it. But here's the thing: all the other 'Wives seemed pretty much on the same page that Shannon was behind the gossip. Gina was even the one who brought up Shannon's name in the first place. And no one seemed particularly surprised. Gina even claimed she bailed on the first socially-distanced filming event because Shannon called and told her she didn't want to miss everything Braunwyn had found. So it sounds to me like Shannon's pretty clearly orchestrating everything behind the scenes while wanting to keep her hands clean…Perhaps the veteran doth protest too much?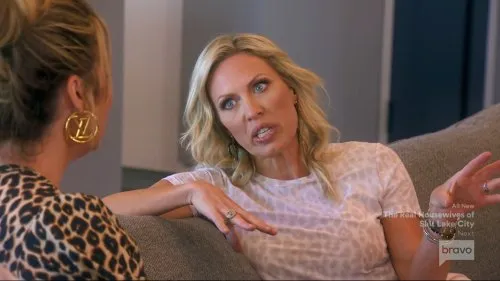 Finally recovered from COVID, Emily heads to Braunwyn's house for a much-needed catch-up. And fairly quickly, Braunwyn reveals that things have gone from bad to worse in the Windham-Burke household. At the very least, she can't say things are good between her and Sean Burke. Especially with this new dynamic happening with her best friend Shari. Sean is jealous Braunwyn's leaning more and more on her pal, and less and less on him. They even took an off-camera trip to decide if they were going to stay married or not.
This is all news to Emily, who asks point blank what the real issues are between the couple. Braunwyn reiterates that her sobriety changed the dynamic of the relationship, but won't go further than that. Except to admit that she's unhappy with this picturesque suburban life she's constructed. Oh, and that Sean isn't exactly the star of her fantasies these days. Either way, Braunwyn seems about ready to pull the rip-cord. Major changes are on the horizon, and it will be very interesting to see how much of Braunwyn's new reality gets caught on camera…
TELL US – WHAT DID YOU THINK OF ELIZABETH OPENING UP ABOUT HER PAST TO THE OTHER REAL HOUSEWIVES OF ORANGE COUNTY? IS SHANNON PULLING THE STRINGS BEHIND THE SCENES ON REAL HOUSEWIVES OF ORANGE COUNTY? IS BRAUNWYN BEING OPEN ENOUGH ABOUT THE PROBLEMS IN HER MARRIAGE?
[Photo Credit: Bravo]