Ahoy yachties! Welcome to Season 2 of Below Deck Sailing Yacht! Just one week after closing out Season 8 of the flagship franchise, we're headed to Croatia aboard Parsifal III with Captain Glenn Shephard. Who is just nothing but a Canadian sweetheart and probably my favorite of the three Below Deck captains. And I promise that's not just because of my obvious bias because we share the same name. He really is the best. Croatia, as a location, is also the best. And if the last time we were here is any indication (for Below Deck Mediterranean's iconic second season), we're in for quite a ride.
Personally I'm thrilled to be covering Season 2 because I know a lot of people may have slept on Season 1, or didn't it a chance. I didn't watch it at first either. In fact, it was actually my very first binge of quarantine. Which is insane to think about now that it's officially March and we've been doing this for a year now. But needless to say, I fell in love with the show. And it opened the door to me spending more time than I'd like to admit during the last year revisiting past seasons of both Below Deck and Below Deck Med as a way to escape and self-soothe during the pandemic.
In addition to a new location, we also have a completely new crew! And uniforms! They're orange now. On one hand, that's a bit surprising considering Captain Glenn's close relationship with Paget Berry and Ciara Duggan, last season's first officer and female deckhand who are now happily engaged. On the other, it's great. Because quite frankly, no one — and I mean no one — needed another season of Jenna MacGillivray as chief stew. That was a huge casting misfire if I ever saw one. Let's face it, she was certainly no Kate Chastain or Hannah Ferrier. I will miss Adam Glick and Madison Stalker, though the former seemed to be quite done with his days in yachting after last season on Parsifal…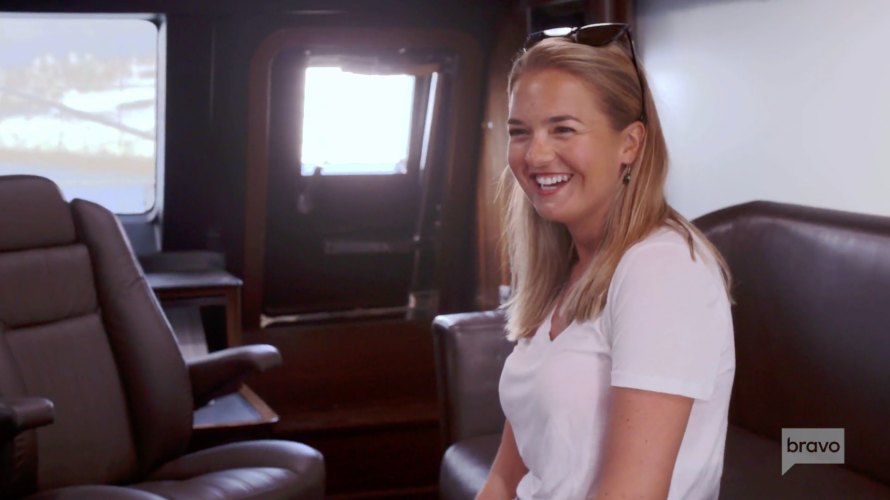 Instead, we've got Daisy Kelliher, a third-generation Irish yachtie, as the new chief stew. The sunny blonde comes from a long line of sailors. Her grandpa even competed for Ireland in the Olympics back in 1964. So there's definitely pressure on her to live up to her legacy. For Ireland! We also have a female chef in Natasha De Bourg, which is always great to see. (Crossing our fingers the Trinidad native is more Anastasia Surmava than Mila Kolomeitseva.) Rounding out the interior is second stew Dani Soares from Brazil and third stew Alli Dore from Melbourne, Australia.
The deck team this season will be led by first officer Gary King, whose lion's mane of hair will surely be shaken a million times this season in his confessionals. (For the record, I'm not sure why Sailing Yacht has first officers instead of the bosuns we've come to expect in other iterations of the franchise. After recapping multiple seasons and watching even more, it's almost hilarious how little I know about actual yachting.) He's joined by Jean-Luc Cerza Lanaux, a 6′ 7" junior deckhand with a massively heinous back tattoo and Sydney Zaruba, the lone female deckhand from the exotic land of Fort Lauderdale, Florida. There's also chief engineer Colin Macrae, because in the Below Deck Sailing Yacht world engineers are part of the show. For the record, I like his long locks better than Gary's.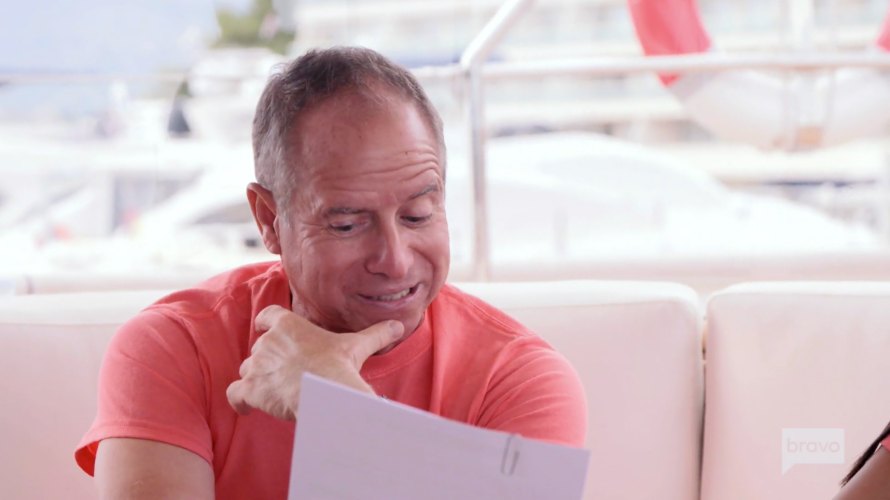 The first day on board is filled with introductions, preparations and lots of organizing to get the boat charter ready. Captain Glenn sets the ground rules for the season in the first crew meeting. But he's really hands off and easy-going. Especially compared to some of his micromanaging counterparts in other series. The crew cabins on Parsifal III are much more cramped than on a motor yacht, with three of the female crew bunking together and Gary sharing a room with Captain Glenn. See? Down-to-earth! Tell me another captain would ever share a cabin for an entire season.
Glenn also holds the first preference sheet meeting with Daisy, Natasha and Gary. It all seems fairly standard to kick off the season. Except one thing. One of the guests is vegan! Like, so vegan that she refuses to have any meat on board. Not even for the other guests who, you know, aren't vegan. But I guess they can have seafood? While this seems more than a little inconsiderate to the other guests' dining preferences, it's no problem for Natasha, who appears to be very no nonsense. She's happy to cook whatever the guests request. Just get out of her way, let her do her job and keep the hysterics to a minimum, thanks.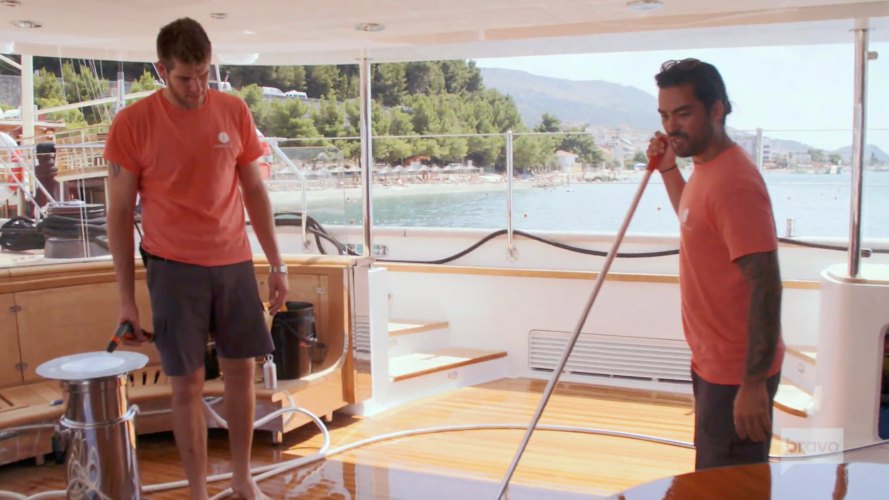 The other issue with the bunks is that poor Jean-Luc simply does not fit in his bed. At 6'7", the deckhand happens to be a full seven inches taller than the bed frame's length. Remarkably, he claims this has never happened before on any boat he's worked on. But it means he barely gets any sleep the first night. Is Jean-Luc not going to sleep all season?? The next morning, he's exhausted. And makes the first blunder of the season.
Cleaning down the deck, he grabs a bottle of solvent…and inadvertently pours gasoline all over the deck. Twenty minutes before the guests are set to arrive. Oops. It turns out not to be entirely Jean-Luc's fault; someone had put gas in a cleaning bottle. But not a great way to make a first impression. Thankfully, the crew frantically gets the spill cleaned up thanks to the magic of oil absorbers with just four minutes to spare.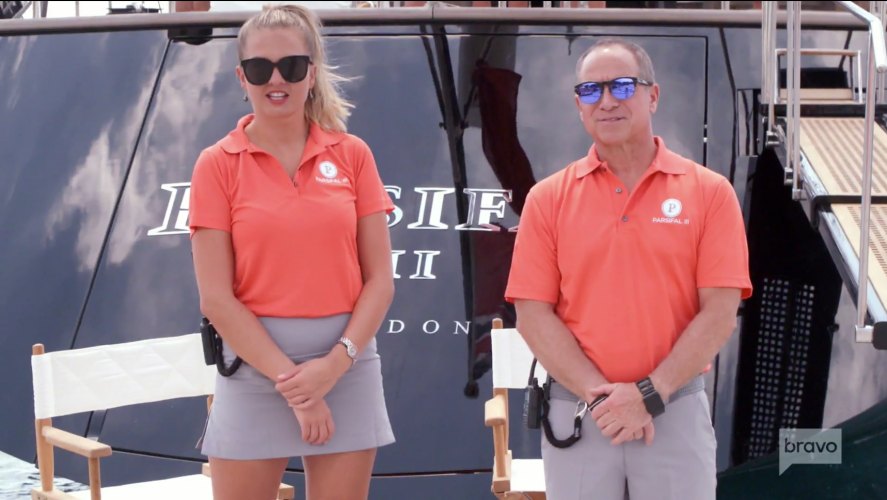 The crew changes into their also-orange polos just in time for the charter guests arrival. As they greet the crew, Glenn explains how this season works. Turns out, the guests have to undergo a full quarantine between arriving in Croatia and boarding the boat. And I assume lots of rigorous coronavirus testing. We're basically filming the show in a self-contained, COVID-free bubble. And the crew, who are all single, won't be able to leave the boat off-charter either.
After a quick tour, we're off and the first charter has begun! And also as soon as Parsifal leaves the marina, Captain Glenn cuts the engines and raises the sails for the first time. He even lets Sydney steer while the interior rushes to stow everything below deck. Honestly, it will never not be so cool to see the sailing action take place. It's breathtaking and part of what makes this iteration of Below Deck so unique and fascinating.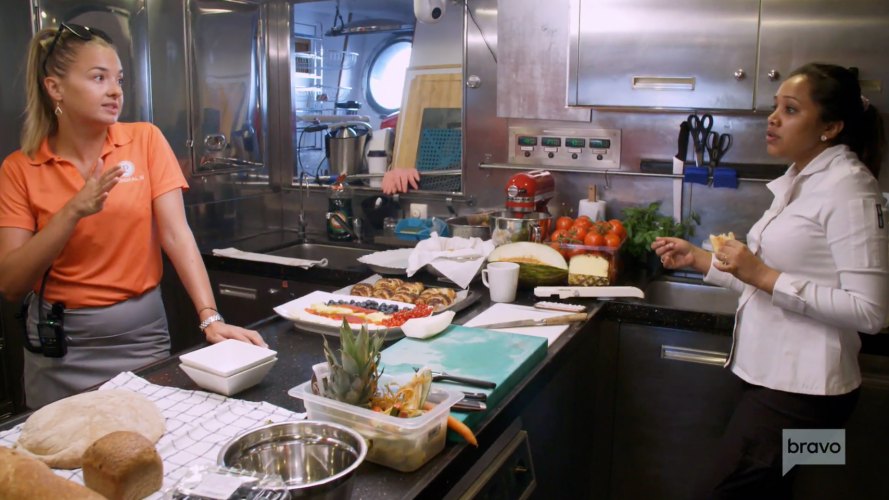 Sailing to Stipanska Bay, Natasha serves her first dinner of beetroot carpaccio and tuna tartare. Somehow it's suddenly 8 p.m. Dinner is well-received; Natasha gets her first gold star of the season. But by 9 p.m., most of the guests are hammered, with one chasing Daisy around while playing a harmonica. It was supposed to be a celebration of the female primary's dad, who recently passed away. But everyone else is so drunk and obnoxious that she storms off and goes to bed in a huff.
The next morning, it's time for a reset. Though a tiff emerges between Daisy and Natasha over breakfast. The guests would rather sail all morning than have a proper sit-down meal. But Natasha's already been prepping and doesn't take too kindly to finding out Daisy hasn't even set the table. Which, to Daisy's credit, wouldn't make much sense if they just have to stow everything to sail. But Natasha isn't keen on serving breakfast in the guests' hands. Eventually Daisy gives in. They're sitting down for breakfast before sailing. But all I can think is that it's 7:30 in the morning and there's already a disagreement…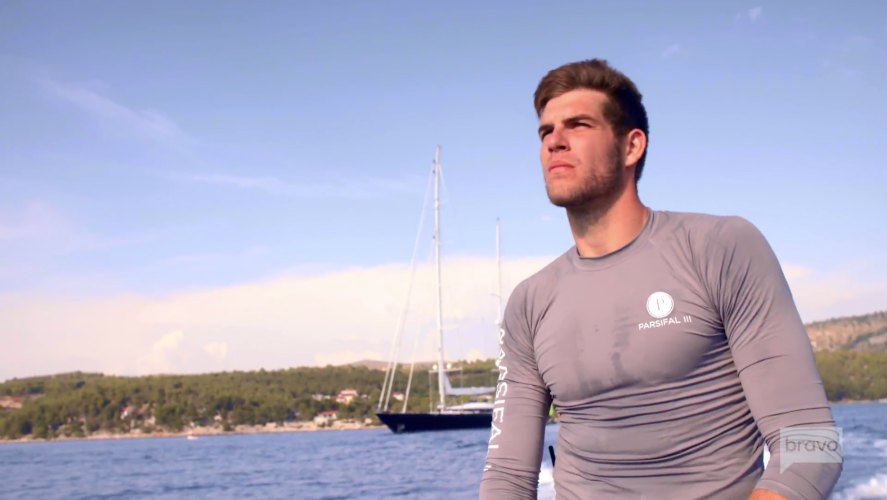 After breakfast and a lively morning sail, dolphins appear off the port bow. Meanwhile Gary reprimands a sleeping Jean-Luc for not polishing the entire boat during his six-hour late shift. Four miles from Stipanska, the boat anchors in Livka for an afternoon of swimming and water toys. Now awake, Jean-Luc is put in charge of watching the guests paddleboarding. (Crew eyes always need to be on guests in the water.) But instead he gets distracted chatting with the female primary, who wants to set him up with her oldest daughter. And suddenly, the paddleboarders are nowhere to be found.
At the same time, Gary's in the crew mess complaining to Daisy about Jean-Luc. It looks like our giant deckhand is earning the label of weakest link on deck in the first officer's eyes. Though Daisy's quick to point out he's not sleeping on account of the bunk issue, which Gary acknowledges is kind of a massive problem. But the episode ends with Jean-Luc out in the tender, shouting the guests' names as he frantically searches for them. This doesn't look good, Jean-Luc. It doesn't look good at all…
TELL US – WHAT DID YOU THINK OF THE BELOW DECK SAILING YACHT PREMIERE PREMIERE? WHAT WERE YOUR FIRST IMPRESSIONS OF THE CREW? WILL DAISY AND NATASHA CONTINUE TO CLASH? WILL JEAN-LUC CUT IT THIS SEASON ON BELOW DECK SAILING YACHT?
[Photo Credit: Bravo]