You know drama is going down when The Real Housewives of New Jersey head to the shore. This trip is going to be the first time Jackie Goldschneider & Teresa Giudice have seen each other in quite some time. They've been separated since Jackie used the idea of Gia Giudice snorting cocaine as an analogy. Why would she ever think that would be a good idea? Teresa's not the type that comprehends something like that.
The rumor about Evan Goldschneider was tasteless and brought up with ill intention. That much is true. However, how long can they drag this out? Jackie needs to either let it go, face Teresa, or leave the show. All of the avoiding got old about three episodes ago. You can't go around to everyone about how horrible it is if you're not going to stand up to the person saying it. This trip is about to go down in Real Housewives Of New Jersey history.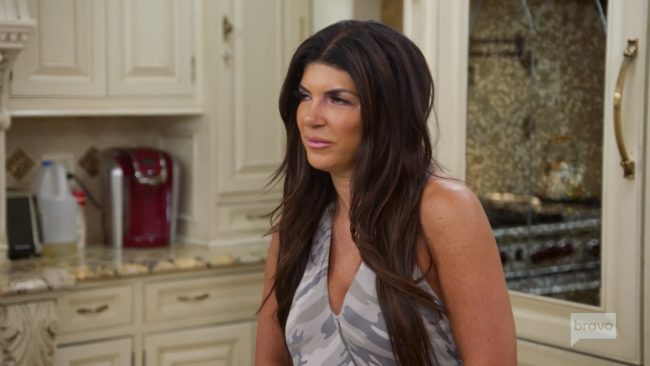 Jennifer Aydin says her wild night of drinking at Teresa's pool party was her way of blowing off some steam. She's dealing with a lot in her family at the moment. This is her way of letting go for a moment and easing her mind. Temporary or not, it clearly did the drink. Just ask the vomit in Bill Aydin's Ferrari!
Jennifer claims she's never been drunk on that level before. I think everytime we see her drinking, some sort of concerning behavior erupts. Remember when she smashed the glass at Melissa Gorga a few seasons ago? That was just as off the rails. It's in a different way, but it's still not acceptable.
Dolores Catania's daughter Gabby pops in for a visit and brings a s**t ton of dogs with her. She's in vet school, so it makes sense. We see so much of Frankie Catania that I almost forget Dolores has a daughter. We literally never see her.
It's nice that Gabby is making the time to return to support her mother's award. She's dedicated to her studies, but she's front and center to make her mother feel special. The work Dolores is doing is incredible and with the pandemic going on, it's needed now more than ever. Early detection is EVERYTHING.
Teresa calls Joe Giudice so he can talk to the girls, and it's great that he and Teresa are in a good place. They're so good in fact, that he's sending her one of his new sex toys for her to try. How many people can say their ex husband donated them a sex toy to test out? Teresa is a trailblazer.
These sex toys are paying a lot of bills which is nice because Joe had nothing prior. Teresa had to pay off all of his debt so he walked away with nothing in the divorce. That's what he deserves though. He treated her like s**t. He's responsible for her spending time in prison and losing precious time with her mother.
Teresa's hosting a memorial for her father at the shore to celebrate him. Toward the end of his life things were so bleak for him. He so desperately wanted to be reunited with his deceased wife, and now they're together again. It's devastating to hear Teresa feel like an orphan now that both of her parents have died. Say what you want about her, but her love for her parents can't ever be questioned.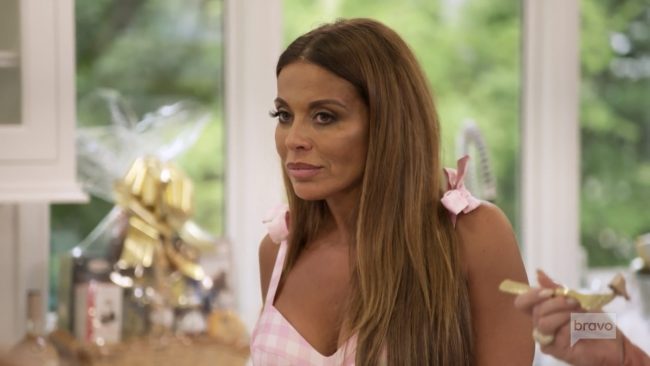 I feel bad that Dolores didn't get to have her moment in front of a crowd to receive this award. I know she doesn't do it for the attention or the accolades, but it still would've been nice. There's something somewhat anticlimactic about a woman just passing the award off to you in your kitchen. What a let down!
Dolores is hosting all of the women (minus Teresa) over for a dinner to celebrate. We've still yet to see Jackie & Teresa together again, but it should be coming when they go to the shore. This drama has been prolonged for so long and all that does is allow it to fester and build up. Something that would have already been put to bed is now growing in intensity by the day.
Shockingly enough David Principe is home long enough to actually run into a few of the women. He's never around the group, so this is a milestone moment that everyone needs to mark down. On this day in history, Dolores' relationship seemed a tiny less fake to everyone!
Jennifer finds their relationship and dynamic to be beyond bizarre, and I'm right there with her. It doesn't make sense to anyone, but she continues to allow this man to mistreat her. He's not that invested in the relationship, but for some reason it stays. It HAS to be the sex. Right? Why else would she be so content with this sham? Make it make sense!
Jackie arrives and is relieved that Teresa isn't there. The negative energy simmering between them won't be a dark cloud over Dolores and her big day. However, Dolores was hoping the tension would have dissipated by now. It's been brewing for quite a while now, and there's no sign of resolution.
Jennifer's not drinking at Dolores' party after what happened at Teresa's. Margaret Josephs says seeing the way Jennifer acted at the party brought back negative memories from her childhood. She doesn't want Jennifer's kids having to deal with or see the traumatizing things she's experienced.
They ask Dolores why she doesn't liv with David, and she cites her freedom as the reason. Melissa cuts her off and and says if Dolores had a ring she'd already be living there. I think Dolores is well aware that man is NEVER putting a ring on it.
Dolores responds by saying if she really wanted to move in she would. She says she doesn't care THAT much about the ring. S**t is weird, and everyone knows it. How long is Dolores going to continuing parading this sham in front of the cameras?
Melissa starts asking a ton of questions about their relationship, and you can tell Dolores is getting annoyed. Melissa even asks her how often in a week that she and David have sex. Slow down there Melissa. Don't worry. Nobody is going to steal your record with Tarzan. It's none of her business how often they're intimate. That's so tacky!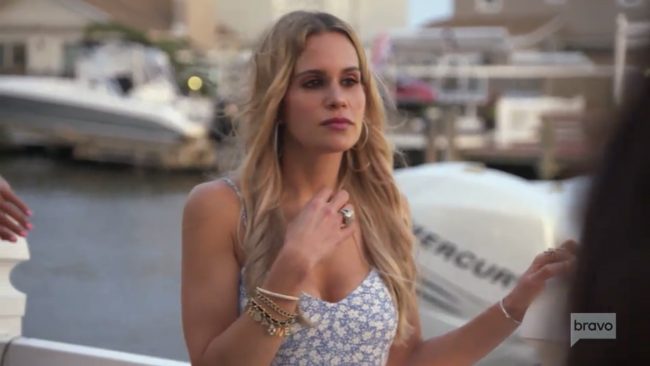 Bill spills to beans to Jennifer about what went down at guy's night. Everyone thought Teresa was spreading the rumor about Evan out of left field, but Joe Benigno heard the rumor too? If Joe really heard rumblings about that, then Margaret HAD to have known as well. She'll deny it until the end of time, but how else would Joe hear that?
On the car ride to the shore, Jennifer decides to tell Dolores, Teresa, & Frank Catania about Joe's knowledge. Frank supports Joe and refuses to throw him under the bus. He doesn't want what happened at guy's night to get out like that. Good for him for not being shady and backstabbing his friend. Bill should've thought twice before divulging information like that to his wife who already isn't the greatest friend to Jackie.
Teresa breaks down over the sale of her home. They've been through so much as a family over the years, and a fresh start is so needed. There's been so much pain and heartbreak for her and the girls. It's time to forge ahead and look forward to her new life with positive energy.
Jackie doesn't want Teresa to start s**t with her when they go to Dolores' for dinner. However, Dolores tells Jennifer she thinks it's going to end in a blood bath. Oh absolutely. There's such a dark energy over this feud, and it's getting nastier by the moment.
Teresa has gifts for all of the girls, and I'm nervous whatever she's giving Jackie will be so shady. She greets all of the women WITH DILDOS. Well that was nice of her. Teresa says Jackie can stick the dildo up her ass, and this trip's off to a rocky start. Let the fireworks begin!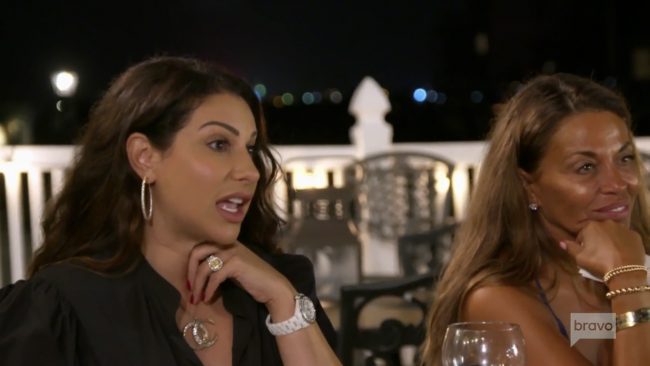 Now that her divorce is finalized, Teresa tells her brother Joe Gorga to take his words back about Joe. He didn't come after her money like he thought she would. Melissa asks Teresa to stop the drama because she's ruining the dinner, but Teresa tells her to shut up. That was a little bit harsh out of nowhere. Melissa & Joe are correct in what they said, so I don't know why Teresa is doing this.
Things erupt on a volcanic level when Teresa brings up what Joe said at boy's night. Obviously we all saw him say it, so we know he's lying when he denies it. Frank & Joe are remaining silent at the table likem good friends. Neither of them are willing to throw their friend under the bus right now, and I really respect that.
Margaret starts freaking out because of this and demands Joe tell her the truth. It's coming across like she knows he said this, but she's doing everything she can to squash this right now. Jennifer says that Joe definitely said it, and Margaret tells her to shut the f**k up. This dinner has escalated beyond belief. Can't we all just eat some meatballs in peace?
Jackie accuses Teresa have treating everyone like s**t. Dolores doesn't think so, but Melissa & Margaret cite strippergate and the hair pull as examples. Teresa has a history of problematic behavior.
Teresa says she only hangs out with confident women, and Jackie asks her if she learned that confidence in jail. When I tell all of you that my jaw DROPPED when I heard her say that. THE BALLS ON JACKIE TO SAY THAT TO TERESA'S FACE. What a shock!
TELL US – TEAM JACKIE OR TEAM TERESA? WHO IS THE BIGGEST INSTIGATOR OF THIS GROUP? ARE YOU ENJOYING THIS SEASON OF THE REAL HOUSEWIVES OF NEW JERSEY?
[Photo Credit: Bravo]