Patterson Dolores FINALLY came out on last week's episode of The Real Housewives of New Jersey. Dolores Catania finally hit her breaking point with everyone questioning her relationship with David Principe. Everyone gossiping about whether or not David gave her a new car to stall for a ring was so disrespectful. However, it was Joe Gorga who ultimately crossed the line too far. Calling Dolores a broken woman was beyond deplorable.
Another hot topic at Michelle Pais' party was Teresa Giudice and her new man. She's giddy and gushing over the new guy in her life. Teresa had no desire to stay as long as everyone else at the party. She wanted to dart home to her beau as fast as she possibly could. While it's great to see Teresa's love life in such good standing, blowing off the women is a bad look. When will everyone finally get to meet him? Why's she keeping him locked away like a dirty secret?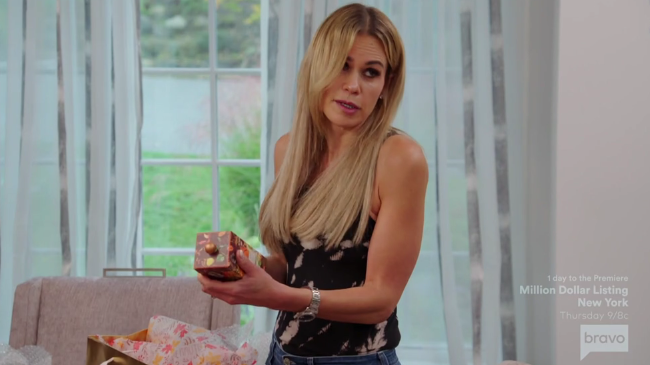 Jackie Goldschneider's birthday trip is coming up, and it's crazy that all of the women will be present. She and Teresa have come a long way since the cheating rumors and tasteless analogy.
An apple picking trip with some wine tasting sounds like my idea of a good time. Dolores phones Jackie to tell her she'll be late to her party and won't be riding with the other women. She says she has an appointment, but it feels more like she's avoiding the women.
Dolores admits in her interview she that she lied about having a doctor's appointment. She's simply not ready to be on a long bus ride with people who don't have her back. Understandably so. They questioned the motives of the man she loves.
Everyone was gossiping about her relationship behind her back at Michelle's party. There's no excuse for that. Dolores is the most loyal person to her friends, so it sucks they can't reciprocate that.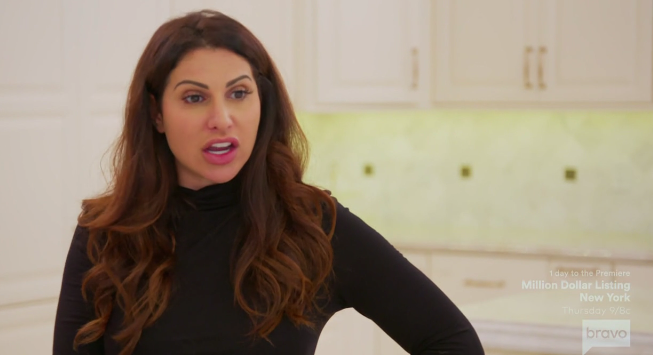 Jennifer Aydin finally gets new furniture to redecorate her home. This is a much needed change. Her previous furniture was horrendous. It looked like a museum instead of a home. Wayyyyy too much white.
Jennifer invited her mom over to check out the furniture, but things are tense between them. As much as she wants her mother to come over, it's not going to happen. Jennifer's mother thinks Jen made a fool out of her by telling the entire group her personal business. Talking to all the mothers and daughters about her mother's dirty laundry was clearly a giant misstep on Jen's part.
Nothing she's trying with her mother is working. She's making a large effort to show her mom that she cares, but it's wasted effort at this point. Her mother is set in her ways and is going out of her way to have a victim mentality with this.
I'm not referring to her marriage either. I'm not privy to the true ins and outs of that relationship. However, she's fought Jennifer at every step of the way when Jennifer's attempted to help the situation.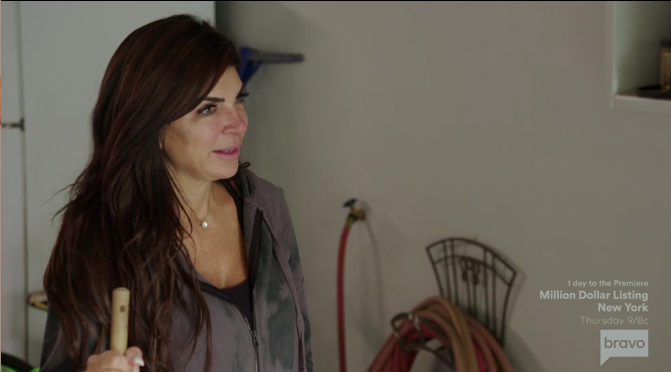 Joe Gorga stops by to help Teresa organize the garage. Isn't it great to see these two in such a great place these days. They spent so many years at odds. Things are much better these days, and hopefully it stays that way. They are all the other one has left, and they should come together and STAY united.
Teresa confronts Joe about telling all of the men she's in love with her new man. He questions why she wants to hide it from everyone. He's genuinely happy for his sister to have finally found a man that will treat her right. It's the best possible step up from Joe Giudice's constant mistreatment of Teresa. No more of that in her life.
Teresa says her new man is the most amazing guy she's ever met. She finally tells us his name is Louis Ruelas!! WE HAVE A NAME FOLKS. Obviously we've known for many months, but it's the first time it's been disclosed on the show. Seeing Teresa happy and in love is a look we've never seen on her before.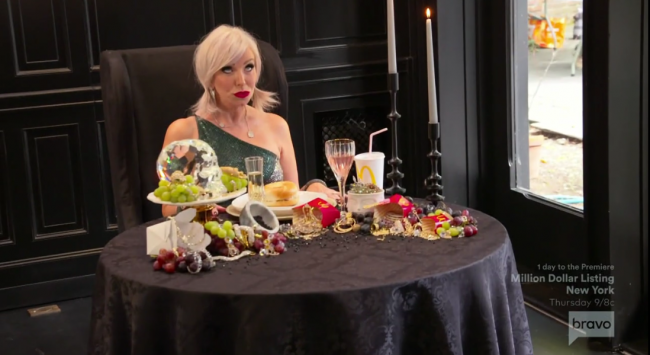 Margaret Josephs' book cover shoot looks out of this world. It's very over the top in the most on brand way for Margaret. Who would've known this is where she'd end up after all she's been through. What a Cinderella story come to life!
It's nice of her to include her mother Marge Sr. in the cover shoot as well. A large part of her story focuses on the negative aspects of their early relationship. It's heartwarming to witness how far the two have come since Margaret's childhood.
I cannot wait to read Margaret's book! I know it's already out, and I'm behind on that train though. Although, it's never to late to learn about her business successes and failures. I'm obsessed with learning lessons (both positive and negative) from business people. There's so much to dissect and implement into my own company or at least learn what not to do.
Dolores hosts a joint birthday party for her kids with both David & Frank Catania present. This is the definition of a modern family. I really want to know what her kids' true feelings are about their relationship. Things ARE weird
Dolores tells everyone about the poll about David's Porsche gift. David isn't offended by any of their comments because he's secure in who he is. It really is nobody's business what they do in their relationship. People are always wondering why David is never around the group, but this type of s**t is probably why. I wouldn't willingly go hangout with a group of people that always trash my relationship.
Jackie tells Melissa Gorga & Margaret about Dolores skipping out on their bus trip. At least Melissa wants to apologize about how things went down with Joe. Taking a poll at a party like that really is a scumbag move. That's not how you treat your friends. They're all using her relationship as fodder for gossip.
Margaret keeps mentioning that Joe is chauvinistic which could cause some issues with Melissa. She's not going to let her continue to make disparaging comments about her husband. I think what Margaret's saying is true, but still that's not something you should go around saying about your friend's husband.
Jennifer tells the group about the growing toxic discourse between she and her mother. They got into a big fight that left them no longer speaking to each other. Jennifer's trying so hard to keep her family together, but every effort is met with such push back. Her family is falling further apart, and there's nothing she's able to do to stop it.
Melissa gets a text that Joe was hurt and he's about to go to the hospital. What could've possibly happened to Joe? I hope this isn't a prank because you don't f**k around with s**t like that. That's taking pranking to a level that's sick. They're supposed to leave for Jackie's birthday trip, and this just pushed a major monkey wrench into everything.
Joe tells Melissa to go on her trip regardless of his pain and have fun. Obviously, she's not going to do that. No good wife would take off to winery while her husband is on his way to the hospital. Part of this feels like a test to see if she'd be that dutiful wife he wants.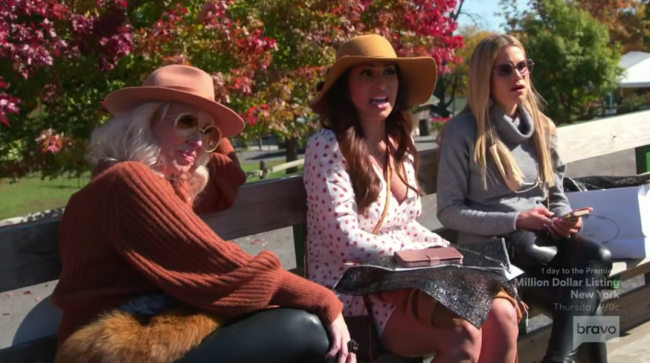 Jackie calls Dolores to fill her in about Joe, and she's going to have David meet them. THE IRONY IN ALL OF THAT!! Joe was dragging David and their relationship, but now he might need him. It's crazy how life works. Don't burn bridges.
Teresa doesn't like how Joe spills all of her business to everyone. She says that's what his problem is and why he does 't feel good. She thinks its diarrhea of the mouth! Teresa with the epic zinger at her brother. I don't want to say karma, but like…..
Dolores suggests to Teresa that Joe's going through something. Between the loss of his father and his troubles with Melissa, it was too much. He's starting to crack. The pressure is too much.
Jackie owns up to raising her hand in the poll about Dolores' relationship. As much as Dolores wants to destroy her for that, it's her birthday, so she won't. It's the ultimate betrayal to have your friends saying negative things about that behind your back though.
Dolores compares the poll to Jackie & Melissa's marriage troubles. What if they did a poll about THOSE issues? Dolores says they're talking s**t about a situation they know nothing about. We're seeing Dolores unravel more and more each episode this season. So many think she's boring for the show, but she's earning her check this second half of the season.
After a day of apple picking, the women get to the good stuff aka the wine tasting. Margaret brings up her Halloween party for Joe Benigno's birthday, and that sets off a litany of new provoking questions. Immediately everyone begs Dolores to bring David to the party. WHY THE F**K WOULD HE GO TO THIS PARTY? NO WAY. After what they said about him, he'll never film with this group.
Dolores thinks anyone who raised her hand is coming at her with bad intentions. Jackie & Jennifer both question David's motives with buying her a car instead of a ring. Dolores gives Jennifer a speech about life changing and evolving, and that is that. If she's content with her life, that's what should matter to her friends.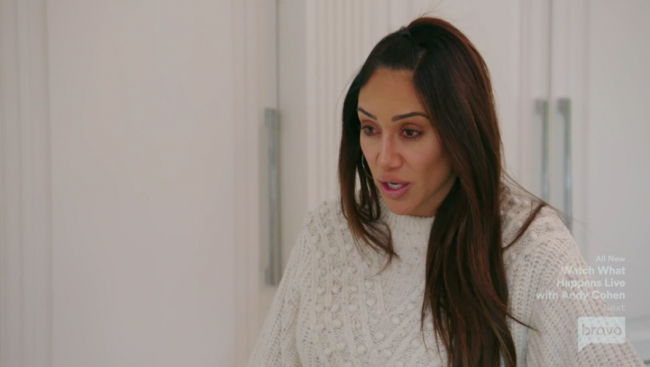 David was great to Joe regarding his kidney stones which is a testament to his professionalism. After what was said about his relationship, it takes a strong man to let that go to do your job. Good for David!
Joe calls bulls**t about Margaret calling him chauvinistic, but she is on point with what she's saying. Melissa can't even speak to him because he is stuck on a version of her that doesn't exist. She's not going to devolve and regress because his fragile male ego can't handle it.
Melissa's sick of Joe feeling like her doing things for herself means she's going against him. I see this couple splitting in the near future. This also feels like the realest story line these two have had in YEARS. What's evident is that they cannot remain on this course and expect their marriage to sustain it. No chance in hell.
Joe's feeling left behind and forgotten. He accuses her of drinking the "Kool-Aid" which really sets women back hundreds of years. Honestly? F**k alllllll of that noise.
Teresa's getting ready for a dinner date with Louis! We're finally going to meet him!!! It's been talked about for weeks now, and this is finally happening in front of us. It's great that Milania Giudice is so supportive of the relationship. For the first time she gets to see her mother truly happy and in love.
TELL US – ARE YOU EXCITED TO MEET TERESA'S NEW MAN? IS DAVID RIGHT FOR DOLORES? IS JOE CHAUVINISTIC? 
[Photo Credit: Bravo]