Another week of Erika Jayne drama on Real Housewives of Beverly Hills! This is an all star season, and it's constantly giving us life. Let's see how this chapter alters the course of this never ending Tom Girardi drama!
Kathy Hilton's organizing her first girl's trip for the group! What a turnaround it's been for her and Kyle Richards. They went years without speaking. Now they're not only on talking terms, but they're going on trips together. Let's see how this goes!
Kathy speaks to Dorit Kemsley about her lingering issues with Garcelle Beauvais. Dorit doesn't understand why Garcelle's speaking to the press about the group coming for her. Something is a little strange about that. While it's true Dorit has come for her recently, the majority of the group has not. Why is Garcelle trying to control the public narrative like that? Why not call Dorit out specifically?
Lisa Rinna's packed way too much for this trip. There's no reason for her to have prepared this much, but she's extra as hell. On the flip side, Sutton Stracke's barely invested in this vacation. She's experiencing a ton of foot problems, so this won't be a lot of fun. She's determined to fit in her designer shoes though! We love goals!
There's so much tension in the group right now. Sequestering everyone together on a vacation is going to bring everything to a head. There's going to be no escape from the current drama with everyone isolated like this.
Kyle's struggling with Kathy because she's so used to everything being done for her. She doesn't have her phone which is throwing a mega wrench into the plans. She's trying hard to make things work for Kathy, but it's A LOT. This woman is used to everything being done for her. Mrs. Hilton is NOT regular folk. That's evident more and more by the week.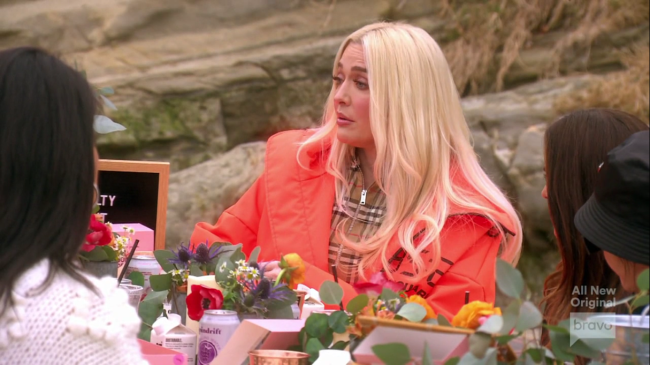 Erika doesn't think the group understand what she's going through every day. This trip is poised to be an escape from the daunting problems facing her back home. That's a naive stance to take. She has to know everyone's going to continue to gossip about the problems facing her. This is hot gossip right now. Her life is fodder for the juicy conversations this group relishes in.
Sutton's ankle is in much worse shape. Hopefully the group goes easy on her since she's feeling rough. Nobody wants ot bully the girl in crutches. The last thing we want is a repeat of Season 2 with Brandi Glanville because that was nasty.
Kathy has a pop-up picnic planned for the women. She may be new to girl's trips, but she's knocking it out of the park already. In theory this is great. This is everything she could've hoped for and more.
There are actual SEA LIONS sitting on the beach during their picnic. This is GLAMOROUS. Kathy is rich y'all. I'm here for the type of scenery she's bringing us. YES PLEASE.
Sutton's going to be stuck on crutches for a while which sucks for her. Erika's still pissed about being called a liar by her. That was major for her. That's something that sets her off more than anything else. This is an association she refuses to tolerate.
If you continue to listen to Erika's tall tales and think it's all true, that's on you. Clearly, there are stories that've changed as we've gone on. Something's off with this.
Erika's now saying Tom's head injury ALLEGEDLY happened. Allegedly? I thought it was a fact? Here we go with the circle of confusing stories that don't make sense to anyone. Her "friend" Kyle & Dorit are really starting to question these moments as well. This is not what they've known from their own experiences with Tom. Nothing's making sense that's coming out of her mouth.
Erika claims she's been living with this version of Tom for years. She doesn't care one iota if Sutton feels threatened. As far as she's concerned, that's exactly how Sutton should feel. She's not tolerating shit from "Miss Small Town".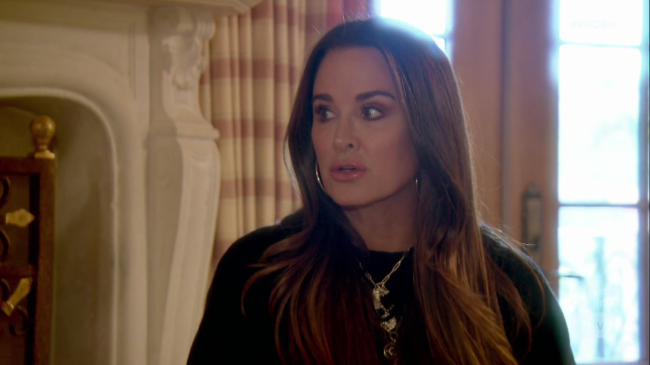 Sutton's ankle isn't broke which is a highlight to hear! It's a terrible sprain, but it could be a hell of a lot worse. Garcelle says this should make for an interesting few days on the vacation. With Erika harboring animosity toward her, this could be quite the miserable experience for Sutton.
Sutton's probably nervous because she offered Erika money early on in the divorce. She doesn't want that to come and bite her in the ass. She's covering for herself, and there's nothing wrong with that. It makes sense why she'd be nervous with the new information coming out.
Kyle & Kathy are incredible late for the first dinner. Everyone's trying to get a hold of them, but they know they're behind. They're not trying to catch shit for not being punctual because nobody needs that drama.
Erika opens up to the group about being fearful, but that's really all that she's willing to say. Thankfully Kathy forces the group to address the lingering issues between them. Yes Kathy make these women WORK for their checks. We have no choice but to stan her legendary "friend of" season!
Sutton refuses to apologize for asking questions about Erika's current situation. It doesn't matter what she says because Erika never gives a fuck. She only wants to be ice cold to everyone. Erika refers to Sutton as small minded, but why? Sutton's speaking her truth because things aren't adding up. However, Erika doesn't want everyone to try and fix things. The door is closed when it comes to Sutton. End of story, period.
Dorit's trying to come across with a point to help Sutton, but it's irritating Garcelle. This is enough of an opening for Dorit & Garcelle to shift the topic to their own issues. It doesn't make sense that pushing Sutton is going to help her in the long run. They want to use her as a scapegoat. None of this is helping Sutton OR Erika. This is about the Fox Force Four continuing to have a moment and pigeonhole the rest of the group.
Kathy's getting fed up with the back and forth between everyone. Everyone's grasping at straws to try and one up each other. Lisa chimes in because she's incapable of keeping her mouth shut. She wants Garcelle to explain why she doesn't feel accepted into the group. She wants to know if she even likes the other women of the group, She's not seeing the effort to be a part of the group. Hmm.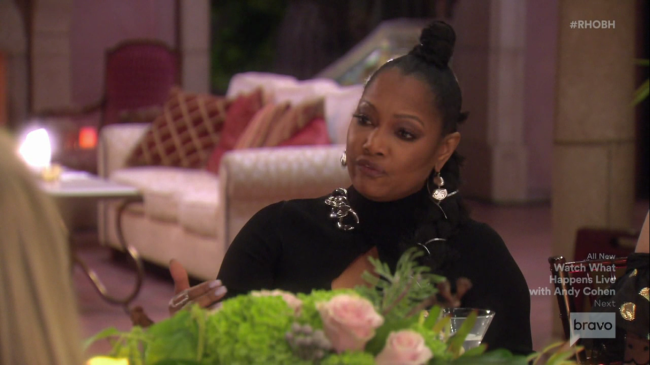 Garcelle wants to know who thinks she doesn't like them. She actually could be a little more direct about how she feels. Speaking on The Ellen Show isn't the same as addressing everyone to their faces. Say what you need to say, and put it all out there. That's the entire point of this show.
Garcelle's entitled to speak on her feelings in the group though. Being the only Black woman in the group has been a struggle since Day 1. She's spent her entire life trying to fit in with everyone else. She feels like she has to prove herself at all times. She's crying, but this is a pivotal moment for her in the group. Finally laying it all out there on the table might help evolve her relationships with the other women.
Garcelle feels better having gotten that off her chest. Good for her! It's only hurting herself holding all of those thoughts and feelings within herself. This might change everything between her and the other women moving forward. This is PROGRESS.
Kathy organizes a sound bath for everyone the following morning. It's supposed to have a relaxing effect on the women, but good luck with that. These women are crazy, and this isn't going to work. Not one bit. It's supposed to be chill for everyone, but this isn't working on them.
Lisa says something new came out about Tom because of his mental state. They want to put Tom in a mental facility for people who have dementia. Shit is hitting the fan because this is a major turn of events.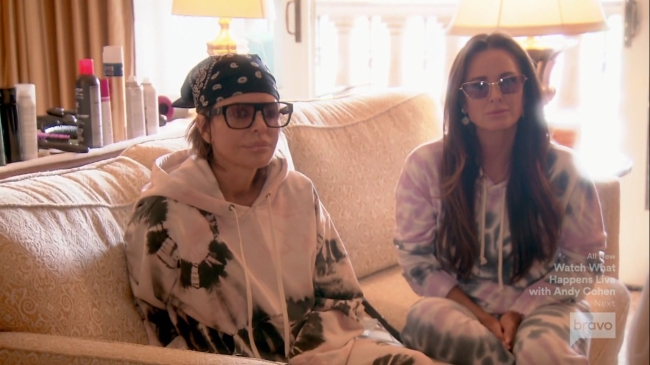 Tom said something in court that bothered Erika deep inside. Hearing Tom's brother wanting to place Tom in a facility has deeply upset her. She knew about this before the dinner, and she can't help but worry about Tom.
She doesn't agree with the decisions being made on Tom's behalf. She's fearful for him. At the end of the day, this is still a man she loved deeply for a long period of her life.
Erika's under the belief Tom needs a caretaker, but not in an official facility. The only way for him is down if this goes into effect. Where are his children? Is anyone there to try and help him? These are the questions running through Erika's mind right now. What a downfall for this former titan of the legal world.
Erika's getting a divorce from Tom, but she still has instinctual feelings for him. She doesn't want him to be tossed away or discarded. This is getting darker by the week. What a horrible situation for everyone involved. However, we cannot forget about the real victims. That's who really matters throughout all of this.
TELL US – TEAM GARCELLE OR TEAM DORIT? IS ERIKA LYING? ARE YOU ENJOYING THIS SEASON OF THE REAL HOUSEWIVES OF BEVERLY HILLS?
[Photo Credit: Bravo]