Things are getting spicy for the Real Housewives of New Jersey. Their trip to the Jersey Shore has been nothing short of chaotic, and it's just beginning. The women have already hit a few bumps in the road. Jennifer Aydin's still reeling from Margaret Josephs' revelation that Bill Aydin had an affair. Things aren't going well for the last standing OG Teresa Giudice either. Everyone's gossiping about Louie Ruelas, and now he's refusing to film!
Teresa isn't as untouchable as she thinks she is. If she's going to keep thinking she's above production, maybe she shouldn't be on the show anymore. The idea that she can control the narrative is so damn frustrating. There was also no valid reason for last week to end "to be continued". Nothing happened at the beginning of this episode to warrant that.
Dolores Catania tells Frank Catania that Jennifer says a lot of bad things, but she's trying to make Jackie Goldschneider look bad. She's riding this story of Jackie talking bad about Bill. Okay, but what did Jackie say that was incorrect? Bill shouldn't stick his dick in someone else. That's not as inappropriate to say as they're trying to make it out to be. Jackie's not a horrible friend for making that observation.
Everyone arrives at Jennifer's, and she immediately fills them in about Teresa's abrupt exit. It's also a little bit awkward watching Margaret try to navigate being there with Bill. Cringe. Teresa's not answering Jennifer's calls, but Melissa Gorga's not surprised. She knows her sister-in-law doesn't want Louie to be a part of this world. She doesn't want him negatively affected like this. Good luck, Tre.
Melissa says she didn't think she'd ever be hanging out at Jennifer's house. Jennifer says she's usually teasing Melissa, but Melissa says it's serious. Jennifer said she didn't think Melissa would get offended by any of it doesn't go over well. Thankfully, the awkward silence ends when Dolores and Frank finally arrive.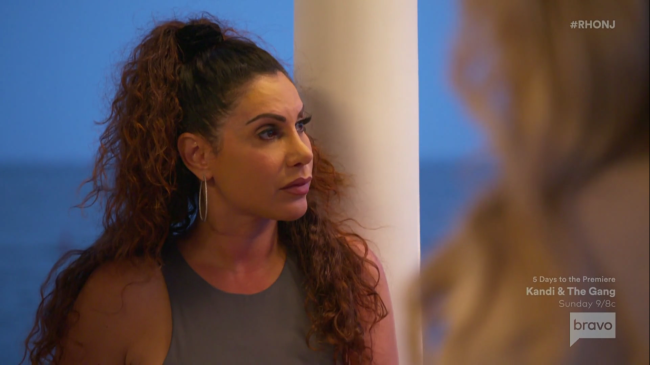 Teresa and Louie are shown getting into a fan, and she warns him about cameras in the car. It's Teresa's party, and they're finally showing up. Louie doesn't get why everything's coming out, but she pins it all on Margaret. The trust is gone between Tre & Marge. However, Teresa's showing up at the party, so she can finally face everything.
Margaret says this goes with the territory of being with Teresa. I don't like the implication that Louie had this coming. Not everyone is totally fine with shamelessly discussing their low points in life. Perhaps Tre and Louie don't want to flaunt their past the way Marge does.
Traci Barber wonders if they're all going to address the elephants in the room. Surprisingly, I like her so far. She's a solid addition.
Margaret brings up Jennifer saying Tre left her house in a huff. Teresa denies all of this even though we all saw it go down. What's the point of even trying to lie? I hate when Housewives know shit is being filmed, but they still try to play dumb. Please don't insult our intelligence.
Teresa wants everyone to say anything they've said behind her back. Margaret is the first to chime in. Surprise, surprise. She says people are concerned about the video, but Teresa says his past can stay in his past. Louie wants to address the video, but Teresa keeps trying to prevent him from speaking.
Teresa can't discern why everyone's so interested in the video or Louie's past. Margaret says everyone's discussed it because Tre's a public video. Teresa doesn't want him to discuss a damn thing. She calls Marge nasty for talking behind her back about Louie.
Louie wants to speak, but Tre tells him not to answer anything from Margaret. Louie wants everything to stop and to be talking calming. He tells Marge that she couldn't intimidate him on her best day. He's getting pissed off the more Tre tries to cut him off.
Louie's reasoning for the video doesn't make a lot of sense. He's saying it's a breakup video, but he's trying to propose to her in the video. I'm not sure what his angle is with this, but it's weird. This explanation honestly made things a million times worse.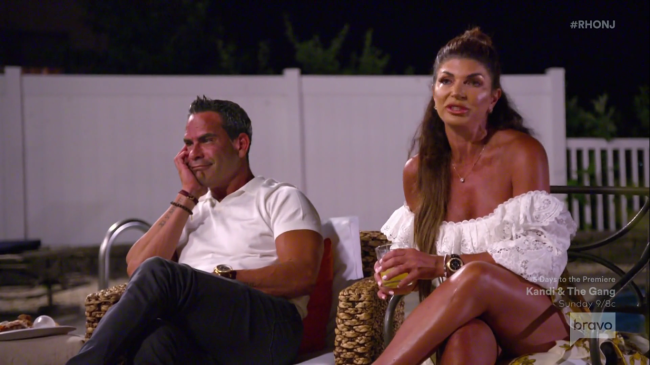 Joe Gorga chimes in because of Teresa's friendship with Marge. It's weird how disloyal that entire family is to one another. They've never truly had each other's backs. Everything feels so fucking forced. However, now tensions are heightened amongst the entire group. Marge and Jennifer are going at it now because Jennifer says Marge is cruel to her.
Margaret compares herself to Bill and says they're similar. Not sure that's something to brag about, but do you. Jennifer says Marge exposed a secret, but everything she's brought up was stuff already out there.
Melissa throws in her two cents and starts coming at Jennifer. However, Jennifer's standing by saying that Frank told her the woman allegedly having an affair with Evan Goldschenider. This is so juicy! Tiki Barber's finally arriving, and it's in the middle of chaos.
Melissa shows Tre the double standard she exhibits when it comes to everything. Melissa calls Jennifer a hater, and that's all it takes to send this fight over the edge. Jennifer admits she doesn't know anything about Joe, but then she calls him a little bitch girl. WELL DAMN. Is she wrong though?
Jennifer is dead on balls 100% correct by saying Joe doesn't need to get involved in their fights. Melissa gets out of her chair and into Jennifer's face and puts her arm up. Jennifer grabs Melissa's arm, and this is officially physical. Jersey has to be the most violent of any of the Housewives' cities.
Security gets in between Jennifer and Melissa, and I'm here for this. Melissa doesn't think she ever starts with Jennifer, but that's not true. Jennifer's clearing everyone out of her house at this point. She throws both Jackie and Melissa out. I'm just waiting for her to give Marge the boot at this point.
Jennifer's standing by Dolores by the end of this party, but that's a bad move. Nobody has any empathy for Jennifer, and I don't think Dolo's being genuine either. Teresa and Dolores are the only two women left at the party, and Tre gets a text from Melissa. Melissa's pissed that Teresa stayed at the event and didn't defend Joe. It's hard to defend the indefensible.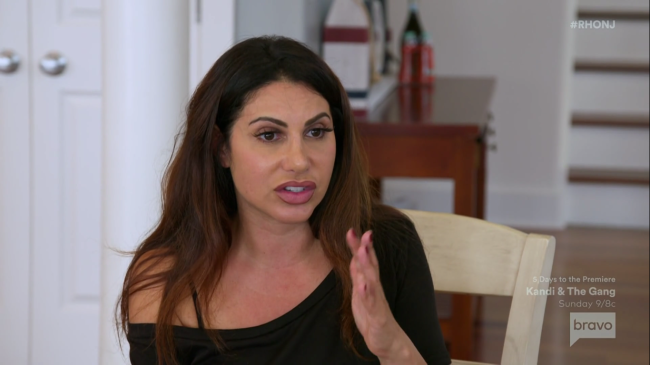 Dolores and Frank agree that Jennifer's justified in what she did to Melissa. With Melissa getting out of her seat, that was enough to trigger anyone. However, Jennifer's being weird toward Bill. She's upset Bill didn't say anything. Wasn't Jennifer the one who was just complaining about Joe getting involved in women's drama? Pick a lane.
Jackie's done with Jennifer because she feels like everything she did got thrown in her face. Regarding Louie, he gives some weird vibes at home. However, I don't know if it's enough to fully condemn him the way Marge is doing.
Melissa feels fine about everything, but going physical changes things a little. She's certainly baffled by Teresa sticking around Jennifer's after the incident. It's not that weird though. Teresa's staying there for the weekend, so where else would she be? Does anyone use logic in this group?
Teresa wants to help Jennifer and Melissa make up. This pink party Melissa's throwing is shaping up to be a real doozy. Jennifer's not invited, but Tre and Marge will be in the same room. Marge is acting scared of Louie now, so you know that's going to become a long drawn out issue.
Traci's so shook by Tre staying at Jennifer's house still. She's completely in awe that Tre wouldn't automatically have Melissa's back. Did you not do any research before joining this show? It's either that OR, she's doing Melissa's bidding.
Dolores defends Jennifer to Melissa because of the way she got up and charged her. Jackie calls out Dolores for trying to stir up an issue and throw her under the bus. She thinks Dolores was trying to make herself look like a better friend. Things seem done between Jennifer and Jackie after what went down.
Dolores tries to get the women to understand they gang up on Jennifer, but they're not having it. Joe says Jennifer's evil and malicious. He wants Tre to eat Jennifer alive for these comments. Traci makes a fatal mistake and tries to get Tre to understand the nastiness of the "bitch boy" comment. Teresa's not having.
TELL US – TEAM MELISSA OR TEAM JENNIFER? DO YOU TRUST LOUIE? IS DOLORES A GOOD FRIEND TO JENNIFER? ARE YOU ENJOYING THIS SEASON OF THE REAL HOUSEWIVES OF NEW JERSEY?
[Photo Credit: Bravo]