Nashville baby! This is one of the most unique locations for a Jersey cast trip in quite some time. It gets tiring seeing The Real Housewives of New Jersey go to the Shore and do nothing else. It's about time they ventured out and saw some unique locales.
Frank Catania is officially living with his family! He's back in with Dolores Catania and the kids after decades away. Let's see if he's able to abide by the ground rules set by the rest of the family. That means no women are allowed. If Frank brings home another woman to their house, it's game over.
Dolores is hopeful about the direction, and Frank thinks it'll bring everyone closer. We'll see about that. This is opening the family up to a lot of possible future tension.
Luckily for everyone involved, Dolores and Frank are heading to Nashville with the rest of the group. The Teresa Giudice/Margaret Josephs drama is looming over everyone's heads though. Once again Tre is a powder keg waiting to explode at any minute. Marge might've bitten off more than she can chew this time.
Teresa's getting emotional packing up the rest of the house. It's bittersweet because of a lot of her last memories with her parents within those walls. It's the end of one era for this family and the beginning of a new one.
Tre's trying to remain strong for the girls, so they don't pick up on her energy. At the end of the day, she's ready for a fresh start. After the hell she's gone through over the years, she has to be relieved in a way for this chapter to end. It's about time.
Teresa embraces her daughters one last time in the house before they say goodbye. This is it. For the first time, we're going to see a version of this family that doesn't exist inside that home. Time will tell if that's a positive or not.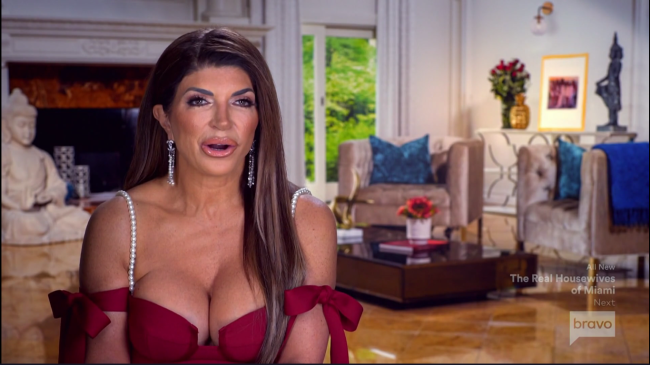 Melissa Gorga calls Teresa to check on the status of the move. What a nice gesture from a sister-in-law that never seems invested in Teresa's future. The Envy owner is typically far more self-absorbed than that.
Teresa tells Melissa that Marge bringing up Louie Ruelas every time they're together is getting old. Melissa doesn't have Tre's back and instead says she wants her to cool down with Margaret. Of course, you do. You have zero desire to ever actually be loyal. Give me a break.
Louie and Teresa's home together is STUNNING. It's just gorgeous on every level. I can't believe they're going to spend their lives in a home-like this. My FOMO levels are through the roof because it looks so lavish.
Regardless of the riff-raff surrounding Louie, it's nice to see Teresa happy. I'm not sure if we've ever seen her look as happy as she is with Louie.
Louie brings Teresa outside for a surprise. He surprises her with a stone engraving outside with a saying about her mother and father. You can tell his love for her is genuine. He's still sketch balls, but he loves Teresa.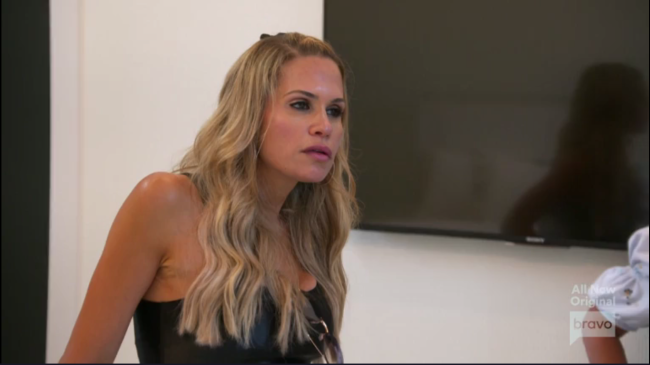 Jackie Goldschneider doesn't know how it's going to go with the entire cast in one house. Everyone in the group hasn't slept under the same roof in ages. This has all of the makings of a disaster.
Dolores is in an awkward position with this one. She's close to both Teresa and Marge, and her loyalty is to both. Not even her, they're all in awkward positions. Melissa's in the same boat.
Teresa can't stand the sight of Margaret, so this isn't going well already. Luckily the house is huge, so maybe they can avoid each other like the plague. Good luck.
It's super annoying for Teresa to walk into the house and assume she deserves the master bedroom. Who does that? Of course, Dolores is going to oblige. She does whatever Teresa wants like a good little soldier.
Teresa confronts Jackie in one of the rooms about not being talkative at the baseball game. Since when would Tre care about a lack of communication between them? Teresa's trying to get everyone to believe that Margaret is responsible for a lot of the Louie rumors. She truly believes Marge was running around talking to the blogs.
Jackie takes everything Teresa says to her and runs it back to Margaret. Does everyone feed the blogs the way these wives always think? Every city always has someone accusing someone in their group of feeding into the blogs.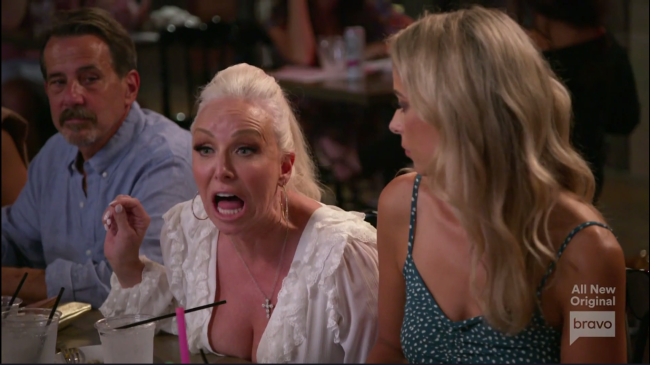 Margaret wants to confront Teresa as soon as possible. Their first night in Nashville is already threatening to put a kibosh on the whole trip. Everything's going to go up in flames because of Tre and Marge's animosity.
Watching everyone try and fail to ride the bull at the bar was epic. Of course, Margaret wouldn't participate. BORING. Be a part of the group activities because it won't kill you.
Who ordered shots? This group has way too much drama and hatred toward each other to get drunk. Before the fun can begin Teresa blows up on Margret. She's officially formally accused her of feeding info to bloggers about Louie.
Margaret denies talking to people from Louie's past. Marge says Tre's spinning a horrible story to hurt her. Could this be revenge though for the hair pull?
Margaret calls Teresa a disgusting liar, and that's all it takes for Teresa to explode. She shoves glasses, plates, and drinks in Margaret's face. She calls Marge a "disgusting white trash bitch" because eh why not?
Note to self, don't ask Teresa questions. It's not going to end well. Teresa's blowing up so hard and calling Margaret every name in the book. It was so unwarranted. Margaret tells Dolores not to leave with Teresa and says it's disgusting if she leaves with her.
Jackie says Dolo is nowhere to be found when someone else needs her beside Teresa. Frank convinces Dolo to stay because they're the hosts. It's a bad look for them to ditch the rest of the party.
Teresa threatens to beat the crap out of Margaret, so this isn't done. Teresa runs back into the restaurant after Margaret. Holy shit. I can see why the reunion might've needed tight security. Wow.
This was night one folks. Night one of the Nashville trip. How can they ever recover from this? This is one of the most fracture-causing moments I've ever seen. Teresa wants out of the house because she hates Marge. She's off to a hotel because she's finished with Margaret.
TELL US – TEAM TERESA OR TEAM MARGARET? ARE YOU EXCITED ABOUT THE NASHVILLE TRIP? ARE YOU ENJOYING THIS SEASON OF THE REAL HOUSEWIVES OF NEW JERSEY?
[Photo Credit: Bravo]