This cast might have only given us 13 episodes, but they're all action-packed. This Nashville trip has more drama than most cities do in an entire season. Let's give the Real Housewives of New Jersey their flowers.
Has a Housewives franchise ever ended a season during a cast trip before? Am I cracking up? I feel like they're usually at home wrapping things up. Instead, our Jersey ladies (and their men) are still in the thick of things in Nashville.
Dolores Catania doesn't think it's going to be a good day because Margaret Josephs is pissed. The apology from Teresa Giudice was weak and whack. At this point, I don't even blame Melissa Gorga and Joe Gorga for not having her back. Teresa acts like a loose cannon and expects everyone to fall in line.
Jackie Goldschneider's doing better with her eating habits, but there are still struggles. She wants to try changing her mindset in an attempt to reach her goals. Luckily, she has Evan Goldschneider by her side for support.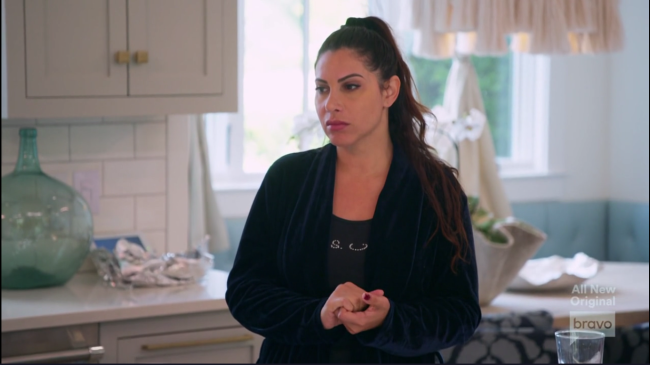 Joe tells Teresa he liked her apology. That seems half-hearted, but let's kiss her ass. Marge says Teresa gets a gold star for being the biggest jerk. She's sick of Tre. She has no desire to associate with her anymore. They're both wrong in parts of this, but Tre's the one who took things over the edge.
Tre tells Melissa to straighten Marge out because it's her friend. It's the last day in Nashville, and she's stuck playing Jersey girl in the middle of family and friends. There's no winning. Whatever choice she makes is going to result in some sort of backlash from a person she loves.
Jennifer Aydin is Team Teresa and says she thinks the apology was good. Jackie reveals she's never been good with Teresa all this time. Okay, I'm seeing what's happening here. I think some of the ladies are looking to ice Teresa out of the show she's been on for over a decade.
Jackie finds Teresa dangerous, but Marge has a bigger issue to bring up. She believes everyone's allowing Tre to fat-shame her. It's not nice. Stop.
Jennifer wants Marge to admit that she asked too many questions. She was meddling. However, in her defense, she's simply bringing up things that are already in the press. If the things being alleged are true, it puts the group in an uncomfortable position.
Melissa questions Marge's delivery because it comes off rooted in anger instead of concern. I'm not sure what Melissa's angle is with all of this. Sometimes she seems done with Tre, and sometimes she seems like she rides for her. I don't think even Melissa knows which way to go when it comes to her whirlwind sister-in-law.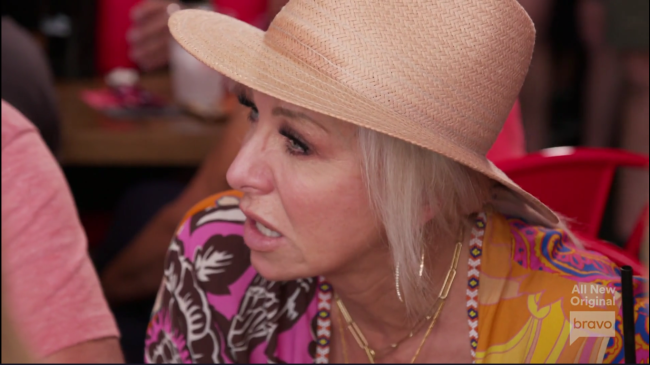 Teresa and Louie Ruelas are joining the rest of the group on the tandem bike ride. I didn't realize they'd be drinking the entire time. Wait, how is this legal? I need to go to Nashville if this is the type of stuff you're allowed to do.
Tre wants to talk to Marge to find out why she's hurting her and Louie. That's not the right way to approach this. This isn't even remotely a good idea. However, once Teresa sets out to do something, that's all there is to it.
Marge doesn't think the time is right to have the conversation, but Tre doesn't care. Joe wants them to wait until later as well. Why does everything always have to be on Teresa's terms?
It's not the time and place to get deep like this. Also, what if Teresa goes into another fit of rage in front of people? Marge says it's hard because she's always had a soft spot for Teresa. She can't grasp what Teresa could be thinking to want to hurt her.
Marge triggered all of this by being too chatty and questioning everything. However, everything Tre's done since then has been far too over the top. Ridiculous.
The men compete in a spicy chicken eating contest, and Bill destroys the other men. Joe Gorga came close, but in the end, it was obvious that Bill won. Technically they called it off at the same time, but Bill's the champ.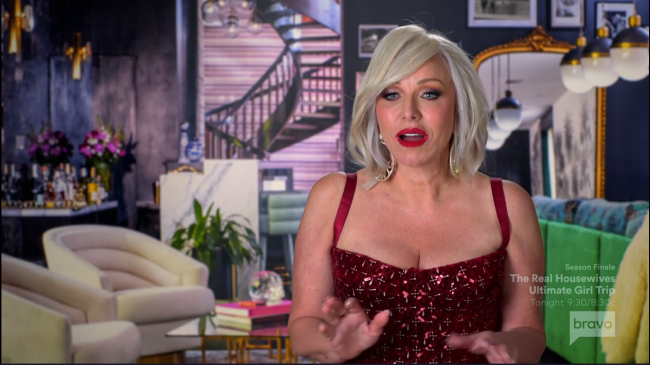 Dolores doesn't think she lowered her standards to be friends with Teresa. However, as a whole, I'm getting the vibe that the group is over Teresa. They seem to have grown tired of her antics. Can you blame them?
Louie asks Joe if he can talk to him. What could this be about? Is it to talk about his intention to marry Teresa? Louie says he doesn't want anyone to judge him in life. He says he truly loves her and plans on proposing. Not only that, but Louie says he wants to treat Joe like her father and get his blessing.
Joe and Teresa aren't even tight like that. This is weird. It seems like they're not even invited to the wedding, so that makes watching this back all the more perplexing.
Joe wants to know the truth about the allegations against Louie before giving his blessing. Joe's not holding back either. He straight-up asks Louie if some of the allegations are true. Sometimes where there's smoke, there's fire. That's the direction Joe's choosing to take this.
Louie says he made mistakes and he takes ownership. However, he vehemently denies any allegation of being abusive. Admitting that he isn't perfect was enough for Joe to give the green light for Louie to propose. Well damn.
Teresa says she hasn't done anything to hurt Margaret. I mean, okay. These two should call it quits in their friendship. Teresa asks Marge if they can talk, and this time Margaret agrees. Perhaps we'll make some progress with this exchange, but they probably won't.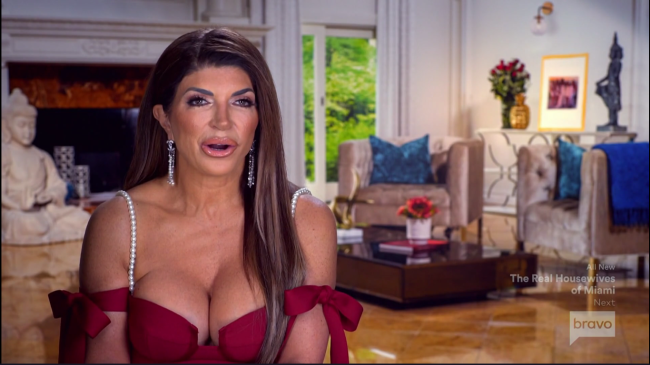 Marge tells Teresa that she was trying to look out for her by bringing this up. It felt more like phishing for drama to me but go on sis. She claims that she just wanted Teresa to get ahead of the story and tackle it. That doesn't feel like her true intentions. She was setting out to come for Jennifer and Teresa this season. It was blatantly obvious.
Teresa says she sees everything on social media, and it's terrible. It's terrible for her because she finally found someone, and then this happens. At least Tre's finally opening up about seeing these rumors across social media.
Marge reveals to Teresa that Jennifer and Dolores said they lower their standards for Teresa. This escalates into a war of words where Marge lays out all the reasons she's done with Tre. Of course in typical Teresa fashion, she has a ton of excuses for herself that don't make any sense.
Louie is done with everyone and everything. The way he's acting at the end of this finale isn't the best look for him. He's completely losing it. The pressure's getting to him.
It appears that everyone (Jennifer and Dolores included) believes something's off with Louie. Dolores says that in the end, it'll all come out in the wash.
TELL US – TEAM MARGARET OR TEAM TERESA? WILL THIS BE TERESA'S FINAL SEASON? SHOULD TERESA MARRY LOUIE? DID YOU ENJOY THIS SEASON OF REAL HOUSEWIVES OF NEW JERSEY?
[Photo Credit: Bravo]