Two days after the robbery, Dorit Kemsley's home is flanked by new security. Detectives are investigating the case, and they want to prosecute this. That's somewhat of a relief for the family, but these men still haven't been caught.
PK Kemsley says the kids aren't even asking why there's so much security downstairs. They're able to acclimate to their surroundings. Even Dorit's doing an okay job at adjusting to what's going on.
Every time I hear Dorit recount the story of the men holding her at gunpoint, I shudder. This is a horrific trauma event, and I couldn't imagine something like this ever happening to my family.
Imagine being in PK's shoes and being halfway around the world when your family is in danger. He must've felt powerless at that moment. Thankfully he's home now, and the family can begin to pick up the pieces.
It was an incident from her childhood that prepared Dorit for this. She was able to remain calm and handle the situation with grace and toughness. She's so lucky to be alive.
PK says it's sweet of Lisa Rinna to offer to cancel Harry Hamlin's birthday, but he's not for it. He doesn't want these criminals to win. They don't get to take away the joy from their lives. All they can do now is try to enjoy themselves and begin to rebuild.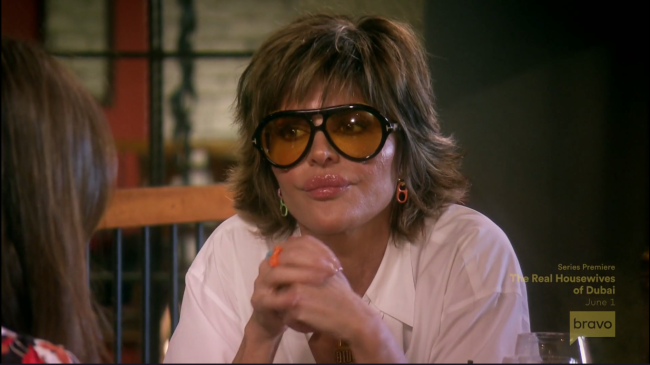 Lisa meets Kyle Richards for lunch, and both ladies are looking fabulous. Kyle's acting career is finally blowing up in a big way, and it's wild to watch. She's THRIVING. Kyle has multiple acting projects in the pipeline, and I can't help but be proud of her.
Meanwhile, Sutton Stracke is hanging out with her new best friend Crystal Kung Minkoff again. Crystal asks how things are going between Sutton and Erika Jayne. Things are nonexistent. However, Erika's living a more quiet and carefree existence these days. The only thing bothering her right now is the LA Times article featuring Sutton, Crystal, and Garcelle Beauvais.
Lisa's still not thrilled about Sutton claiming she never thanked her for the table at the charity event. I think I'm Team Rinna with this one. I know that's unpopular, but I said what I said. Sutton was trying to have a moment, and it backfired. Now she's Lisa's target.
This is so serious already that even Harry is reaching out to Sutton. How can Sutton show her face at his birthday dinner after blowing off his text? That's shady, and a recipe for disaster. We know Lisa loves Harry Hamlin, so Sutton might've bitten off more pancake cake than she could chew.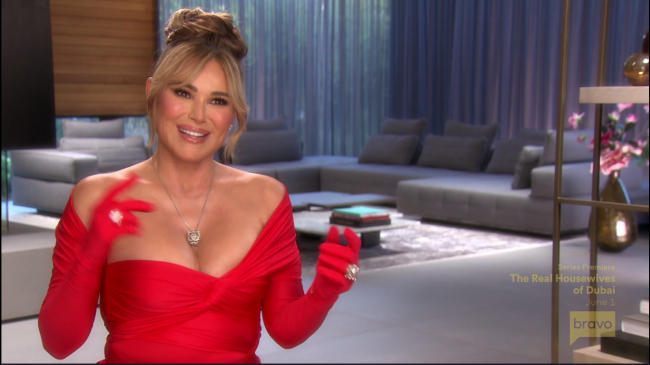 The table for Harry's birthday dinner is stunning. The ladies of Beverly Hills always know how to host a lavish event. Nobody gives me FOMO more than they do.
Sutton's being banished to the end of the table, so they can avoid squabbling about this charity ticket issue. Somehow I have a feeling it'll rear its ugly head regardless. Things always have a way of getting discussed at these dinner parties. Events seldom end without a dramatic confrontation of some kind.
On the way to the dinner, Kyle says she's finding some of Sutton's social media posts inappropriate right now. She also explains to Dorit about Sutton's insensitive comments about the robbery. Honestly, Sutton stepped in big shit with hat one. There's no way for what she said to not sound awful.
Diana Jenkins has arrived on the scene, and I'm already impressed. She's RICH HONEY. RICH. She has to be the wealthiest woman in this group, and it shows. I can't believe she had a baby at 47 though. That's impressive, and no easy feat.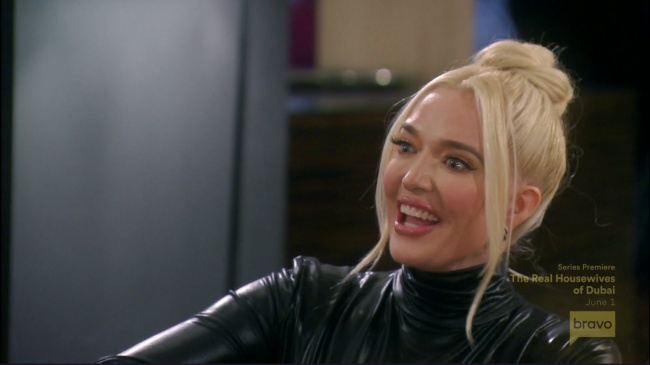 Diana is everything that Erika thought she used to be and wishes she could be again. She's living THE life. I love her already. She's almost giving me Yolanda Hadid vibes. I can't explain exactly what I mean by that, but you might get what I mean if you watch her.
After dinner, Sutton takes attention and brings up her drama with Lisa. Here we go. She admits she's overspoken and didn't mean to hurt anyone. Bullshit. She knew exactly what she was doing when she dragged Lisa and Harry.
Lisa tells everyone that Sutton never bought a table and canceled it at the last minute. Lisa claims she had to scramble to get the tickets that she was supposed to get from Sutton. If Lisa and Harry are typically at the event, why shouldn't I believe them?
Garcelle urges Sutton to bring out her receipts. Sutton happily obliges and says she'd never cancel a table. Diana's begging them not to bring this up. She finds it tacky and classless. She's LITERALLY Yolanda.
Sutton says she knows what slander is which prompts Erika to chime in. After everything between them last year, Erika's not going to take a comment like that lightly. However, her voice is irritating and if she says "slander" one more time, I'm throwing my laptop through the window.
As it turns out, Diana works closely with this charity. Sutton's face when she learned that piece of information is hilarious. She knows she stepped in it and took it too far. Kyle tries to be the voice of reason, but nobody cares what she has to say. Her anxiety will have to take a backseat because the big kids are playing.
Erika asks for an apology and Sutton says she doesn't like Erika. They tell each other to go fuck themselves, and there's no progress between these two. Sigh. So much drama!
Garcelle and Sutton want to leave the event because everyone's being nasty. Of course, they do. I love Garcelle, but sometimes her loyalty to Sutton irritates me. Sutton says she adores Lisa which everyone calls bullshit on. Nobody believes it for one minute.
Sutton and Lisa issue apologies to each other, and it's weird. It's really weird. Why are they insisting on moving forward with a fake and phony friendship?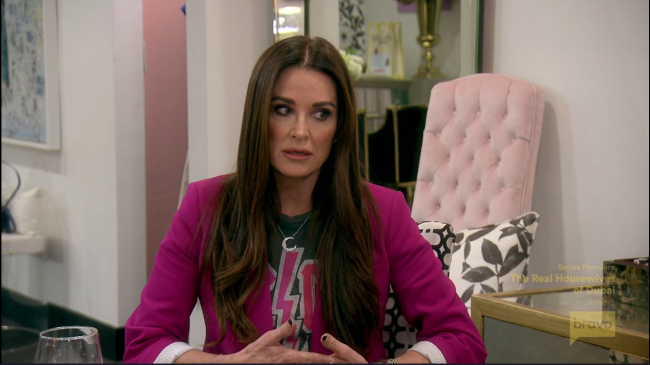 The episode ends with Kyle and Sutton hanging out which is odd. Something's going to go down for sure, right? Why else would a great episode end on a weird note like this if it wasn't? It's Kyle though, so she might not have the courage to actually confront Sutton.
Kyle says Sutton's comments about Dorit's robbery really bothered her. She doesn't like the way it was downplayed by Sutton. Even now at this moment, Sutton's acting so strange about this.
Sutton said she's sorry she didn't have a gun to her head is a weird thing to say. Why would someone do that after their friend went through a major ordeal? Kyle's shocked at every word coming out of Sutton's mouth.
I know Sutton has an upsetting history with guns, but she's trying to make this about herself. She's sitting there and doubling down over her heinous comments. Is this the real Sutton? Does the real Sutton only care about her own frivolous bullshit? Sutton refuses to see what's right in front of her.
TELL US – TEAM RINNA OR TEAM SUTTON? SHOULD ERIKA AND SUTTON MAKE UP? IS SUTTON BEING INSENSITIVE ABOUT DORIT'S ROBBERY?
[Photo Credit: Bravo]